After a one-year hiatus, Samsung's classically-styled smartwatch is making a comeback. Although Samsung went in a slightly different direction with the Galaxy Watch 5 Pro last year, it wasn't enough to displace the early 2021 Galaxy Watch 4 Classic among the best Android smartwatches. And this year, the Galaxy Watch 6 Classic brings back many of the great features of its much-loved predecessor.
Most significantly, this includes the rotating bezel that some feared the watchmaker had abandoned in favor of its more rugged "Pro" design. While the bezel remains as functional as ever, Samsung has tweaked the design to make it narrower and less pronounced, giving the Galaxy Watch 6 Classic a more refined look.
The Galaxy Watch 6 Classic also maintains its place as the larger and classier model in Samsung's lineup, with a stainless steel case in 47mm and 43mm sizes — 3mm more than the respective Galaxy Watch 6 models — and a hybrid eco-leather band. However, the Galaxy Watch 6 Classic also inherits one potential downside from its predecessor: it's still available in only two color options.
Black Galaxy Watch 6 Classic
Black has become the de facto standard among modern smartwatches, which makes sense considering that it's subtle, understated, and goes with almost anything. It's also the most common — and sometimes the only – color you'll find when looking at more traditional sports watches.
Of course, the Galaxy Watch 6 Classic isn't intended to rival the look of a Timex Expedition or Casio G-Shock. It has a more elegant design that goes just as well with a night out on the town or a business meeting as it does for an outdoor adventure. The accompanying black leather band complements the look nicely and blends almost seamlessly into the watch's body.
Partly due to the smaller bezel, the black Galaxy Watch 6 Classic also has a slightly more matte finish than its predecessor. That appearance will vary a bit depending on lighting conditions, but it seems Samsung's trend for 2023 is to tone down its more metallic looks, which the company kicked off earlier this year with the Galaxy S23 Ultra.
Silver Galaxy Watch 6 Classic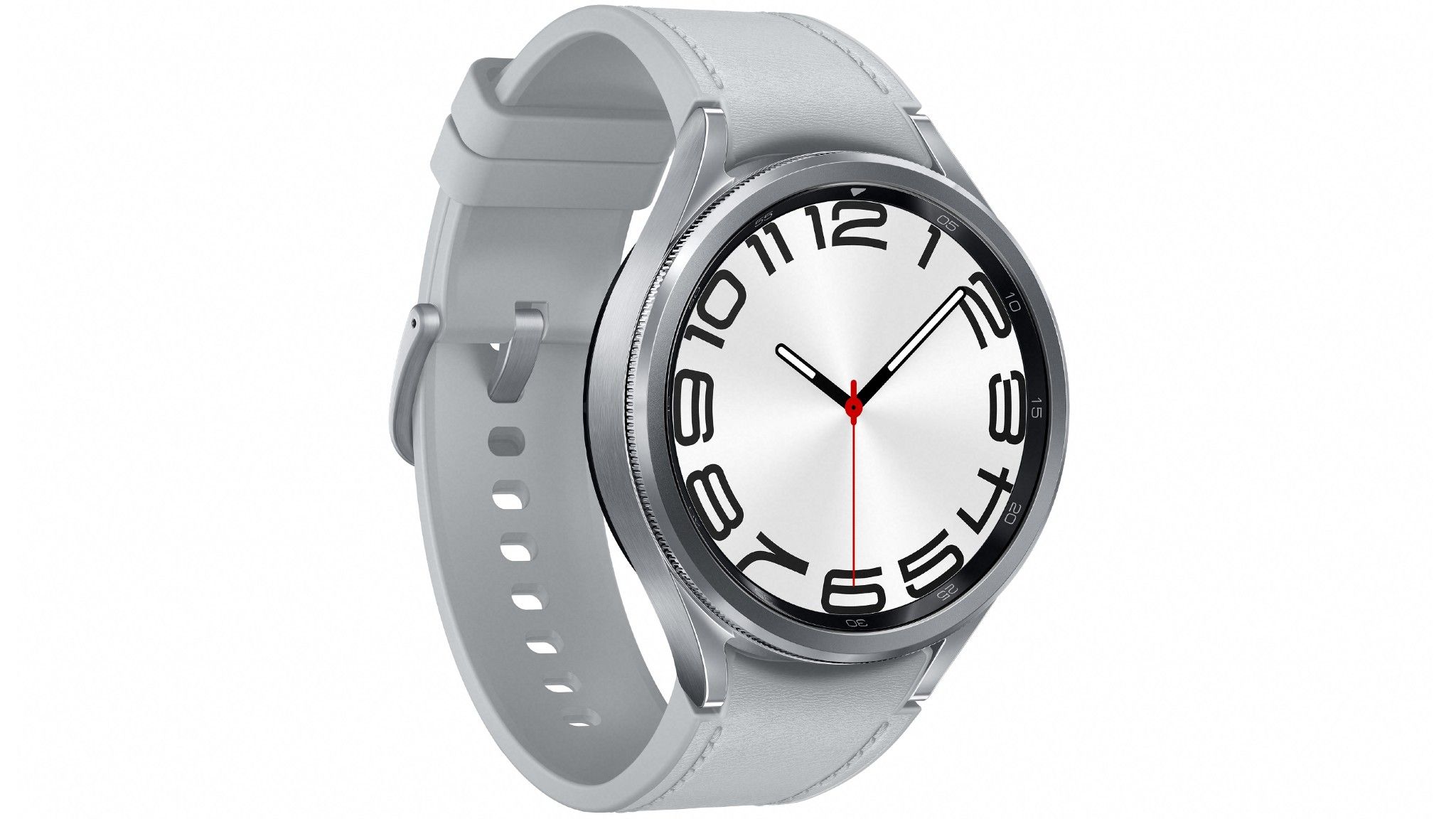 Source: Samsung
Samsung's silver Galaxy Watch 6 Classic delivers the more traditional color option found on luxury watches. However, this time around, it may have lost some of its luster compared to prior models. For example, like the black finish, the front bezel of the silver Galaxy Watch 6 Classic is more muted and less metallic than the Galaxy Watch 4 Classic. That's not a bad thing, though, as we think it gives the wearable a classier, more serious look.
The more significant issue is that silver is a tricky color for a leather band to match. And while Samsung's light gray hybrid leather band does the best job it can, it's not the same perfect blend you'll find in the black version. You'll probably have a hard time finding a fabric strap that perfectly matches this one, and it may arguably be better to go in the other direction and pick something that delivers even more contrast. But if you're a fan of metal links or mesh bands, like an Oyster or Engineer-style bracelet, the silver Galaxy Watch 6 Classic will suit them exceptionally well.
Two classic finishes that go with anything
Source: Samsung
It's clear that Samsung takes the "classic" designation of the Galaxy Watch 6 Classic pretty seriously, so you won't find this year's higher-end wearables in the more whimsical colors that adorned the Galaxy Watch 5 and its predecessors. Then again, maybe that shouldn't come as a big surprise. Samsung also reined in the color spectrum for the Galaxy Watch 6 this year, so you don't have much to gain colorwise by opting for the entry-level model.
The good news is that with the Galaxy Watch 6 Classic, the same color options are available on the 43mm and 47mm models, plus you'll get the same great smartwatch no matter which one you choose. In the end, it comes down to your personal preference and, perhaps more importantly, which of the best Galaxy Watch 6 Classic bands you opt for — or which ones you already have on hand if you're upgrading, since the Galaxy Watch 6 Classic still supports the same standard bands used on prior models.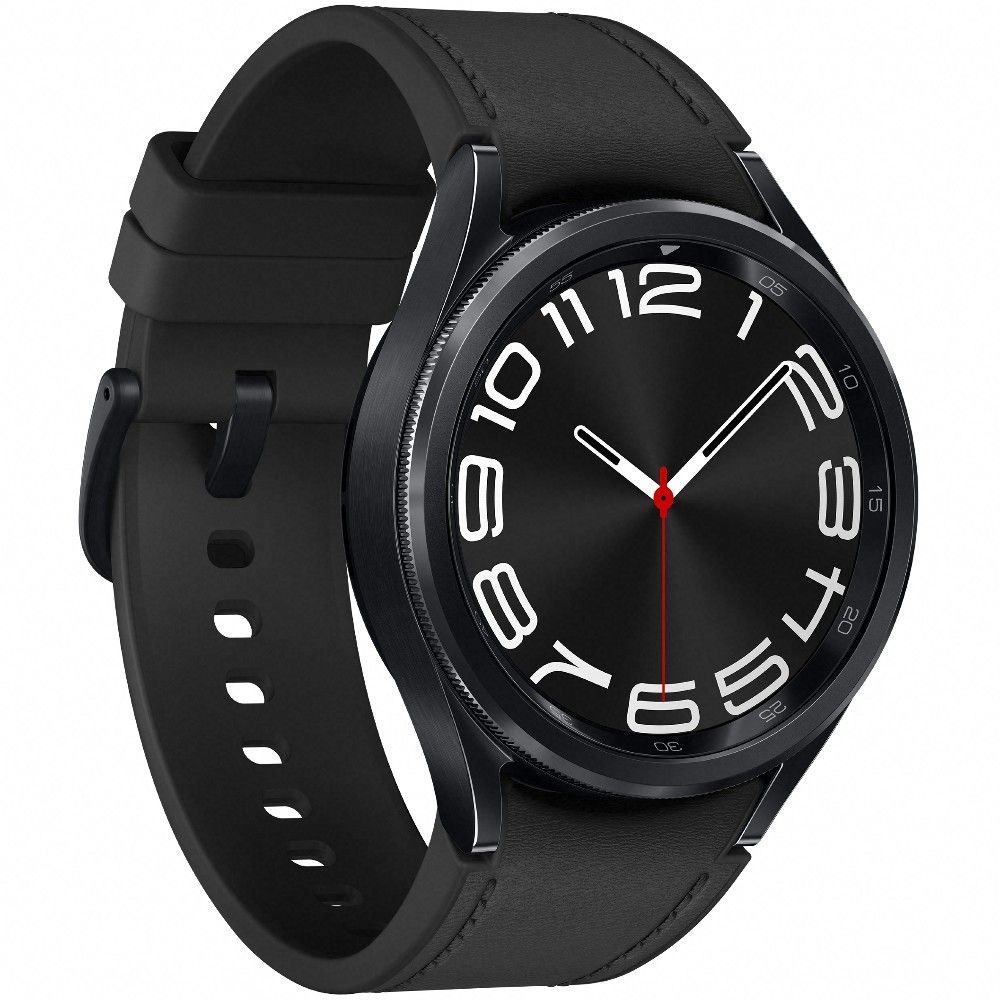 Source: Samsung
Samsung Galaxy Watch 6 Classic
Samsung's latest generation of the Galaxy Watch 6 comes in a larger Classic version. It sports a bigger case, a physical rotating bezel to control the watch, and a 3D Hall sensor for positioning via the magnetic field, alongside all the other welcome improvements in the vanilla Watch 6.