Synology DiskStation DS224+

The Synology DiskStation DS224+ is the successor to one of the more popular NAS enclosures from the company, rocking an Intel processor, upgradable RAM, and an excellent OS.

Pros

Best in-class NAS OS
Better cloud support
More affordable

Cons

Less RAM and fewer ports
Weaker CPU
No M.2 slots

Source: QNAP

QNAP TS-262

The QNAP TS-262 offers a smoother experience with more powerful hardware. It has 2.5GbE networking and two M.2 slots to boot, although it is slightly more expensive.

Pros

Better Intel CPU
M.2 SSD slots
2.5GbE networking

Cons

Weaker cloud support
More expensive
Summary
Availability and support: Synology offers a broader selection of readily available models and has better after-sales support with a three-year warranty, while QNAP limits warranty to two years.
Hardware: Synology focuses on offering a wide range of NAS models with different specifications, while QNAP offers more "prosumer" hardware options. Both companies have similarly priced and configured enclosures at the lower end of the market.
Operating system: Synology's DSM has a traditional Windows or Linux interface that is easy to navigate, while QNAP's QTS has a more smartphone-like interface with animations and smooth transitions. Both operating systems are considered the best in the business.
The network-attached storage (NAS) space is dominated by a handful of brands, including Synology and QNAP. The two companies have countless NAS models available, everything from one-bay consumer NAS to enterprise towers with numerous bays and advanced features. In this guide, we're going to run you through some of the similarities and differences between Synology and QNAP NAS, as well as a few pointers to help you pick the right NAS for you. To start your NAS journey, we suggest getting either the Synology DiskStation DS220+ or the QNAP TS-251D.
Availability and support
Depending on which country you're in, one of the two companies (if not both) will have a broader presence in your region, affecting the number of readily available models. This also directly translates to the kind of after-sales support you can expect from the brand. In general, Synology takes the lead with three years of standard warranty on most of its NAS devices, while QNAP limits that to two years, with paid options to expand it further. Particularly for businesses, this is something that can make or break the deal.
| | Synology DiskStation DS224+ | QNAP TS-262 |
| --- | --- | --- |
| Brand | Synology | QNAP |
| CPU | Intel Celeron J4125 | Intel Celeron N4505 |
| Memory | 2 GB DDR4 | 4 GB DDR4 |
| Drive Bays | 2 | 2 |
| Ports | 2x 1GbE, 2x USB-A 3.2 Gen 1 | 1x 2.5GbE, 2x USB-A 3.2 Gen 2, 2x USB-A 2.0 |
| Caching | No | Yes |
| OS | Synology DSM | QNAP QTS |
| Price | $300 | $387 |
| Dimensions | 165 x 108 x 232.2 mm | 168 × 105 × 226 mm |
| Weight | 1.3 kg | 1.55 kg |
Hardware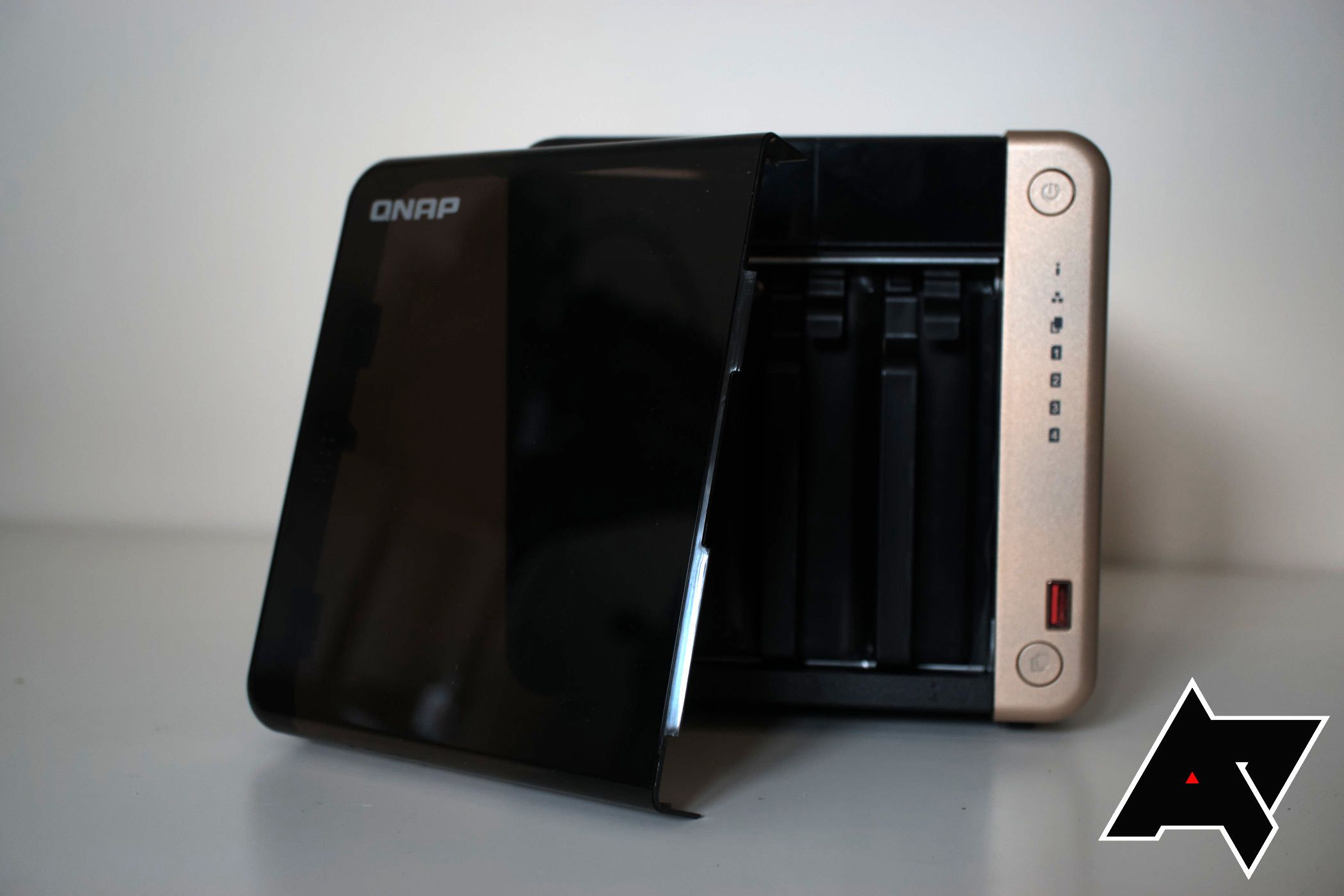 This is where Synology and QNAP differ greatly. The companies have a different focus when it comes to launching new enclosures. Synology focuses more on offering a broad range of NAS with differing specifications, including Intel Celeron and ARM chips. With later generations of enclosures, Synology is adding more AMD Ryzen processors to its parts catalog. QNAP goes all out with ARM, Intel Celeron, and even Intel Core — the same chips you'd find inside an old desktop PC.
You'll find far more "prosumer" hardware from QNAP than Synology, though both companies offer similarly priced and configured enclosures towards the lower end of the market. This is fantastic in that it offers a strong selection for consumers to choose from, but it can also prove daunting for anyone looking to buy their first NAS. Let's check the most affordable enclosures from Synology and QNAP to see if there are any differences there.
You'll see the above two NAS servers have similar specifications, including an ARM processor, 1GB of RAM or less, and one drive bay. You'll only find 1Gb networking and just two USB ports. The size and weight are also very similar. To make matters worse for choosing just one to buy, both operating systems, DSM for Synology and QTS for QNAP, are very good and class-leading. However, the design of their value NAS does differ massively, so you should go with whichever look you prefer.
Storage management
How QNAP and Synology approach storage management differs in that the former only supports ext4. Synology continues to work on Btrfs, which provides the company with a few data protection and recovery advantages. Synology provides a few reasons why one should choose Btrfs over ext4 when creating new storage pools on a branded NAS:
Data protection features, including snapshot, replication, and point-in-time recovery.
Data integrity protection.
User quotas for each shared folder.
Synology states that Btrfs would better suit applications for storing critical business data, requiring data integrity and protection. It would also be better for general file sharing, providing iSCSI LUNs for server virtualization and other advanced functions. The company has worked hard to create its own proprietary automated RAID solution called Synology Hybrid RAID (SHR), which is slightly more flexible than traditional RAID levels, particularly in expanding the storage pool.
That all said, ext4 isn't without its own tricks, and QNAP makes sure it allows M.2 slots on NAS to be used for not only caching but high-speed storage too. QNAP also lets you encrypt entire volumes as well as folders. Synology is working on implementing such functionality to bring its Btrfs offering up to par, but for now, M.2 SSDs storage is limited to a few DiskStation enclosures.
Operating system
Their distinct approach to user experience becomes pretty evident from their Linux-based proprietary operating systems. Synology's DiskStation Manager (DSM) takes inspiration from a traditional Windows or Linux interface. Anyone with basic computer literacy won't take a lot of time to find their way around the software. DSM doesn't feel cluttered, and the included management apps include neatly nestled options that help the UI look much cleaner and more accessible. And Synology's excellent software optimization ensures that its own apps and DSM are consistent irrespective of your NAS model.
Left: Synology DSM 7, Right: QNAP QTS 5.
Meanwhile, QNAP's QTS leans towards a more smartphone-like interface. It looks modern with all the animations and smooth transitions across the OS and first-party apps. However, the interface comparatively feels busy, which can get a bit confusing to navigate, especially for those using a QNAP system for the first time. From the initial setup process to the control panel (which you're going to use a lot for managing everything on the NAS) QTS throws a lot of options your way, resulting in a slightly overwhelming experience from the get-go.
But once you're up and running, both operating systems are the best in the business.
Installing apps
Synology has a clear focus on software, which is why its first-party apps don't just cover a wide range of use cases but are also robustly designed. These first-party apps allow you to get started without looking for any third-party plugins for basic stuff — though Synology DSM's package center doesn't have a lot of third-party apps, except for some common ones like Plex and TeamViewer.
Left: Synology DSM Package Center, Right: QNAP QTS App Center.
Where Synology lags, QNAP shines with a far richer selection of third-party apps and services available through its App Center. You get apps like IFTTT for easy home automation, Google Chrome, productivity apps like Libre Office, and a lot more. Then there are third-party (unofficial) app stores like Qnapclub, which has over a thousand packages with far more mainstream and niche apps available.
Android apps
Both brands have a suite of apps for Android phones to let you remotely manage your NAS and access the data on it. In our experience, Synology Photos for Android turned out to be an excellent option for anyone looking to switch away from Google Photos, with features like automatic media backup and face tagging/grouping. QNAP's alternative also has many of those smart features, but it's not quite up to par
Other apps from QNAP do a lot better than its Photos app. For instance, the Qfile app looks much cleaner and easier to follow than Synology's convoluted two-app file management system (DS File and Synology Drive). In addition, QNAP's NAS management app called Qmanager gives you all the necessary information with just a few taps. It's also neatly presented, while you have to dig to find the same information on Synology's DS Finder.
Another thing worth noting is that QNAP's Android apps are generally much better rated than their Synology counterparts, which says much about their quality and usability from the users' standpoint.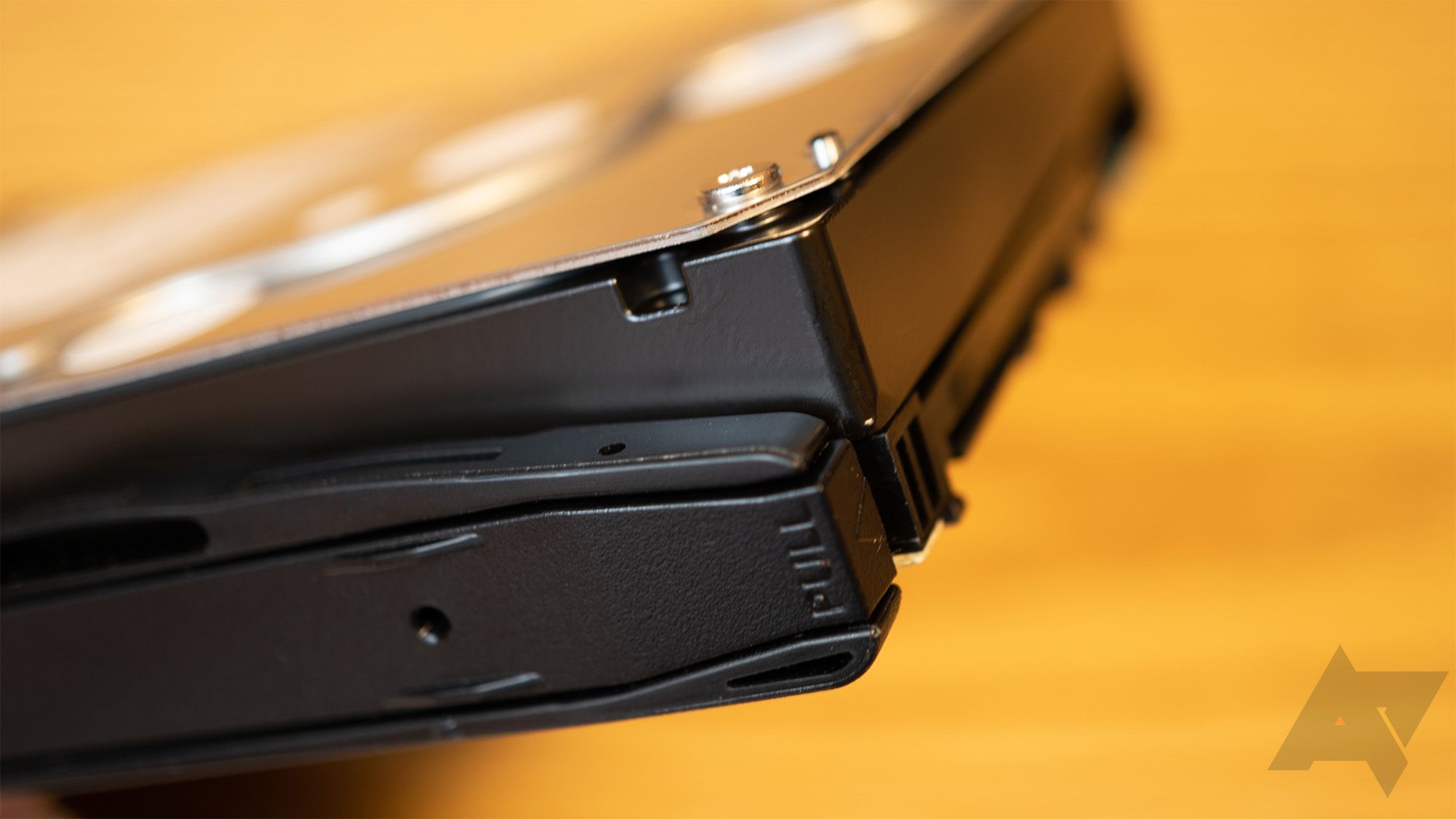 QNAP earns some extra brownie points for including a direct HDMI out port on many of its NAS units. The HDMI out port is a big deal if you prefer having your NAS stationed on your work desk, connected to the monitor, or near your media console to watch movies straight from the NAS. Furthermore, attach a USB keyboard and mouse, and you'll have a mini-computer right in your living room.
Synology, by contrast, is a purely network-based storage device, so none of its models provide any such capability. The company is also switching from Intel Celeron to AMD Ryzen processors with its more recent enclosure releases. This wouldn't usually be an issue, but they're not including integrated graphics, which reduces the capability to transcode 4K content and perform other tasks simultaneously.
Other miscellaneous differences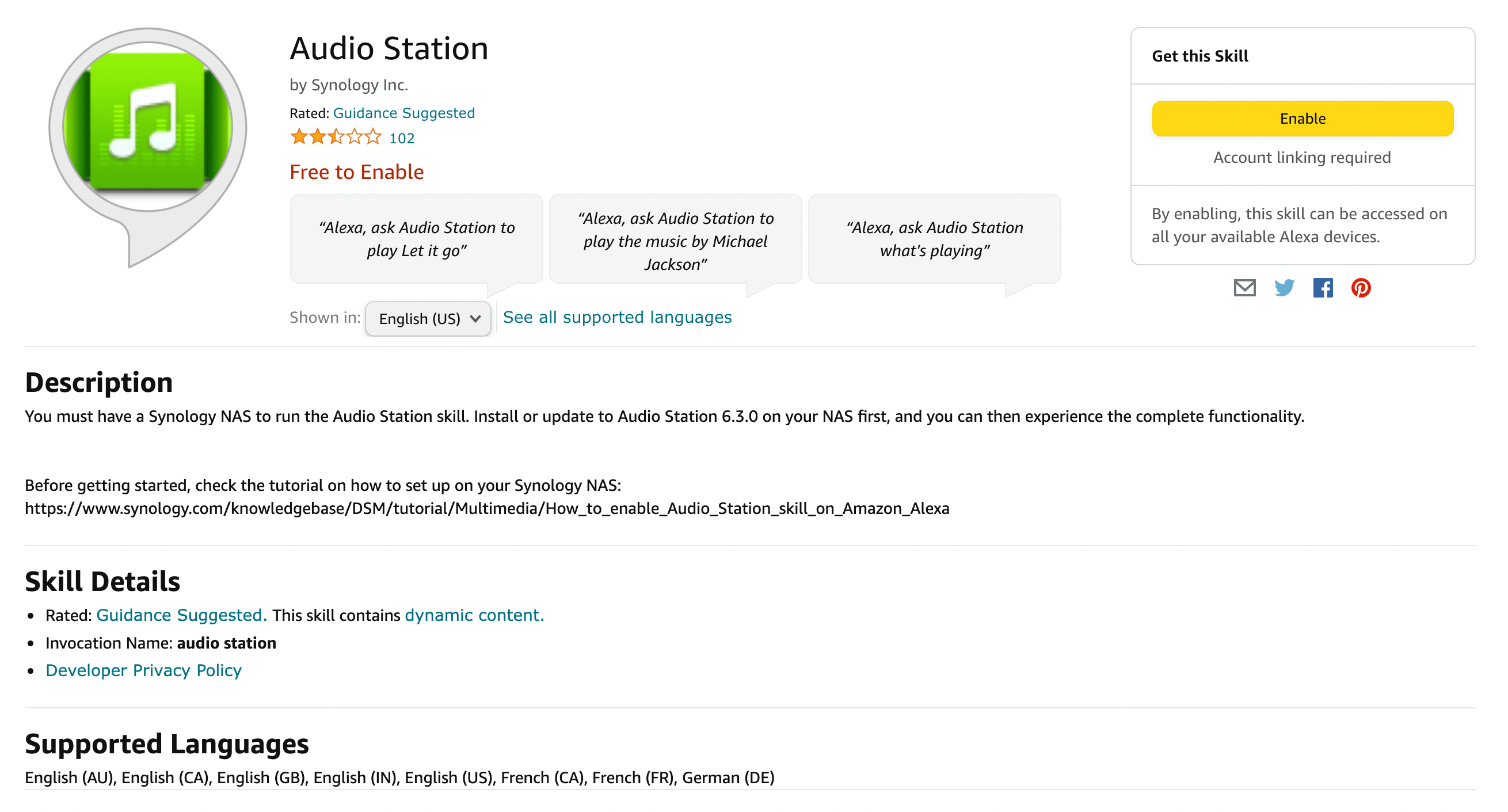 Alexa skill for Synology Audio Station.
Synology has the upper hand on the software side of things, which shows in the Alexa skill that lets you stream the music stored on your NAS as you would from any other streaming service. In addition to that, it has a bigger community of users on platforms like Reddit than QNAP, which should come in handy if you're stuck somewhere.
In QNAP's favor, you get a PCIe slot starting from some low-to-mid-range NAS units, which opens up a whole world of hardware expansion. You can use it to add a better network card, more USB ports, SSD slots, and more. While you can get such expansion units directly from QNAP, there is a rich ecosystem of third-party accessories that allow you to upgrade your QNAP NAS both internally and externally down the line.
QNAP is also better at handling the media files that must be transcoded before opening. Instead of having to select individual files each time (like it's the case on Synology), you can pick an entire folder. This way, any new file added to the folder will be transcoded automatically and will be kept ready for use.
Things they're both good at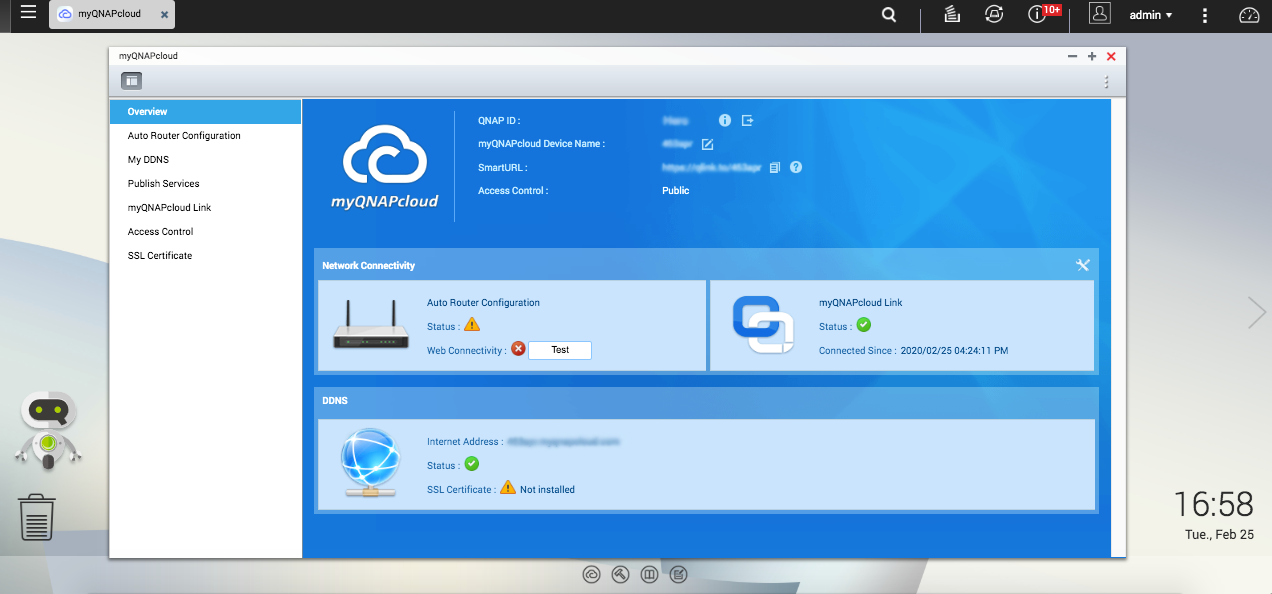 QNAP myQNAPcloud.
As I said earlier, both Synology and QNAP have got the basics right, and there are a lot of things that they are equally good at. For instance, their proprietary solutions to access your NAS over the internet and back up your NAS to remote storage get the job done pretty well. And in case you hit a roadblock during setup or anytime later, their online resources do an excellent job of answering even your most intricate questions.
In the future, when you feel the need to add more drives, both companies have plenty of expansion units that connect to your existing NAS to give you several TBs of extra space. If your primary use case is surveillance, either brand can get the job done. Both companies have robust IP camera management software and bundle a couple of free licenses with the option to add paid ones as you go. Do note that QNAP's new QVR Pro offers eight complimentary licenses, though with some usage and hardware limitations.
Which is right for you?
Neither brand is faultless, and frankly, none of their shortcomings are dealbreakers if you're a home user, while prosumers and small businesses can weigh their merits to find out what works best for them. To make the decision a little easier, I suggest going for Synology if you want things to work without any fuss.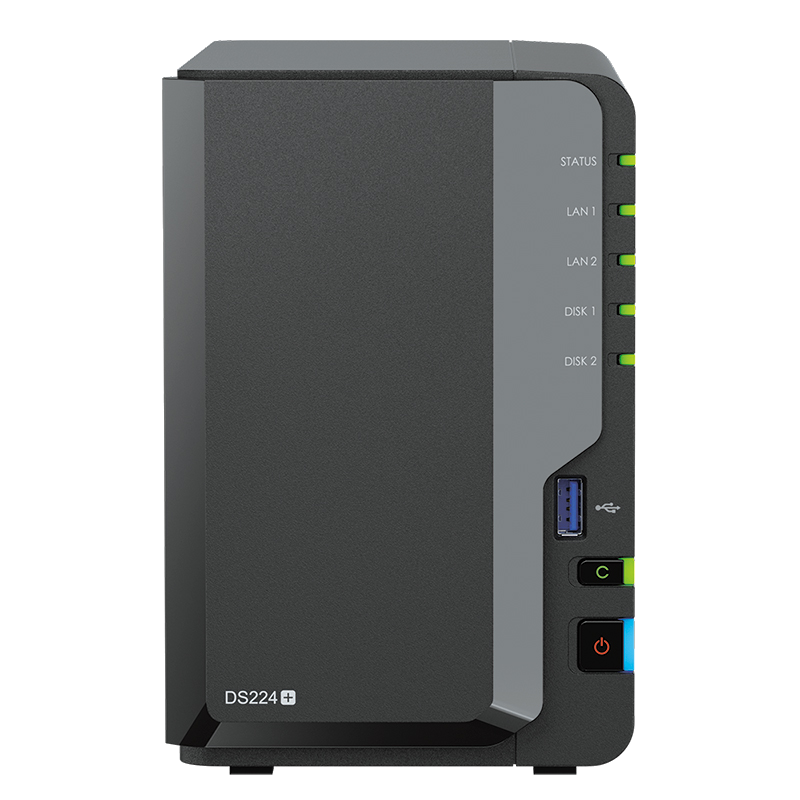 Source: Synology
Synology DiskStation DS224+
Top choice
The Synology DiskSTation DS224+ is a solid choice for those who want a more value-focused enclosure with fewer highlight premium features. It gets almost everything right, making it one of the best entry-level NAS around.
But if you're someone who likes to tinker with the hardware and software to derive the most out of it, QNAP is the way to go.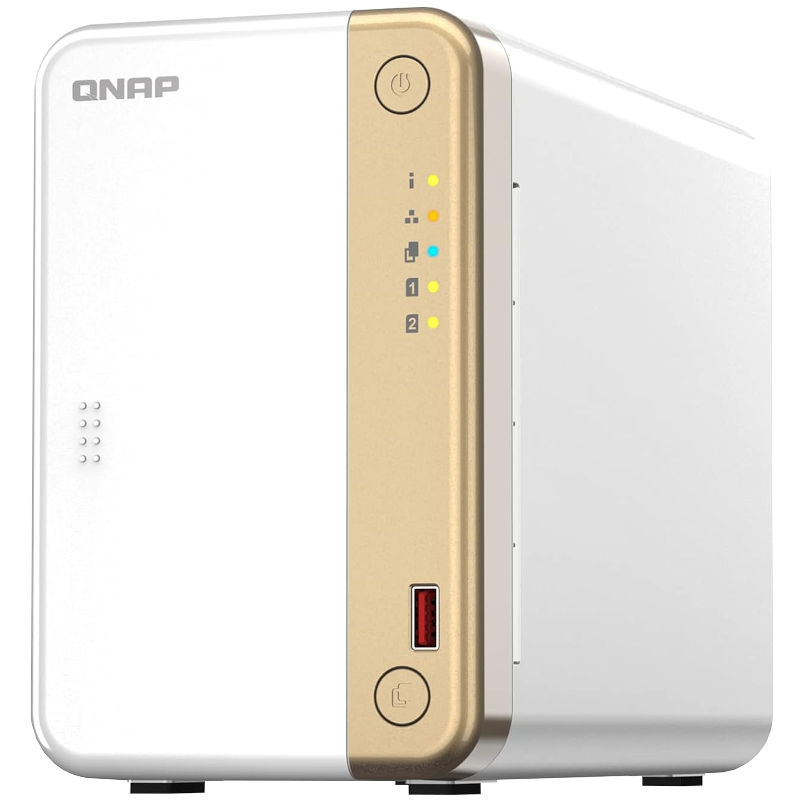 Source: QNAP
QNAP TS-262
For tinkerers
The QNAP TS-262 is a mighty two-bay NAS with some impressive specifications. You've got a capable Intel Celeron CPU, upgradable 4GB of DDR4 RAM, two drive bays, PCI slot, HDMI port, plenty of USB ports, and a reasonable price tag.