Summary
Lenovo Chromebooks offer an excellent balance between performance and price, falling within a budget-friendly range of $400 to $600.
Back to School sales and discounts make it easier than ever to find good deals on Lenovo Chromebooks, making them even more affordable.
The Lenovo Flex 3i 15.6-inch, Lenovo IdeaPad Duet 3 11-inch, Lenovo Flex 3i 12.2-inch, and Lenovo IdeaPad Duet 5 13.3-inch are all great options to consider, offering power and versatility at discounted prices.
Chromebooks are quickly becoming an essential device for the home, school, and even work, offering an intuitive alternative to standard Windows laptops and Macbooks that work well for every day use. While there are options that can cost well over a $1000, you don't actually have to spend that much to get yourself a good machine. There's a sweet spot that Chromebooks fall into in terms of budget, with some of the best Chromebooks costing between $400 and $600. Lenovo Chromebooks in particular offer an excellent balance between performance and price, delivering laptops that perform reliably while sitting within this price range.
These aren't bad prices for some of the best Lenovo Chromebooks, but if you know where to shop you can actually find them even cheaper. With Back to School sales in full swing and discounts now commonplace due to the market, it's easier than ever to score a good deal on a Lenovo Chromebook. Thankfully, we know where to look, so whether you're shopping for a laptop for home use or a student looking for Back to School Chromebook deals, we've brought forth some of the best deals on Lenovo Chromebooks you'll find today.
Lenovo Flex 3i 15.6-inch 2-in-1 Chromebook
Offering one of the biggest discounts you'll find on a Lenovo Chromebook, the Flex 3i 2-in-1 offers an impressively versatile laptop at an affordable price. Powered by an Intel N6000 3.3Ghz quad-core processor paired with 8GB of LPDDR4X RAM clocked at 2933Mhz, it's surprisingly powerful given the cost. It performs well in multitasking and resource intensive tasks, including light editing and gaming, making it a good choice if you're after something that can handle a bit more than just web browsing and streaming. As well, the battery life is on par with Chromebooks in this price range, offering up to 10-hours of use on a full charge.
The 15.6-inch touch screen display is a good size for a Chromebook, offering enough screen real estate to not have to squint to see what you're pressing. Plus, it supports Full HD 1080p resolution, so everything from working in Google Sheets to watching Netflix will look crystal clear. It does feature a built-in webcam, however it's only a 720p camera, so you won't go through in HD on video calls. Not the end of the world, but someting to consider if you're going to be using it for school or business calls. Another downside is the smaller 64GB on-board storage capacity, making an external SSD practically a must if you plan to work with larger files such as photos or videos. At $210 off, however, that's an easy add-on to grab alongisde Lenovo's Flex 3i 2-in-1 Chromebook..
Lenovo Flex 3i Chromebook (15″)
Best value
$270 $480 Save $210
At 43% off, Lenovo's Flex 3i 2-in-1 punches well above its weight class. It's a solid multitasking machine, with hardware that delivers enough power to handle resource intensive tasks with relative ease. It's the best value on our list, coming it at only $270 to get your hands on one.
Lenovo IdeaPad Duet 3 11-inch 2-in-1 Chromebook
Performing more like a tablet than an actual laptop, the Lenovo Duet 3 Chromebook is a compact little device that serves users who need something a bit more mobile. Running on a Snapdragon 7c Gen 2 2.55Ghz 8-core processor alongside 4GB of LPDDR4X RAM clocked at 2133Mhz, the Duet 3 packs quite a bit of power into a portable tablet laptop hybrid. A detachable keyboard let's you swap between desktop and mobile mode, and while the display is only 11-inches, it features a 2000×1200 resolution to deliver crisp and clear images that works exceptionally well with supported stylus pens.
The built-in webcam also performs well as both a video call device and as a camera, with a 5MP fixed-focus front facing webcam plus 8MP Auto-Focus rear-facing camera combo. If, need be, you need to connect to an external monitor or other device, the Duet 3 also includes a single USB-C port. This helps it offer functionality a bit closer to the laptop experience, however Lenovo designed this little machine for flexibility. At $280 off, it's an affordable albeit niche tablet-laptop hybrid that works well — if you're into that sort of thing.
Lenovo Duet 3
$280 $380 Save $100
Half tablet, half Chromebook, the Lenovo Duet 3 is a cool little device that takes the role of both a compact laptop and a versatile tablet. It's more of a niche item, suitable for users who just need something a little more mobile that's a bit more accessible than a tablet on it's own. for $280, it's at a good price point if you've been hoping to get one.
Lenovo Flex 3i 12.2-inch 2-in-1 Chromebook
The smaller sibling of the 15.6-inch model, the Lenovo Flex 3i 12.2-inch version offers a versatile 2-in-1 laptop that actually outperforms it's larger counterpart. Powered by an Intel N100 3.4Ghz quad-core processor with 4GB of LPDDR5 RAM clocked at 4800Mhz, it handles heavier applications such as editing swimmingly, and the higher clocked RAM makes it a bit more responsive during multitasking and general use. It also supports a slightly higher WUXGA 1920×1200 resolution, meaning the touch screen and stylus capabilities are a bit more accurate.
Where the smaller Flex 3i steps up even more is the upgrade to Wi-Fi 6, which means wireless connections will be much more stable and quicker overall with this option. The HDMI 1.4 port allows you to connect to multiple monitors alongside the single USB-C port if needed, which amps up the functionality quite a bit for such a small laptop. At $50 off, the discount here isn't huge, but it's a good enough price to warrant a buy if you need something that's as powerful as it is portable.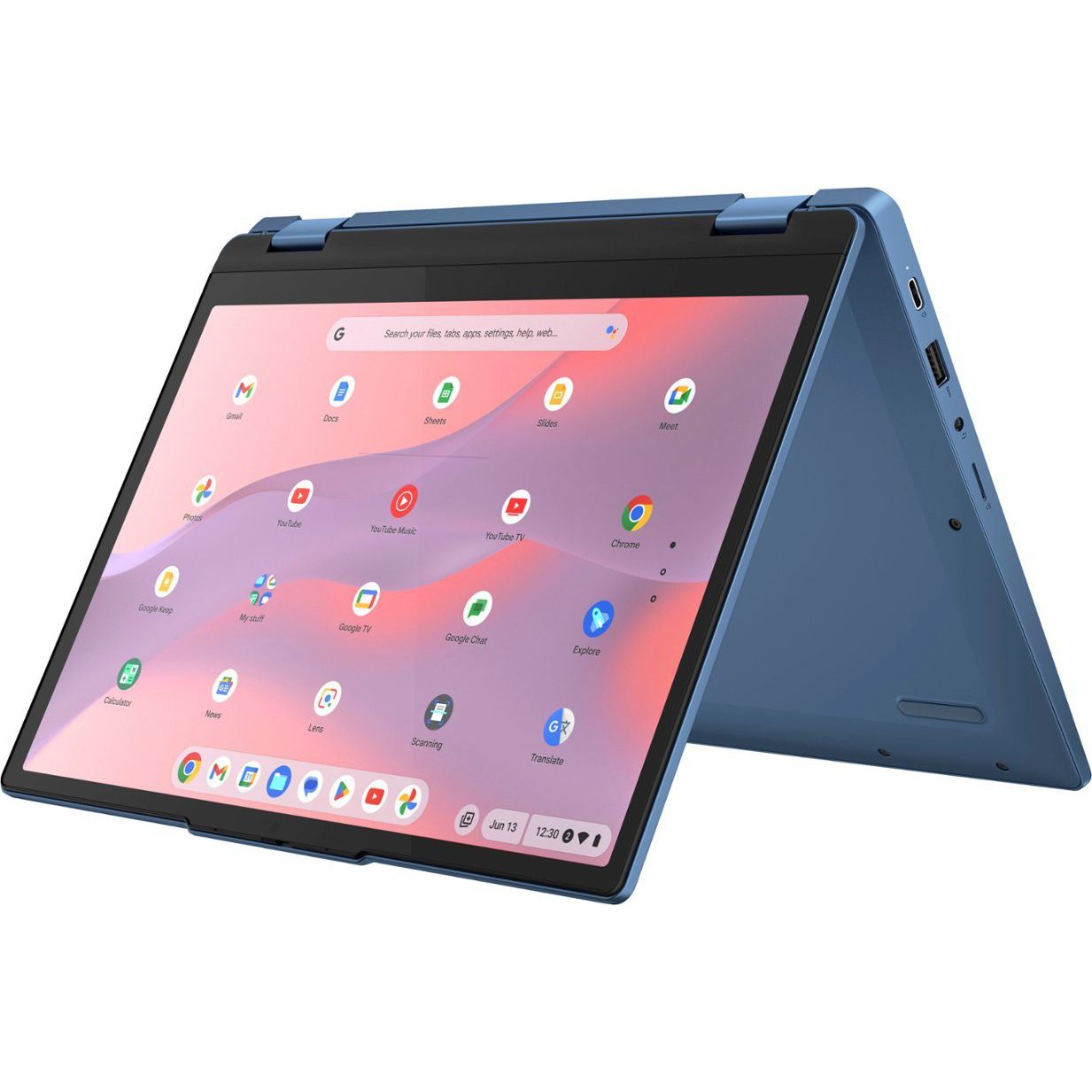 Source: Lenovo
Lenovo IdeaPad Flex 3i (Gen 8, 12.2″)
$300 $350 Save $50
The Flex 3i 12.2-inch option offers just as good of an experience as it's larger 15-inch counterpart, in some cases it's even better. It's a bit more powerful from a hardware perspective, meaning you'll be able to tackle multitasking and resource intensive task with relative ease. At $50 off, the discount isn't huge but it's a worthy buy.
Lenovo IdeaPad Duet 5 13.3-inch 2-in-1 Chromebook
Lenovo's Duet 5 Chromebook offers much of what you'd find in it's smaller Duet 3 counterparter, including the same Qualcomm Snapdragon 7c Gen 2 2.55Ghz 8-core processor and 4GB of LPDDR4X 2133Mhz RAM. However, there's a few substantial upgrades that the Duet 5 brings to the table. The biggest being the upgrade to a 13.3-inch OLED display, which offers much more clarity and color accuracy over the standard LCD display of the Duet 3. This is a must-have if you're looking to use your device for streaming, photo editing, and other tasks where high image accuracy is needed.
Aside from that, much of the Duet 5 is unchanged from the Duet 3. You'll get a detachable keyboard to swap between tablet and desktop modes, and it works exceptionally well when you pair it with a stylus. Just as well, it features the same 5MP front-facing webcam and 8MP Auto-Focus rear-facing camera setup, meaning you'll be able to take high quality pictures and feed high resolution video when your on calls. The price is quite a bit of a jump over the Duet 3, however you're paying for a substantially better display. It is $130 off, however, so at it's reduced price of $370 you're getting quite the deal.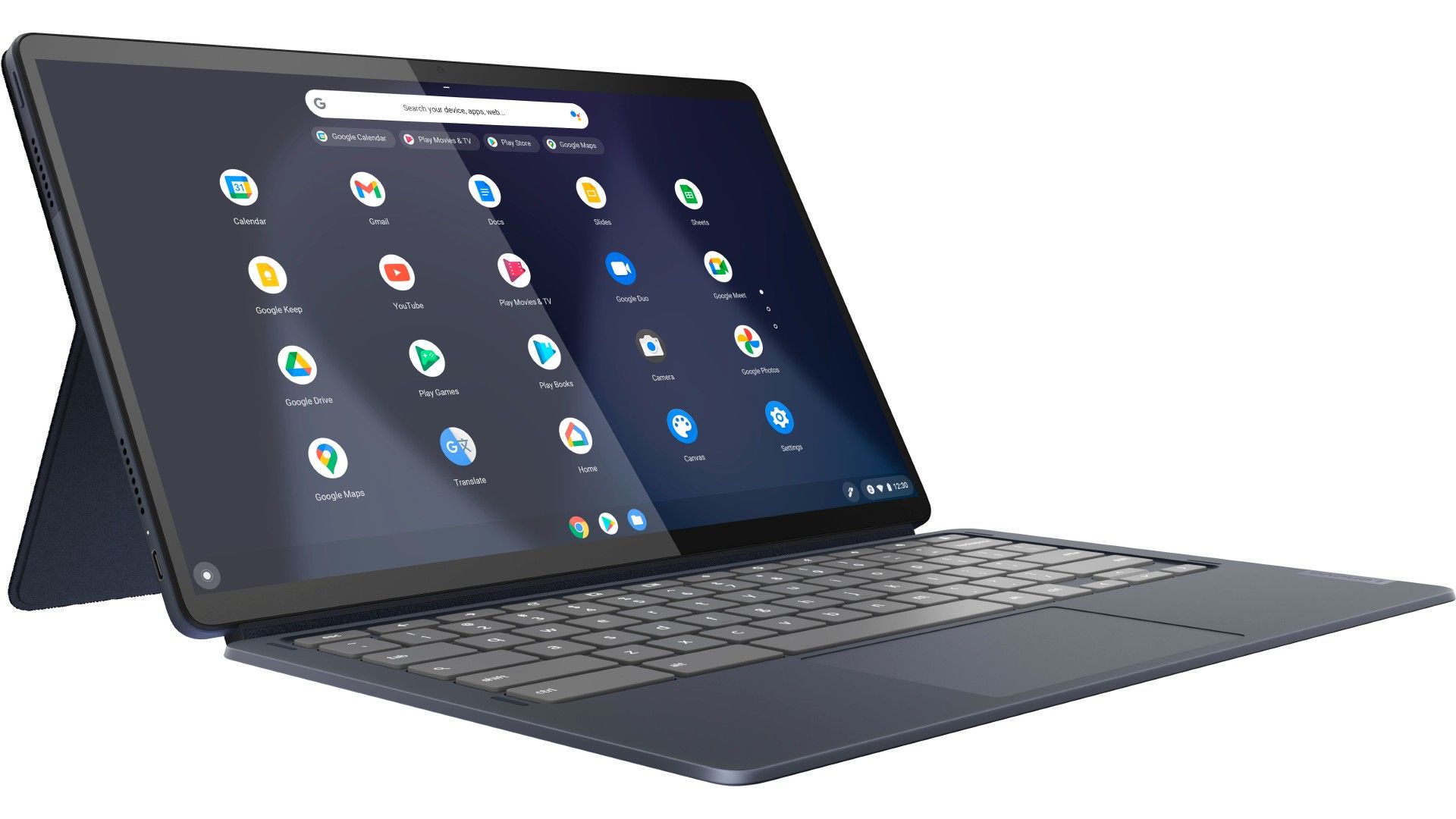 Lenovo Chromebook Duet 5
$380 $500 Save $120
Featuring a much more beautiful OLED display, most of what the Duet 5 offers is similar to the Duet 3. What you're paying for here is the upgrade to the OLED display, which is worth it if you're someone who uses their devices for streaming or video/photo editing. AT $130 off, it's worth a look if you want the best version of the Duet possible.
While these are some of Lenovo's best Chromebooks for the price, if you're after something even more affordable be sure to check out our roundup of the best cheap Chromebooks available. There's plenty of options out there that offer a solid and reliable machine that don't cost as much as you'd expect.