There are almost too many chess games on the Play Store to count, and while many of these are undeniably fantastic, most are aimed toward the competitive player. Netflix Games' newest release is a chess game targeted toward newcomers to the board game, set in the world of its mini-series, The Queen's Gambit. Unlike most branded titles on the Play Store, The Queen's Gambit Chess is a quality release any Netflix subscriber can enjoy.
Chess is a daunting game; to beginners, even amateurs seem like omniscient gods when they're casually breaking out moves like the Budapest Gambit or the Cincinnati Twist. But instead of battering you against the unyielding fortress of competitive chess from the get-go, The Queen's Gambit Chess gently eases you into the game, teaching you basic techniques as well as the ability to recognize when someone is simply making up chess move names.
The Queen's Gambit Chess does this by taking you through the chess journey of the story's hero, Beth Harmon. Even for those unfamiliar with the series, today's release is still an excellent way to dive into the world of chess, thanks to polished gameplay that indeed offers fun.
The game will reward you with coins to buy cosmetics as you play matches. Experienced chess players will likely find this reward mechanic a little patronizing, but it's a great way to encourage and reinforce good moves for beginners. Pieces in danger of capture are highlighted, and you can even tap the "Beth's Vision" button to let the game suggest a move for you. It's all geared toward the novice, but there are many ways to improve your skill.
As you play through the game, you'll switch between tutorials that teach you basic chess techniques to timed challenges. Completing these challenges quickly rewards you with three stars, but if you take too long, you'll receive two, one, or even zero stars.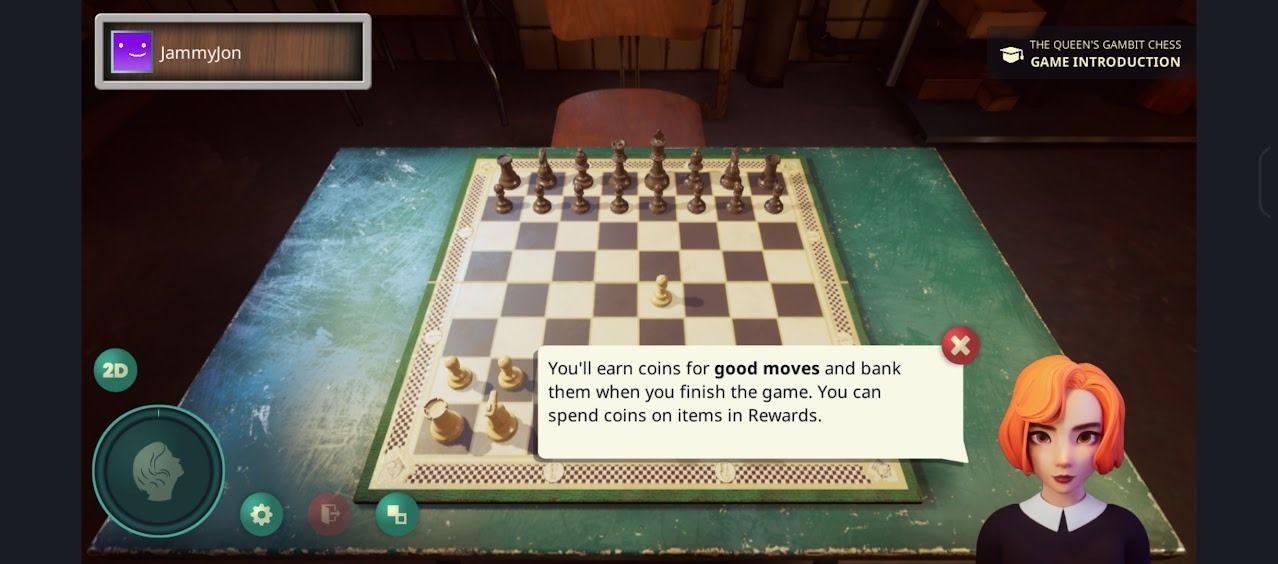 Complementing all this are the clear visuals and satisfying sounds that accompany each move. It's an immersive experience, although the optional 2D mode is an excellent alternative for those who prefer a clear-cut approach to their games.
Overall, The Queen's Gambit Chess is a stellar game for the beginner. However, the online multiplayer mode will also scratch that competitive itch for experienced players that want to throw their weight around. The Queen's Gambit Chess is available now; you'll need a Netflix account to play, but this has the benefit of no ads and no microtransactions in the game.