The tech industry's 2023 can be sufficiently summed up in one word: iterative. Refining what's already good, adding small tweaks, but no total overhauls or revolutionary changes — with the possible exception of the Moto Razr+. Samsung has been leading this charge, with the biggest product changes we've seen this year being a bigger Galaxy Z Flip 5 cover screen, and one small but so significant change to the Galaxy Watch 6 series. And no, it's not the return of the fancy rotating bezel on the Galaxy Watch 6 Classic.
One of the single biggest problems with smartwatches has been visibility, trying to take advantage of all that fitness tracking and those glanceable notifications in an eye-stabbingly bright world. Full sunshine has been the bane of every smartwatch I've owned these last ten years, but the Samsung Galaxy Watch 6 has finally put that annoyance to bed. And in addition to multiplying the nits of brightness, Samsung shrank bezels and increased screen size.
Outside this swanky new screen, the Galaxy Watch 6 is a retread of the former best Android smartwatch on the market, but it's enough to win its crown and then some.
Samsung Galaxy Watch 6
With the same unobtrusive design and a slightly larger screen, the Galaxy Watch 6 embodies the term "if it ain't broke, don't fix it." It's achieved a consistent 36-48 hour battery life, solved outside visibility forever, and (finally) upgraded 2GB of RAM, making everything just a little bit quicker. Samsung Health and One UI Watch are also smoother and more full-featured than any other smartwatch, even if those improvements are coming to the older models, too.
Battery Life

30 hours with Always On Display and 40 hours without

Onboard GPS

Yes

Case Material

Aluminum

Sizes

40mm and 44mm

Colors

40mm: Graphite, Gold 44mm: Graphite, Silver

Display

40mm: 1.3-inch 432 x 432 Super AMOLED, Always On Display 44mm: 1.5-inch 480 x 480 Super AMOLED, Always On Display

CPU

Exynos W930 Dual-Core 1.4GHz

RAM

2GB

Storage

16GB

Battery

40mm: 300mAh 44mm: 425mAh

Connectivity

LTE 6, Bluetooth 5.3, Wi-Fi 2.4+5GHz, NFC

Durability

5ATM + IP68 / MIL-STD-810H

Software

Wear OS 4 / OneUI 5 Watch

Health sensors

Samsung BioActive Sensor, Temperature Sensor, Accelerometer, Barometer, Gyro Sensor, Geomagnetic Sensor, Light Sensor

Price

40mm: $300 44m: $330

Strap

Sport Band

Weight

40mm: 28.7g 44mm: 33.3g
Pros
Bigger and much brighter touchscreen
More memory + new chipset = smoother software
Samsung?s one-click strap should be industry standard
Cons
No major hardware changes
Most new software features are already rolling out to the Watch 5/4
Slightly more expensive
Price and availability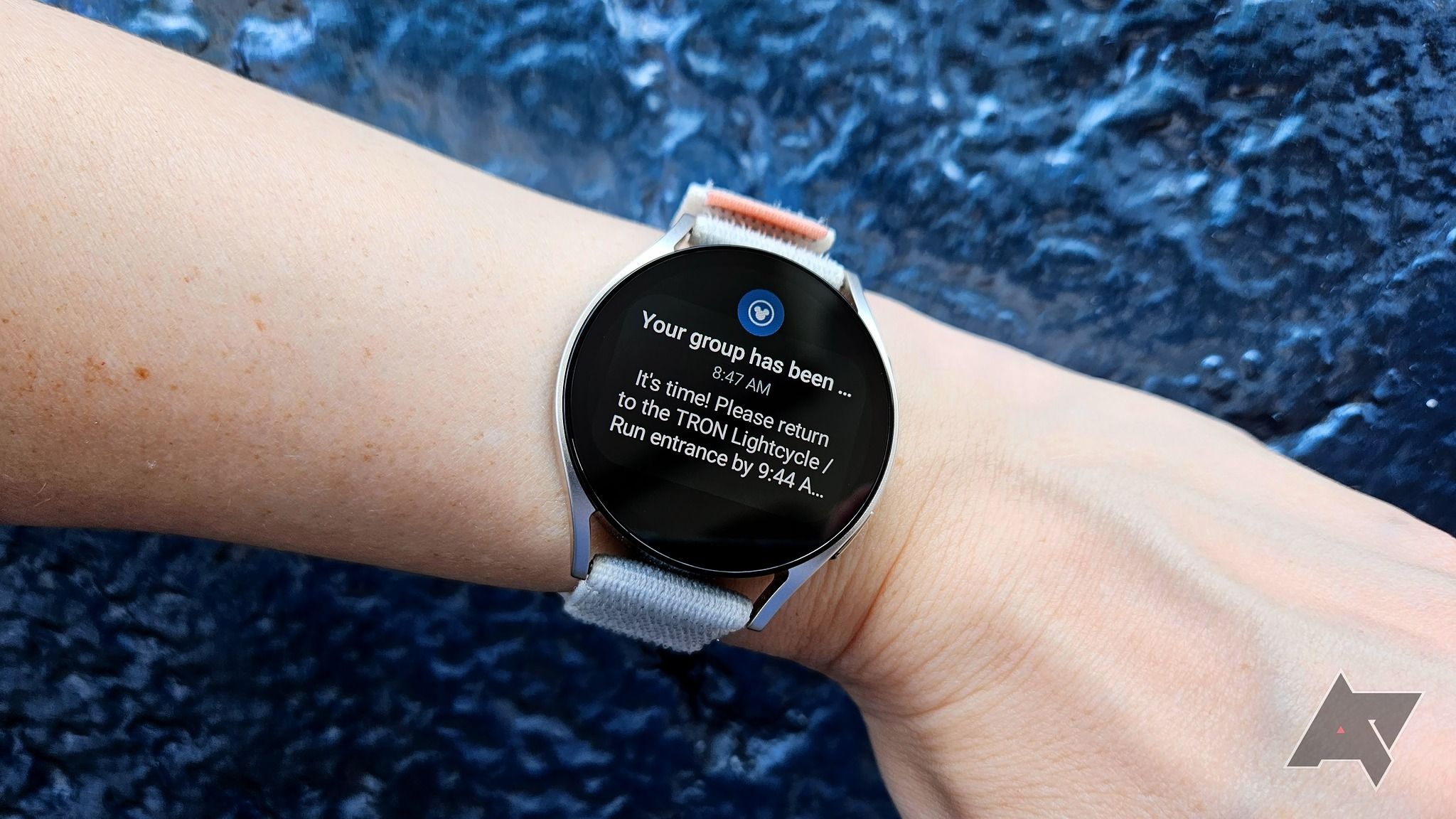 Like its two predecessors, the Samsung Galaxy Watch 6 is available in two sizes: the $300 40mm model, and a slightly larger $330 44mm configuration. Announced on July 26 and officially released on August 11, 2023, the Galaxy Watch 6 is sold by all the major retailers — Amazon, Best Buy, Walmart, B&H, Target, and so on — as well as Samsung itself.
The LTE version of the Galaxy Watch 6 is available at AT&T, T-Mobile, and Verizon. The 40mm LTE model runs $350 and the 44mm is $380.
The Galaxy Watch 6 provided by Samsung for our review was the 40mm LTE model, but we did not test its mobile capabilities.
Design and hardware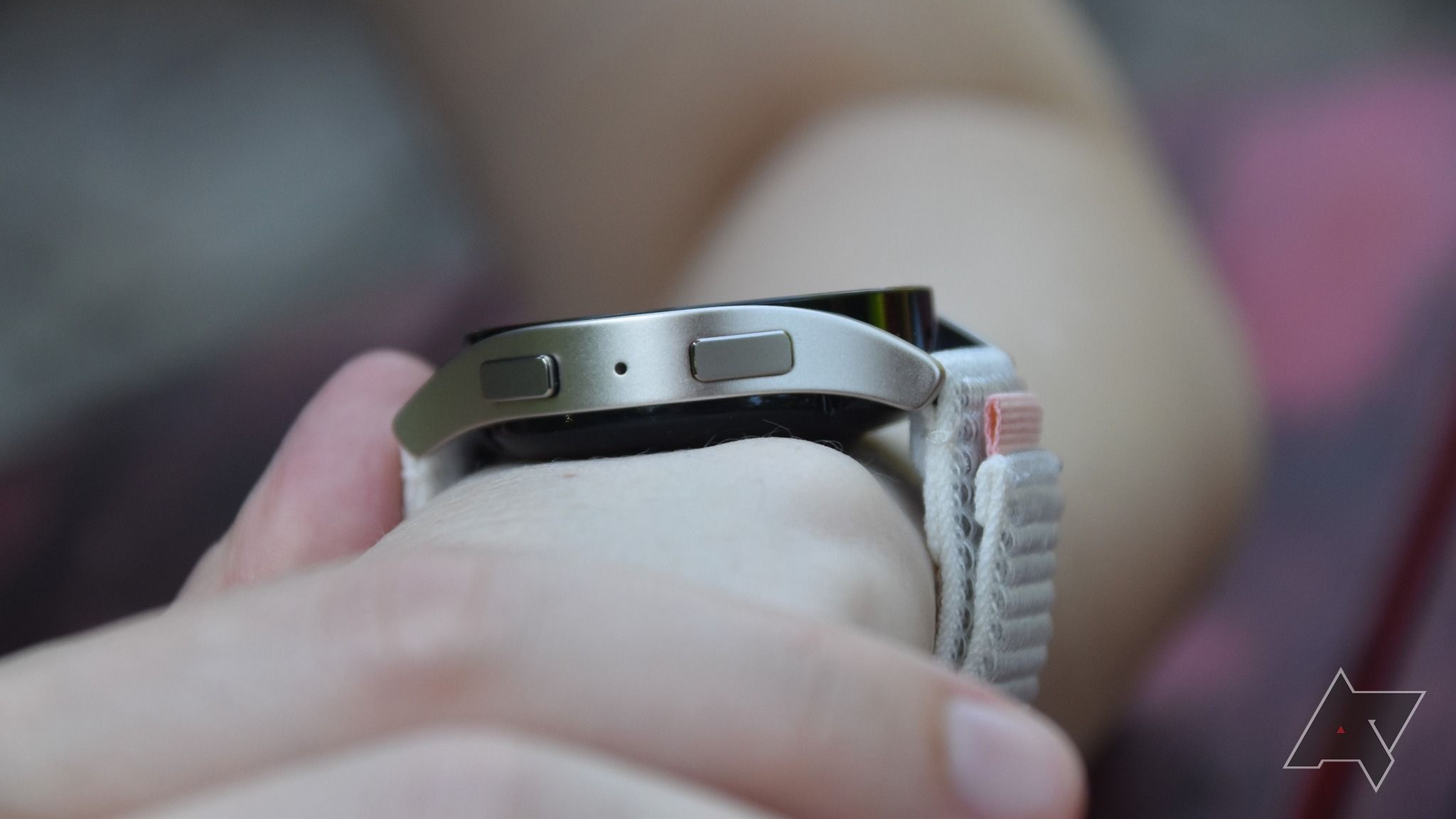 Without the screen on, you'll be hard-pressed to spot the difference between the Galaxy Watch 6 and its two predecessors. We have the same minimal design, two-button setup with sensor contacts for measuring ECG and BMI, and curved sensor array sitting on bottom against your wrist. With no real change in size or material, the Watch 6 is the same light weight that's easy to adapt to and won't feel like some shackle on your wrist during sleep tracking.
The flat sides of the Galaxy Watch 6 match flush the totally flat touchscreen at the widest point, then taper down in a slight curve to the lugs to avoid sticking out too much on sleeker wrists, like mine. Samsung has slightly reworked the sculpting on the in-box Sport T-Buckle Band, which opens up the sculpted inner edges a little more around the pins to make it easier to get the strap in and out.
As good as this change is, however, if you have a smaller wrist, you'll still want to switch to a band with a flat lug edge. As was the case with the Galaxy Watch 4 and 5, straps sculpted that match the body of the watch don't have enough give to avoid unsightly gaps between the top/bottom of your wrist and the strap.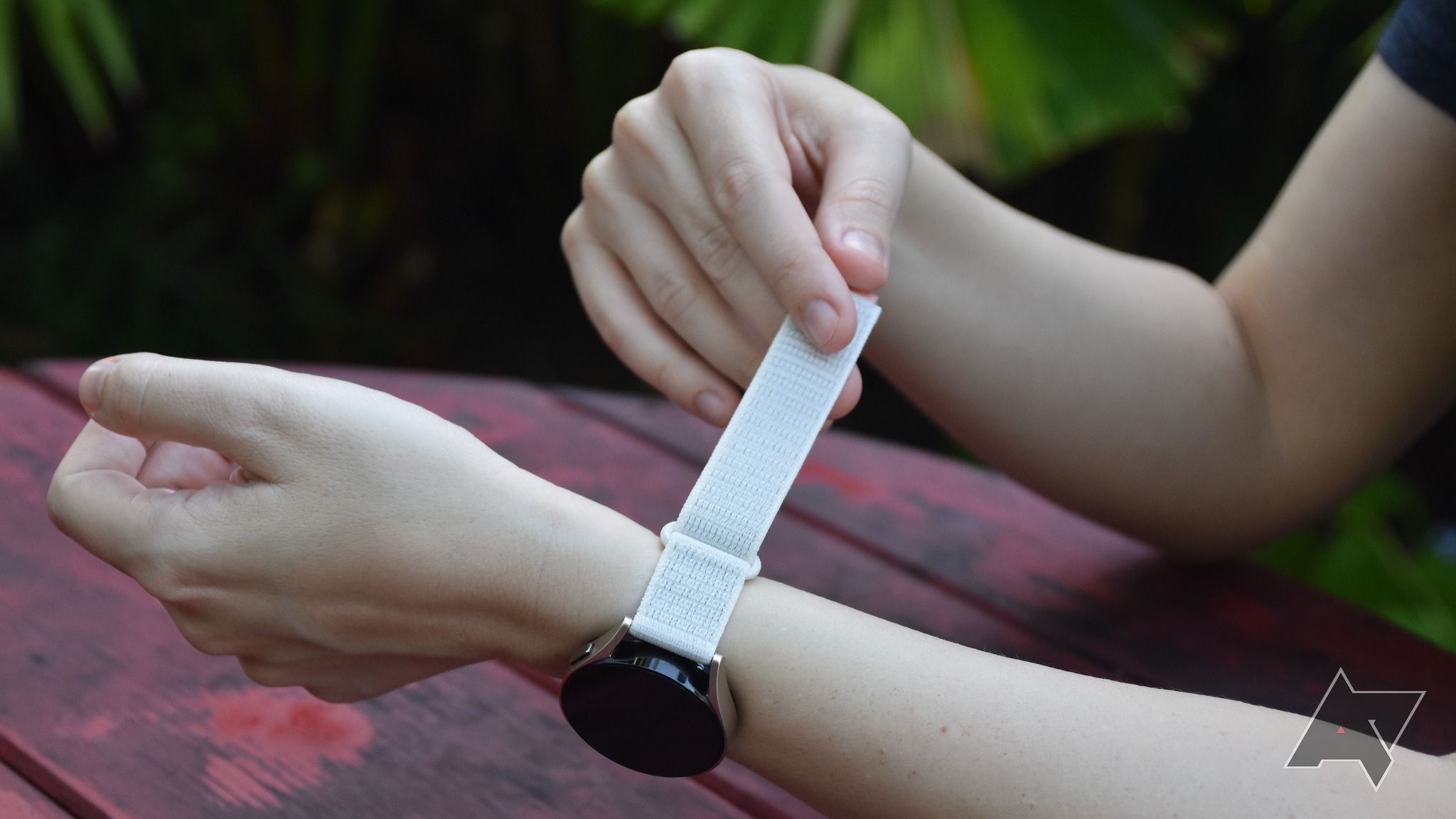 The only Samsung strap with a flat edge is the Fabric Band, which I was fortunate enough to receive alongside my review unit, but there are plenty of other excellent Watch 6 bands out there to try. This is not a Fabric Band review; all I'll say is that I liked the Sand one they sent so much that I personally bought myself another one in purple.
Another welcome strap design change makes swapping watch bands easier than ever — well, first-party straps at least. Currently, most watch straps have an integrated spring pin with a super-small lever that you can pull back to retract the pin and slip it in or out of the groove in the watch's lugs. It's not terribly hard to use, but it can dig into your finger bed and be hard on those with arthritis. Samsung's Galaxy Watch 6 straps swap over to a large, easy to see and press button on the underside of the strap that's much easier to press for multiple seconds as you get the band out or get a fresh one lined up with the lugs.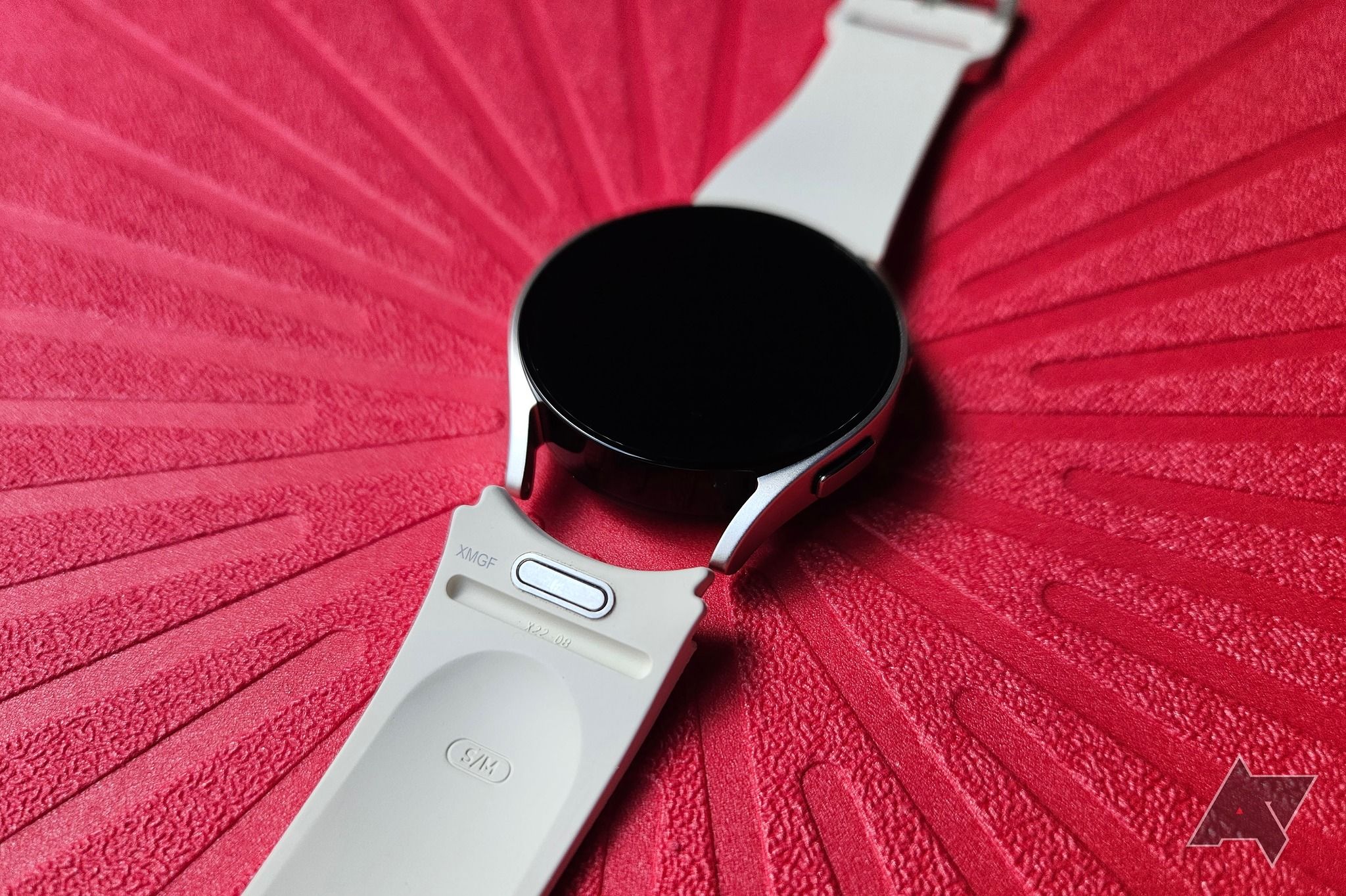 Samsung dropped one colorway from each size of the Galaxy Watch 6, so we only get two colors per size instead of three. The larger 44mm model comes in Graphite — oh, let's call it what it is, black — and Silver, while the petite 40mm model comes in Graphite or Gold. The practical part of my brain understands Samsung playing it safe in a year of fiscal uncertainty since more colors mean more SKUs and more money, but the stubborn side of me laments the lack of any fun colors like the 4's Green or the 5's Sapphire. At the very least, give us Silver and Graphite for both sizes instead of splitting Gold/Silver between big and small.
Moving inside, we've finally moved beyond the 1.18Ghz Exynos W920 that has powered the Galaxy Watch 5 and 4, the Watch 6 uses the slightly faster 1.4Ghz Exynos W930 paired with 2GB of RAM rather than 1.5GB. The health sensors themselves don't seem to have changed much, with Samsung instead focusing on refining the software features of Samsung Health instead, and the curve of the fitness sensor helps it sit flush and firmly in place against your wrist so long as your strap is properly fitting. It's still a bit too easy for the ECG to be messed up by mistouching the Aluminum watch housing in addition to the BIA sensor atop the power button, but that's as much user error as it is a hardware defect.
Display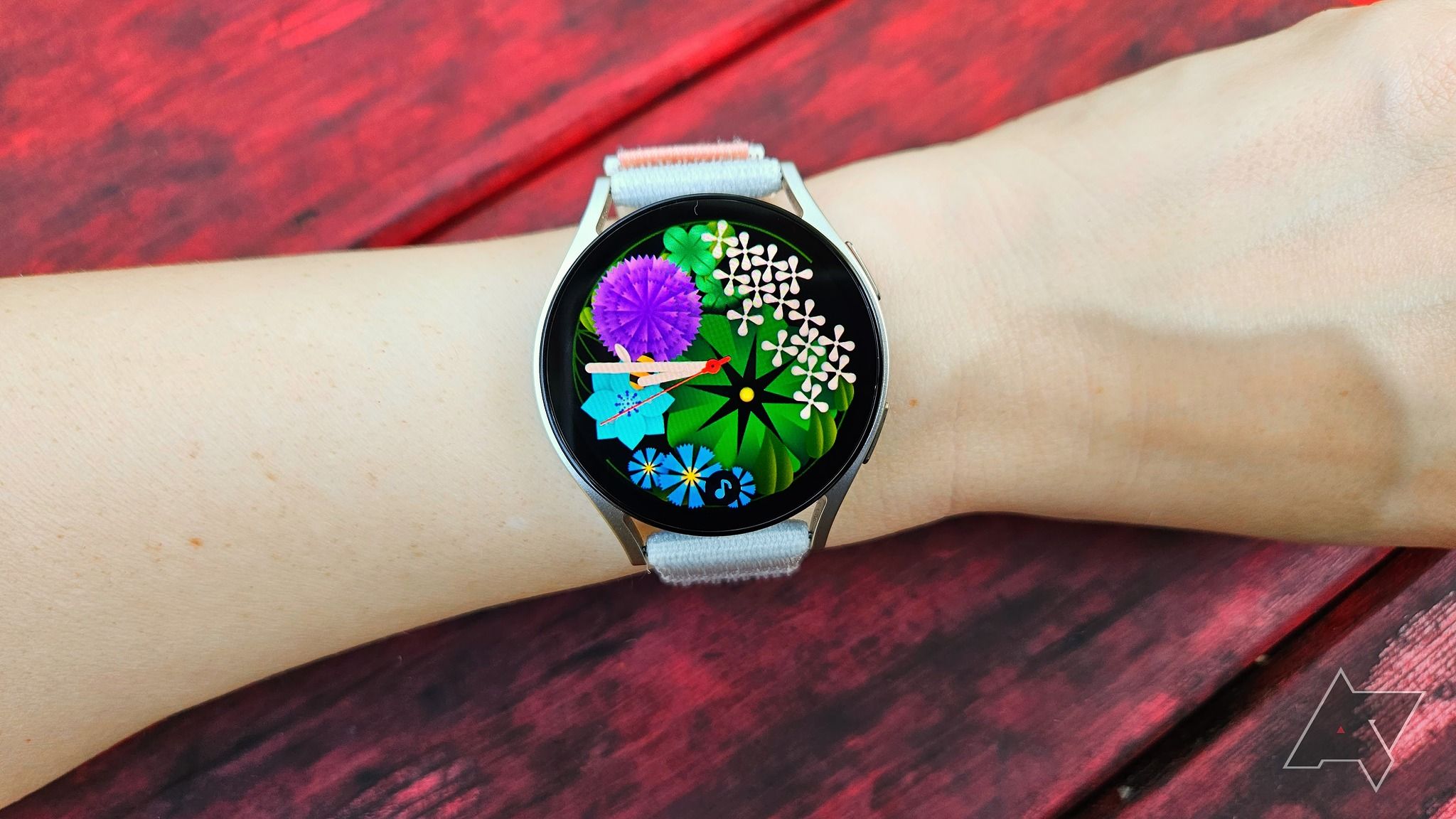 The most visible hardware change to the Galaxy Watch 6 is by far the display. We actually get more touchscreen inside the same housing. Instead of a 1.19-inch screen, we now have a 1.3-inch, 432 x 432-pixel Sapphire Crystal Glass screen. (1.36-inch to 1.5-inch for the 44mm model.) This change sounds small on a spec sheet, but it makes a big difference when typing, viewing images, reading notes and notifications, and interacting with apps. It also just helps the watch look more complete without as thick of a bezel — not that they were chunky on the Watch 4 or 5.
There might be a placebo effect from the narrower bezels, but I swear using the haptic bezel is smoother on the Watch 6 than previous editions. We might have the option of a physical rotating bezel again with the 6 Classic, but for thin-wristed folks like me, being able to at least consistently scroll with a fingertip around the edge is welcome considering how much of One UI Watch is scrolling-based.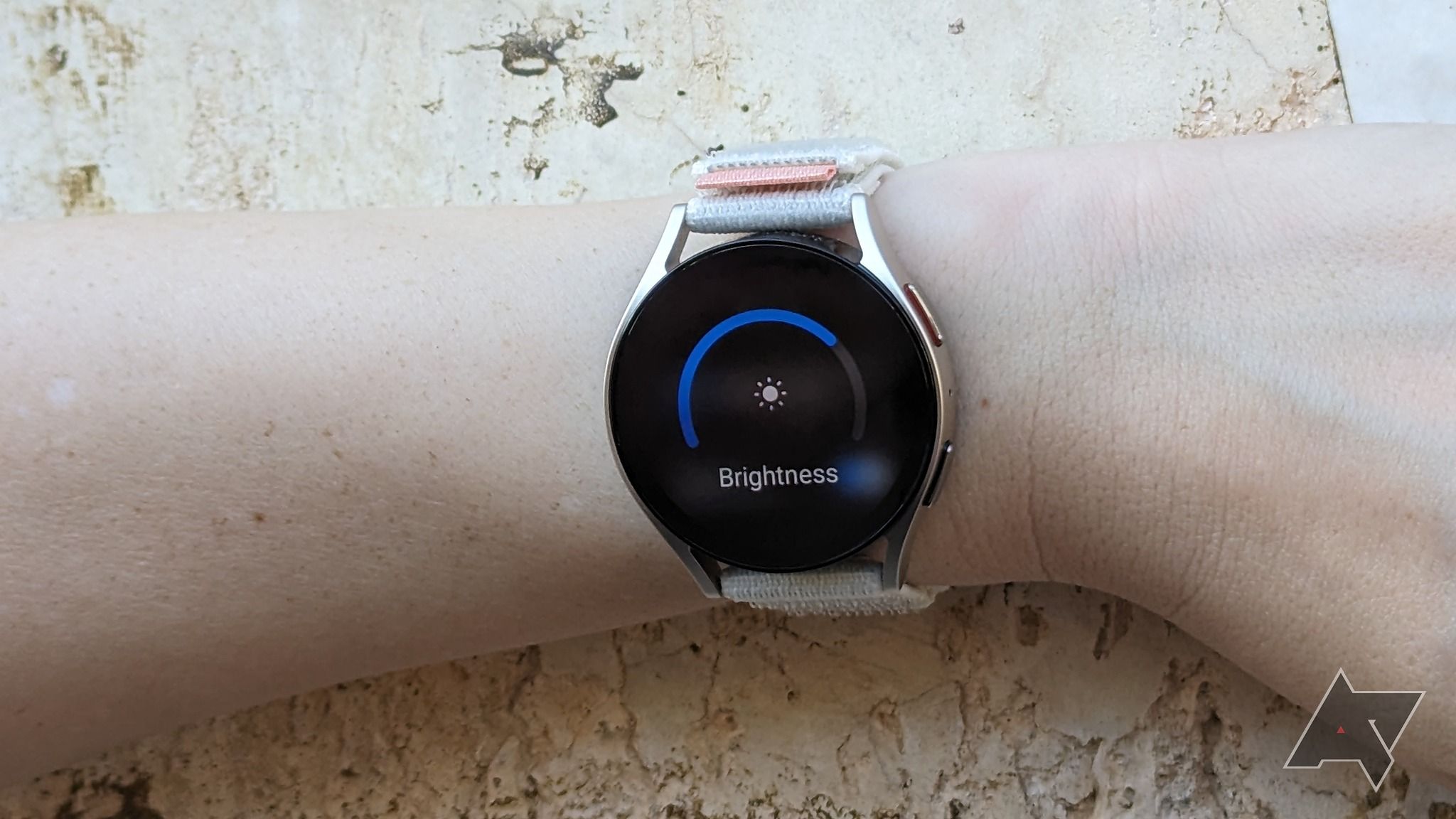 Screen brightness is the jaw-dropping upgrade, with the Watch 6's max outdoor brightness of 2,000 nits is easily visible while powerwalking through a searingly sunny Florida theme park. No need to shield the watch to check your steps; even with dark, mirrored sunglasses on, I never had any trouble making out my screen in full sun or shade. That's something that even the best Android phones struggle with; it's twice a bright as last year's Galaxy Watch 5 — and the same brightness as the $800 Apple Watch Pro for less than half the price.
If anything, my only screen complaint is that I wish that Galaxy watches could get the same Extra Dim setting Galaxy phones have. This would allow the screen to be less "DEAR GOD, TOO BRIGHT" when you're checking the time during a 1:54 AM insomnia migraine.
Software and performance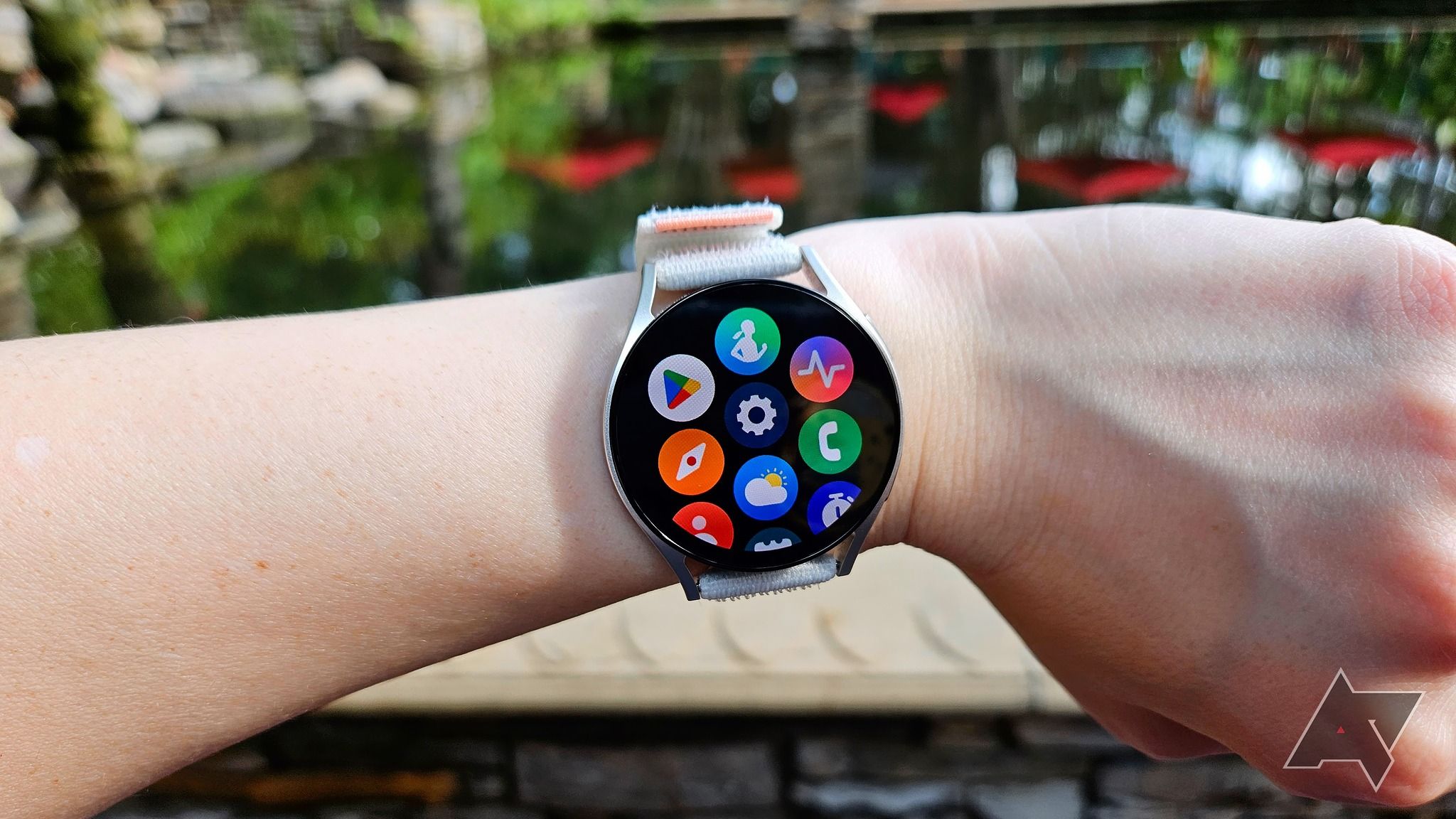 Samsung can — and definitely is — resting on its laurels in regard to Wear OS improvements, as the software improvements here are almost entirely limited to a series of new watch faces and the Samsung Health improvements we'll cover in the next section. But it's the changes that aren't readily visible that make the most impact: the battery efficiency of Wear OS 4, the smoothness of extra RAM to allow easier switching between apps, notifications, and media, and the seamless integration with Galaxy phones — and even decent integration with Pixel phones with some app-based help.
While the ability to sync certain modes between the Watch 6 and Galaxy phones can be quite nice — as is sleep mode on the watch also activating it on your phone, and any timers, alarms, and reminders on your phone mirroring to your watch with wonderfully smooth UI — I've found that installing Google's Clock app on the Galaxy Watch allows for much the same effect for Pixel owners. Of course, you'll have to go out of your way to download all Google apps outside Google Assistant, but with watch app installation easier than ever through the Play Store app on your phone, that's no tall order.
Another unsung hero for the Galaxy Watch 6 is Google — and other app developers — starting to take advantage of the Tiles API in order to give us the scrollable, glaceable integration with our favorite apps. For instance, Google Keep recently added a tile for pinning a particular note to your main carousel, and it's everything I wanted for putting my grocery list on my wrist as I bob and weave through Costco on a Sunday afternoon.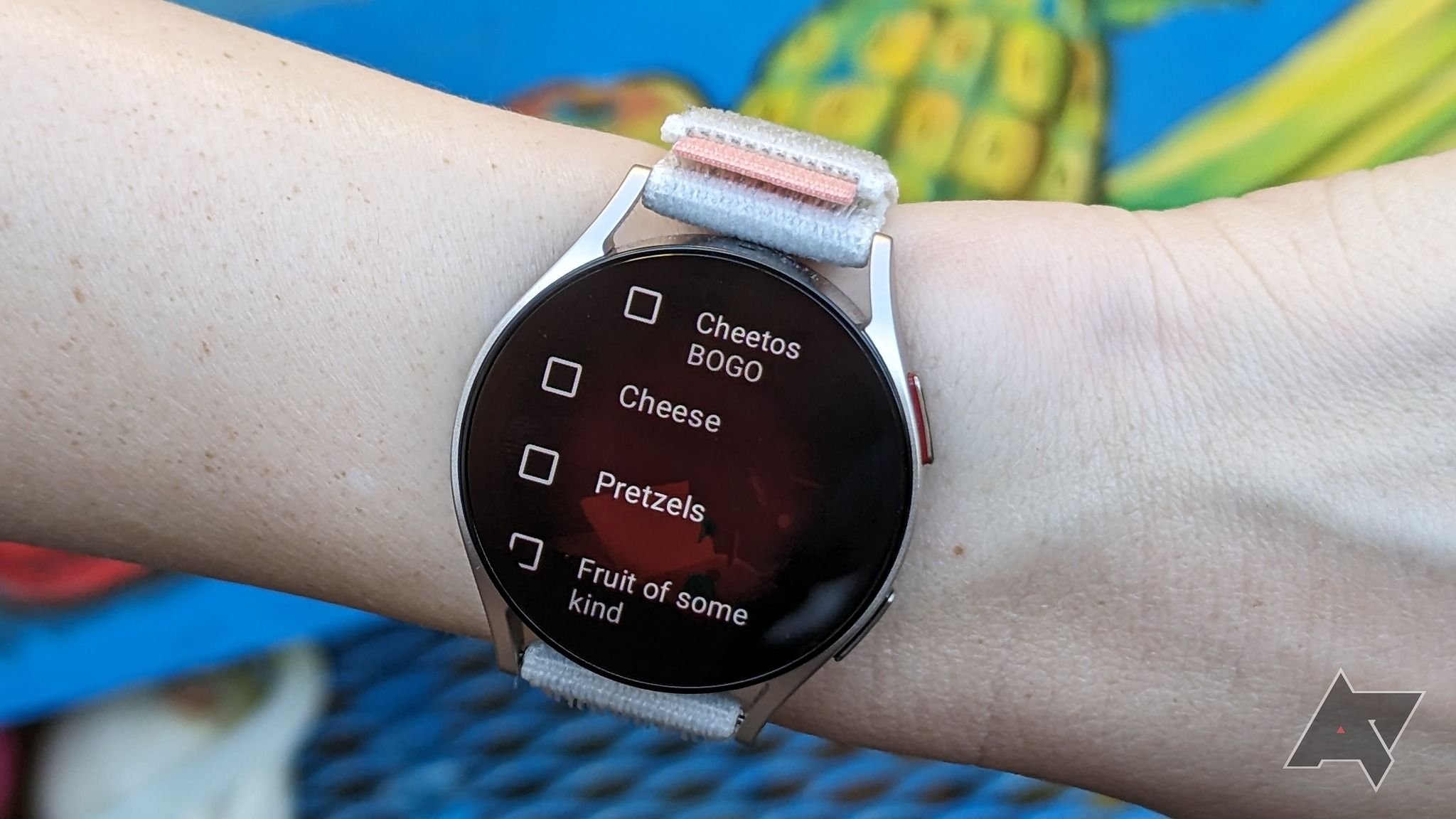 Wear OS apps are also coming in greater numbers, such as the recent additions of Audible and Whatsapp. App support on Samsung watches — and on Android watches as a whole — has been hit or miss even after the overhaul at Wear OS 3, but we're finally getting it as we head into this fall with the Galaxy Watch 6 and the upcoming Pixel Watch 2.
One ability I've not tested quite yet — but will soon — is the ability to transfer from one phone to another without having to set up everything directly from scratch again. This has been a claim of Wear OS 4 and should fix a major hassle of Wear OS smartwatches (at least among us phone-swapping enthusiasts) and help cut down on Wear OS's still lingering frustrations.
Speaking of frustrations, Samsung needs to build a step into its onboarding to set which apps do and do not notify on the Galaxy Watch 6. The "allow new apps to notify" setting helps, but it doesn't do much for the 100+ apps you already have installed that are weirdly not showing notifications on your new watch.
Health and fitness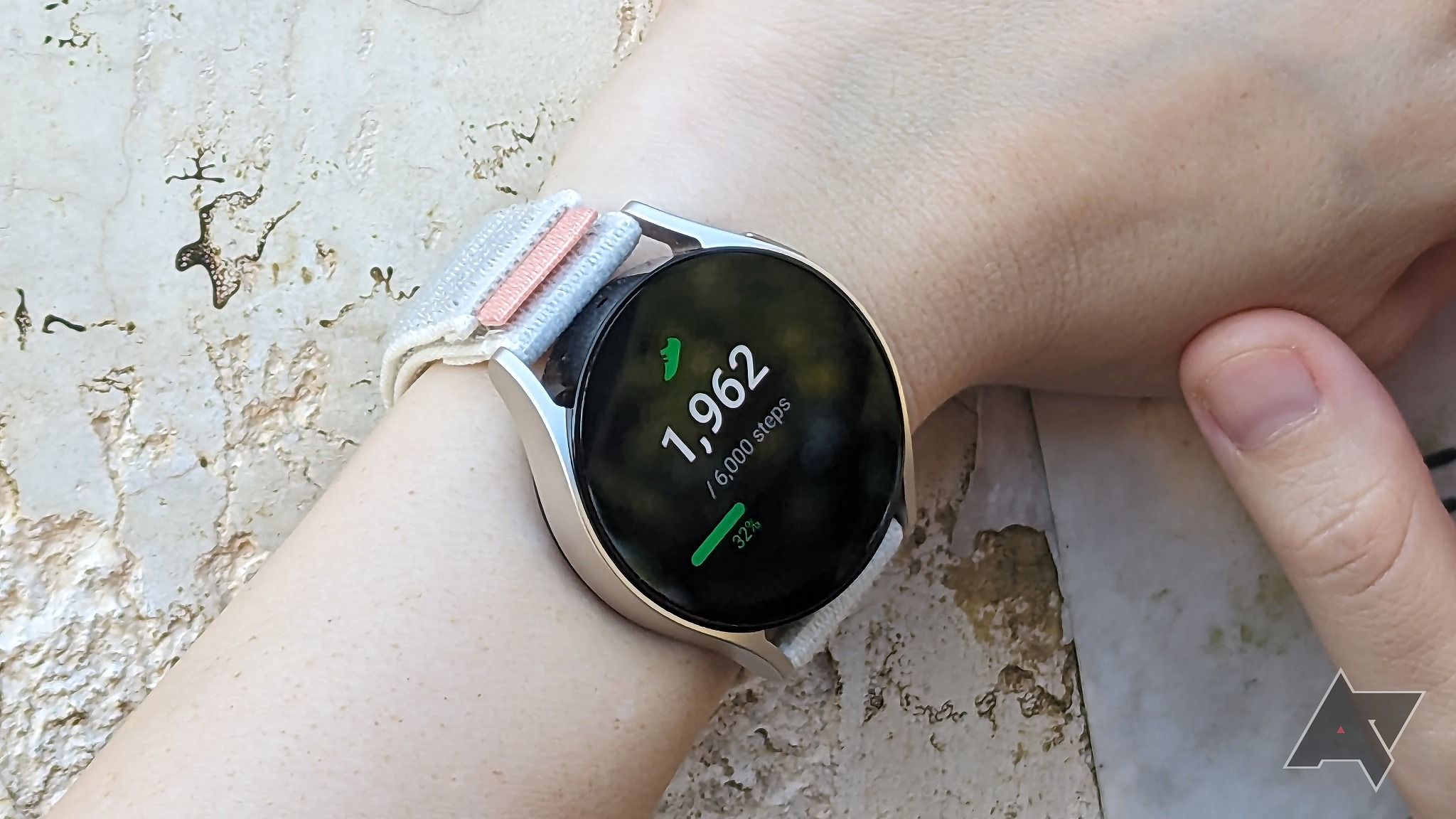 I've gained new appreciation for Samsung Health this year after the paywalled (and inconsistent) fitness experience on the Fitbit-powered Google Pixel Watch. Yes, Samsung Health's phone app UI hasn't really changed since the days of the Gear and Galaxy Watch Active series, but features have expanded and the app remains just customizable enough to put your most important data where you want it.
While Samsung's sensors themselves aren't quite as accurate as Apple's, the Galaxy Watch 6's sensors provide a consistent enough baseline to give me a proper look at my activity levels, heart rate, and (most importantly) the quantifiable data that I am destroying myself via lack of proper rest. It gives me the bragging rights of having walked ten miles around the Magic Kingdom during an Excessive Heat Warning and how little deep sleep I got while staying up late binge-reading yet another trashy Fantasy Romance manwha.
Samsung's main Galaxy Watch 6 hype revolves around the expanded sleep tracking and personalized heart rate zones. I actually got an extra month with the new sleep tracking thanks to the One UI Watch 5 beta on the Galaxy Watch 5, which allows me to say with certainty that the new sleep coaching can be helpful but only so long as you're willing — and able — to listen to it.
Samsung Health already paired sleep tracking users with an animal even in past generations — I used to be a hedgehog, but now I am a penguin — but I welcome the ability to work towards specific tasks each morning and evening helps the sleep tracking take a little better than simply trying to browbeat you into going to bed on time. I've done sleep tracking on the Galaxy Watch 5 and 4, and only the Galaxy Watch 6's version got me thinking of the other sleep habits that impact your rest and restoration more, such as getting your butt out of bed, kickstarting your metabolism, and getting your breathing under control before you actually lay down.
But sleep coaching only lasts two to three weeks in most instances, and the swanky looking Sleep coaching watch face — easily the best of the new watch faces — loses more than half its function and appeal as the inner ring of sleep coaching habits instead becomes "Try sleep coaching again?" You also lose that handy morning/evening checklist once coaching ends, and without that list I immediately fell back out of my freshly-formed habits. Rather than ending sleep coaching altogether, after completing sleep coaching, you should be able to keep the daily goals going and try to close that loop every single day.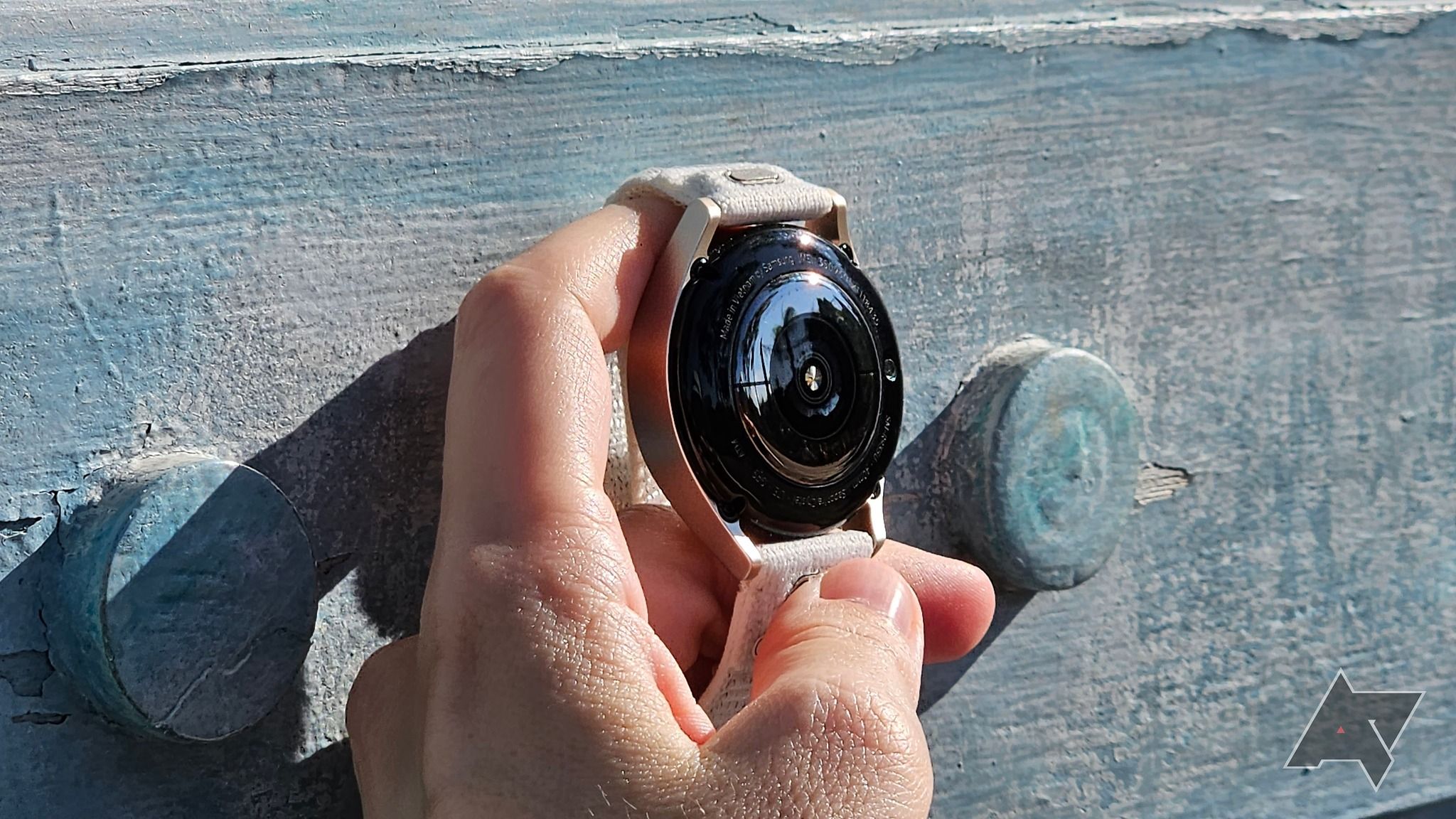 Samsung's personalized heart rate zones try to achieve feature parity with more robust fitness suites like Apple and Garmin, but it's still a bit rough around the edges. In order to activate it, you'll need to complete a ten-minute run, and it's based off the max heart rate of your first run, meaning that if you don't work out hard enough on the first go, your zones may be off and treated like you're getting a harder workout than you actually are.
Like so many fitness suites, Samsung has added menstrual cycle tracking, but I've not had a chance to test it yet. I'll be updating this review as tracking progresses, but this obviously needs several red tides to get things mapped out, so it will be a while. The Labs feature to try and predict your period through skin temperature changes looks interesting, but so far, the most important feature here is the ability to delete all Cycle Tracking data in three taps should you live in a state trying to drag us back to the lead-lined '50s.
Battery life and charging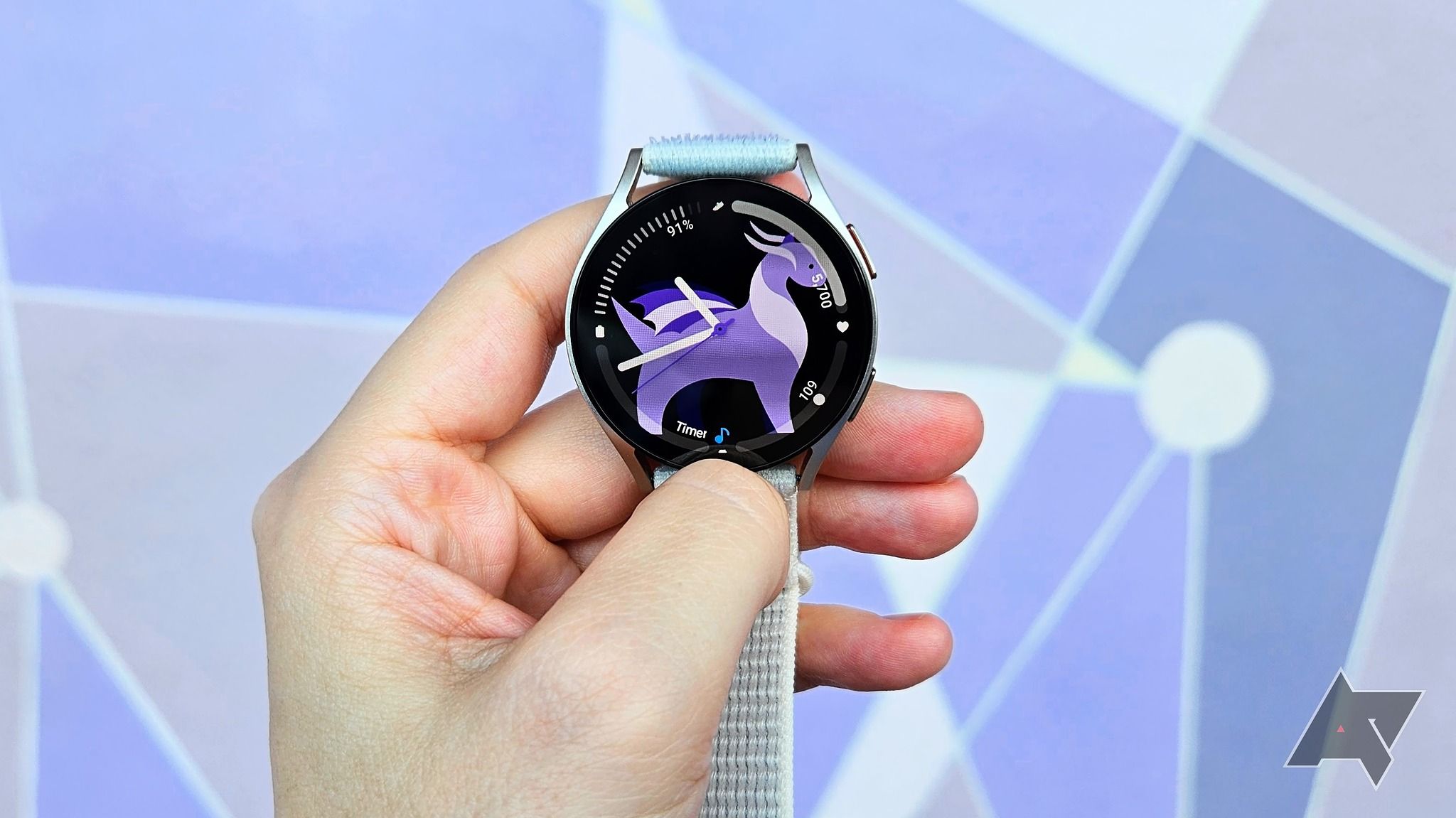 A few notes for the following battery testing and claims: the Galaxy Watch 6 that I reviewed is the LTE+BT model, but I did not have a data plan to use on it. I left the radios alone for the first five days of testing, then disabled LTE. I used Always On Display for about a day, but the rest of this two-week testing period was without it, as the half-second lag switching from AOD back to active use annoys me. I used the Photos watch face with four complications and gif backgrounds, which impacted the battery life on my Galaxy Watch 5 but not on this year's Watch 6.
The Galaxy Watch 4 tended to last a day or less on a full charge, and the Galaxy Watch 5 could go one to one and a half days. The Galaxy Watch 6 consistently lasted two days with normal use and a day and a half during high-intensity use. I'd worried that the 2,000-nit screen would wreck battery life on days spent mostly outdoors, but that proved unfounded.
Another major factor in battery life is how active you're being and how often it's tracking workouts for you. There were multiple days of heavy fitness on the weekends and weekdays with basically no workouts at all, and only after spending a full day walking around at max brightness while recording 10 miles of walking did the watch slip below 36 hours. Setting continuous heart rate didn't have much effect on the battery, either, so enable it and let it keep charting your zones.
Competition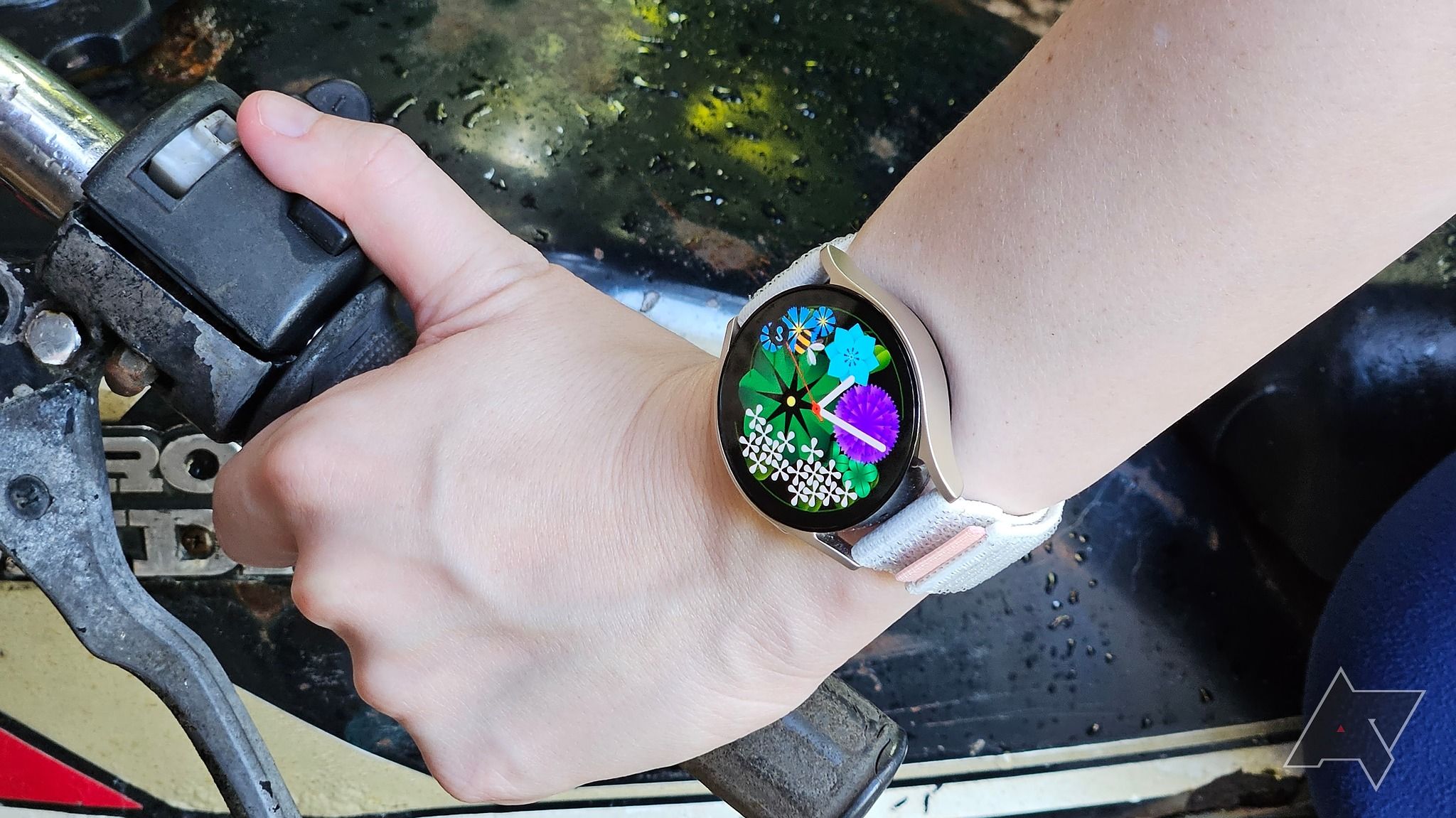 I've compared the Galaxy Watch 6 to its predecessors heavily throughout the review, so I'll simply sum up the upgrade case here with the following. Yes, Galaxy Watch 4 users should upgrade, not just to get the super-bright screen but a more durable Sapphire Crystal Glass and multi-day battery life. Galaxy Watch 5 owners, you're fine skipping this one unless you're outside quite literally all the time.
Moving beyond Samsung, the $350 Google Pixel Watch might have slightly more style, but its "pure" version of Wear OS lacks a lot of the features we take for granted in One UI Watch. Battery life and hardware performance are noticeably better on the Watch 6, and most importantly, the Galaxy Watch 6 uses standard bands instead of a proprietary system that gets loose and unreliable. Oh, yeah, and Samsung doesn't make you pay a subscription for the fitness tracking you probably bought your watch for in the first place.
While the $350 Mobvoi TicWatch Pro 5's hybrid display is cool, the Galaxy Watch 6 is a more compact and refined style on top of being on the latest version of Wear OS and having much better integration with Android (and of course Samsung) for a more cohesive experience and better health/fitness suite. This goes double for the most recent generation of Fossil/Skagen watches. The TicWatch Pro 5 also lacks Google Assistant, which is an obvious pain point.
Comparing the Galaxy Watch 6 to the Apple Watch 8 makes little sense, as they are mutually exclusive platforms and I'm almost positive none of you will change phone OSes for a watch. That said, the Galaxy Watch 6's screen is twice as bright, but the Apple Watch has more robust and consistent health tracking and app integration.
Should you buy it?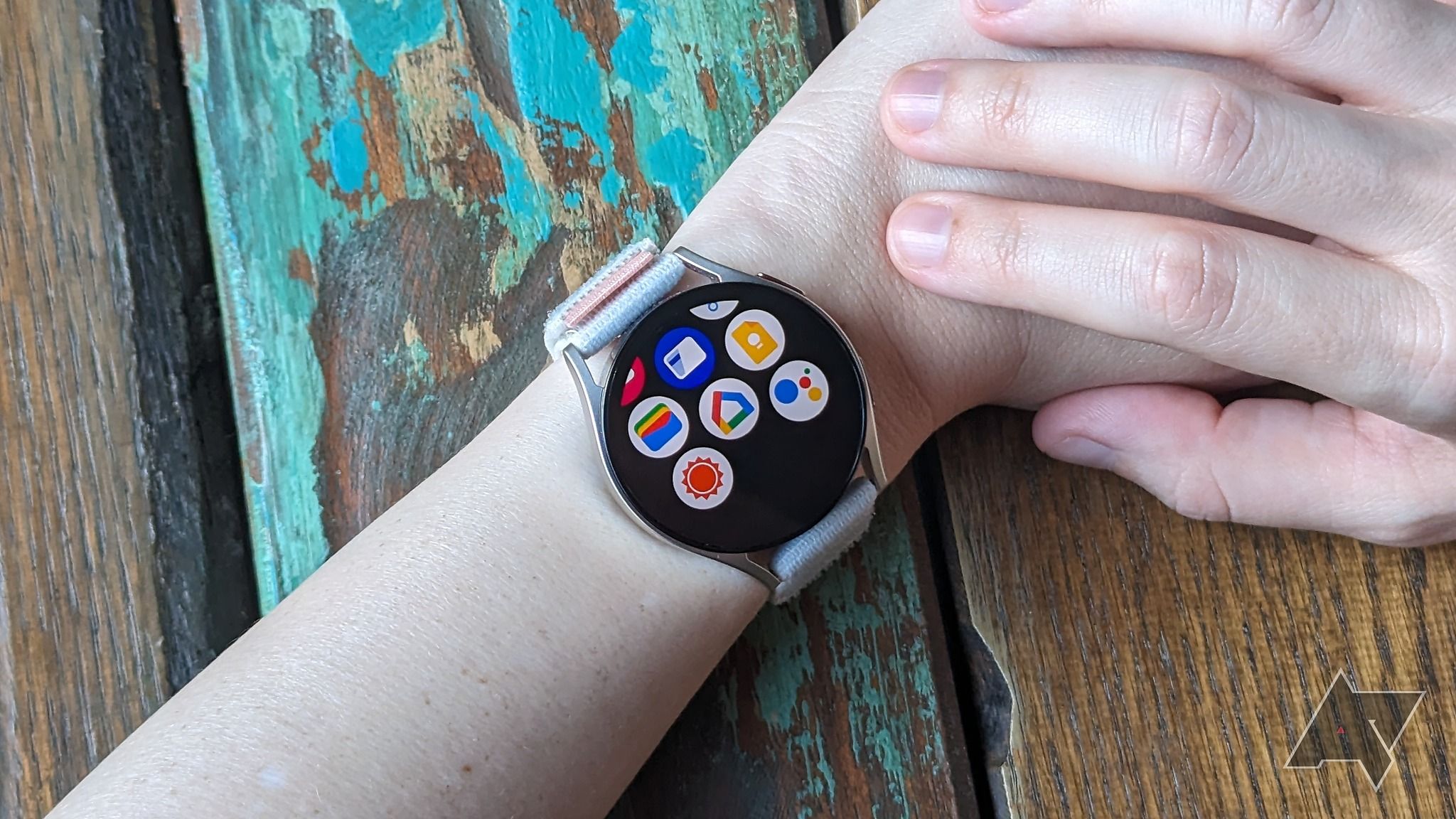 Boring though it may seem on the surface, the new screen alone makes Samsung's Galaxy Watch 6 king of the Android smartwatch mountain, second only to its big brother the Classic. Of course, the Classic is an extra $100 just for a spinning bezel, so I'd argue the regular Watch 6 is a better overall value. No other Wear OS watch offers a more consistent experience, a more full-featured system, or a better screen.
Do we wish Samsung had taken some bigger swings? Absolutely. But the three hardware upgrades here add up to a watch that I can wholeheartedly recommend not just to Android enthusiasts but to "normal" non-tech-addicted folks. It's not quite perfect — for that, Samsung needs to resurrect the Watch Active design and give us another truly small smartwatch — but the Galaxy Watch 6 feels like a natural extension of Android on the wrist rather than some bulky, cumbersome toy that we tolerate just to get our steps and calories tracked or our notifications triaged.
The Galaxy Watch 6 feels whole, and it's content to prove its worth day to day rather than rallying around gimmicks or flashy add-ons. And if you've been burned before by the inadequacy of older watches, now's the time to open up your heart wrist and try to love again.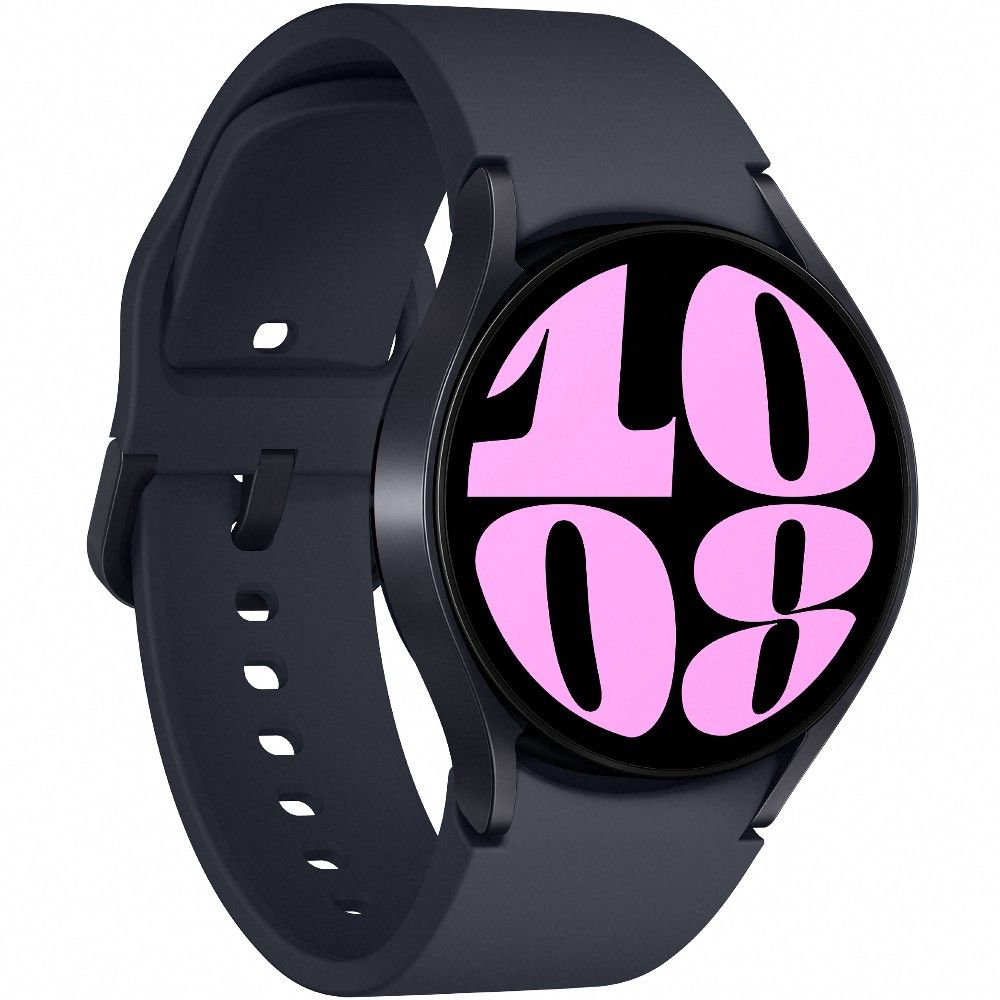 Source: Samsung
Samsung Galaxy Watch 6
With the same unobtrusive design and a slightly larger screen, the Galaxy Watch 6 embodies the term "if it ain't broke, don't fix it." It's achieved a consistent 36-48 hour battery life, solved outside visibility forever, and (finally) upgraded 2GB of RAM, making everything just a little bit quicker. Samsung Health and One UI Watch are also smoother and more full-featured than any other smartwatch, even if those improvements are coming to the older models, too.