Samsung Galaxy Tab A7

Still good

At release, the Samsung Galaxy Tab A7 was the best budget tablet we'd seen in a while. If you still own one, it's worth holding onto because nothing else really offers a much better value for browsing social media, watching TV or movies, and other casual activities.

Pros

Cheaper
Same cameras
Screen is 1200p

Cons

A little less powerful
Only has Android 12
Only 3GB of RAM

Source: Samsung

Samsung Galaxy Tab A8

Slightly better

$219 $280 Save $61

Essentially a refreshed version of the A7, the Samsung Galaxy Tab A8 comes with newer software, fewer power-hungry pixels, and more RAM and storage if you want them. It's the best affordable Android tablet around for mixed use, sitting between the bargain-basement A7 Lite and high-end Tab S8.

Pros

Slightly larger display
Can get Android 13
Better chipset

Cons

It lost a little pixel density
Samsung's high-end tablets are great, so it's understandable the company also makes some of the best cheap Android tablets. Its Galaxy Tab A series is no stranger to such accolades, and the most recent one, the Galaxy Tab A8, is an updated version of the highly regarded, low-priced A7. Both of these tablets compete somewhat with Apple's base model iPad, with slightly less powerful hardware but a significantly lower cost.
So, is there a lot of difference between the two? No. If you own the A7, is it worth upgrading? Probably not. But if you could find an A7 at a deep discount, you probably wouldn't miss most of the A8's updated features. If you really want to save money, though, you might even consider moving down to Samsung's ultra-affordable Lite class. Let's go over exactly how we reached those conclusions.
Price, availability, and specs
In a refreshing turn of events, Samsung didn't raise the price of its midrange tablet line with the latest refresh. Sitting at a cool $230 MSRP and frequently seeing discounts (since it's a couple of years old), Tab A8's not a huge investment but offers lots of utility. The Tab A7, when you can find it for sale new, might be a little cheaper.
As far as availability, anybody selling the Tab A7 is liquidating old stock. Samsung itself will only sell you the Tab A8, and most deals you'll find are for new Tab A8s as well.
| | Samsung Galaxy Tab A7 | Samsung Galaxy Tab A8 |
| --- | --- | --- |
| Storage | 32GB/64GB | 32, 64, 128 GB |
| CPU | Unisoc Tiger T618 | Unisoc Tiger T618 |
| Memory | 3GB/4GB | 3 or 4 GB |
| Operating System | Android 12 | Android 13 |
| Battery | 7,040 mAh | Up to 9h |
| Ports | USB Type-C 2.0 | USB Type-C 2.0 |
| Camera (Rear, Front) | 8MP, 5MP | 8MP, 5MP |
| Display (Size, Resolution) | 10.4″ 1200 x 2000 | 10.5″ 1920 x 1200 |
| Connectivity | Wi-Fi, Bluetooth 5.0 | Wi-Fi 5, Bluetooth 5.0, optional LTE |
| Measurements | 9.75 x 6.20 x 0.28 inches | 9.72 x 6.37 x 0.27 in |
| Headphone jack | Yes | Yes |
| Colors | Dark Gray, Silver, Gold | Gray, Silver, Pink Gold |
| IP RATING | None | None |
Similar, straightforward design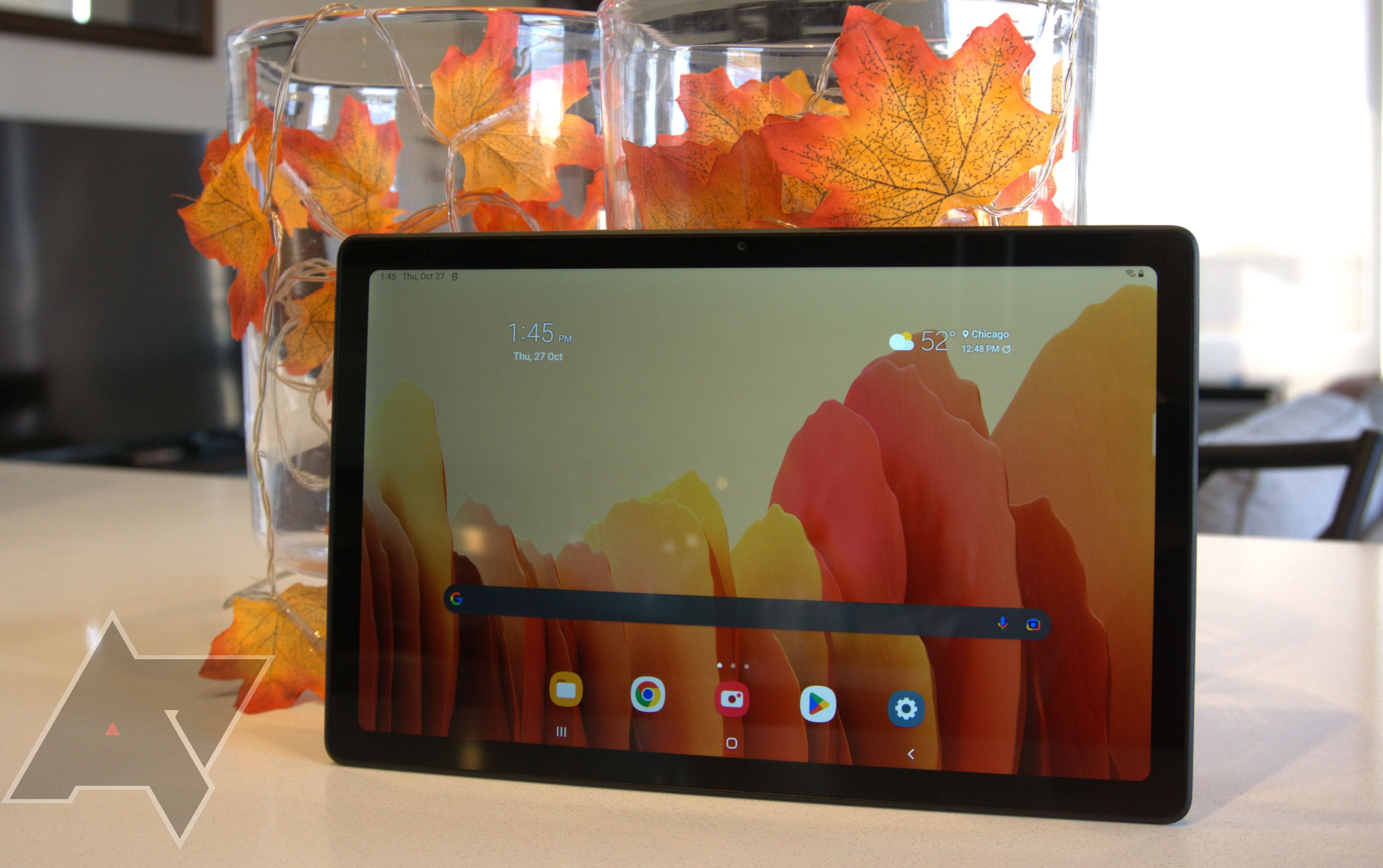 Both are perfectly fine-looking tablets with relatively professional appearances, despite their low price. The Tab A8 got a very minor visual update, with a less noticeable rear camera bulge and slightly more squared-off corners. But they're equally slick in terms of feel and appearance, with a relatively slim and lightweight stature that's easy to use one-handed. In fact, you wouldn't notice a difference without seeing them side by side, so it's a tie in the design department.
Minor display adjustments
The A8 sports a technically larger display, but you won't notice the 0.1-inch change. You might notice the slightly different form factor, which is the only thing to differentiate the two. Instead of 1,200 by 2,000 pixels in a 5:3 aspect ratio, the A8 clocks in at 1,200 by 1,920 pixels at 16:10. In other words, the A8 is slightly taller in landscape orientation, or a tiny bit closer to square than the common 16:9 resolution common to today's media.
Whether or not you notice that tiny transformation depends on what you use the tablet for. The black bars on the A8 will be ever so larger, but that's basically the only functional difference. In terms of image quality, both panels are definitely dense and bright enough to deliver clear and crisp video in many lighting conditions.
Software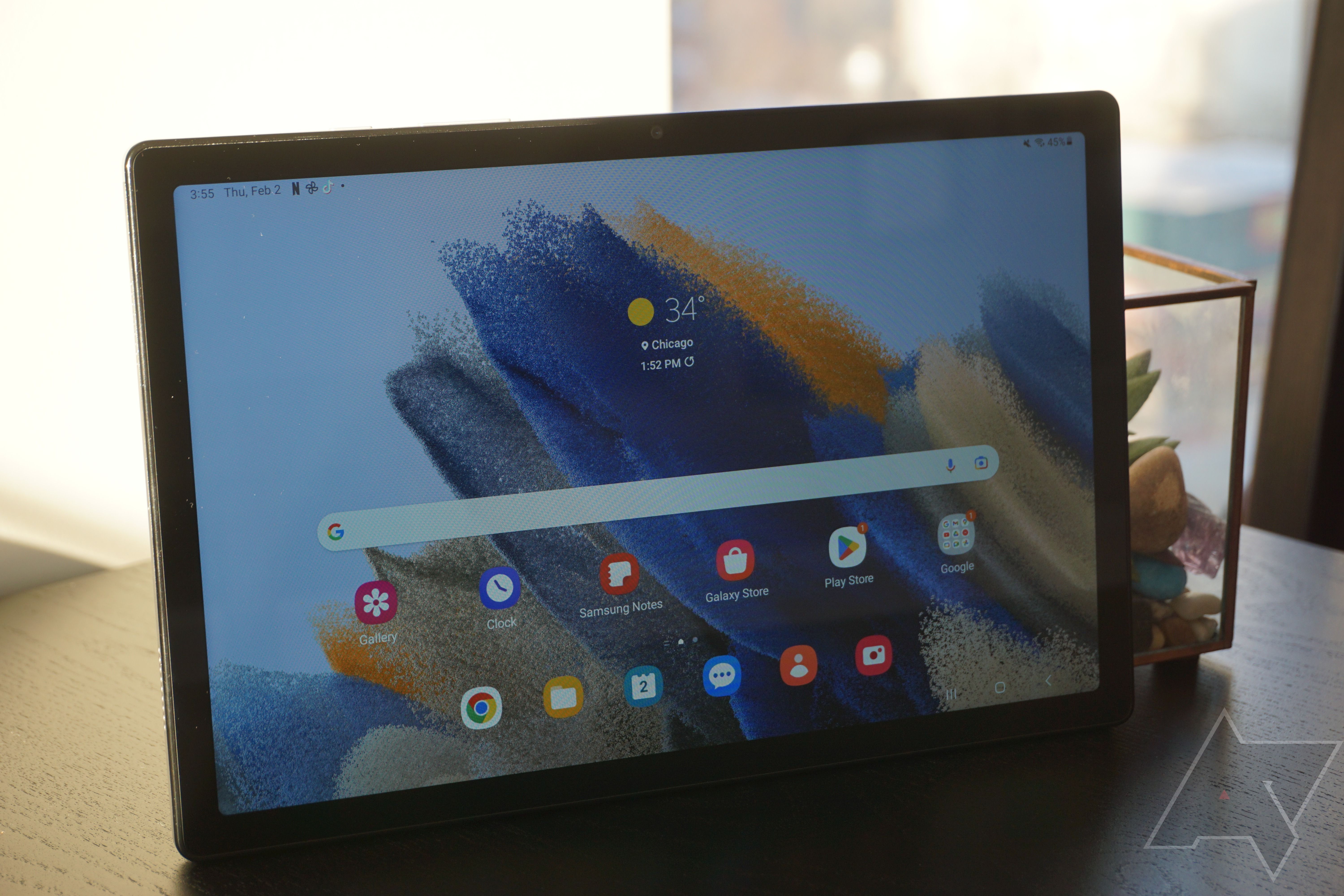 Samsung's Android implementation is second to none, and that includes the software experience on the Galaxy Tab A series. And finally, we have a definitive difference between the two tablets: The Galaxy Tab A8 has already received the Android 13 and OneUI 5 update, while the Tab A7 is restricted to Android 12 and OneUI 4.
Is it a huge dealbreaker against the A7 or a reason to upgrade to the A8? Not really, since both will continue to receive security updates for the foreseeable future. But you can be confident that the more recent operating system is more refined and functional than ever, and it's one standout reason to opt for the Tab A8.
Middling but adequate performance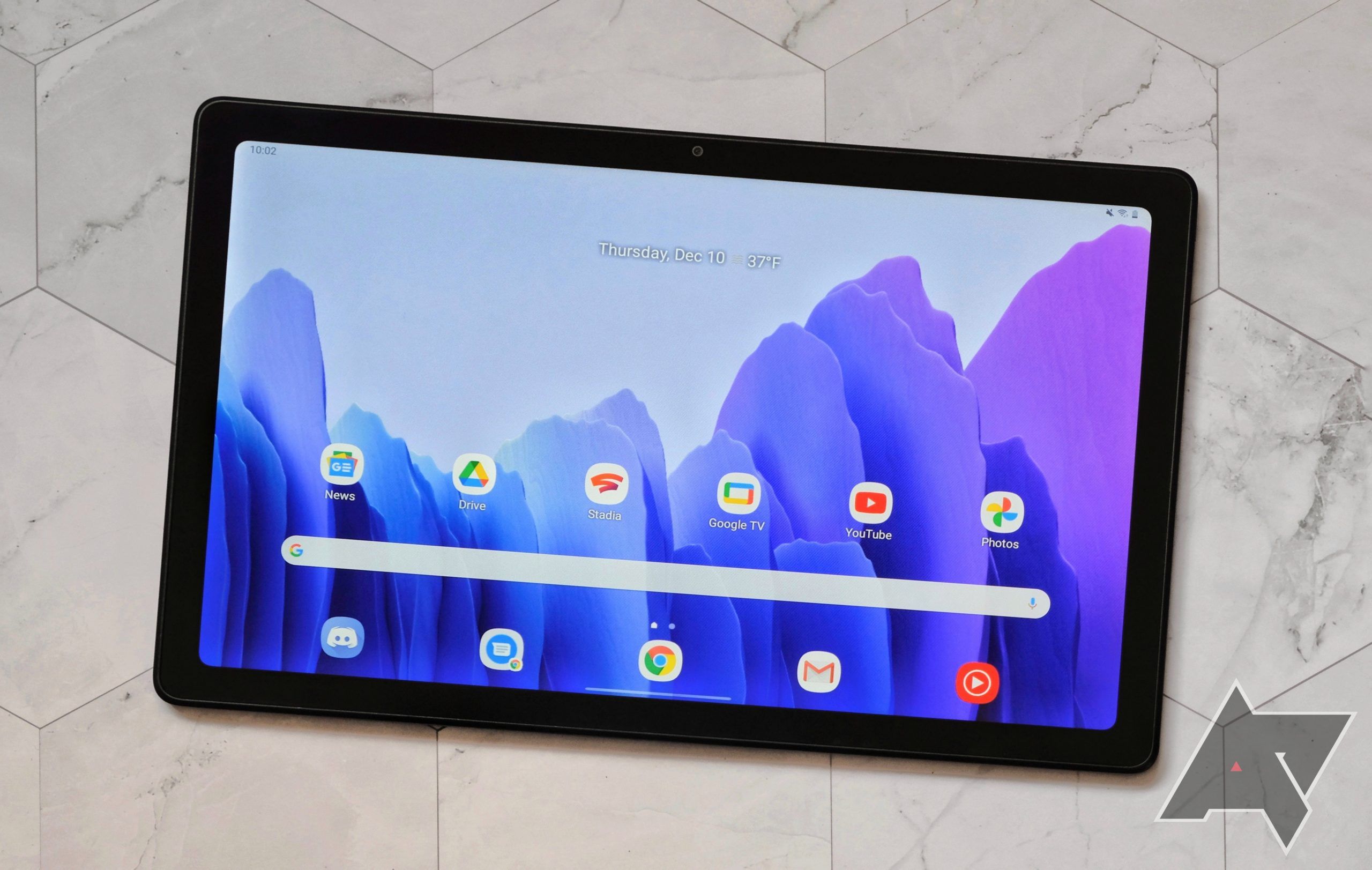 Let's stay realistic about what these things are meant to do. You can't expect to play resource-intensive 3D games at high refresh rates on such a low-cost device, and they're both a little too small to comfortably write papers or work efficiently. But the Unisoc Tiger chipset inside both is good enough for enjoying social media, binging your favorite movies and shows, and browsing the web.
Under the hood, you'll find identical hardware running both the Tab A7 and A8. The original 2020 Tab A7 used a Qualcomm Snapdragon SoC, but the 2022 mini-refresh now runs on the same Unisoc chipset from the Tab A8. Some enthusiasts claim the older hardware had a smidge more processing power, but even if that's true, it's a negligible difference between the two. On paper and in real-world use, we've got yet another tie between the two tablets.
Whatever you do, get at least the 64 GB version since it offers 4 GB of RAM compared to the 3 GB of the smallest one. That extra gig of RAM goes a long way toward a smooth Android experience.
All-day battery life on both
At the risk of sounding like a broken record, battery life is basically identical between both tablets. However, with the same hardware and similar software, that shouldn't come as a surprise. We're talking about 10 hours of screen time, which is easily a full day of casual browsing. As always, your usage patterns determine your battery life, but we don't see it being a problem, given what these tablets were meant for.
Unchanged, underperforming cameras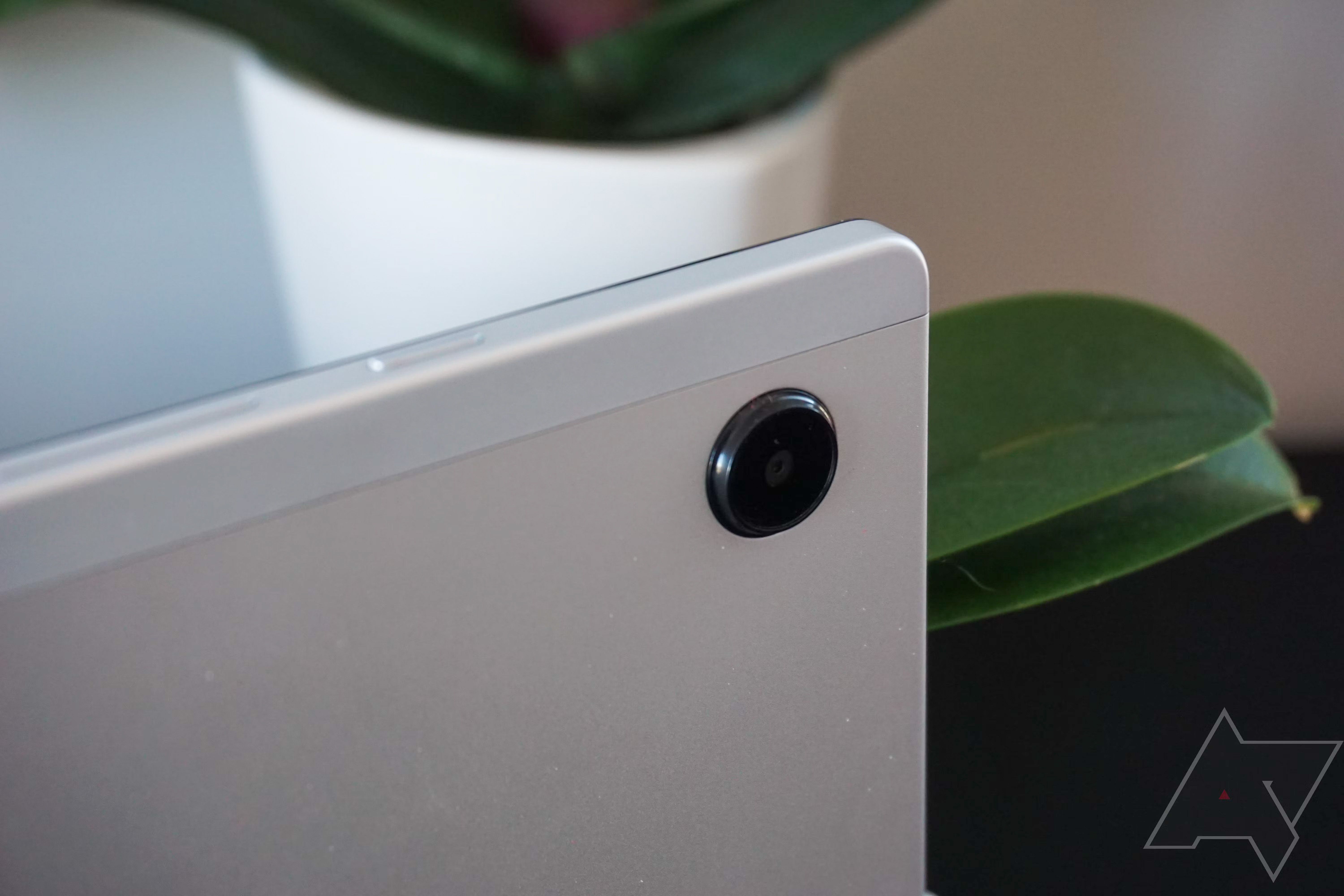 Nobody buys tablets for taking fancy photos, and Samsung knows that. The cameras work, but they don't really look great, with a tendency toward grainy, somewhat blown-out picture quality. They also don't work well at all in low-light environments. And we're talking about both the front and rear cameras; the 5MP front camera is barely even passable for video calls. That makes for yet another tie. Instead, just use your smartphone to take pictures because tablets generally aren't very good at it.
Get the new one, not the old one
Forget for a second that the two devices are basically identical in terms of components. The Galaxy Tab A8 is easier to find, more frequently discounted, and runs on newer software. There's little argument for the A7 unless you can find an obscene sale on one, which is rare.
Source: Samsung
Samsung Galaxy Tab A8
Editor's choice
A good midrange tablet
$219 $280 Save $61
A slightly refined design, a 128 GB storage option, and a newer version of Android make the Tab A8 a competent refresh of Samsung's midrange tablet line. If you already have a Tab A7, don't upgrade, though, because you won't notice the difference.
Of course, if you already own the Tab A7, there's no need to upgrade, and you likely won't notice a difference. Or you could wait until the Tab A9 releases to get the latest and the greatest as well.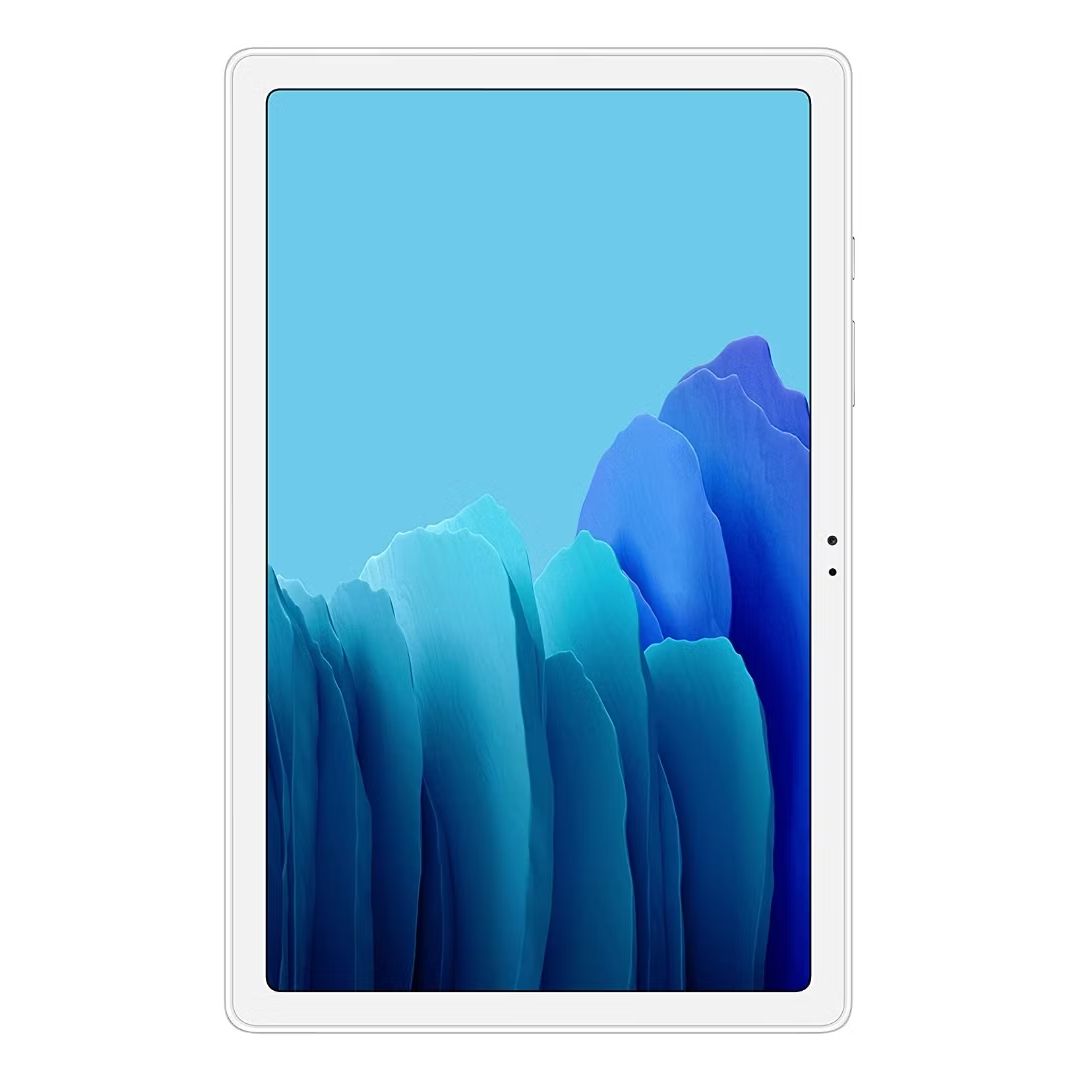 Samsung Galaxy Tab A7
At release, the Samsung Galaxy Tab A7 was the best budget tablet we'd seen in a while. If you still own one, it's worth holding onto because nothing else really offers a much better value for browsing social media, watching TV or movies, and other casual activities.