OnePlus Pad

Uniquely powerful

After nearly a decade of making smartphones, OnePlus jumps into the ring with the OnePlus Pad. A massive and high-res 11.6″ display is the highlight of this slate, which also includes a Dimensity 9000, 67W fast charging, and quad speakers for killer sound. It's not a perfect tablet, but aside from some hardware and software quirks, it should leave OnePlus fans feeling pretty satisfied.

Pros

High-res 11.6″ display with a great aspect ratio
Long-lasting battery life with 67W fast-charging
Solid performance in both light and heavy use

Cons

Odd camera bump placement
OxygenOS isn't fully polished for larger screens yet
Camera appears more impressive than it is

Lenovo Tab P11 Pro Gen 2

Impressive screen

A high-end OLED display sets the Lenovo Tab P11 Pro Gen 2 apart from most of the competition. It's also even thinner than most, at a hair under 7 millimeters. If that's not enough, it's also one of the few with an optional matching keyboard and stylus, which are both top-notch.

Pros

Amazing OLED display
Great battery life
Thin design

Cons

Struggles with multitasking
Cameras are as poor as expected
Lags on Android updates
While the OnePlus Pad is classic OnePlus style through and through, it's up against other established midrange tablet makers like Lenovo, which recently unveiled a second-generation Lenovo Tab P11 Pro that offers competitive specs at an even more affordable price.
The OnePlus Pad and Lenovo Tab P11 Pro Gen 2 both easily make our list of the best Android tablets this year, albeit for different reasons. These two devices have as many things in common as those that set them apart, so let's take a look and see which one makes a better pick for your needs.
Price, availability, and specs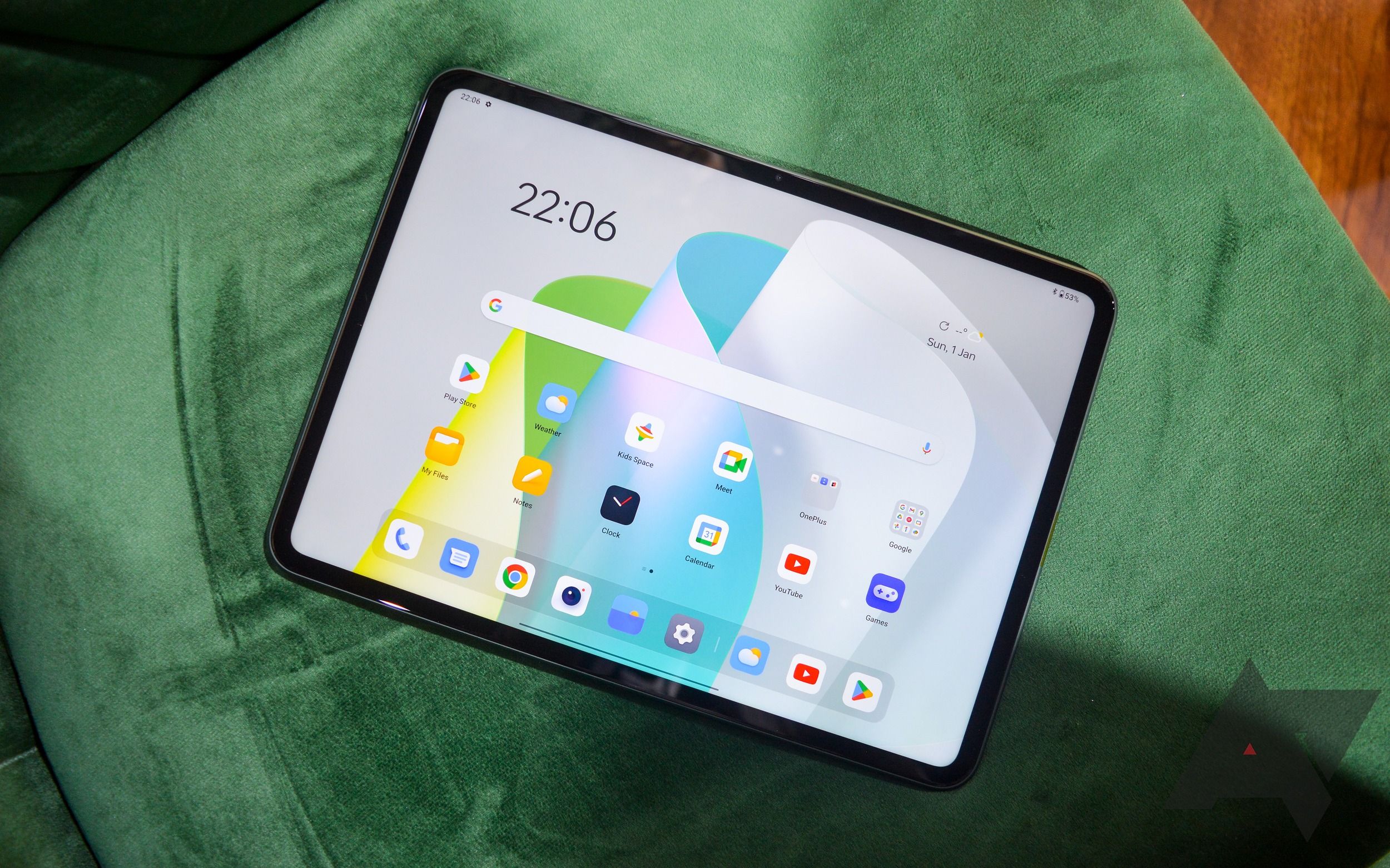 The OnePlus Pad went on sale in May 2023 from the OnePlus web store and on Amazon, priced at $480 for the single configuration that packs in 128GB of storage and 8GB RAM. You'll get a 67W SuperVOOC charger and USB-A to USB-C cable in the box, but other accessories, such as a stylus, keyboard, and case, will need to be purchased separately. Keeping with the company's penchant for shades of green on its flagship phones, the OnePlus Pad is available solely in Halo Green.
The Lenovo Tab P11 Pro Gen 2 can be picked up directly from Lenovo, Amazon, or Walmart, starting at $303 for the base version — this includes 4GB of RAM and 128GB of storage, which can be expanded to 1TB by adding a microSD card. There's also a version with 6GB of RAM for about $125 more. It's also available in only a single color, Storm Black, and the box includes a 20W charging brick, USB-A to USB-C cable, and a SIM tool to pop open the microSD card slot. A keyboard and stylus are available but sold separately.
| | OnePlus Pad | Lenovo Tab P11 Pro Gen 2 |
| --- | --- | --- |
| Storage | 128GB | 128GB |
| CPU | MediaTek Dimensity 9000 | MediaTek Kompanio 1300T |
| Memory | 8GB | 4GB, 6GB |
| Operating System | Android 13 (Oxygen OS 13) | Android 12 |
| Battery | 9510mAh | 8,100 mAh (up to 14 hours) |
| Ports | USB Type-C | USB-C 3.2 |
| Camera (Rear, Front) | 13MP rear, 8MP front | 13MP, 8MP |
| Display (Size, Resolution) | 11.61-inch 2,800 x 2,000 LCD, 144Hz, 7:5 aspect ratio | 11.2″ 2560 x 1536 OLED @ 120Hz |
| Price | $480 | Starting at $303 |
| Colors | Halo Green | Storm Gray |
Design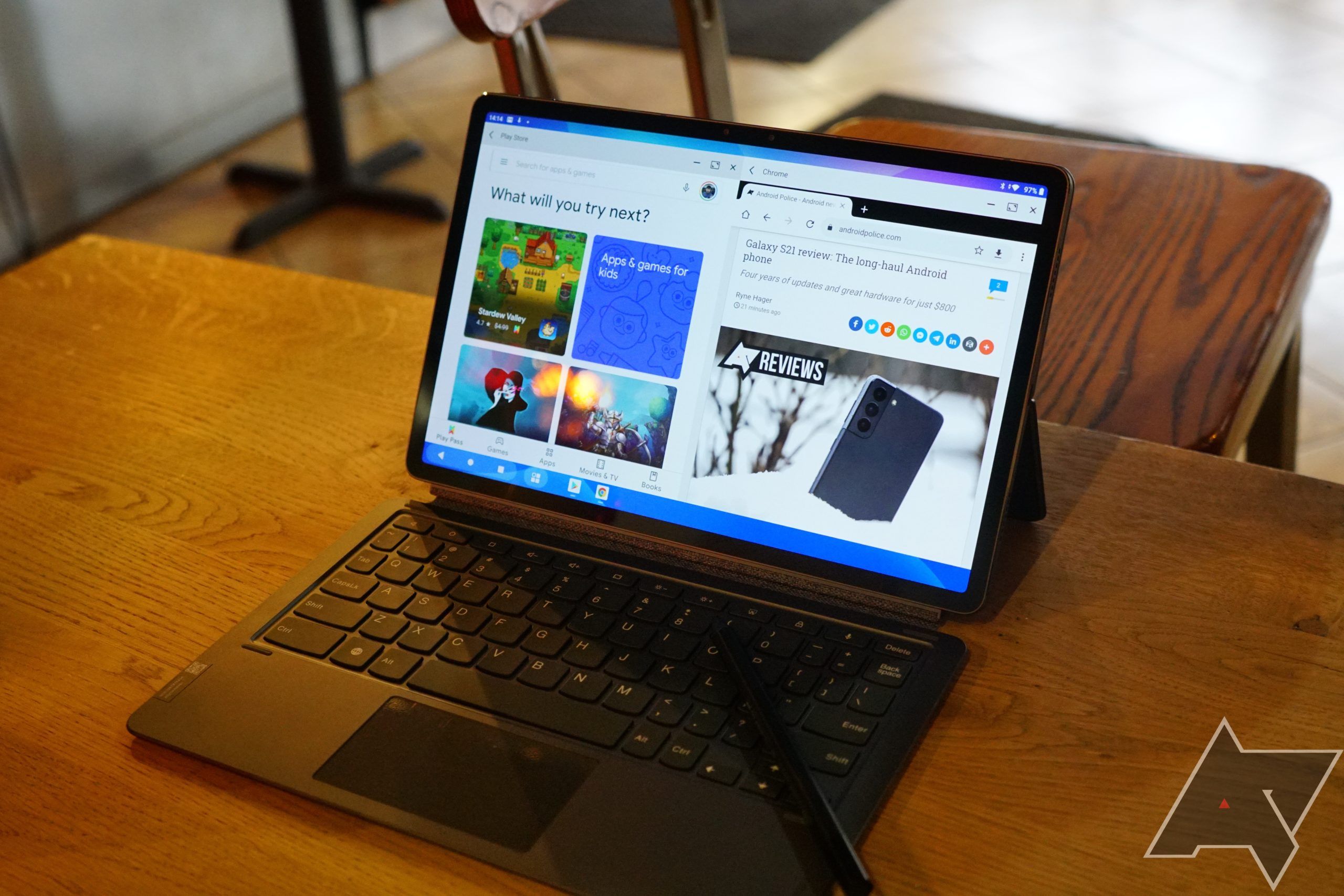 Modern tablets have pretty much settled on an established design. After all, there's only so much you can do with a large rectangular slate, and you'll spend most of your time looking at the front screen anyway.
Nevertheless, OnePlus has managed to shake things up with its debut entry in its usual fashion. Rather than adopting the flat-edged design made popular by Apple's 2018 iPad Pro for its magnetically-attached Apple Pencil, OnePlus has kept things curvy on three of the four edges; it remains stylus-friendly by slightly indenting one of the long edges to dock the company's OnePlus Stylo.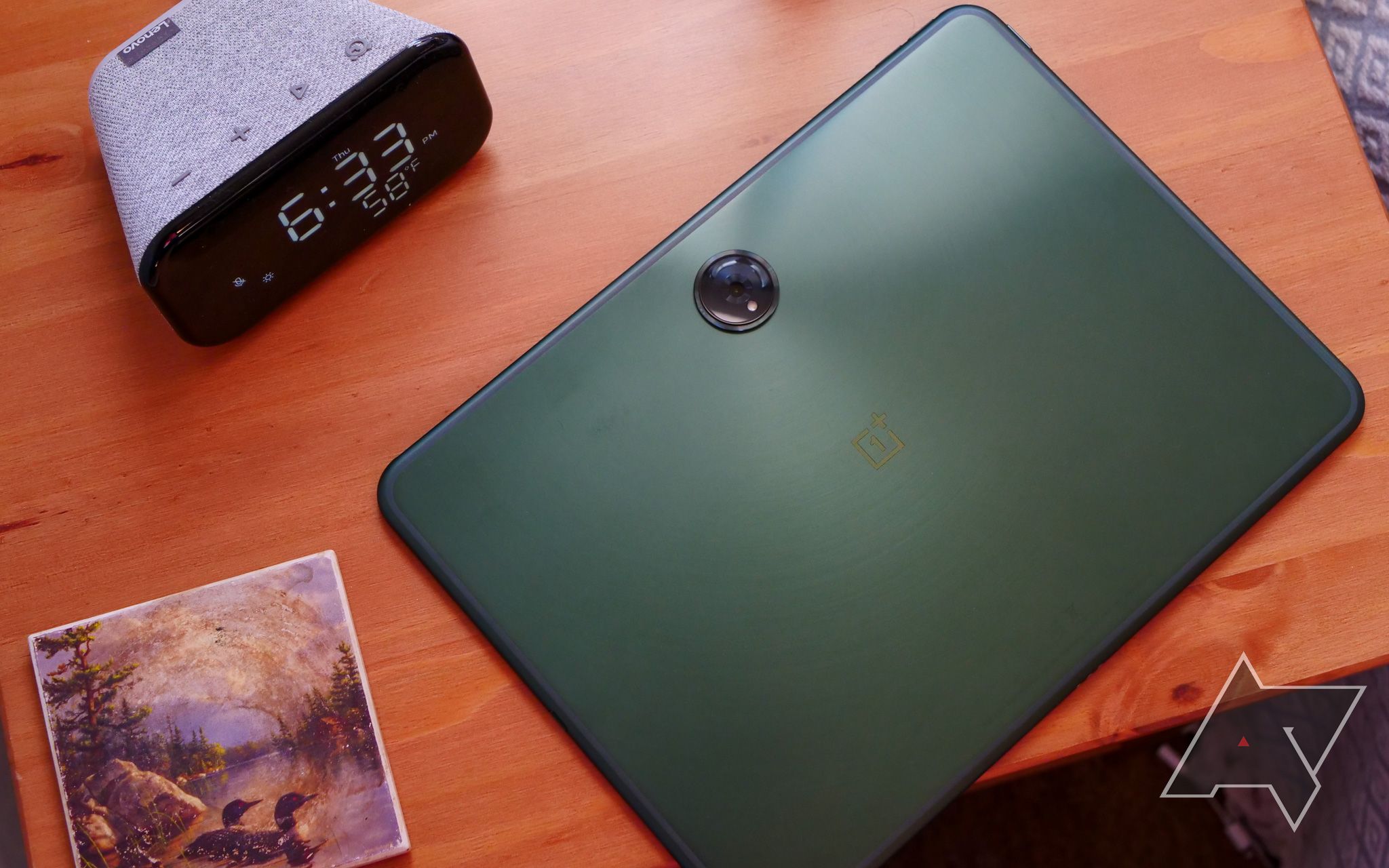 OnePlus didn't stop there, though. It also made the rather brash move of going with a big, bold camera lens centered on the rear of the tablet's long edge. Combined with the orientation of the company's logo, it's clear that OnePlus intends its tablet to be used mainly in landscape orientation. This is a good thing since holding it vertically with your right hand can be awkward due to the camera placement. The front-facing camera is similarly centered, which is an excellent boon for video calls with folks who use laptops and PCs.
The rear Halo Green of the OnePlus Pad features a brushed green metallic finish that's eye-catching but also easily smudged. That's about par for the course for OnePlus, whose phones also tend to be gorgeous fingerprint magnets.
By contrast, the Lenovo Tab P11 Pro is an all-plastic affair made from acrylic and polycarbonate. Still, Lenovo manages to make that look classy thanks to the two-tone back panel (though it's also a fingerprint magnet). The design is quite traditional, with the usual corner camera and 90-degree edges. And even with the flat sides, the optional Precision Pen 3 stylus docks on the rear. Like the OnePlus Pad, the design leans toward landscape use, with a centered front camera and awkwardly placed rear labeling along the long bottom edge. This design clearly shows Lenovo's roots as a laptop maker.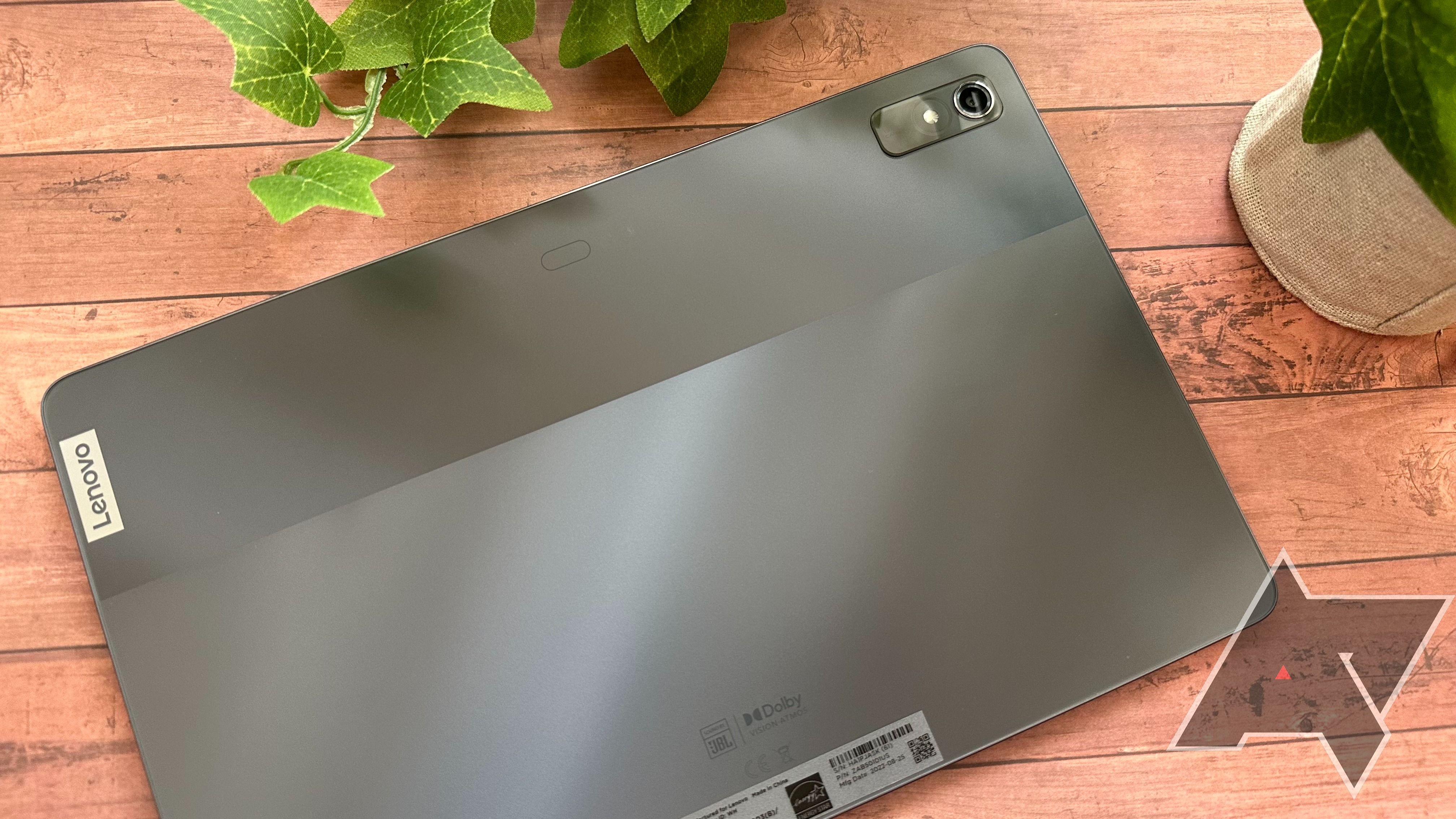 The plastic construction of the Lenovo Tab P11 Pro makes it surprisingly lightweight for its size, coming in at just over one pound (480g). The OnePlus Pad is slightly heftier at 1.22 pounds (550g), although this is not a difference you're likely to notice unless you're holding both tablets side by side. Speaking of comfort, neither tablet will be very comfortable to hold for extended periods.
Both the OnePlus Pad and Lenovo Tab P11 Pro feature POGO pin connectors for an external keyboard, a USB-C port for charging, and the usual side buttons for power and volume. The Lenovo Tab P11 Pro also has a microSD card slot for expansion, which the OnePlus Pad lacks. There's no 3.5mm headphone jack on either tablet, so you'll be relying on the speakers or a set of Bluetooth or USB-C headphones.
Display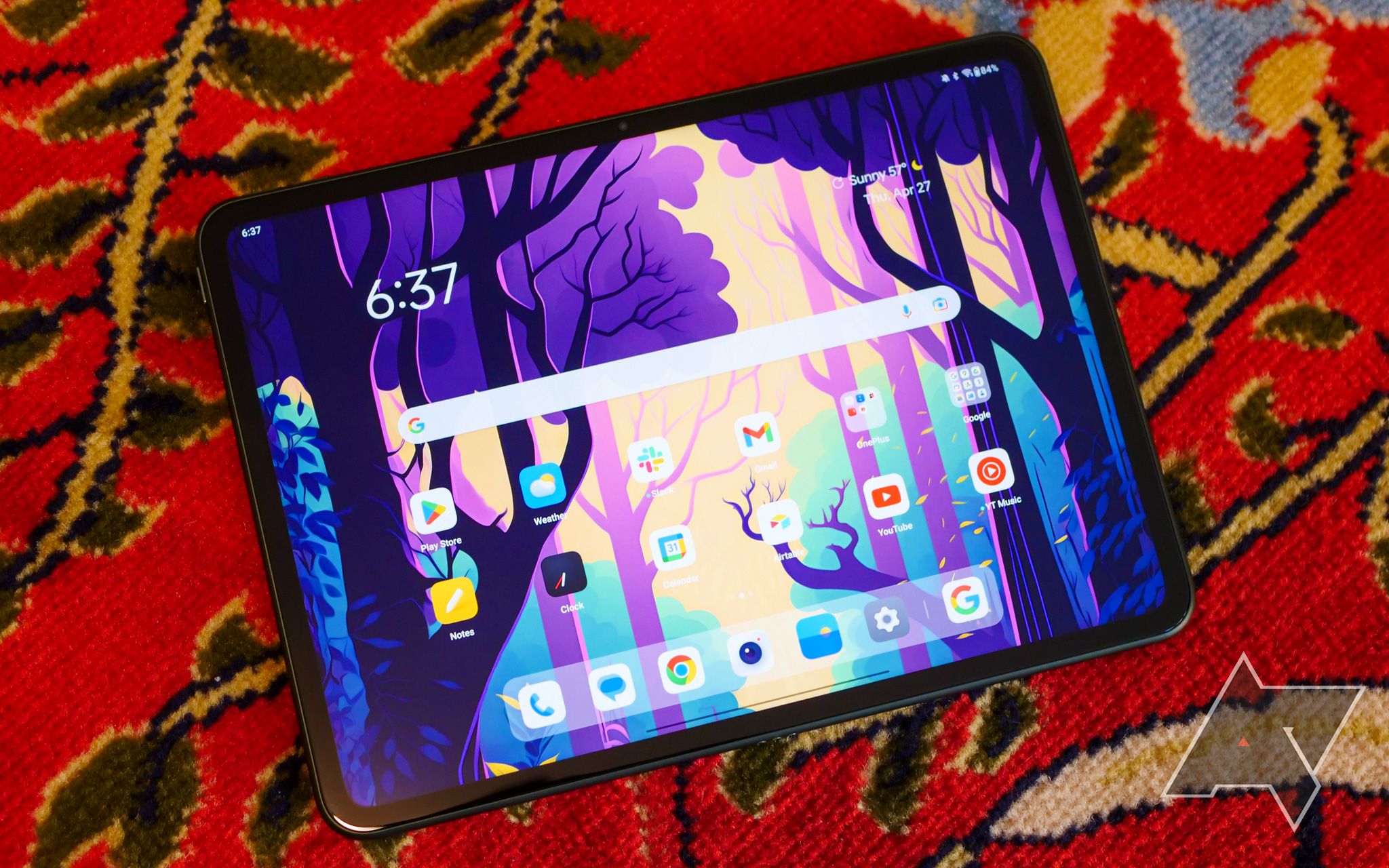 With the OnePlus Pad, the company has gone with a somewhat non-traditional aspect ratio of 7:5 for its 11.6-inch display, putting it in a sort of sweet spot between the 4:3 ratio of Apple's iPad and the wider 16:10 and 5:3 aspect ratios found in most other Android tablets. This makes it feel less awkward when switching between landscape and portrait modes and provides enough screen real estate for productivity applications without impacting media viewing with unsightly letterboxing.
The Lenovo Tab P11 Pro goes with the more typical 5:3 ratio, making it feel somewhat like a phone when held vertically. However, things can be a bit cramped on the 11.2-inch display when working with certain apps in landscape mode.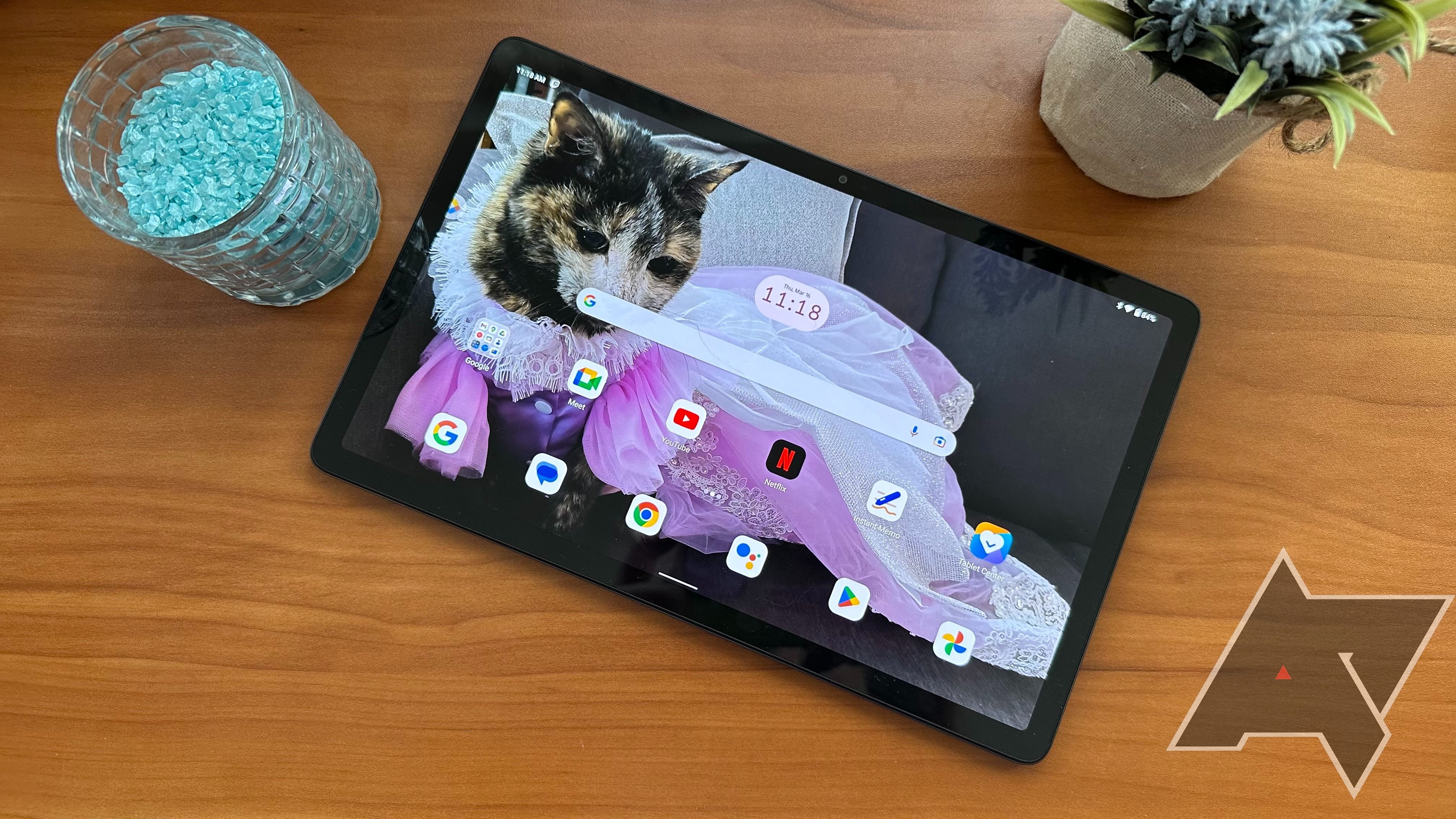 That said, the Lenovo Tab P11 Pro sports a much better-looking display in most other ways, as the company has gone with a 120Hz OLED HDR 10+ panel that provides the deep blacks and rich colors that you'd expect, plus a wider DCI-P3 color gamut. The OnePlus Pad sticks with an LCD that's quite good and sports a higher 2,800 x 2,000 resolution — compared to Lenovo's 2,560 x 1,536 — and a maximum refresh rate of 144Hz. However, LCD can't hold a candle to OLED if you're looking for high contrast, and that's especially important if you plan to use the tablet for gaming or watching movies.
Note that neither tablet gets bright enough for outdoor use on a sunny day. The OnePlus Pad hits 500 nits of peak brightness, which is in the same ballpark as most tablets, while the Lenovo Tab P11 Pro pushes that a bit higher by reaching 600 nits, but you'll struggle to see it in direct sunlight.
Software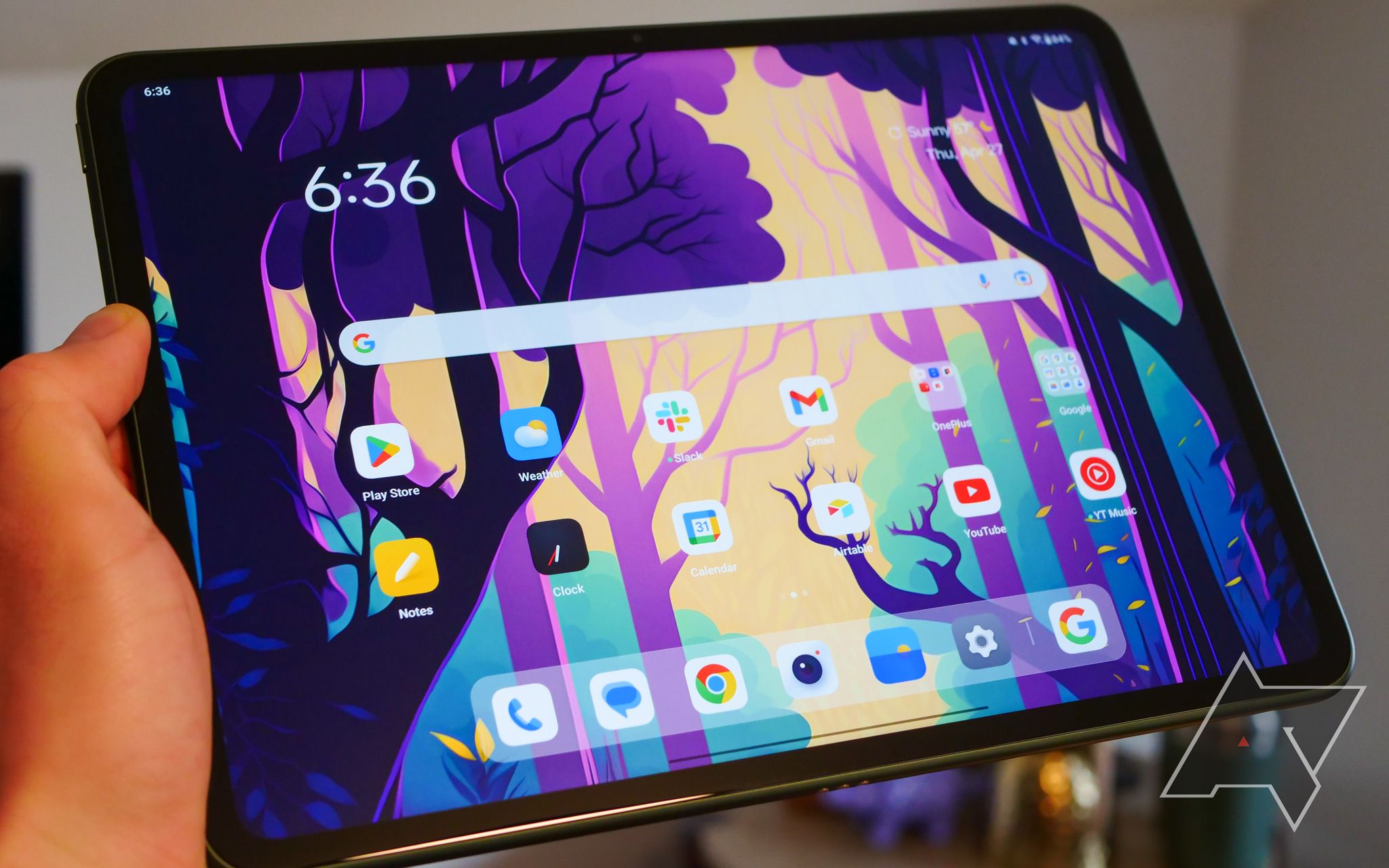 The OnePlus Pad and Lenovo Tab P11 Pro are in strange but different places when it comes to software. While both are capable of running Android 13, only the OnePlus tablet comes with that version, but as you'd expect, it also has OxygenOS layered on top.
Meanwhile, the Lenovo Tab P11 Pro is still shipping with Android 12. Lenovo has a long history of dragging its heels on Android updates, so this isn't entirely surprising. The good news is that security patches are reasonably current, but Android 13 won't be coming until later this year, probably around the time Android 14 is officially released. The Lenovo Tab P11 Pro will also get Android 14, but it's a safe bet that update will be delayed as well. Security patches are promised through the end of October 2025, but Android 14 will be the last significant update. The upside is that Lenovo offers a relatively unadorned Android experience.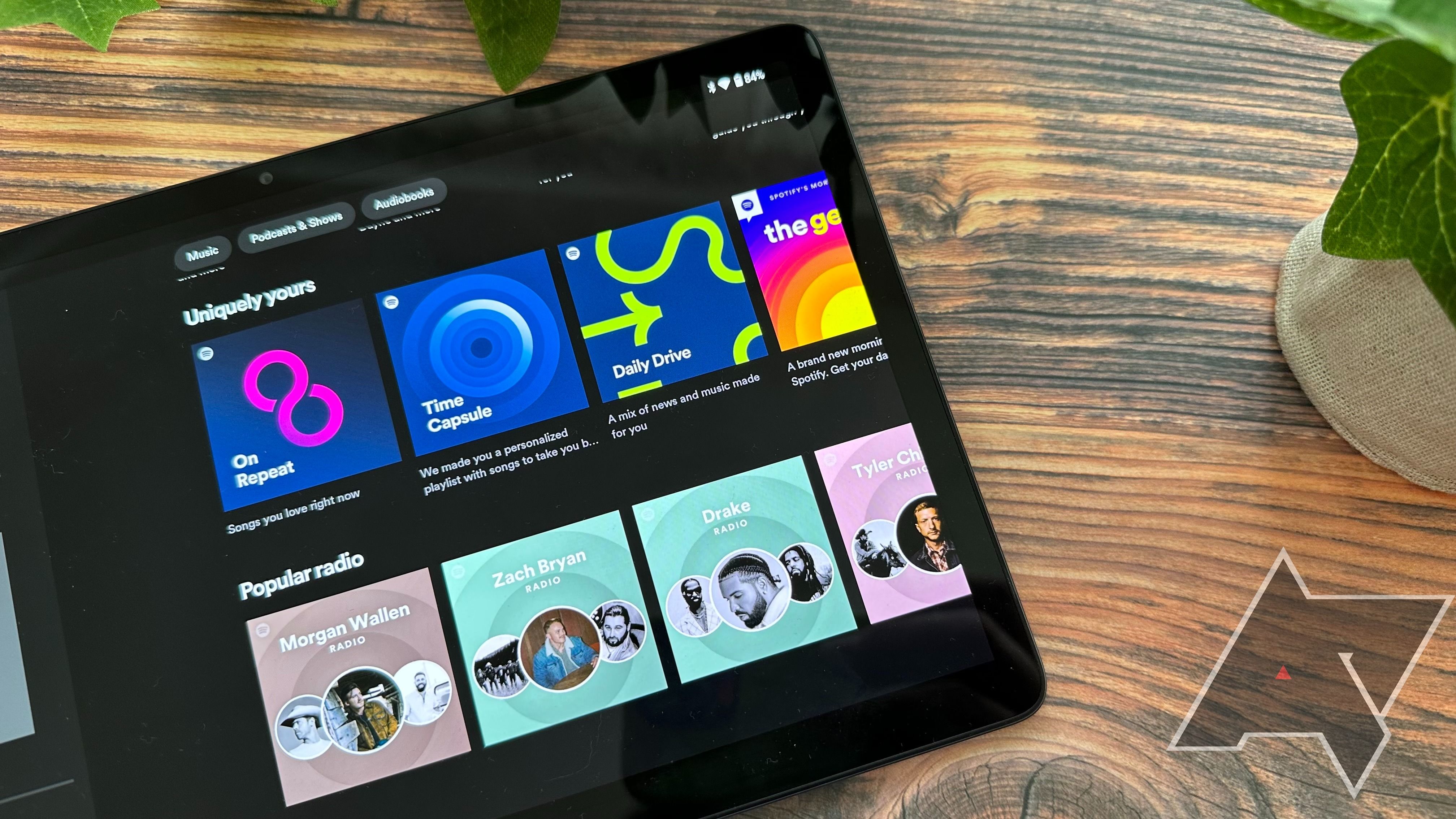 The OnePlus Pad, on the other hand, should go to at least Android 16 since the company promises three years of software updates and four years of security updates. That means it will be supported well into 2027, though it remains to be seen how timely those updates will be. OnePlus has a solid reputation for smartphone updates, but this is the company's first tablet.
The newness of the OnePlus Pad also contributes to the current shakiness of the user experience. Whether you love it or hate it — and many folks are strongly divided on this — OxygenOS has traditionally been a smartphone platform, and this is its first foray into tablets. As a result, it's still a bit rough around the edges compared to what's found on the flagship OnePlus 11.
For instance, while OxygenOS has been optimized for larger screens and added a dock and dual-panel settings menu, there are still quirks that show its smartphone roots, like a preinstalled phone app and a setting to toggle the non-existent 5G mobile data connection. OnePlus will undoubtedly fix these issues with future updates, but the lack of polish leaves no doubt you're getting a first-generation device here.
Performance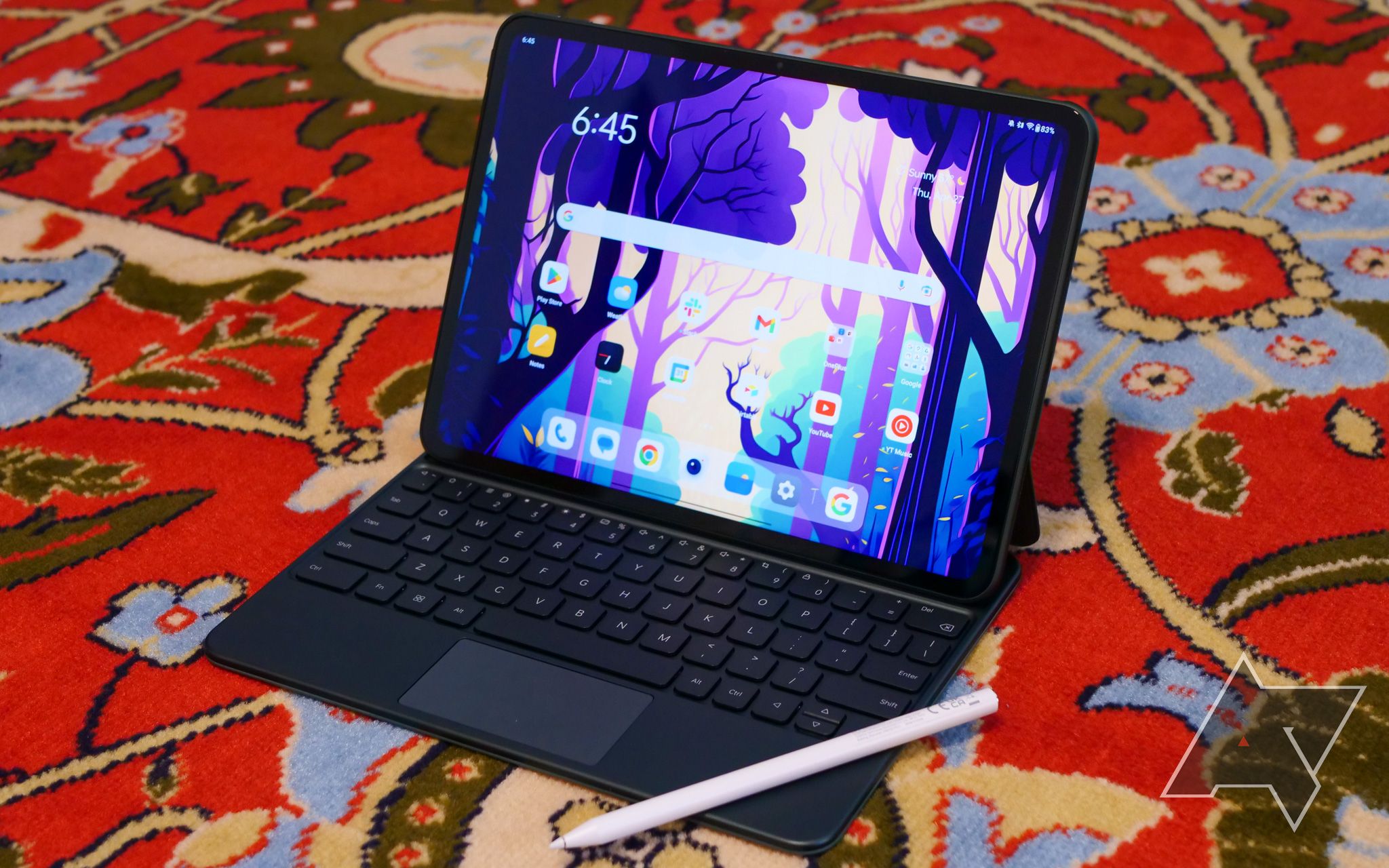 The OnePlus Pad sports a flagship Dimensity 9000 chip that holds up well for productivity and gaming. While it's not the latest and flashiest chip, it provides smooth and responsive performance and the ability to effortlessly handle multitasking and many of the latest tablet games at higher-quality settings. "League of Legends: Wild Rift" performed well at maxed-out settings in our testing. More extreme games like "Genshin Impact" will require you to tone things down a bit, but they're still eminently playable on medium settings.
Sadly, despite the relatively powerful chip, it's still not uncommon to encounter some lagging and stuttering on the OnePlus Pad. However, this can mostly be chalked up to poorly optimized software in the core OxygenOS and some third-party apps, so there's definite room for improvement.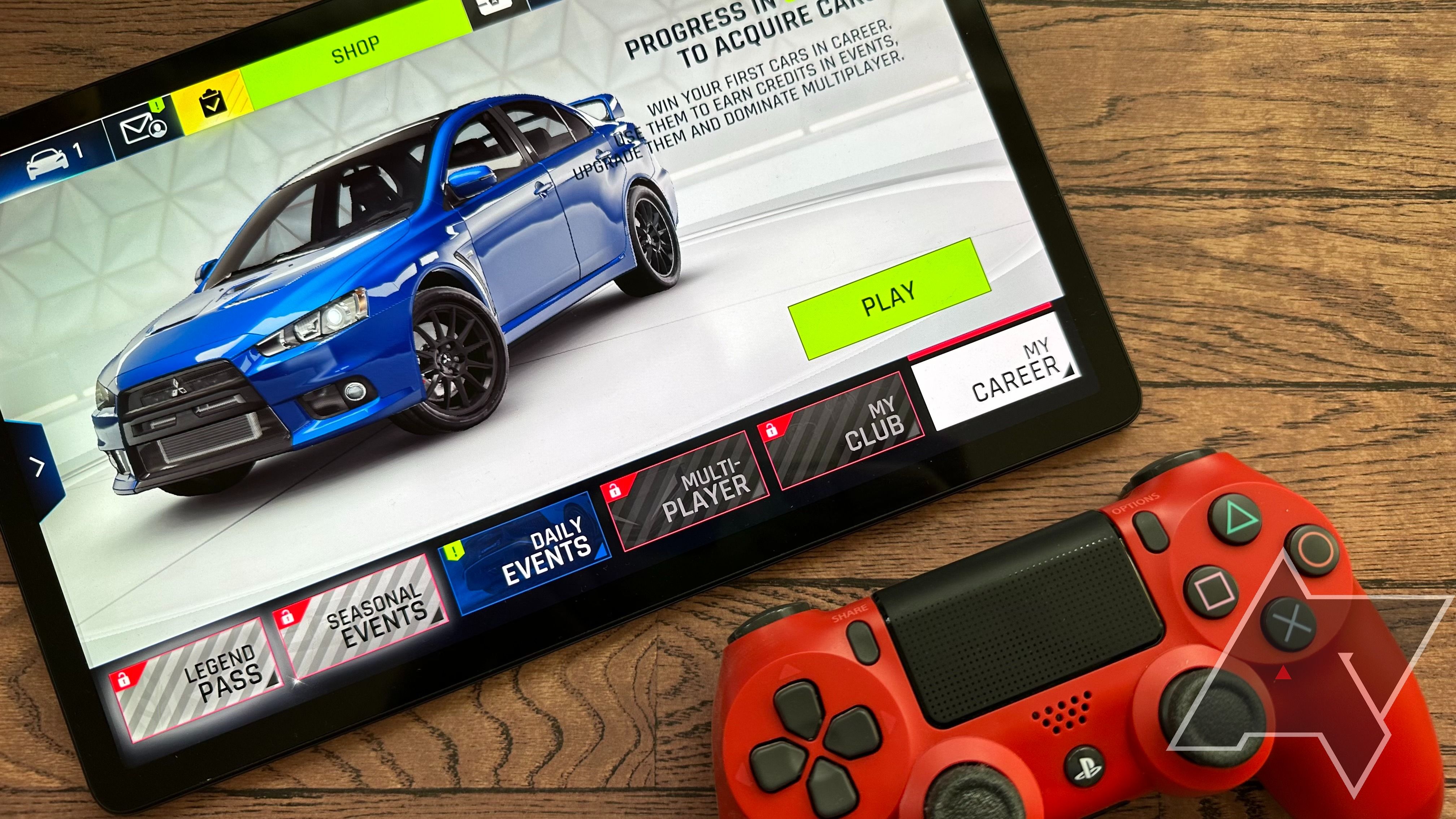 The Lenovo Tab P11 Pro is also powered by the more tablet-focused MediaTek Kompanio 1300T chip. It performs well enough for everyday tasks and can handle games like "Asphalt 9: Legends" and even "Genshin Impact" in medium settings. However, there's little doubt the Dimensity 9000 on the OnePlus Pad will do far better if you're looking for a solid gaming experience.
The lower-end MediaTek chip in the Lenovo tablet shows its limitations more in multitasking, where you'll see frame rates and responsiveness drop when running multiple apps. Some of this may be due to the 4GB of RAM, but the slower processor likely isn't helping either.
Battery life
The OnePlus Pad packs in a 9,510mAh battery compared to an 8,200mAh cell on the Lenovo Tab P11 Pro. In practical terms, both tablets provide enough battery life to get you through a very active day and then some. They also provide solid standby time, so you won't have to worry about returning to a depleted battery after leaving them alone for a few days.
However, the OnePlus Pad gets an edge here thanks to the ultrafast charger included in the box. The 67W SuperVOOC brick can juice the tablet back up in about 80 minutes, compared to the 2.5 hours it takes to charge up the Lenovo tablet from its 20W charger.
Camera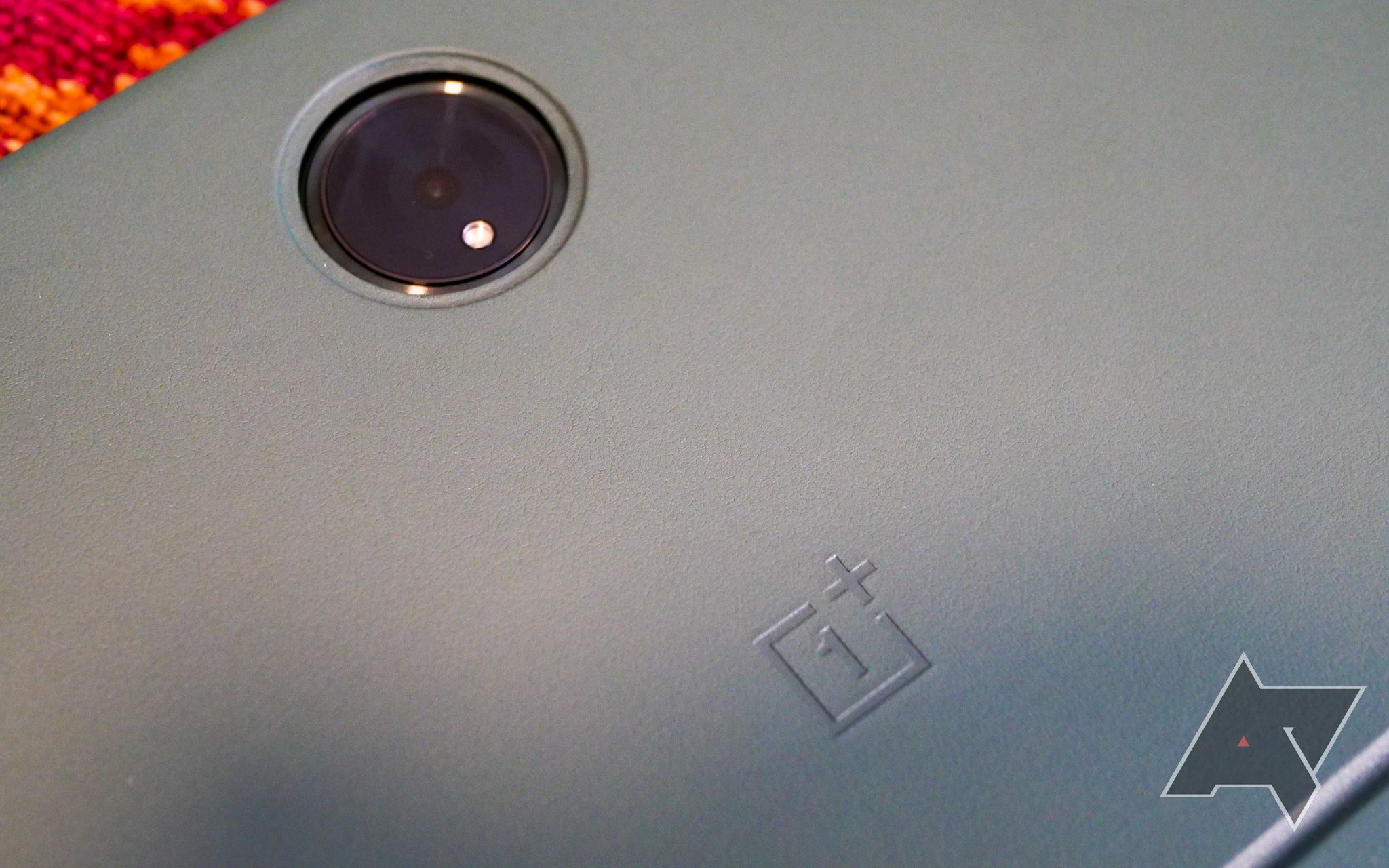 Despite its conspicuous and somewhat ostentatious design, the OnePlus Pad's camera isn't anything to write home about, especially compared to the Hasselblad-tuned cameras found on OnePlus' flagship smartphones. The camera is a 13-megapixel (MP) sensor that takes the kind of photos you'd expect from any other tablet. Yes, it gets the job done as long as the lighting is right, but nearly any smartphone made in the last five years will do a noticeably better job.
The Lenovo Tab P11 Pro camera is about the same, with less risk of being deceived by the more typical camera bump. It's a 13MP shooter good enough for document scanning and taking casual pictures in good lighting. It also features a portrait mode.
Both tablets feature 8MP front-facing cameras that do a respectable job of handling video calls. The OnePlus Pad comes in a little wide by default but also has an auto-follow feature called Limelight, similar to Samsung's Auto Framing, to keep you centered in the shot. However, it only works in specific apps such as Google Meet, Microsoft Teams, and Zoom.
Which is right for you?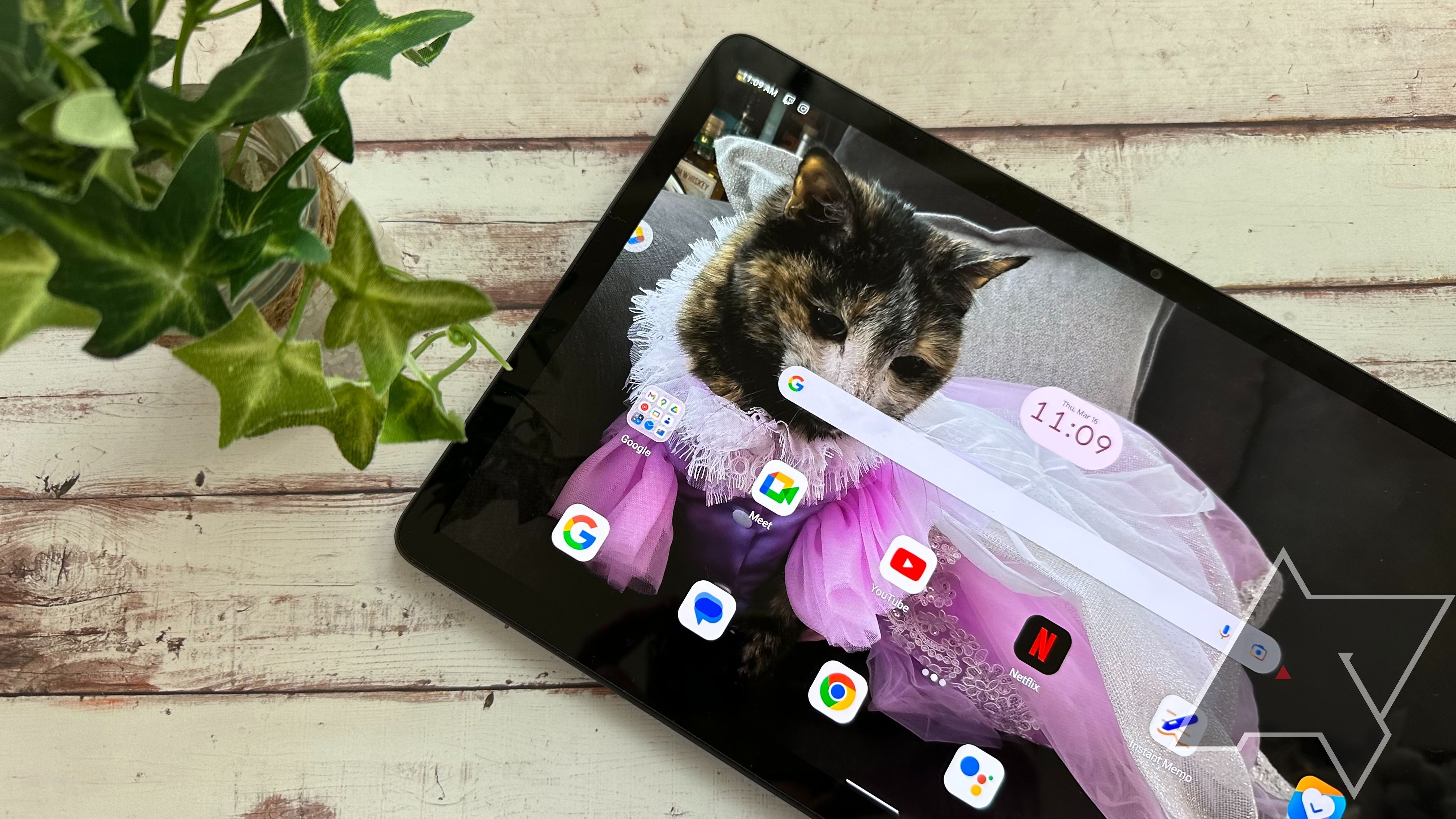 Deciding between these two tablets may be a tough call. But we think most folks looking for a tablet in this price range will be happier with the Lenovo Tab P11 Pro for its more unassuming design, solid performance, and lower price tag.
You also get a high-contrast and color-rich OLED display with an aspect ratio well-suited for watching your favorite movies and TV shows. In addition, you get a cleaner Android experience and a company with an established track record in making tablets. The only knock against it is that Android updates come more slowly and might stop entirely after Android 14 arrives next year.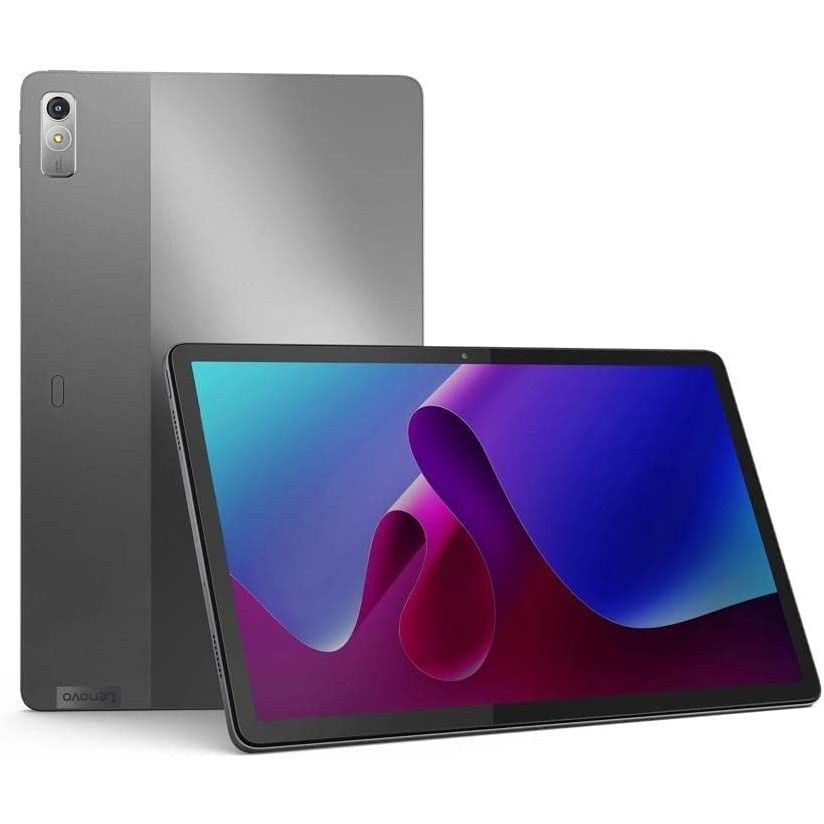 Lenovo Tab P11 Pro Gen 2
Best overall
A high-end OLED display sets the Lenovo Tab P11 Pro Gen 2 apart from most of the competition. It's also even thinner than most, at a hair under 7 millimeters. If that's not enough, it's also one of the few with an optional matching keyboard and stylus, which are both top-notch.
The OnePlus Pad is also a great tablet, but its opinionated design and rough-around-the-edges software may not appeal to everyone. If you're already a OnePlus fan, it's a really easy choice. But once you step into this higher price range, other alternatives are worth considering, especially while OnePlus' OxygenOS is still finding its footing on the larger screen. Nevertheless, the OnePlus Pad offers impressive performance and upgrades for the next 3–4 years, making it a better long-term investment if you're willing to embrace its design and software idiosyncrasies.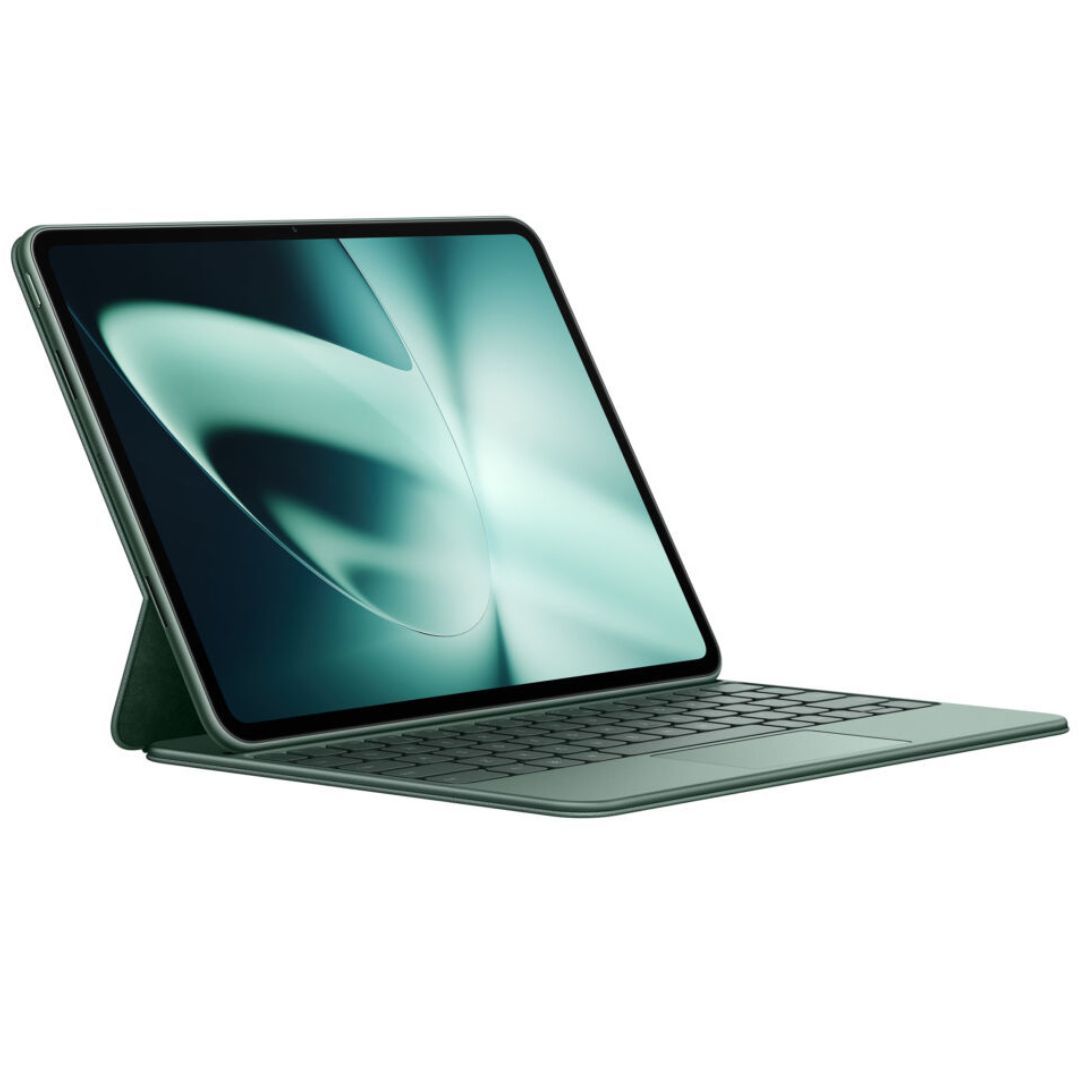 Source: OnePlus
OnePlus Pad
Runner-up
After nearly a decade of making smartphones, OnePlus jumps into the ring with the OnePlus Pad. A massive and high-res 11.6″ display is the highlight of this slate, which also includes a Dimensity 9000, 67W fast charging, and quad speakers for killer sound. It's not a perfect tablet, but aside from some hardware and software quirks, it should leave OnePlus fans feeling pretty satisfied.