Enkripsi adalah salah satu blok bangunan terpenting dari internet saat ini. Itu memungkinkan untuk mengirimkan semua jenis informasi dengan aman, tidak peduli bagaimana Anda online. Pesan terenkripsi ujung ke ujung, apa pun yang terjadi aplikasi obrolan terenkripsi Anda gunakan, sangat penting, memastikan privasi individu berkomunikasi satu sama lain. Namun, tidak semua orang menyukai enkripsi yang kuat, dan kritikus menunjukkan bagaimana aktor jahat dapat memanfaatkan privasi yang mereka miliki, memungkinkan mereka untuk berdiskusi dan merencanakan kejahatan dan bertukar informasi tanpa kesempatan untuk mengawasi mereka.
Komisi Uni Eropa, badan eksekutif Uni Eropa, dan Kongres AS melihat masalah ini sebagai masalah mendesak yang perlu diselesaikan. Keduanya ingin mengusulkan undang-undang serupa di yurisdiksi masing-masing yang pada dasarnya akan mengharuskan sebagian besar organisasi yang menyediakan komunikasi, seperti mengobrol, mengirim email, atau panggilan (video), untuk memindai korespondensi pada platform mereka dari konten ilegal, yang secara efektif merusak enkripsi sama sekali. Meskipun draf terbaru UE dan Kongres sedikit kurang drastis, pintu belakang (atau masalah keamanan) dalam perangkat lunak tidak peduli di negara mana Anda tinggal, dan aktor jahat dapat memanfaatkannya. Putusan itu akan berdampak di seluruh dunia, membuka kumpulan data yang sebelumnya tidak dapat diakses oleh peretas dan layanan pengawasan.
Kami akan membahas proposal DAPATKAN dan HENTIKAN CSAM AS, serta Kontrol Obrolan UE, yang terlibat, masalah apa yang ada pada mereka, dan apakah ada yang dapat Anda lakukan untuk mengatasinya.
Apa yang coba dilakukan STOP CSAM, EARN IT, dan Chat Control?
Niat di balik STOP CSAM, EARN IT, dan Chat Control terdengar cukup mulia — setidaknya itulah yang dikomunikasikan kepada publik. Proposal UE adalah "menetapkan aturan untuk mencegah dan memerangi pelecehan seksual terhadap anak." -nya teks proposal resmi 2022yang sebagian besar masih relevan, mengklaim bahwa "setidaknya satu dari lima anak menjadi korban kekerasan seksual selama masa kanak-kanak", dengan penelitian yang menunjukkan bahwa banyak dari pelanggaran ini terjadi secara online akhir-akhir ini.
UE memperjelas bahwa inilah alasan mengapa penyedia yang menyelenggarakan layanan komunikasi memainkan peran penting dalam perlindungan anak-anak, karena mereka berada dalam posisi untuk menemukan dan menghentikan pelecehan, terutama dalam hal berbagi materi pelecehan seksual terhadap anak (CSAM). STOP CSAM dan EARN IT mengikuti tujuan yang sama, dengan yang terakhir awalnya diperkenalkan pada tahun 2020 dan secara lebih luas berfokus pada kejahatan. Gagasan penghapusan enkripsinya mendapat begitu banyak reaksi sehingga kembali ke laci hingga 2022.
Untuk memerangi aktivitas buruk ini, Chat Control, EARN IT, dan STOP CSAM mengusulkan agar sebagian besar komunikasi online dipantau melalui filter otomatis. Pada tingkat teknis, filter ini tidak menganalisis gambar atau pesan teks pengguna secara langsung, melainkan bekerja pada hash yang dihasilkan darinya. Hanya ketika hash ini cocok dengan data mencurigakan yang diketahui, langkah selanjutnya diambil.
Langkah lain yang diusulkan oleh UE untuk melindungi anak-anak adalah pengenalan verifikasi usia di hampir semua platform utama. berdasarkan pengacara berbicara dengan The Guardian, ini dapat mengarah pada pengawasan massal dan pengumpulan data karena platform perlu memverifikasi usia penggunanya, entah itu menggunakan data wajah biometrik atau konfirmasi melalui metode ID elektronik. Itu juga akan merusak hak anonimitas, dengan layanan yang secara efektif hanya dapat digunakan setelah Anda mengidentifikasi diri Anda.
Signal bisa menjadi salah satu layanan yang terpengaruh oleh proposal tersebut
Revisi terbaru Kontrol Obrolan tampaknya tidak lagi bermaksud untuk sepenuhnya memecahkan enkripsi ujung-ke-ujung, yang merupakan masalah besar dengan proposal sebelumnya. Enkripsi selama pengiriman pesan tidak seharusnya dilemahkan, tetapi masih ada masalah besar pemindaian sisi klien, yang tidak secara eksplisit dikecualikan dari draf terbaru. Ini berarti bahwa daripada memeriksa pesan dalam perjalanan, yang tidak mungkin dilakukan menggunakan enkripsi ujung-ke-ujung, pesan seharusnya dipindai pada perangkat penerima atau pemindai setelah didekripsi. Ini secara teknis masih mengganggu gagasan enkripsi ujung-ke-ujung, meskipun, mengingat hal itu merusak gagasan bahwa hanya penerima yang dituju yang dapat mengakses pesan.
Sementara itu, tindakan STOP CSAM dan DAPATKAN IT akan membuat penggunaan enkripsi end-to-end jauh lebih sulit untuk dibenarkan bagi perusahaan. Di bawah undang-undang yang diusulkan, perusahaan dapat dengan mudah dihukum ketika mereka menggunakan E2EE berkat gagasan bahwa semua platform harus menerapkan metode pemindaian yang cocok dengan basis data penegakan hukum. Perusahaan yang terus menggunakan E2EE bisa jadi diseret ke pengadilan karena "sembrono" memungkinkan aktor jahat untuk menggunakan platform mereka untuk kejahatan, yang pada gilirannya berarti tidak ada lagi perusahaan yang berani menyentuh enkripsi.
Sudah ada beberapa peraturan di bawah nama "Kontrol Obrolan 1.0" di UE, yang meminta perusahaan untuk secara sukarela memindai komunikasi. berdasarkan Anggota parlemen Uni Eropa dan anggota Partai Bajak Laut Patrick BreyerGoogle, Facebook dan Instagram Messenger, Snapchat, iCloud Mail, dan Microsoft Xbox adalah beberapa layanan yang mematuhi keputusan opsional ini.
Proposal Kontrol Obrolan sangat kontras dengan gagasan dan undang-undang biasa yang diadopsi oleh UE, yang memiliki reputasi sebagai pelopor dalam hal privasi dan perlindungan data. Misalnya, yang terlalu terkenal hukum GDPR bertanggung jawab atas spanduk cookie juga memberi warga negara Uni Eropa hak untuk dilupakan secara online, yang berarti mereka dapat meminta perusahaan untuk menghapus setiap dan semua data yang tidak perlu pada mereka.
Mengapa STOP CSAM, EARN IT, dan Chat Control bermasalah?
Kontrol Obrolan 1.0 hari ini dan aturan serupa di AS telah menyebabkan masalah. Seperti disebutkan, salah satu perusahaan yang mematuhi keputusan UE adalah Google, yang mulai melakukan sapuan otomatis atas data yang diunggah ke servernya jauh sebelum Kontrol Obrolan. Pertama menggunakan PhotoDNA Microsoft (melaporkan langsung ke penegak hukum), yang mengenali dan menandai gambar pelecehan anak yang diketahui, yang kemudian ditambah dengan alat pembelajaran mesinnya sendiri yang dapat mengenali dan menandai gambar yang belum pernah dilihat sebelumnya.
Kasus profil tinggi diliput oleh New York Times menyoroti masalah yang timbul dengan ini. Pada tahun 2021, akun pengguna Google diblokir, dengan email dan riwayat foto bertahun-tahun disandera di dalamnya dengan alasan bahwa Google melihat "konten berbahaya" di akun tersebut. Apa yang terjadi bahwa pengguna dan istrinya mengambil gambar alat kelamin anak laki-laki mereka untuk dikirim ke dokter atas permintaan mereka karena bengkak, dengan tangan pengguna terlihat di salah satu gambar. Meskipun situasinya sudah beres, dengan penyelidikan ditutup karena ini adalah positif palsu, akun orang tersebut tetap diblokir.
Positif palsu seperti ini berpotensi merusak kehidupan orang-orang yang terjebak di garis bidik, sambil mengikat polisi dan penegak hukum dengan mengejar lubang kelinci daripada berfokus pada cara yang lebih efektif untuk menangkap penjahat yang sebenarnya. Menurut studi polisi yang dikutip oleh Patrick Breyer, hanya sekitar 20% laporan yang dihasilkan dari data yang dipindai atau di-hash yang akhirnya terbukti relevan secara kriminal. Kontrol Obrolan 2.0 hanya mengancam untuk memperburuk situasi ini, berpotensi menurunkan rasio signal-to-noise dengan laporan yang tidak ke mana-mana.
Itu bukan untuk mengatakan bahwa alat-alat ini benar-benar buruk – mereka dapat dan memang membantu menangkap penjahat sejati. Namun, perusahaan dan polisi perlu lebih baik dalam menangani positif palsu. Setelah investigasi ditutup, orang harus dapat dengan mudah kembali ke akun mereka. Itu sangat penting dalam kasus Google, yang dapat menyimpan data puluhan tahun untuk Anda, tetapi juga akan mengecewakan kehilangan riwayat obrolan selama bertahun-tahun di platform perpesanan instan. Hak atas privasi juga perlu dilindungi, apakah Anda berada di AS atau UE, dan semua proposal ini bertentangan secara diametris dengan itu.
Dalam kasus ide UE untuk melemahkan enkripsi end-to-end, masalah lain muncul: begitu pintu belakang ada, aktor lain juga dapat mengeksploitasinya. Seharusnya ada surat perintah polisi sebelum beberapa tindakan diambil, tetapi mari kita hadapi: badan intelijen dan beberapa aktor jahat mungkin dapat mengesampingkan atau mengabaikan beberapa prinsip ini. Proposal AS "menyelesaikan" masalah ini dengan anggun dengan berpotensi melarang E2EE.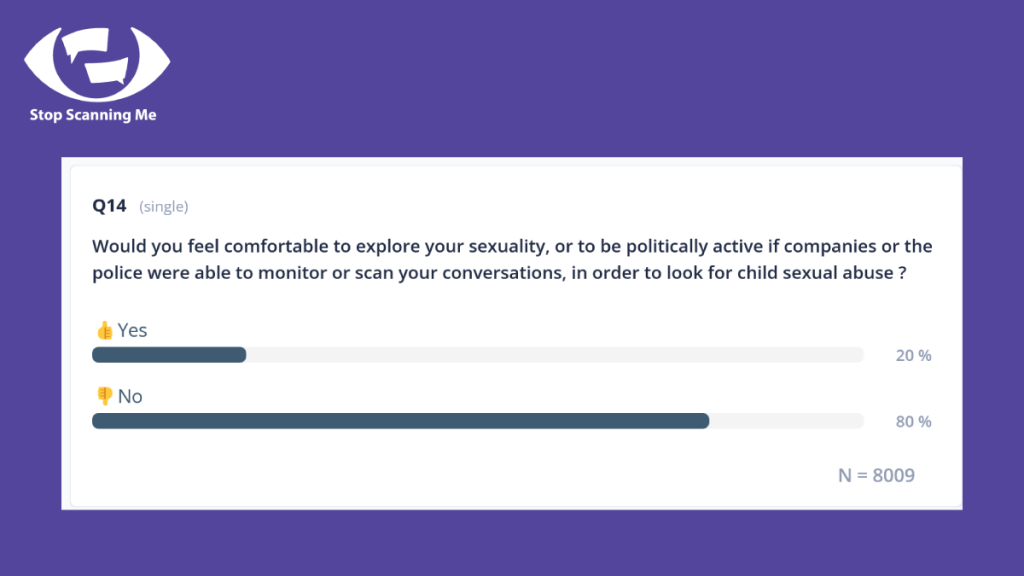 Jika undang-undang mulai berlaku, mereka mungkin juga memiliki konsekuensi negatif bagi sekelompok orang yang seharusnya dilindungi olehnya. A Studi representatif UE di antara anak-anak berusia 13 hingga 17 tahun dari Maret 2023 menunjukkan bahwa sekitar 80% dari mereka tidak akan merasa nyaman untuk aktif secara politik atau menjelajahi seksualitas mereka secara online ketika mereka mengetahui bahwa pihak berwenang dapat memantau komunikasi mereka.
Kontrol Obrolan seharusnya hanya diterapkan pada layanan nirlaba dalam iterasi saat ini. Ini mengesampingkan proyek apa pun yang tidak menampilkan iklan dan yang tidak menghasilkan uang dengan produk mereka. Dalam skenario terburuk, penjahat dapat beralih ke platform seperti ini, memungkinkan mereka menghindari struktur yang dibuat untuk menangkap mereka.
Mengingat internet bersifat internasional, Chat Control, EARN IT, dan STOP CSAM juga akan berpengaruh pada orang yang menggunakan layanan yang sama di negara lain. Setelah praktik pemindaian diterapkan di salah satu zona ekonomi terbesar di dunia, tidak berlebihan untuk berpikir bahwa negara lain menerapkan aturan serupa atau bahwa perusahaan menyederhanakan penyiapan mereka untuk mengikuti aturan yang sama di mana pun. Hal serupa terjadi ketika GDPR UE diberlakukan, dengan spanduk cookie-nya muncul di browser web di seluruh dunia, dan tidak hanya di Eropa.
Seperti di bidang kehidupan lainnya, tidak ada solusi sempurna untuk menangkap penjahat. Akan selalu ada permainan kucing-dan-tikus yang terlibat di mana para penjahat berusaha menghindari deteksi. Kalau tidak, kita tidak akan memiliki kejahatan di dunia. Jelas bahwa pengawasan massal bukanlah solusinya. Ini mengikat terlalu banyak sumber daya dan dapat menyebabkan lebih banyak kesibukan daripada mengandalkan metode yang telah teruji, seperti menyelundupkan penyelidik ke dalam kelompok yang berpotensi kriminal dan menargetkan tersangka individu.
Dalam kasus STOP CSAM, patut dipertanyakan apa sebenarnya yang seharusnya diubah oleh undang-undang baru terkait dengan pelecehan anak. itu EFF menulis itu "mempromosikan atau mendistribusikan CSAM sudah merupakan kejahatan federal," jadi pertanyaannya adalah mengapa perlu undang-undang tambahan untuk mengikuti platform untuk "menyimpan atau menyimpan" dan "mempromosikan atau memfasilitasi" CSAM.
Apa yang dapat Anda lakukan tentang HENTIKAN CSAM, DAPATKAN, dan Kontrol Obrolan?
Jika Anda tinggal di AS atau negara anggota UE, Anda dapat menghubungi perwakilan Anda di Kongres atau Parlemen Eropa, meminta mereka untuk menolak undang-undang tersebut sampai undang-undang tersebut mengambil bentuk dan bentuk yang tidak terlalu mengganggu privasi orang-orang. semua orang di internet. Lagi pula, ide dasar di balik STOP CSAM dan Kontrol Obrolan — menangkap penata rias, mencegah pelecehan anak, dan menghentikan penyebaran materi pelecehan anak — memiliki motif mulia di baliknya. Jika Anda tidak yakin bagaimana memulainya, EFF mempermudah suara Anda didengar, membantu Anda beri tahu Kongres bahwa pesan terenkripsi tidak boleh dilarang.
Meskipun tidak ada jalur yang jelas untuk mengambil tindakan jika Anda tidak berada di salah satu wilayah, Anda tetap dapat menyebarkan kesadaran tentang Kontrol Obrolan dan HENTIKAN CSAM dan mendukung prakarsa lokal atau internasional yang bertujuan untuk memperkuat privasi dan melindungi hak Anda secara online di sekitar dunia.
Pada akhirnya, kabar baiknya adalah bahwa meskipun Komisi Eropa mencoba untuk melanjutkan proposal Kontrol Obrolan, hal itu masih dapat dihentikan di pengadilan. Menurut pengacara UE dikutip oleh The Guardian, proposal UE saat ini mungkin melanggar hukum, dan dapat dibatalkan karena bertentangan dengan hak privasi pengguna. Mungkin pertanyaan yang lebih besar adalah apakah STOP CSAM dapat dihentikan, dengan undang-undang privasi yang secara historis tidak sekuat di AS seperti di seberang kolam. Dalam arti yang sangat nyata, masa depan komunikasi online bergantung pada apa yang terjadi selanjutnya.