Quick answer: The Garmin Forerunner 45/45s can survive being submerged up to 50 meters underwater thanks to its 5 ATM water resistance.
The Garmin Forerunner series has some of the best fitness trackers. Launched in 2019, the Garmin Forerunner 45 and its smaller sibling, the Forerunner 45s, are still some of the most feature-packed activity-focused wearables you can pick up. However, the Forerunner 45 is positioned as a running watch first, so it lacks any modes or tracking for water-based activities. However, that doesn't mean you can't take it out for a dip in the pool.
Is the Garmin Forerunner 45/45s waterproof?
The Garmin Forerunner 45/45s is waterproof and can handle sweat just as well. The 5ATM water resistance ensures it can comfortably withstand sweaty workouts, a shower, rain, and other water-based activities. However, since the watch is primarily geared towards runners, the Garmin Forerunner 45/45s combo cannot track water-based fitness activities like swimming.
How waterproof is the Garmin Forerunner 45/45s?
Garmin claims the Forerunner 45 and 45s are rated for up to 5 ATM of water resistance. This makes the watches suitable for activities like swimming or even snorkeling. Just don't take it deep-sea diving; it won't be able to handle that kind of pressure. Of course, the watch will also handle heavy rain or snow just fine.
That said, you should still be cautious about exposing it to water. Wear and tear caused by daily use can reduce the effectiveness of rubber gaskets that prevent water ingress. This directly affects the water resistance of any watch.
What does 5 ATM of water resistance on the Garmin Forerunner 45 mean?
Like IP ratings, water resistance is held to a global standard defined by the International Organization for Standardization. But what does 5 ATM of water resistance mean? Let's break it down. An ATM or atmosphere is a unit of measurement equivalent to the ambient air pressure at sea level. The number in front of it, 5 in the case of the Garmin Forerunner 45/45s, defines the multiples of atmospheric pressure a gadget can handle.
Conveniently, an ATM is also the amount of pressure exerted by the weight of a 10-meter-deep column of water. So, a 5 ATM water resistance rating means that the watch can handle still water pressure at a depth of 50 meters.
However, there are other factors to consider. The ISO 22810:2010 standard suggests that a gadget has to be submersible, 50 meters deep, for a maximum of 10 minutes to earn the rating. Additionally, any movement underwater increases the pressure on the watch's surface. All of which to say that while the Garmin Forerunner 45/45s are rated to handle being submerged as deep as 50m for a period of up to 10 minutes, it is not a diving watch, and you should avoid anything more than a quick dip or light swim while wearing it.
Can I go for a swim with the Garmin Forerunner 45?
The Garmin Forerunner 45 lacks any swim-tracking features, but the 5 ATM of water resistance makes it suitable to strap on when stepping out for a swim. However, consider removing it if you enjoy diving from a tower or springboard.
While the water resistance is plenty good for casual swimming, water moving at force can change a wearable's water resistance. High diving or placing the fitness watch in front of water moving at pressure, like a hose, can damage the wearable. Additionally, you should be careful if you plan to wear the Garmin Forerunner 45 while engaging in high-speed water activities like jet skiing.
Which smartwatches are more waterproof than the Garmin Forerunner 45?
If you are looking for a smartwatch that can double up as a swim tracker, you'll need to look for an IP68 rating or 5 ATM of water resistance and above. Preferably both. You'll also want to consider an EN13319 certification to take the watch for a dive.
Some of the most water-resistant smart activity watches on the market include the Garmin Descent MK2S, Garmin G1, and the Apple Watch Ultra. All three watches are rated for 10 ATM of water resistance, which allows for submergence up to 100 meters deep and adheres to the EN133319 standard, virtually guaranteeing their ability to handle the pressure.
Suppose your interests are more recreational. In that case, the Garmin Venu 2, Garmin Forerunner 965 and 265, Samsung Galaxy Watch 5, and Fitbit Versa 4 can handle 5 ATM of water pressure while giving you swim-specific tracking features.
All that said, the Garmin Forerunner 45/45s can handle errant splashes, rain showers, or even a swim, but if you want to track your water-based fitness activities, there are better alternatives to be found.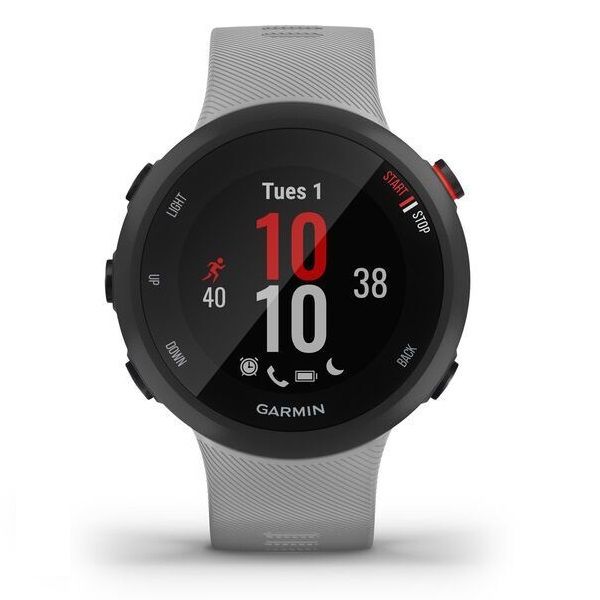 Source: Garmin
Garmin Forerunner 45
The affordable yet capable pick
$130 $170 Save $40
The Garmin Forerunner 45 is an affordable fitness watch geared toward runners. Its fitness-focused design supports GPS and heart rate tracking for fitness activities but does not support water-based activities. However, it can comfortably handle being immersed in water thanks to its 5 ATM water resistance.