If you're a Verizon customer, you can use your data plan to turn your phone into a personal hotspot. This lets you connect devices to the internet via your data connection, which is perfect if you're using one of our favorite budget Chromebooks in an area without a Wi-Fi signal.
Verizon offers one of the best data plans for streaming, so it's perfect if you want to watch movies or shows on the go. We show you how to activate your personal hotspot for a reliable and secure internet connection. Activating a hotspot is the same regardless of what carrier you use. There are three methods, and we walk you through each one.
How to enable a Wi-Fi hotspot on a Verizon phone
A Wi-Fi hotspot is the quickest and most reliable way of creating a hotspot. We show you how to turn it on and access it quickly.
These steps are for a Google Pixel 7 running Android 13. However, the steps are similar for most Android phones. If you can't find the hotspot settings, search "Hotspot" in your Settings app's search bar.
Open your phone's Settings app.
Tap Network & Internet.
Tap Hotspot & tethering.

Toggle the Wi-Fi hotspot switch.
Your hotspot is now turned on. To connect to it, you'll need the hotspot name and password. Tap the Wi-Fi hotspot button after switching it on to access its settings. Here, you can check and change the name, password, and settings. You can also load a QR code that other devices can scan to connect to the hotspot.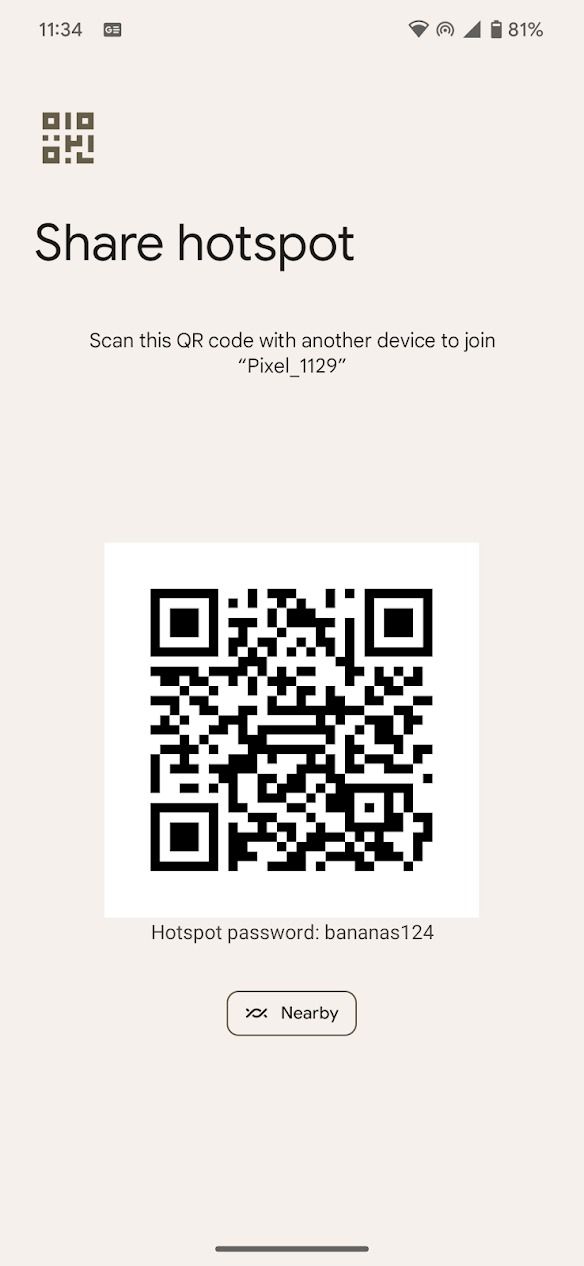 You can share your hotspot via the Nearby Share feature. Tap the Nearby Share button under the QR code to let another device connect with a tap. If you've never used Nearby Share, it's quick and easy to set up and use.
To quickly access your Wi-Fi hotspot in the future, add your hotspot to your Android phone's Quick Settings tiles.
Swipe down twice from the top of your screen to open the full Quick Settings screen.
Tap the Pen button in the lower-right corner of the window
Drag and drop the Hotspot tile to the first section.
How to create a hotspot with USB and Bluetooth tethering
Depending on your device, you may have connectivity problems with a Wi-Fi hotspot. In this case, try Bluetooth or USB tethering.
USB tethering
USB tethering is faster and more reliable than Bluetooth tethering. We recommend using this unless you don't have access to a USB cable.
Connect your phone and secondary device via cable.
Open the Hotspot & tethering menu.
Turn on the USB tethering switch.
Bluetooth tethering
Depending on your device, you will connect your devices in slightly different ways. If you use a Chromebook, we recommend using Instant Tethering to link to your Android phone reliably.
Connect your phone and device via Bluetooth.
Open the Hotspot & tethering menu.
Toggle the Bluetooth tethering switch on.
Your Verizon phone can keep all your devices online
Verizon's 5G networks can keep your phone and tethered devices connected to high-speed internet in the U.S. However, if you use an older Android phone, you may be unable to take advantage of these high speeds. The best Android phones for Verizon's network have the band support for the carrier's high-speed networks.
If you use your hotspot regularly, monitor your data usage if you're not on an unlimited data plan. These apps will help you track your data usage to prevent exceeding your limit.
Use your Verizon phone's hotspot at all times
Your Verizon phone's hotspot can keep you connected to the internet while traveling in the U.S., but what about when you're abroad? Make sure you turn off data roaming to avoid unnecessary charges.