Nothing is more frustrating than waiting for an Amazon delivery, only for it to be delayed, or worse, for it to go missing. As a result, the thrill you get from bagging a great deal or buying that perfect gift for a special someone fades away. Instead of worrying if your package has been nabbed by porch pirates, lost in transit, or delivered to the wrong house, be proactive and seek help from Amazon. The e-commerce giant has a robust system to deal with such scenarios, and we help you navigate the system with this guide.
How to track down a missing Amazon package
Before concluding that your Amazon package is missing, do your due diligence and take a few actions concerning your order. First, check the item's tracking information via your Order History on the mobile app or your PC. The Amazon website provides up-to-date information on your package's location.
If the package is said to have been delivered, check around your home to confirm that the driver didn't leave it in an inconspicuous location. Many delivery drivers avoid leaving your order at the front door because they know porch pirates may scoop it up.
It's worth noting that Amazon works with multiple carriers, including FedEx and the postal service. A local shipping company often delivers oversized items like furniture, and you may have to wait several days to schedule a delivery time. If FedEx or USPS attempts to deliver your item when you're not home, the carrier may leave a door tag with a tracking number and re-delivery options.
You should also visit the Order Details section to verify the shipping address on the item in case it was sent to the wrong location. Finally, contact the carrier that delivered the package for further information.
If these actions do not yield positive results, Amazon recommends waiting up to 48 hours because packages may be marked as delivered up to two days before arrival. However, if there's no sign of your item after that time, contact Amazon's customer service for assistance.
How to report a missing package shipped by Amazon
If Amazon fulfills the order, you'll file a missing package claim to the retail giant. Here's how:
Sign in to your Amazon account and select Returns & Orders to go to the Your Orders page.

Go to the Not Yet Shipped tab.
Select the item yet to arrive and select the Problem with order button next to it. You're taken to the Seller Messaging Assistant. If you see a Get help button, the seller handles the shipping independently of Amazon (see the below section on reporting a missing package from a third-party seller in this case). Otherwise, keep reading.

Follow the prompts to select the reason for the claim (starting with the I didn't get this option).

Submit your claim, and Amazon will take it up. Usually, if the seller can't provide proof of delivery, Amazon refunds your money to the payment method you used while buying the item.
How to report a missing package from a third-party seller
If your item is not fulfilled by Amazon and is not eligible for Prime, contact the third-party seller directly. To do so, sign in to Amazon and go to your orders. Select the order in question and click the Get help button. Choose your topic from the list displayed and select Contact seller.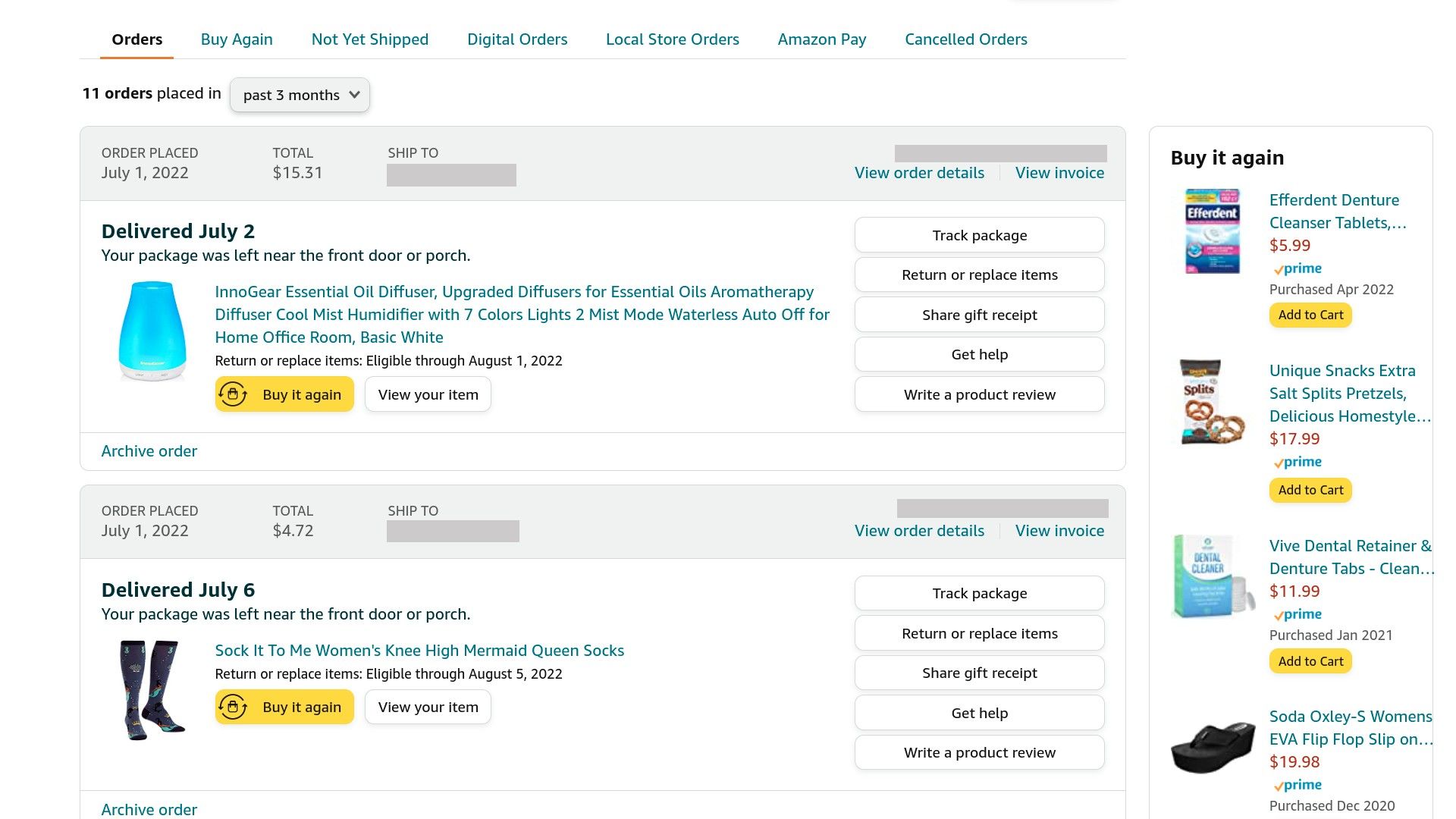 If you don't get a response in two days, put in a request with Amazon's A-to-z Guarantee. The service protects you when you buy items sold and fulfilled by third-party sellers by covering the item's condition and delivery time. However, you'll need to meet some criteria to be eligible for it. For example, it should be less than 90 days from the Estimated Delivery Date of the item in question to file your claim.
You can request an A-to-z Guarantee refund if you meet all the requirements. Here's how to do so:
Go to your orders.
Navigate to the missing order.
Select Problem with Order.
Choose a relevant problem from the list.
Select Request refund.
Enter your comments in the text box and submit.
Stay on top of your orders with Amazon's tracking system
Amazon is one of the largest retailers, shipping over a million products every day. As it deals with a large volume of shipments, sometimes packages get lost in transit or are stolen.
Whether you're on your desktop PC, one of the best Chromebooks, or an Android phone, the best course of action is to log in to your Amazon account, check the tracking details, and follow the above steps to report the missing package. Amazon will take up your request and try to resolve the issue. But if your Amazon deliveries are going missing more often than not, safeguard yourself from package thieves by getting an Amazon Hub Locker.