While it's not necessary to add a profile to an Amazon Fire tablet, having one certainly has its advantages. It allows you to personalize your experience and share the device with others while maintaining your individual settings, preferences, bookmarks, and other content. It can also be particularly convenient to ensure age-appropriate content when sharing a device with children to facilitate parental control.
No matter what your reasons might be, this guide will walk you through the process of adding a new adult profile to your Amazon Fire tablet. So, let's get to it!
How many profiles can you have?
Currently, you can only have two adult profiles on a Fire tablet. Each adult must also have their own Amazon account, and adding the profile to your Fire tablet will also add them to your Amazon Household. Among the other profiles, there can be up to four teens (ages 13 through 17) and up to four children.
Teens can have their own Amazon login to shop or stream content with parental approval. The only downside is that you can't add a teen profile to a Fire tablet. You can, however, add child profiles to Amazon tablets. An invitation isn't necessary to add children; however, they won't be able to shop on Amazon.
How to add a profile on an Amazon Fire tablet
Once you register your Fire tablet by signing into your Amazon account, your profile is automatically added to the device. Also, if you already have a second adult in your Amazon Household (set up on Amazon's website), their profile will automatically be added to the Fire tablet too, so you won't need to add them.
If you need to manually add a second adult profile to your Fire tablet, here's how to do so:
1. First, swipe down from the top of the screen of your Fire tablet with two fingers to open the Quick Settings panel.
Alternatively, you can swipe down with one finger to open the Notifications panel and then swipe down again to expand the Quick Settings panel.
2. Tap the person icon at the bottom-right corner of the Quick Settings panel.
3. You'll see your personal profile listed here. Tap the plus sign to add a new user.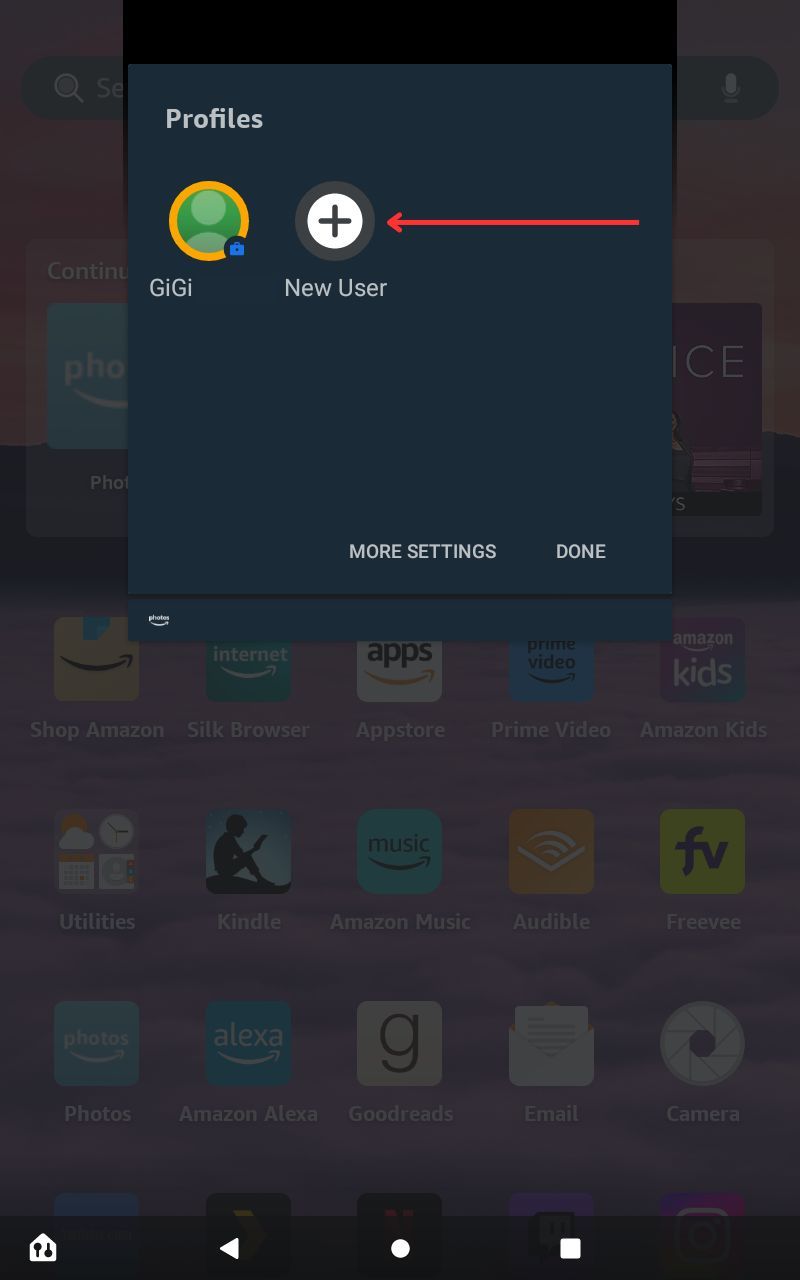 Note: If you already have two adult profiles listed here, the plus sign will still show, but you won't be able to add a new user in the next steps since the limit is two adult profiles.
4. Confirm that you'd like to create a new profile by tapping "OK."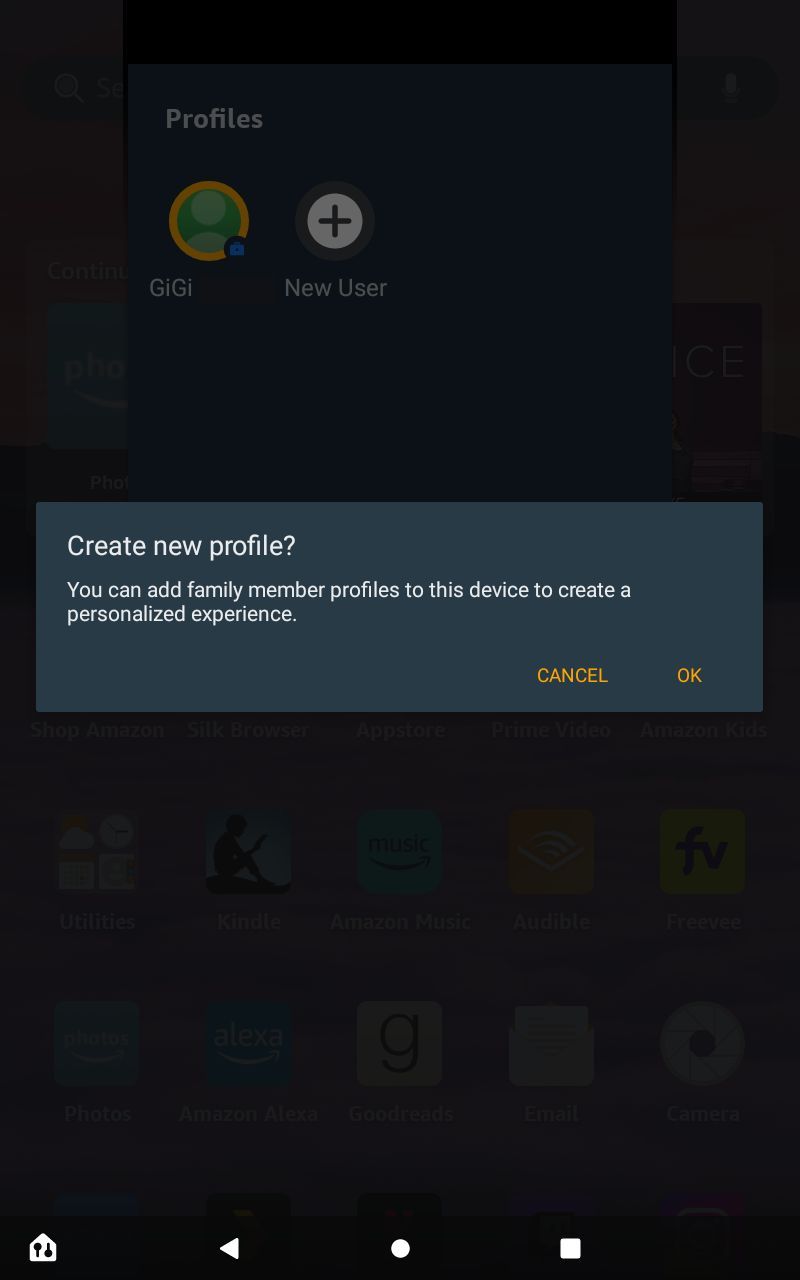 5. You'll be taken to the "Profiles & Family Library" section in Settings, where you'll see the option to add either a second adult profile or a child profile. Tap "Add a second Adult Profile."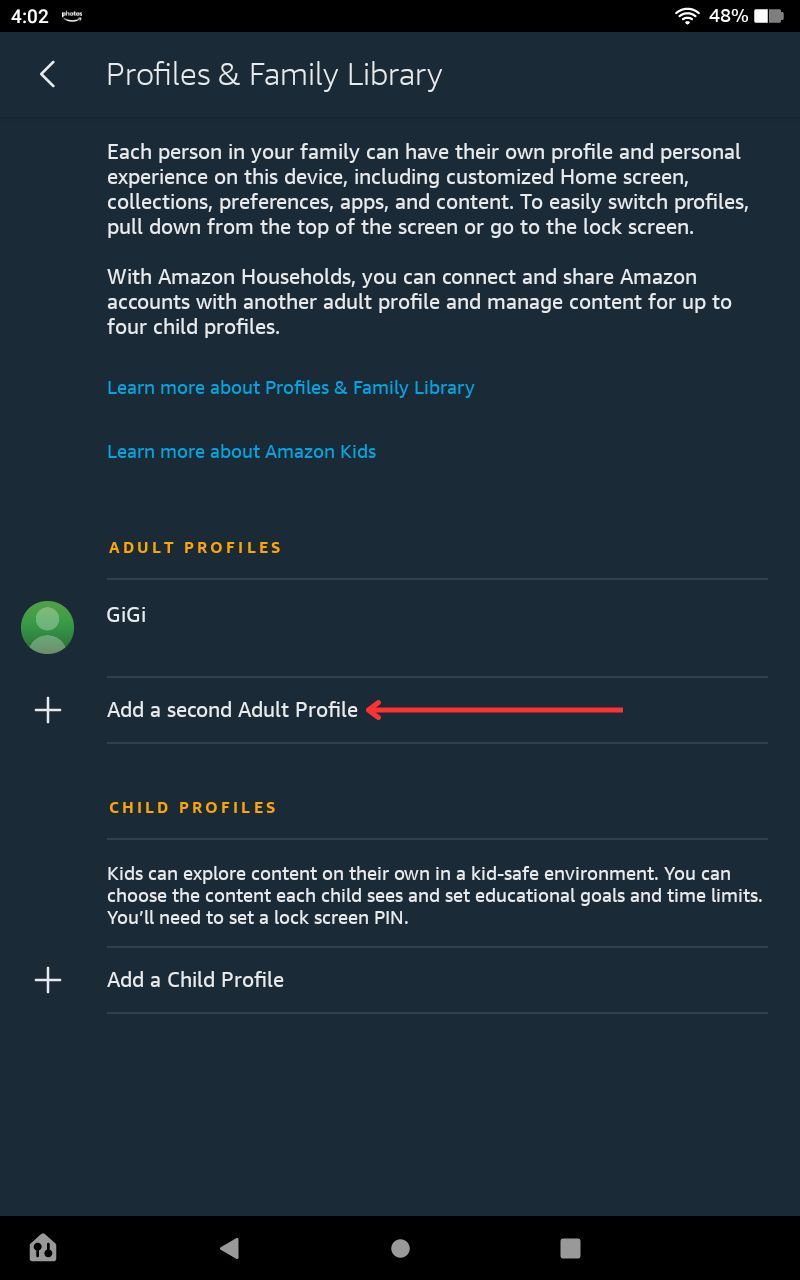 6. Next, you'll be asked to confirm your password. If you have a long, strong password, this can be frustrating, but it's necessary to confirm you want to add a second person to your household. Enter it and tap "Sign In."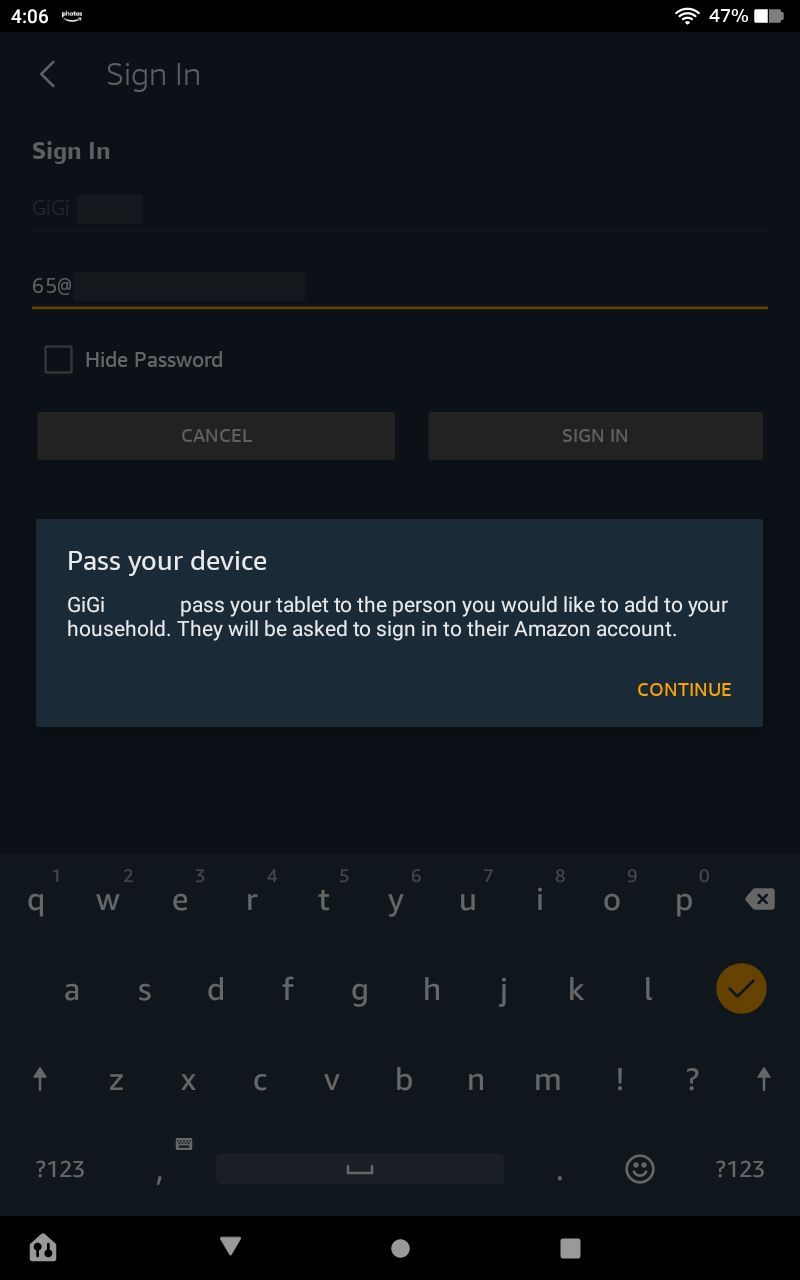 7. Once you've signed in, hand your Fire tablet to the person you'd like to add a profile for so that they can sign into their account. This will also add them to your Amazon Household.
8. The second adult will be given the option to either sign into their Amazon account or create a new Amazon account (if they don't yet have one). For the purpose of this guide, we'll assume that the second adult already has an Amazon account; select "I have my own Amazon account to use for this profile" and tap "Continue."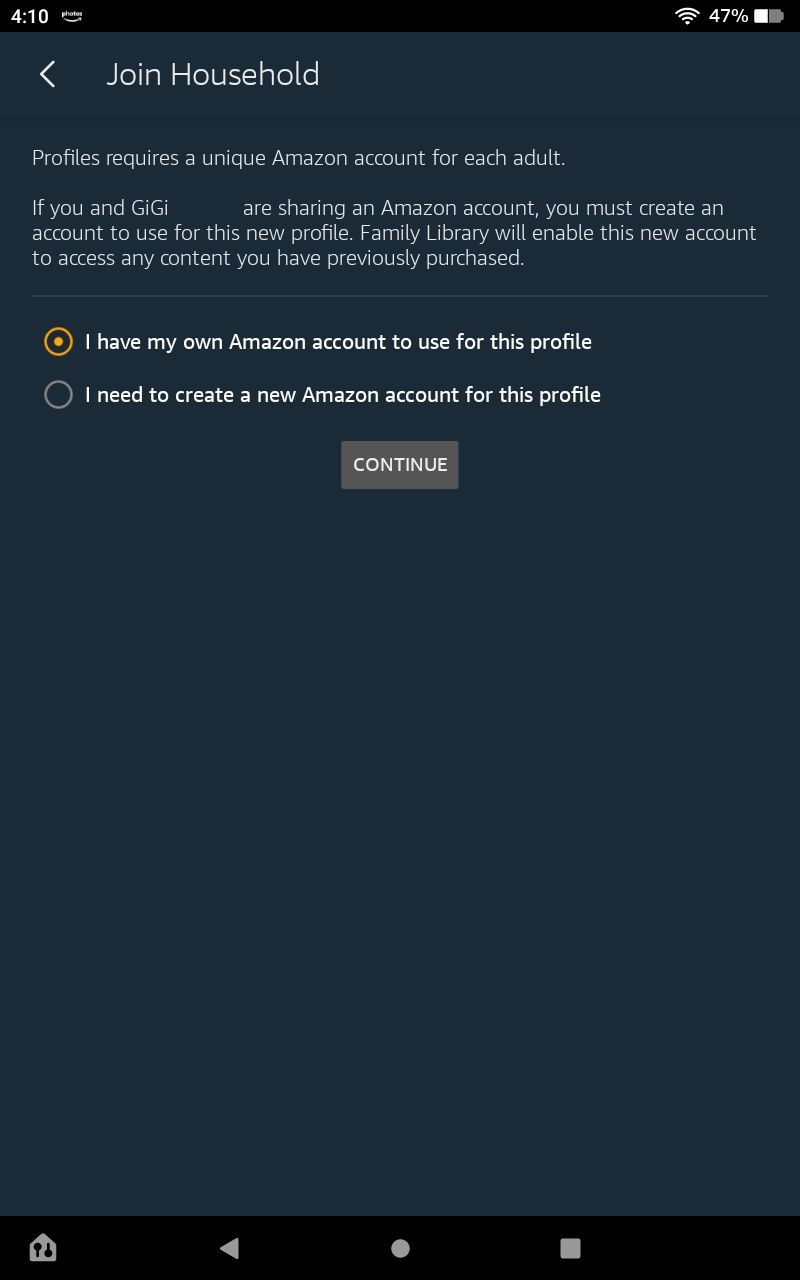 9. The second adult can now sign into their Amazon account and tap "Continue."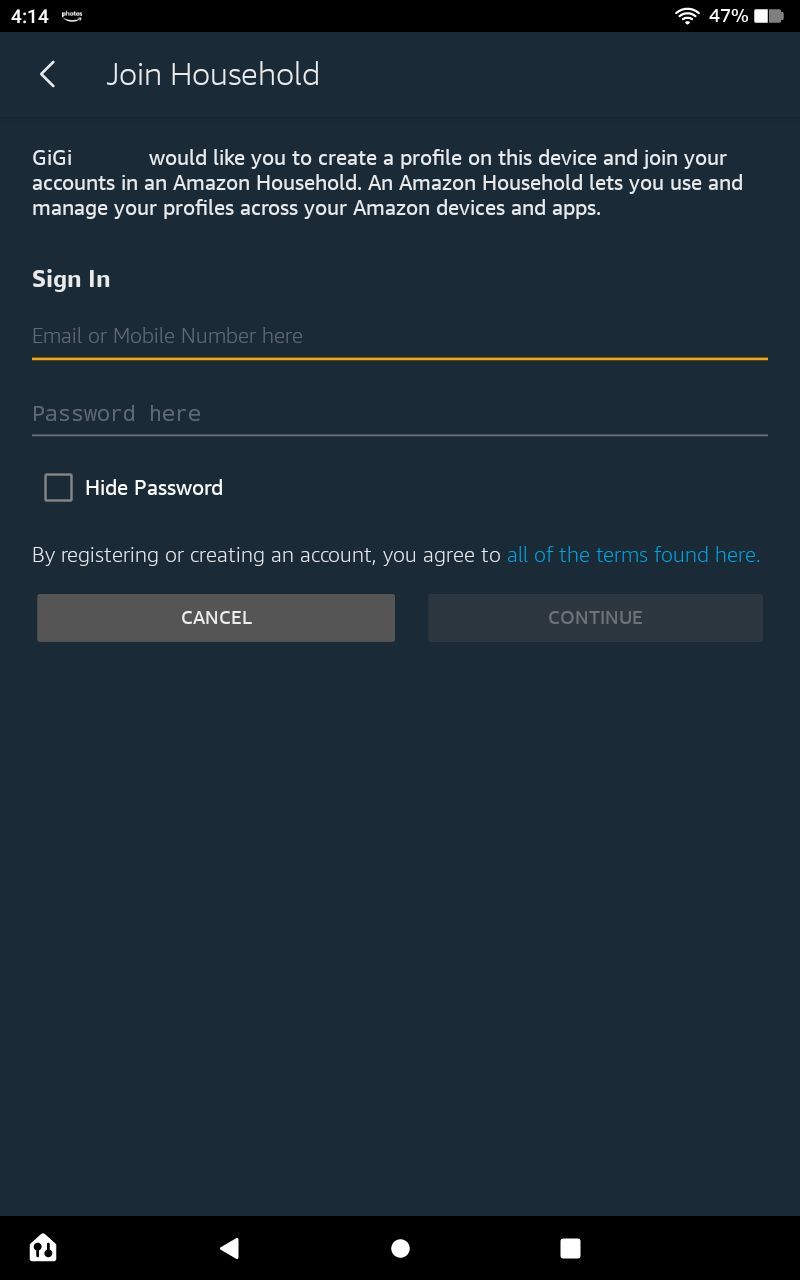 10. There's some important information about sharing content and payment information that the second adult will need to read and decide on. They can choose to authorize payment sharing and enable sharing of content, Prime Benefits, and management of child profiles if needed, or they can opt to not share payment methods and only agree to share management of child profiles across Amazon devices. After selecting the desired option, they can tap "Continue."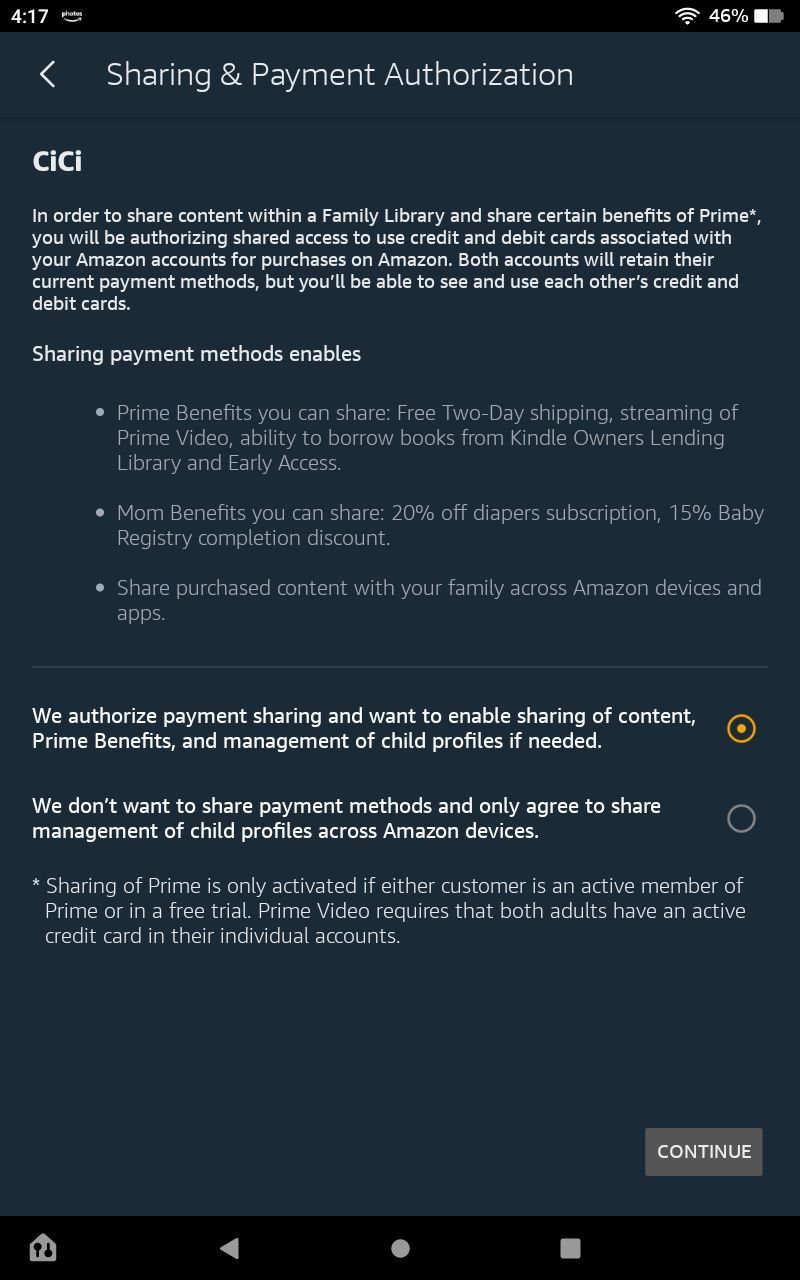 11. That's it. The second adult's profile will now display on your Fire tablet, and you'll be able to switch between them as needed.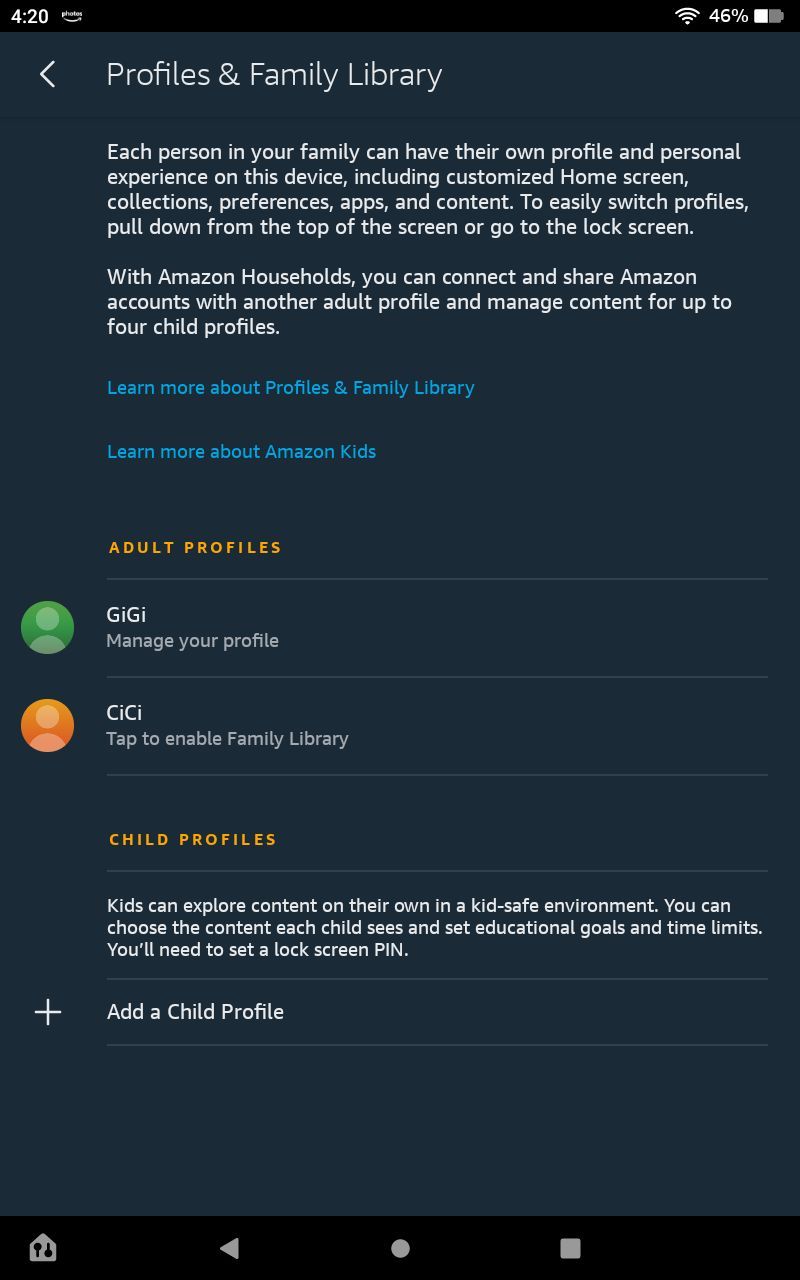 It's worth pointing out that the process may differ slightly based on the model and OS version of your Amazon Fire Tablet. Therefore, always make sure to follow the on-screen instructions.
Sharing an Amazon Fire tablet is easy
Adding an additional profile to your Amazon Fire tablet device isn't complicated. With a few steps, you can easily create a profile and give that user their own private digital space. This addition can significantly enhance your experience with your tablet device, helping to separate the activities and preferences of different users using the same device. So go ahead and take these steps to make things easier for your household; it's worth it.