The Google Pixel Fold has received a lot of criticism over its build quality, with at least one review unit failing right after the publication received it. It's very clear that the Pixel Fold is a first-generation device, and its numerous issues make it hard to recommend at Google's $1,800 asking price. That begs the question: How does Google's foldable compare to the most affordable alternative out there, the roughly $700 cheaper Tecno Phantom V Fold? Even with this massive price discrepancy in mind, you may be quite surprised at just how well the Pixel Fold fares.
Specs, availability, and pricing
The Google Pixel Fold and the Phantom V Fold don't go head-to-head in any of the markets they're sold in. The Pixel Fold is currently limited to the US, the UK, Japan, and Germany, while the Phantom V Fold is sold in India and other South Asian countries. I still think it's interesting to pitch the two devices against each other. Both phones have their issues, but you'd certainly assume one of them should have to compromise that much more in order to reach its ultra-competitive price point of roughly $1,100.
| | Google Pixel Fold | Tecno Phantom V Fold |
| --- | --- | --- |
| SoC | Google Tensor G2 | MediaTek 9000+ |
| Display | 7.6″ 2208×1840 120Hz OLED primary display, 5.8″ 2092×1080 120Hz OLED cover display | 7.85″ 2296×2000 120Hz OLED primary display, 6.42″ 1080×2550 120Hz OLED cover display |
| RAM | 12GB | 12GB |
| Storage | 256GB, 512GB | 256GB, 512GB |
| Battery | 4821mAh | 5000mAh |
| Ports | USB-C | USB-C |
| Operating System | Android 13 | HiOS13 / Android 13 |
| Front camera | 8MP f/2.0 (84° FOV, 1.12 μm pixels) inner selfie camera, 9.5MP f/2.2 (84° FOV, 1.22 μm pixels) outer selfie camera | 16MP inner selfie camera, 32MP outer selfie camera |
| Rear cameras | 48MP f/1.7 (0.8 μm pixel size) main sensor, 10.8MP f/3.1 (1.25 0.8 μm pixels) 5x optical camera, 10.8MP f/2.2 (1.25 μm pixels) 121.1° FOV ultrawide | 50MP f/1.85 main sensor, 50MP f/1.98 2x telephoto camera, 13MP f/2.2 120° FOV ultrawide |
| Connectivity | 5G (inc mmWave), Bluetooth 5.2, WI-Fi 6E, NFC, ultra-wideband | GPS, Wi-Fi, FM, Bluetooth, NFC |
| Dimensions | 139.7 x 79.5 x 12.1 mm folded, 139.7 x 158.7 x 5.8 mm unfolded | 159.4 x 71.9 x 14.5 mm folded, 159.4 x 140.4 x 6.8 mm unfolded |
| Colors | Obsidian (black), Porcelain (white) | Black, White |
| Charging | 20W wirelsss, 30W wired | 45W wired |
Displays
The Phantom V Fold and the Google Pixel Fold are both book-style folding phones. They feature smaller, smartphone-like screens on the outside, with big, tablet-style displays within. Already, though, we're seeing differences emerge, and each takes a different approach to that layout. The Phantom V has a narrower-than-usual 6.42-inch 21:9 outer screen that folds open to reveal a portrait-oriented 7.85-inch inner screen, while the Pixel Fold has a shorter 5.8-inch 17.4:9 display that opens up to a landscape 7.6-inch screen on the inside. Both outer screens are perfectly usable, though, with nothing feeling too cramped or so narrow that it hurts usability. Both of these approaches stand in stark contrast to the Samsung Galaxy Z Fold 5, which still uses an extremely narrow outer screen that makes the interface on the outside feel cramped.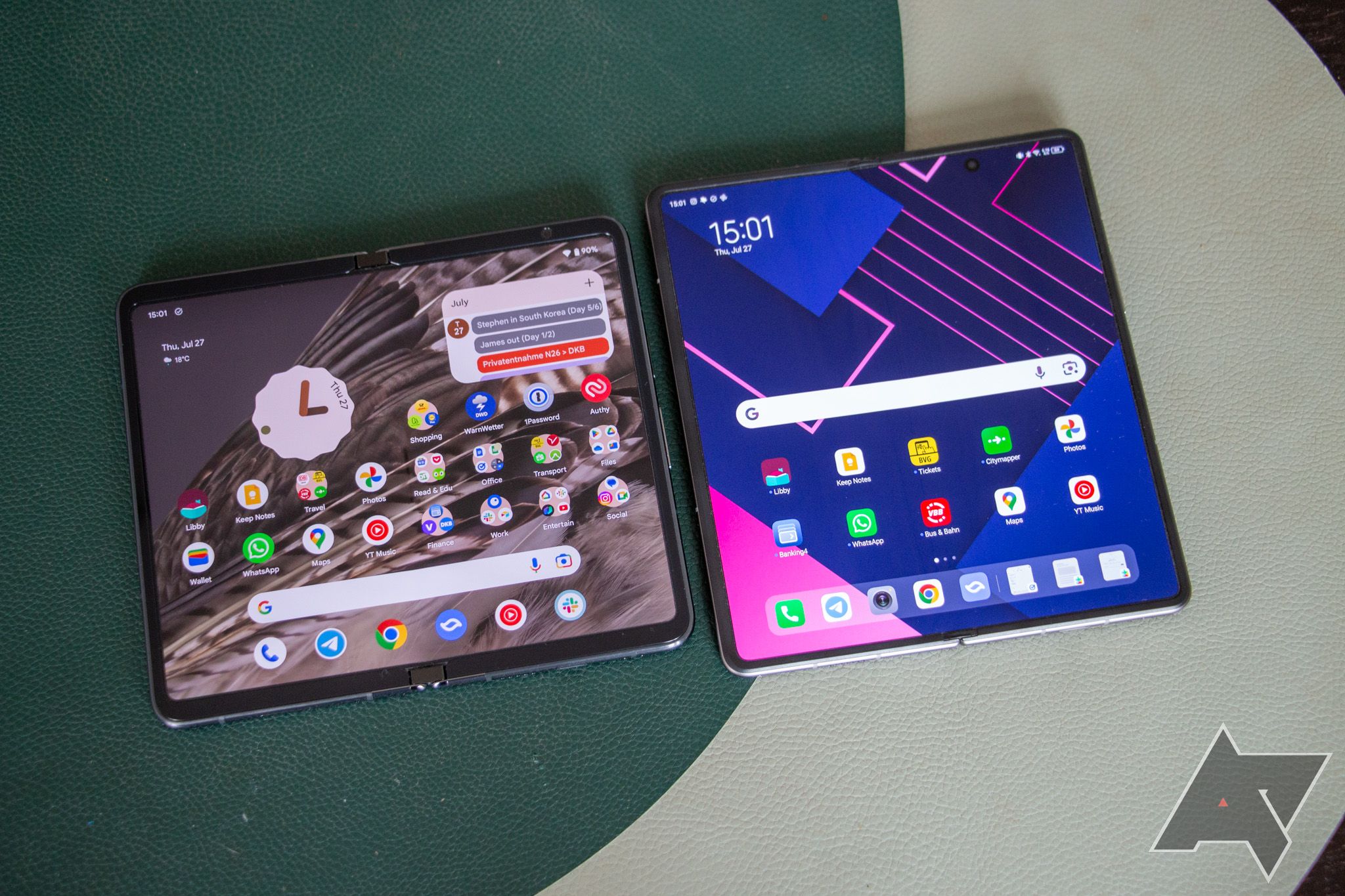 When looking at them side-by-side we can start to appreciate how both end up being largely the same size — only in different orientations. The Pixel Fold just has much bigger bezels around its inner screen, a consequence of the thinner and more advanced hinge mechanism that Google opted for.
I'm starting to think that the form factor used by the Phantom V Fold (and also the Honor Magic Vs), with a smartphone-like outer screen and the tall interior screen, is the sweet spot here. Testing the Pixel Fold, I ended up using the unfolded phone spun around in a vertical orientation more often than not. It just feels more natural to me to have a mobile device that's taller than it is wide, and many apps (and almost more importantly, websites) are built around this idea, with interfaces usually designed to scroll from top to bottom. That's different on a big, square-ish tablet screen like the iPad, which I prefer to use in landscape, but the Pixel Fold and the Tecno Phantom V Fold are small tablets at best.
Design and build quality
The Pixel Fold looks and feels a lot more premium than the Phantom V Fold. It offers a glass build all around with a frosted finish on the back. Its hinge is made of stainless steel while its frame and camera array is polished aluminum. When you hold it and use it, it feels strong and firm, and you don't worry about it breaking at any moment. In contrast to that, the Phantom V Fold has a cheap plastic back that makes a poor attempt at emulating the feel leather, and even the all-important hinge here is also made from plastic.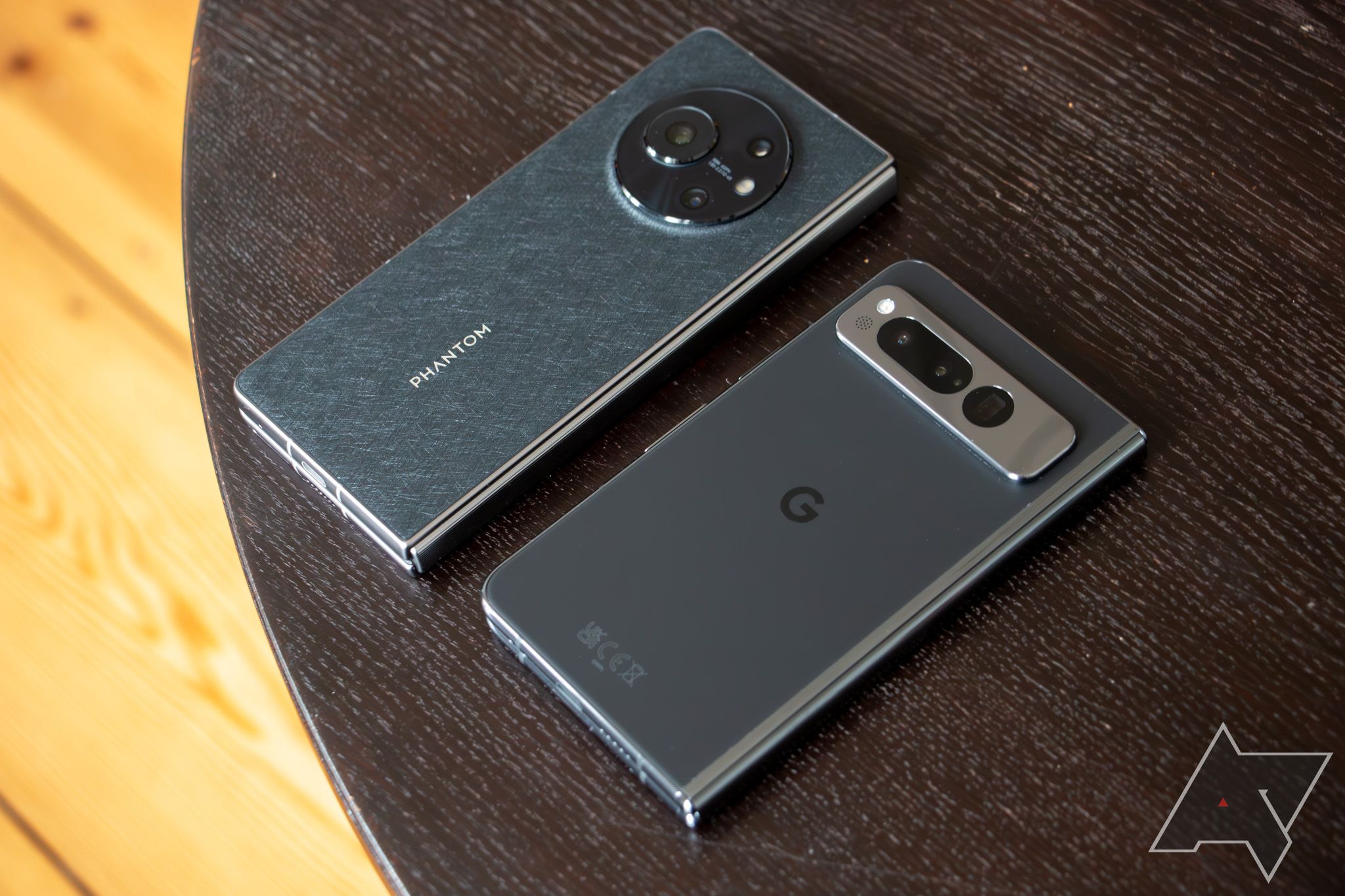 Both phones have some flaws when it comes to their build quality. The Pixel Fold doesn't fully fold flat, stopping short at about 178 degrees. Getting it even flatter requires a bit of force, putting you in the uncomfortable position of feeling like you might break the phone. The Phantom V Fold's hinge, meanwhile, feels looser than I would like it to be, with the two halves of the phone grinding against each other with a troubling crunch when you grip it while folded. I find this even more concerning than the Pixel Fold's hardware woes, and it feels downright uncomfortable whenever it happens.
The Phantom V Fold does have one big thing going for it: a crease that is just barely noticeable, offering one of the smoothest inner screens I've ever come across on a folding phone (okay, the Oppo Find N 2 Flip does it even better). There's a big price to pay for this design, though, and unlike virtually any other foldable, this phone doesn't support half-folded positions. That means you can't use it in a laptop-like pose for tabletop operation, where'd you'd have some apps like YouTube split the panel between content up top and controls below. On other devices, that ability eliminates the need to hold the phone while viewing content or to bring a stand. The V Fold, meanwhile, tackles this issue by including a case with a kickstand. I have to admit that I enjoyed using it with this case even more than without it, but this is still just a poor stopgap — not to mention the extra weight a case adds to any foldable.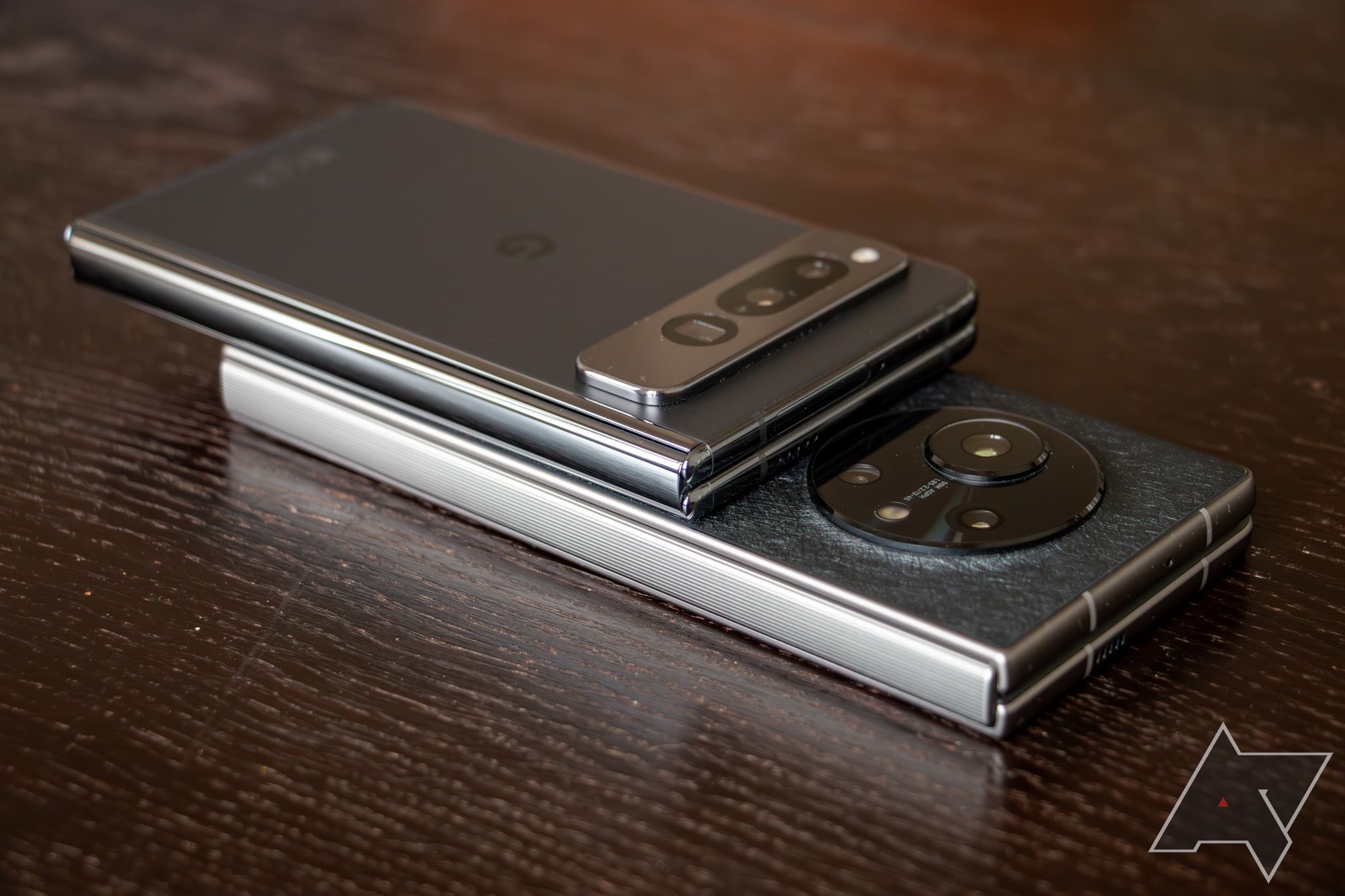 The Pixel Fold is also noticeably thinner than the V Fold, with the protruding camera array of the Google phone just barely reaching the same thickness as the V Fold's body without the camera lens taken into account. With its shorter form factor, the combined effect is that it feels more compact and more premium. The Phantom V Fold almost feels like two regular phones sandwiched together, while the Pixel Fold is clearly a different beast entirely. Even though I stand by my conviction that the Honor Magic Vs and Phantom V Fold form factor is the best for foldables, I enjoy using the Pixel Fold so much more due to its more premium build quality.
Hardware and battery
The Pixel Fold runs the Google Tensor G2 chip at its core, while the Tecno Phantom V Fold is the first foldable to use a MediaTek chip — and to its credit, it goes with the flagship 9000+. For both phones, though, their silicon represents a slightly flawed proposition. Each has the bad tendency to get particularly hot during use, with the Phantom V Fold suffering even worse than the Pixel Fold. That's quite the achievement, given that the Tensor G2 chip in the Pixel Fold has been known to get unusually hot across all of the products it's used in. The rest of the hardware is pretty much in line across the two phones: 12GB of RAM and either 256 or 512GB of storage.
When it comes to charging and battery life, the Pixel Fold offers a slightly smaller (a mere 4%) 4,821mAh battery that can only be topped up at 30W max, though it's thankfully one of the foldables that does support wireless charging, too. The Phantom V Fold counters that with a 5,000mAh battery that can take in up to 45W with its charger, but without the option for wireless charging.
In the end, the Phantom V Fold manages to take the crown here. The battery life has been phenomenal for me in everyday usage, with it getting me through multiple full days on a vacation packed wit plenty of navigation, photos, and more without, dying on me before I got back to the hotel at night — even reaching five to six hours of screen-on time. Contrast that with the Pixel Fold (which, to be fair, I haven't put through its paces quite as much as the Phantom V Fold), and it's night and day. You can watch the percentage drop when you use the Pixel Fold's inner screen, and I've often ended days that should have been very low-demand with even less battery remaining than I had with the Phantom V Fold on vacation.
Software
Both the Google Pixel Fold and the Phantom V Fold are running Android 13, but the experience still couldn't be more different. Google's Pixel Fold software feels put together a lot better, beginning with simple things like how the Pixel Fold treats apps that don't normally support screen rotation. Rather than forcing you to switch to landscape or portrait when you use it unfolded, it adds letterboxes to the left and right of apps that don't want to work with your preferred orientation.
Tecno's software doesn't add a cutout for the selfie camera, which gives you more real estate, but a more literal punch-hole feeling than on any other phone
Overall, the Pixel Fold just feels so much more polished on the software front. For one, you have access to all the features that Google has pioneered on other Pixel phones in the past, including always-on music recognition, Hold for Me and other phone features like Call Screen, a thoughtful dual-pane lock screen and notification shade making great use of the additional space. Maybe more than anything, you just get a less buggy experience overall. Tecno's interface feels a lot like it's slapped together, thanks to issues like the first notification in the notification shade being cut off by the punch-hole selfie camera.
This is also true for system navigation. The Phantom V Fold feels a lot more compromised and has a steeper learning curve. Rather than swiping up a little to get to the taskbar like on the Pixel Fold, you have to use the back gesture at the left or right edge of the screen and hold to reveal a sidebar with pinned and recently used apps.
The Google Pixel Fold makes smart use of the additional space — at least when you use it in landscape mode
Personally, I'm a big fan of how well integrated and fully featured the Pixel experience is, even if it may not offer floating windows or a faster way to enter split-screen. Overall, it's just much more intuitive to use.
An even bigger problem with the Phantom V Fold is security. At the time of writing, it's still running the December 2022 security patch, which is something you truly don't want to see on a phone with premium pricing north of $1,000. This also makes me question the long-term software support offered by Tecno. In contrast to that, the Google Pixel Fold is among the first phones in line with every release of both security patches and full system updates, with Google promising three major Android upgrades and five years of security support.
Cameras
While the Google Pixel Fold works a lot like the Pixel 7 Pro when it comes to its camera experience, the Phantom V Fold feels like the experience you'd get on a budget phone. In good lighting, the images it takes are decent enough, but it quickly falls off a cliff when you use it in darker environments. It also doesn't offer any form of optical zoom, meaning that you probably can't go much farther than 2x before things look murky.
Tecno Phantom V Fold samples
The Pixel Fold offers a similar camera setup as the Pixel 7 Pro, with a 5x zoom telephoto camera in the mix. Combined with the company's excellent processing pipeline, you probably won't miss a regular phone much when you've got this to shoot pictures with.
Google Pixel Fold samples
Foldables are still very much experimental
As I wrap up comparing the Pixel Fold with the Phantom V Fold, the latter is left in a weird position. Sure, it's about $800 cheaper than the Pixel Fold, but at the same time, it still costs roughly $1,000. At that price, you can get some of the most high-end Android smartphones like the Samsung Galaxy S23 Plus, the flip-foldable Moto Razr+, or the 256GB Pixel 7 Pro. All of these phones offer an arguably less compromised experience and better build quality.
All that said, when compare the Phantom V Fold with expensive $1,800 hardware like the Pixel Fold, it's kind of impressive how close it comes in terms of form factor, usability, and hardware — while still compromising on build quality and software updates and features. Ultimately, though, I'm reluctant to recommend it over the Pixel Fold or any other competing foldable out there. If you want to be on the bleeding edge of what smartphones offer, which you probably want if you opt for a foldable, then you need to be willing to spend the appropriate amount of money at this time. Even with as much of a first-gen, rough draft of a product as the Pixel Fold feels, the Phantom V Fold is too flawed of an experience right now to recommend it.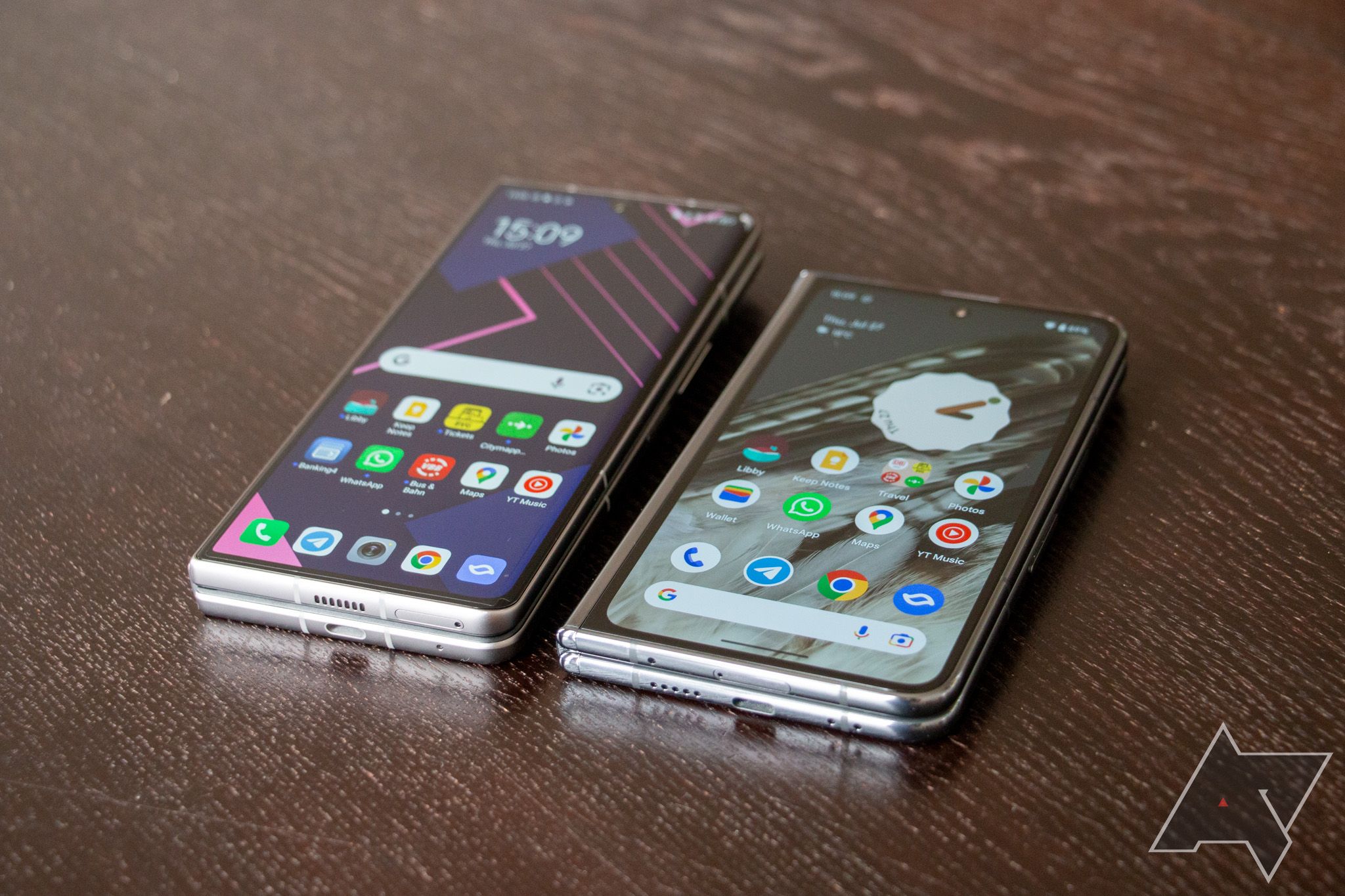 If anything, this comparison makes clear that foldables are still an emerging category. While Samsung has its hardware build quality pretty much figured out five generations in, even those phones are still not perfect, with some screens often spontaneously shattering. The Phantom V Fold is proof of what can work in the budget area in the long-term, just as the Pixel Fold shows that it will take newcomers a generation or two to get their products up to speed.
Either way, I think that foldables, no matter which kind, are the most exciting thing to happen to the smartphone world at the moment. They bring us back to a time when manufacturers were still willing to experiment (When Phones Were Fun, as foldable evangelist Michael Fisher would say), and there are only going to be even better options across all kinds of price points with all kinds of features — but that's still a process that is going to take a while.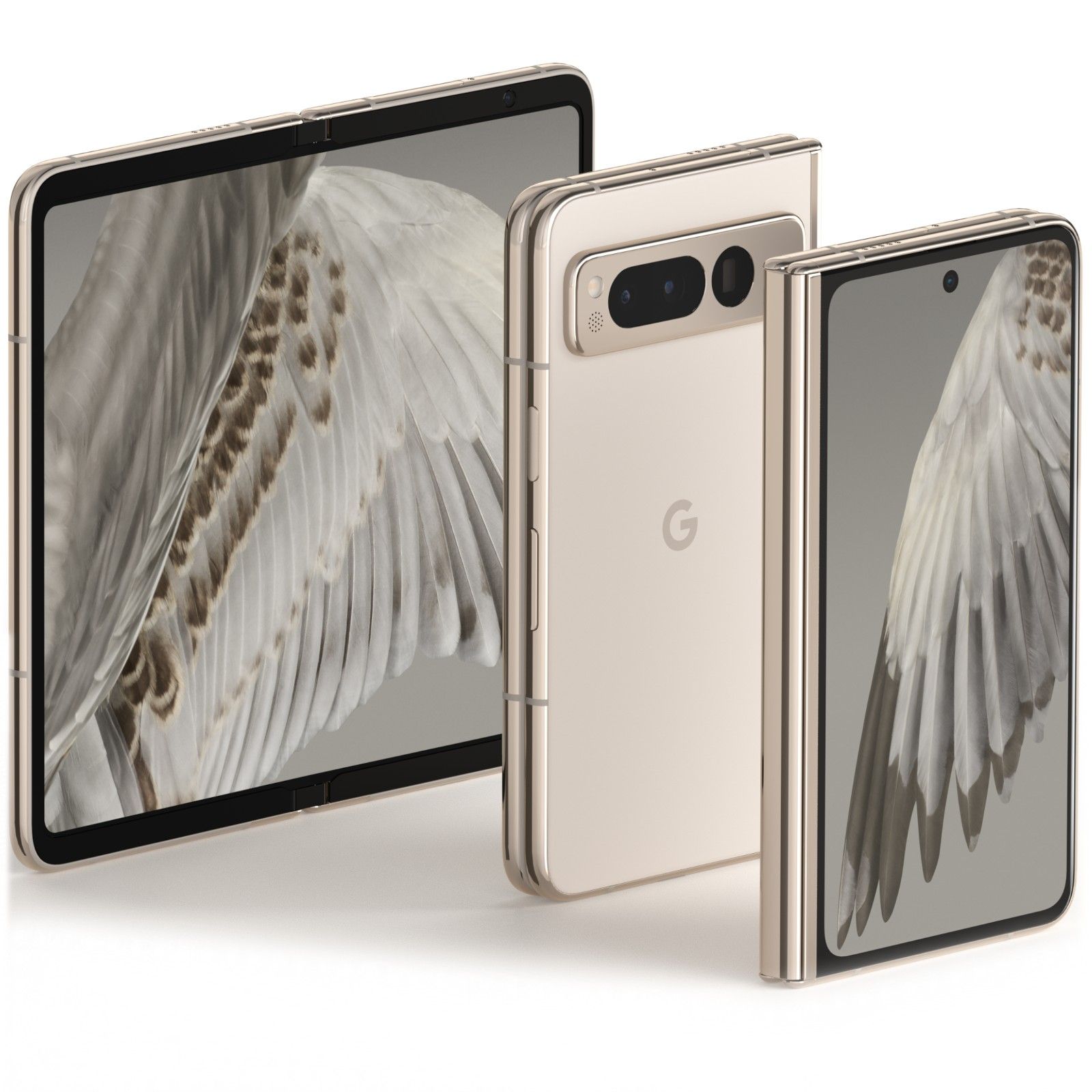 Source: Google
The Google Pixel Fold may have its flaws, but it still has smarter and more integrated software ideas than many competitors in the international market. If you want in on the bleeding edge of Android on folding phones, this is the one to get.