Apple HomePod (2nd generation)

For Apple fans

Apple's second-generation HomePod packs in quite a punch in audio quality, but its feature set makes it an ideal choice only for those firmly entrenched in Apple's device ecosystem. 

Pros

Unobtrusive design
Seamless integration with iPhone, iPad, and Apple TV
Expansive, room-filling sound stage

Cons

Only works with Apple devices
Limited support for streaming services

Sonos Era 300

Flexible and versatile

The Era 300 introduces Dolby Atmos support to Sonos' line of music-focused speakers while delivering accurate and warm sound that can easily fill an entire room. At $449, it's pricier than most speakers in its class, but it makes up for it with unparalleled versatility. 

Pros

Accurate, room-filling sound from every direction
Support for all major streaming services
Offers Bluetooth, Line-in, and AirPlay 2

Cons

Expensive
Line-in adapter sold separately
The Sonos Era 300 is a fascinating new flagship entry from the well-known home audio company. It builds on a solid foundation of some of Sonos' best products of the past while not being a direct successor to any of them. Although it fits into the space previously occupied by the Sonos Play:3, it's a new product in its own right, particularly with the introduction of Dolby Atmos support targeted at delivering a spatial audio experience for music listening.
This puts the Era 300 easily in the running as one of the best smart speakers we'll see this year. Still, folks with a foot in the Apple ecosystem may wonder how it stacks up against Apple's flagship HomePod, which received an early 2023 reboot after being somewhat bafflingly discontinued two years ago. So let's see how the latest Apple speaker compares to the Sonos Era 300.
| | Apple HomePod (2nd generation) | Sonos Era 300 |
| --- | --- | --- |
| Brand | Apple | Sonos |
| Dimensions | 6.6 x 5.6 x 5.6″ | 6.3″ x 10.24″ x 7.28″ |
| Connectivity | 802.11n Wi-Fi, Bluetooth 5.0, AirPlay 2, Thread | Wi-Fi 6, Bluetooth 5.0, USB-C, AirPlay 2 |
| List Price | $299 | $449 |
| Colors | Midnight, White | Black, White |
Price, availability, and specs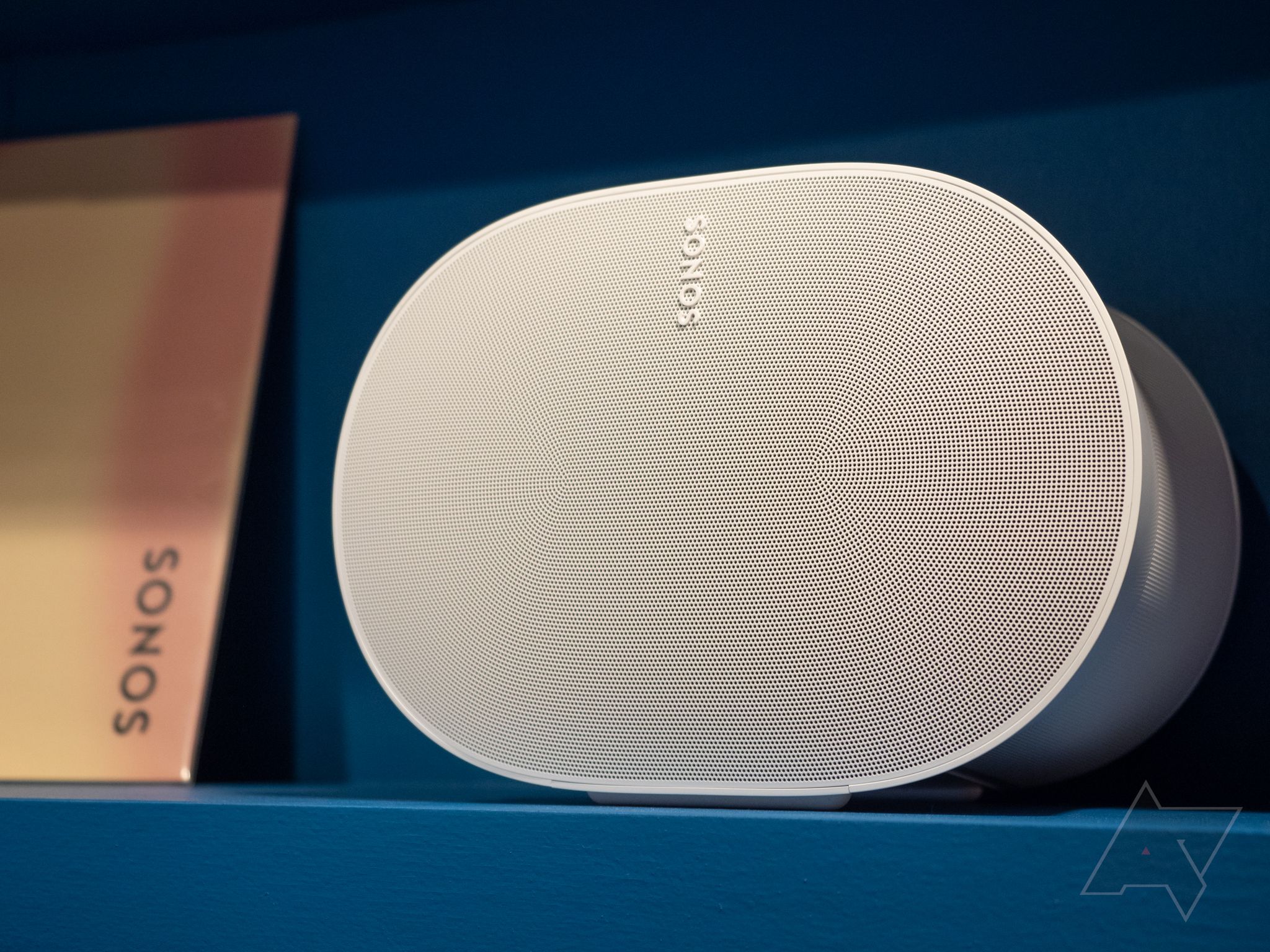 Apple's second-generation HomePod is available from Apple and most major retailers for $299 in White or Midnight. The Sonos Era 300 can be purchased directly from Sonos for $449 and found at other electronics stores. It's available in Black and White.
Design: Minimalist or powerful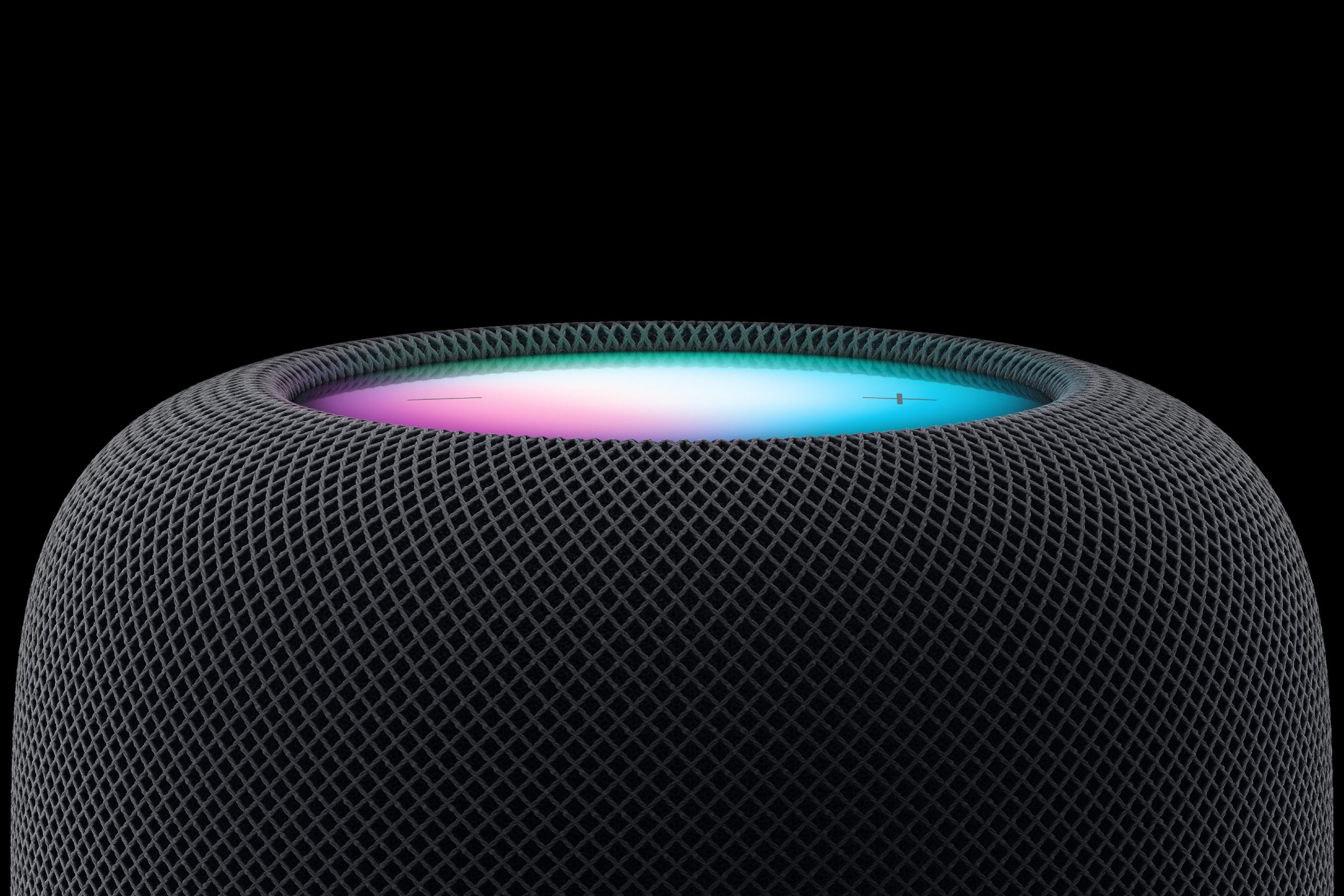 Apple's newest HomePod retains the minimalist cylindrical design of the original. Apple opted to go with Midnight instead of Space Gray this time around, reflecting a similar shift that began across the rest of its product line in late 2021. However, other than that subtle color change in the darker version, it's virtually indistinguishable from its predecessor. It has a design that should fit in well just about anywhere in most homes.
A woven fabric encircles the HomePod, extending over the top and bottom edges to leave only a translucent circular disk that provides a subtle status light and hidden touch controls for adjusting volume, pausing playback, or calling up the built-in Siri voice assistant. There are no visible ports or buttons other than the removable power cable.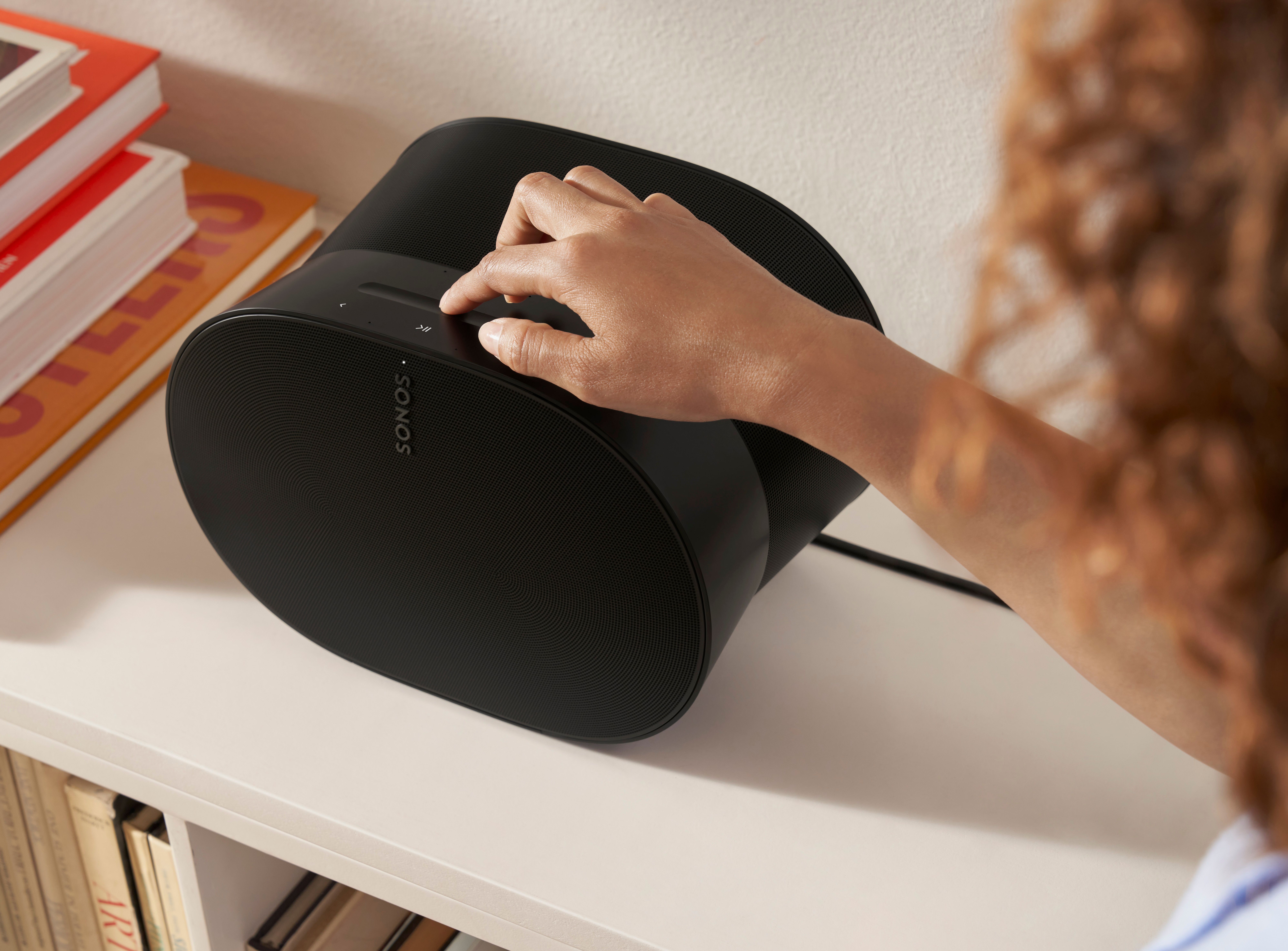 Source: Sonos
In comparison, the Sonos Era 300 features a larger and more unique design. It's obvious that Sonos wants you to know that the Era 300 is more than just an ordinary speaker, with its flared oval profile designed to lay on its side despite the Sonos branding on the front (which might appear a little strange to some). It's an opinionated design that somehow works, but it's not subtle. The speaker is also nearly double the weight and size of the HomePod 2.
Atop the Era 300 are capacitive touch controls for playback, track navigation, volume, and a mute button for the voice assistant. Sonos also provides a physical privacy switch on the back for those who prefer to make sure the built-in mic is completely disconnected.
Size and weight may not matter much, as neither speaker is portable, and both must be connected to an external power source. However, it's worth noting that both speakers also feature removal cables that use standard connectors — a nice upgrade for the HomePod, which used a non-removable cable in its first iteration.
Sound quality: Evenly matched out of the box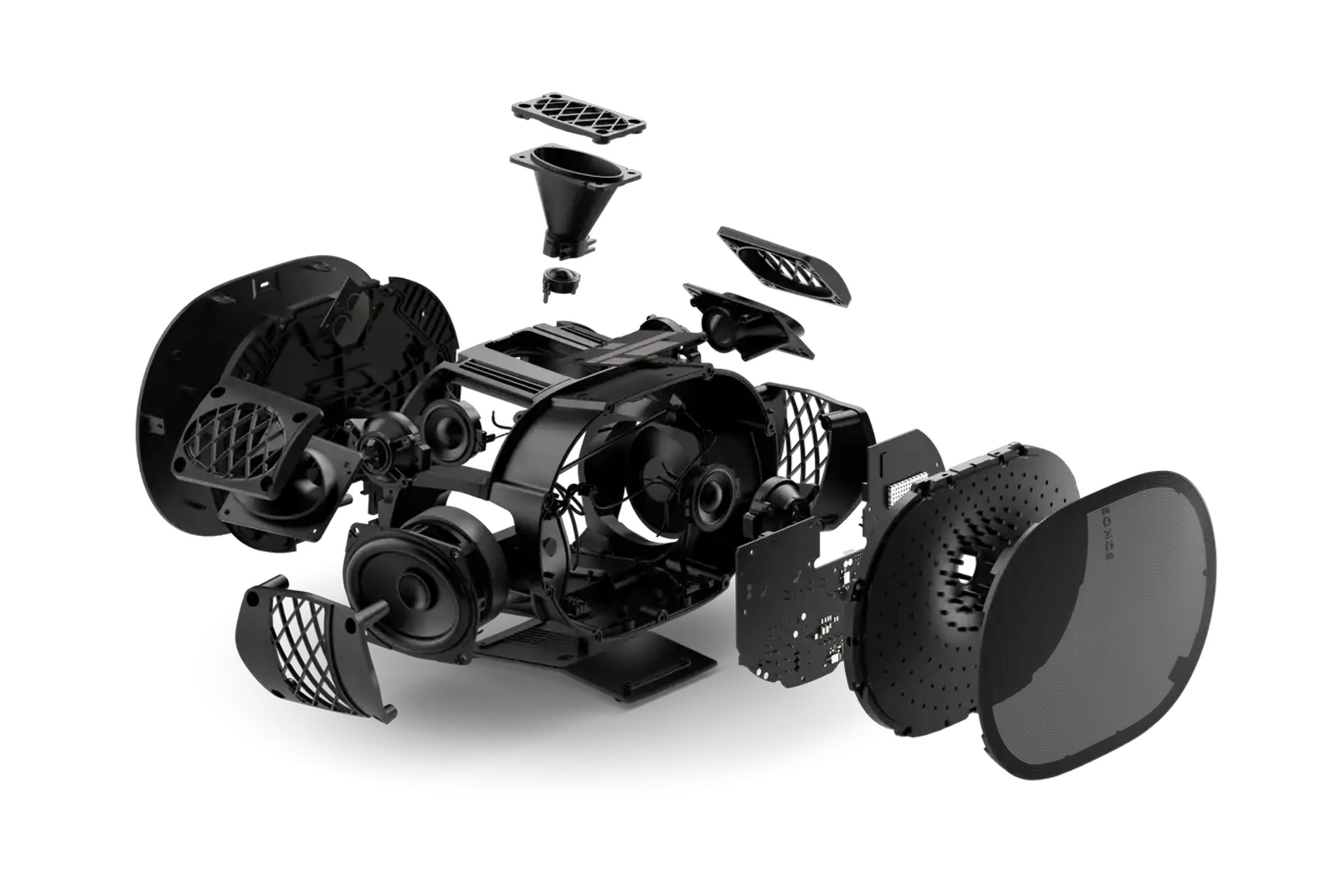 Although the HomePod 2 includes a nice array of drivers, it configures them in an unusual arrangement that relies on custom acoustic processing powered by its S7 chip. The setup consists of a four-inch high-excursion woofer joined by five horn-loaded tweeters with individual neodymium magnets. In addition, an internal calibration microphone feeds into the computational audio system to provide real-time tuning that adjusts to whatever environment you place the speaker in. Apple reduced the number of drivers compared to the original HomePod, but the company claims the more powerful S7 chip and new audio algorithms compensate for that.
The Sonos Era 300 packs in six class-D digital amplifiers, powering four tweeters and two woofers. Two of the tweeters fire to each side, while a forward-firing tweeter offers a center image. The fourth tweeter fires upward to reflect sound off the ceiling to handle Dolby Atmos content. The two woofers are also angled to each side for stereo separation.
The HomePod punches well above its weight class in audio quality and room acoustics, and the cylindrical design and multiway driver array mean you don't really need to worry about orientation or even where you place it in a room. And despite its forward-firing appearance, the Sonos Era 300 also provides room-filling audio even when it's facing away from you, thanks to Sonos' TruePlay system that reads the room and optimizes its acoustic profile.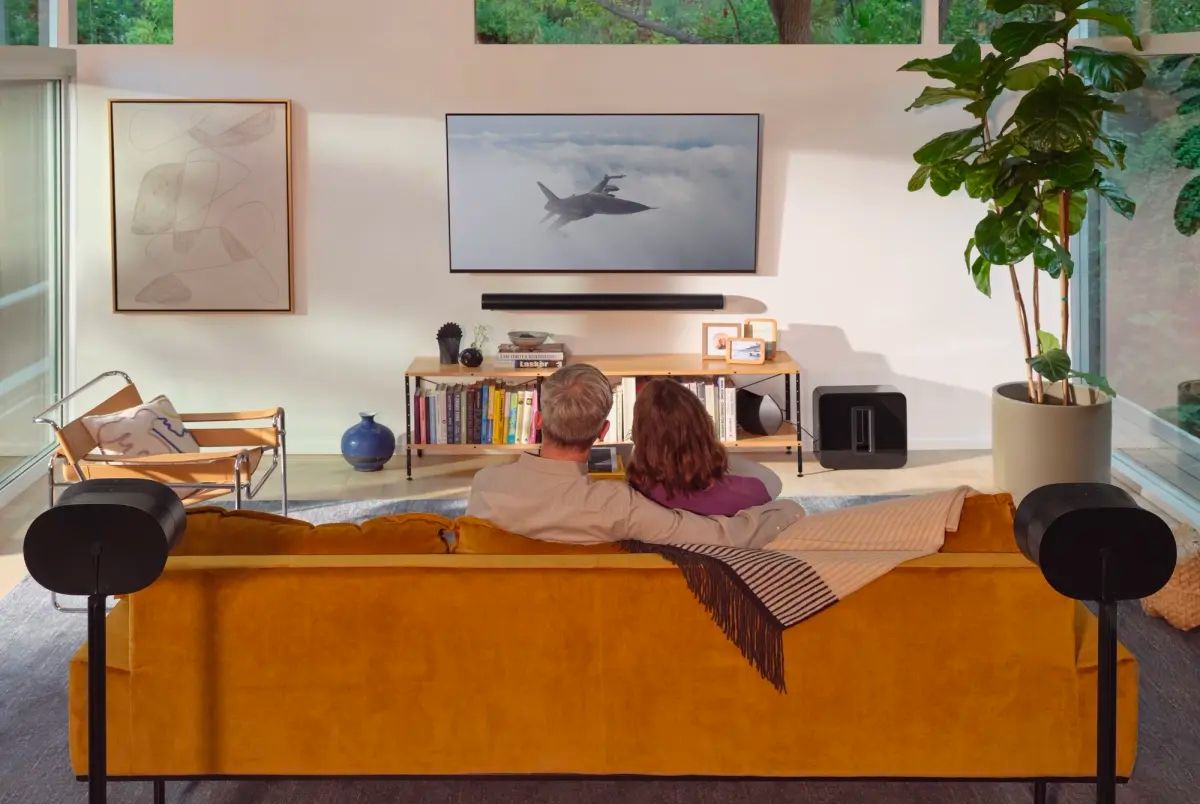 The Sonos Era 300 and HomePod 2 support Dolby Atmos and Spatial Audio, although your mileage will vary depending on where you set them up and what type of content you're playing. The HomePod naturally gets an edge with Apple Music, which has a large library of Dolby Atmos content that's been optimized for Apple's smart speakers, but don't be too quick to dismiss the Era 300 as it does have Dolby Atmos with Spatial Audio support for Apple Music.
However, in either case, you'll need more than one speaker to get the best Dolby Atmos experience. For Apple, that means two HomePods of the same model — even though the original HomePod also supports Dolby Atmos, you can't mix and match the two generations when setting up a stereo pair. With Sonos, you have more options to create an impressive sound stage since a pair of Era 300s can be paired up with a Sonos Arc or Beam soundbar to act as surround speakers for a home theater system — providing your streaming device can deliver Dolby Atmos to it. You can also simply pair to Era 300s for better stereo performance and even add any generation of Sonos Sub into the mix.
Features, connectivity, and compatibility: No contest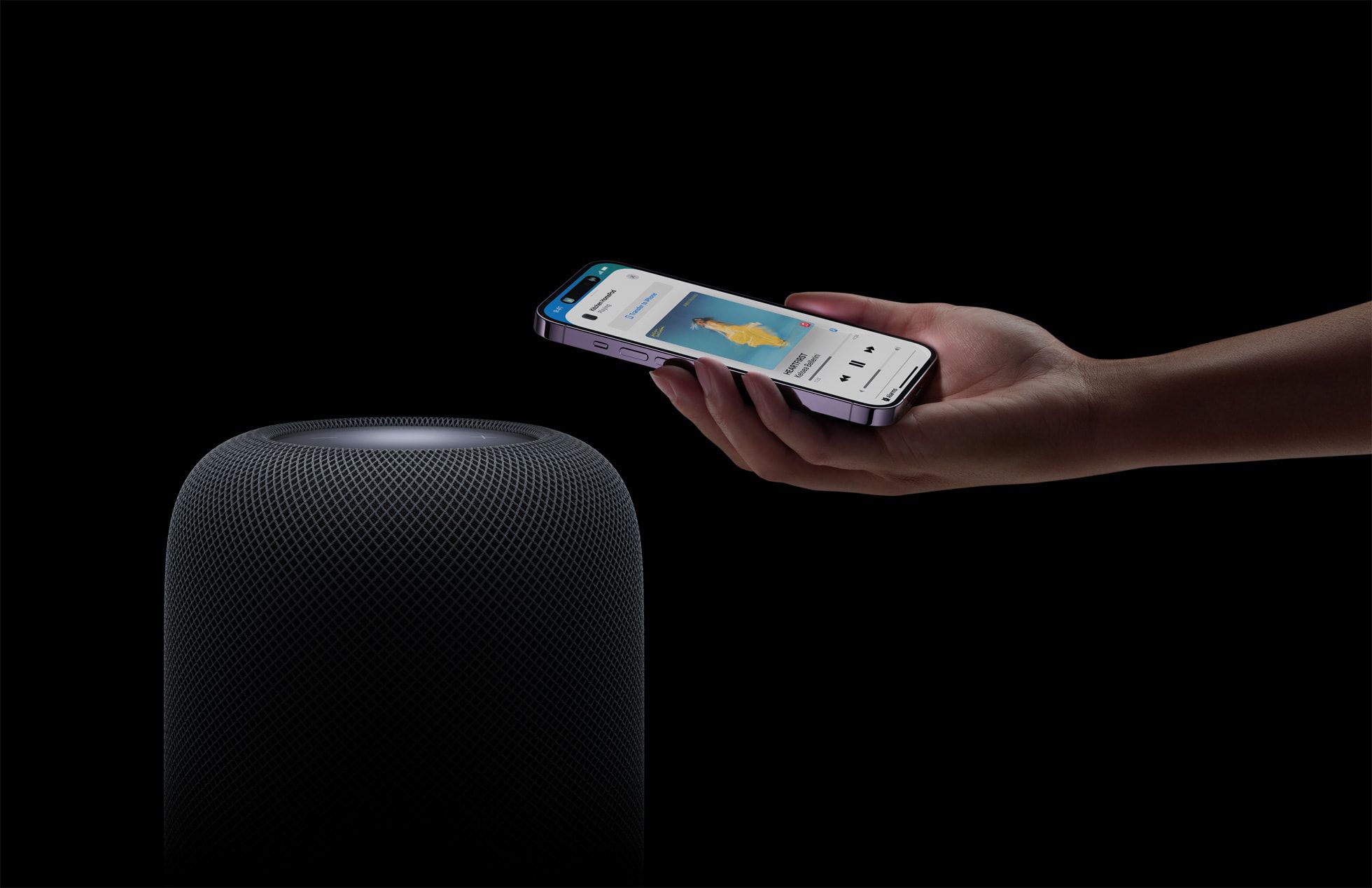 Apple's HomePod has always been something of an odd duck among speakers. Despite offering great sound, it's still a device for those firmly entrenched in the Apple ecosystem. It's basically still more of an iPhone accessory than a speaker. While you can't set it up without an iPhone or iPad, that's remarkably easy to do as there are no apps to download; everything you need is built into the operating system, and you can get started simply by holding your iPhone near the HomePod.
However, even once you have it up and running, the only easy way to deliver audio to it is from another Apple device. This includes using a pair of HomePods for Dolby Atmos home theater sound, which can be done only when paired with an Apple TV 4K.
If you read the specs, you'll see the HomePod does support Bluetooth, but that's only for setup and pairing — not audio streaming. There's also no wired audio input of any kind, analog or digital. As a result, the only way to stream music on a HomePod is to call it up using Siri from a supported service like Apple Music, Amazon, or Deezer. Or you can use AirPlay 2, which officially only works from Apple devices. While there are some apps and workarounds to use AirPlay from Android, such as AirMusic, they are awkward at best and not something we'd suggest. Nevertheless, they're handy options for folks who use an Android phone in a world mostly made up of Apple devices.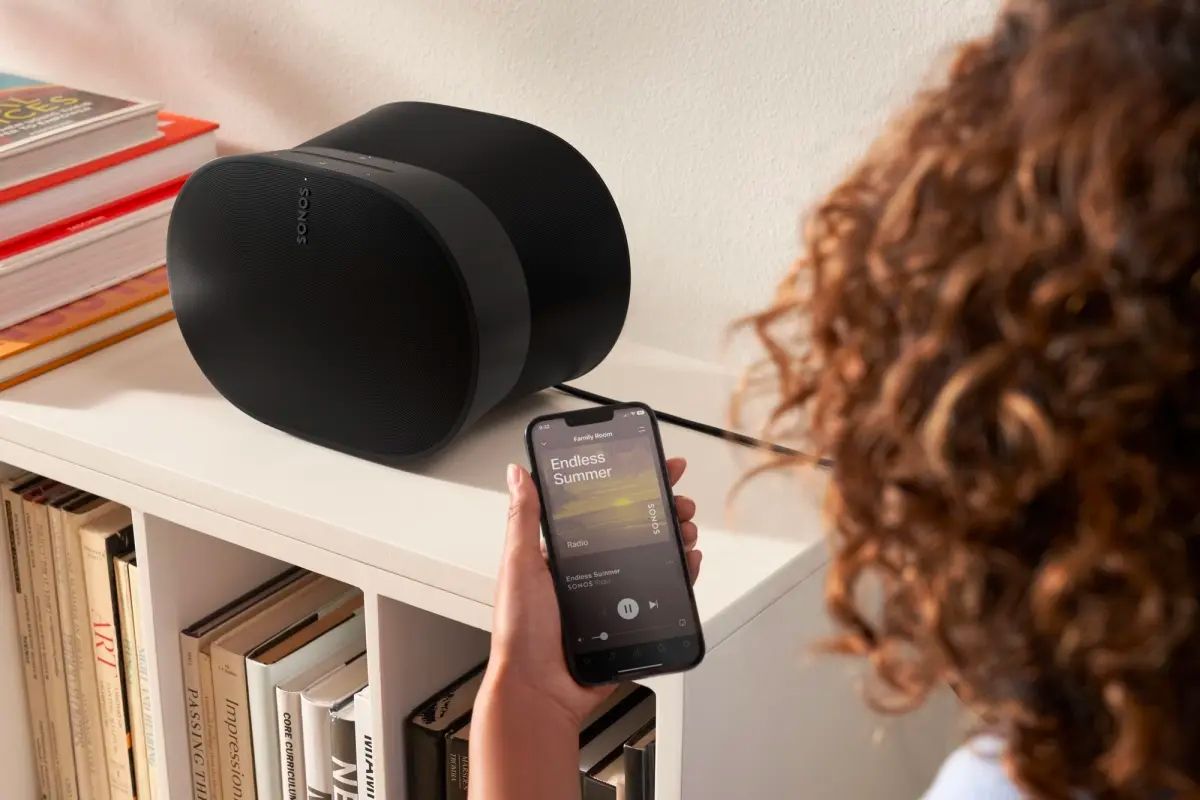 On the other side of the fence, Sonos' Era 300 provides open fields as far as the eye can see. For example, you get direct support for all the major streaming services, plus free music and original content from Sonos Radio right out of the box.
The Sonos app, which is available for Android and iOS, lets you control the Era 300 individually, or as part of a whole-home audio system. You can also stream to it via standard Bluetooth or AirPlay 2, where it can even work in tandem with a HomePod in another part of your home. An optional Sonos Line-In Adapter also lets you connect an analog audio input to the USB-C port.
The Sonos app lets you fine-tune one or more Sonos Era 300 speakers with TruePlay for optimal sound; however, the Android version of the app relies solely on the microphones in the speaker for this. You'll need an iPhone or iPad to take advantage of TruePlay, which lets you move around the room using your iOS device's mic to deliver more comprehensive acoustic tuning from multiple angles.
Under the hood, the Sonos Era 300 also supports Wi-Fi 6 (802.11ax), while the HomePod is limited to Wi-Fi 4 (802.11n). In either case, that's more than sufficient bandwidth for audio streaming, but Sonos gets the edge for folks who prefer keeping older Wi-Fi devices off their network. It can also be hardwired into your router via Ethernet using an optional Sonos Combo Adapter, which is something that HomePod doesn't offer.
For voice assistants, the Sonos Era 300 offers you a choice between Sonos' own Voice Control and Amazon Alexa. While Apple's HomePod is naturally limited to Siri, it can also handle personal requests to a paired iPhone, such as creating calendar appointments and sending messages. The HomePod also does double-duty as a hub for Apple's HomeKit ecosystem, with built-in Thread and Ultra Wideband support. However, Sonos doesn't really play in the home automation space beyond offering voice assistant capabilities.
Which is right for you?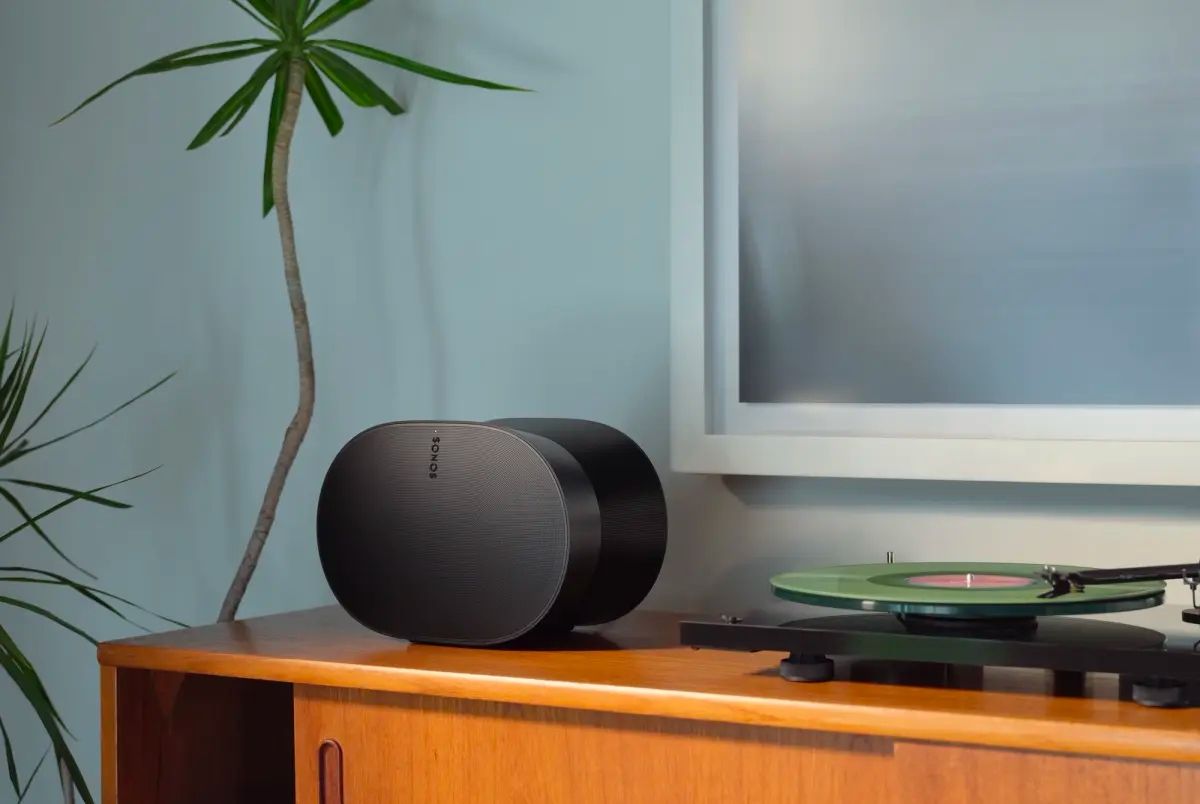 Although both the HomePod and Sonos Era 300 offer great sound quality for their size and price, that won't do you much good unless they can actually play what you want to hear, and this is where Sonos has the HomePod 2 beat in just about every possible way.
With direct support for every major streaming service on the planet and a whole ecosystem of other speakers, from sound bars to subwoofers, the Sonos Era 300 is the clear winner for most folks. One of Sonos' greatest strengths is its modular and expandable design, so even if you're only looking at a single speaker for now, you won't limit yourself by going with the Era 300. You can add another one down the road for a better stereo soundstage or add a Sonos Sub to get that extra bass. Later, you can splurge on a Sonos Arc or Beam to round it out into a whole home theater system.
You won't be limited by connectivity since the Sonos Era 300 plays well with Android and Apple. It also plays well with just about anything that can send audio to it over Bluetooth or through an analog 3.5mm jack. And with a compatible Sonos soundbar, you can input audio via HDMI from just about any TV or streaming box.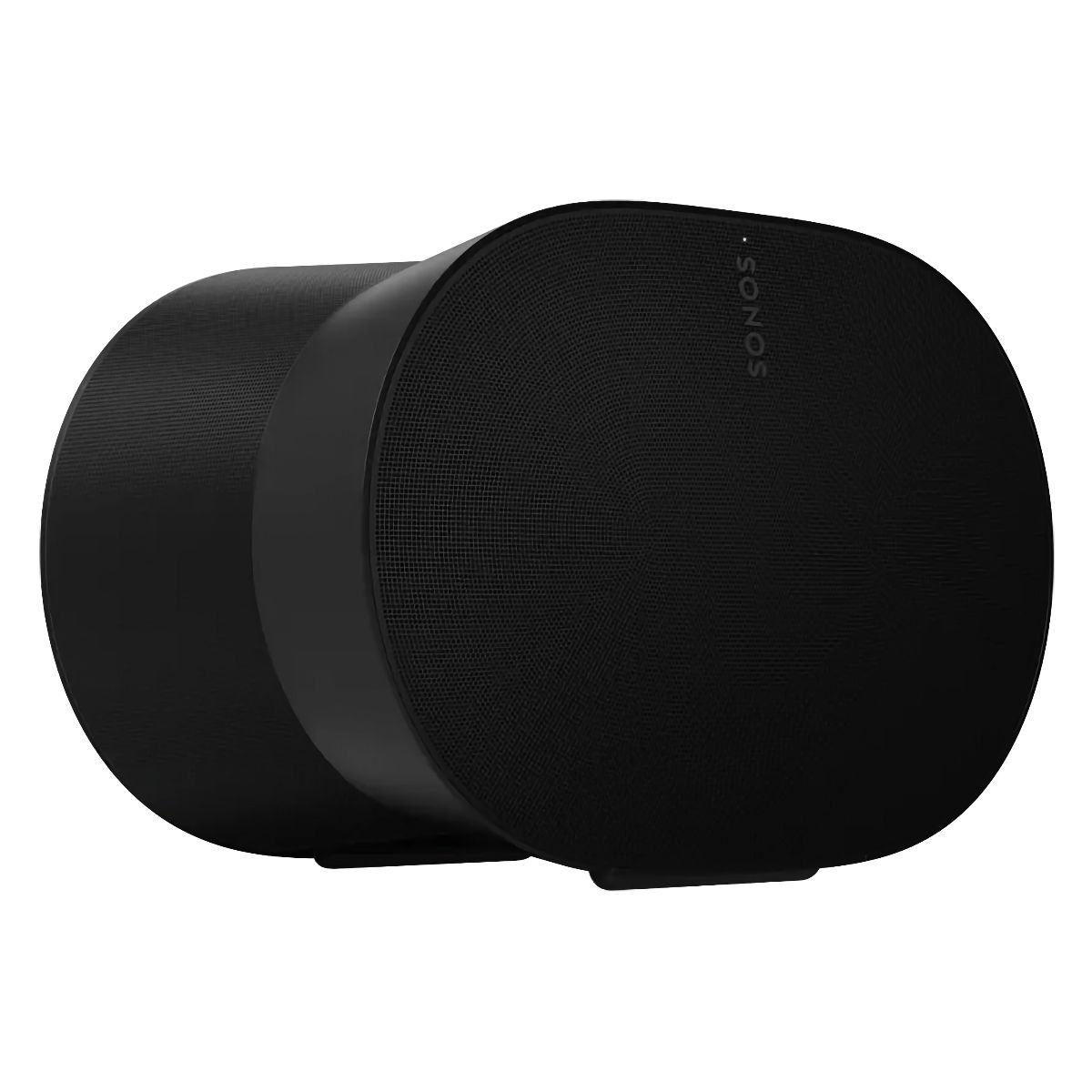 Sonos Era 300
Best overall
For Apple fans
The Era 300 introduces Dolby Atmos support and spatial audio to Sonos's line of music-focused speakers for great sound while being versatile enough to stand on its own or grow into part of a larger home audio system. Support for a broad range of streaming services, plus Bluetooth and line-in, make it extremely flexible.
While the Sonos Era 300 is considerably more versatile, the HomePod 2 is a great choice for those already invested in the Apple ecosystem. The lower price makes an even bigger difference if you plan to pick up a stereo pair, and it works much more seamlessly with your iPhone, iPad, and Apple TV. Like most things in Apple's garden, it's a solid product as long as you're happy to live inside those walls.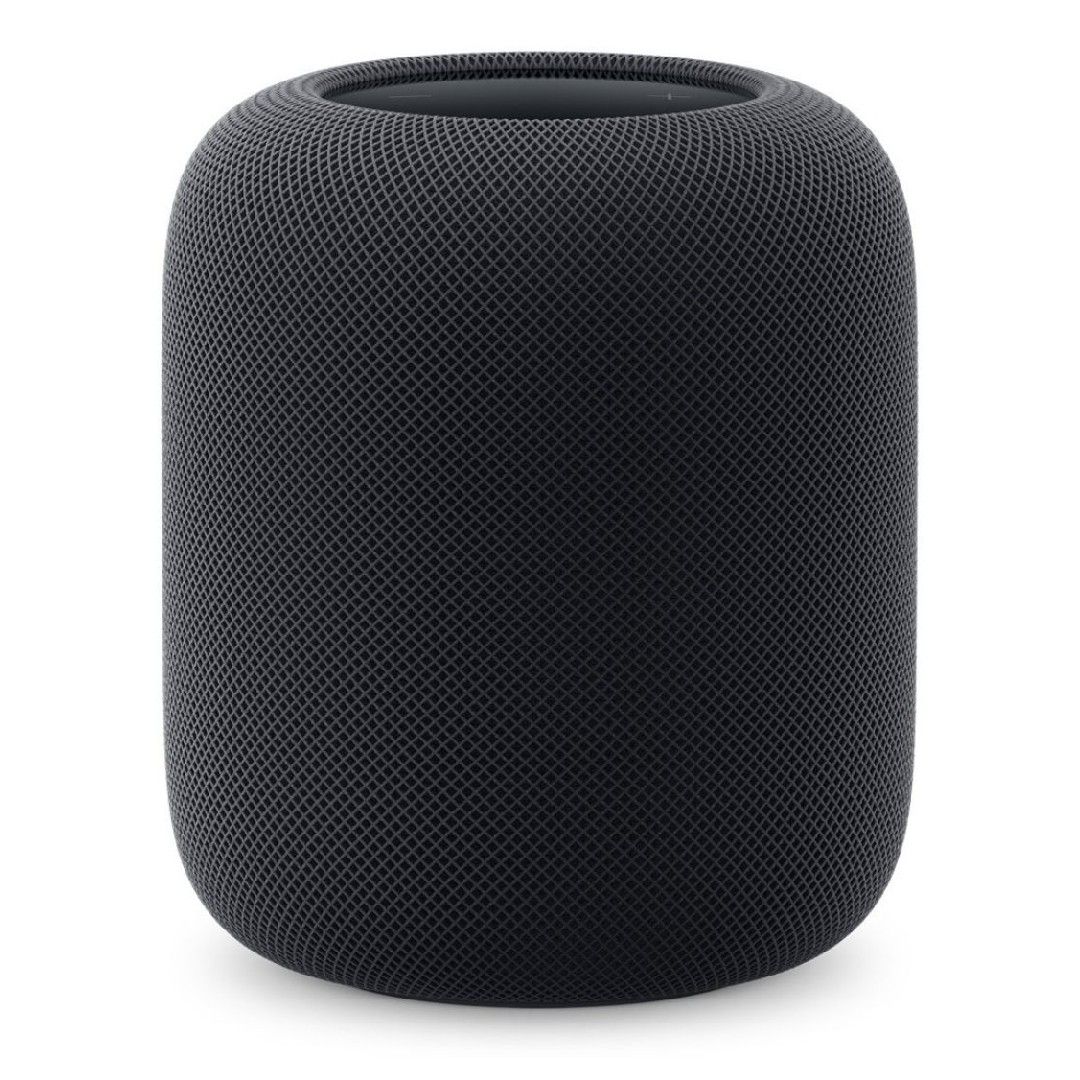 Apple HomePod (2nd generation)
Runner-up
Good alternative for Apple fans
Apple's second-generation HomePod delivers impressive sound for its diminutive size, plus HomeKit support and tight integration with the iPhone and Apple TV that makes it an ideal choice for those who live primarily in the Apple world.