A good search experience is all about gleaning the information you want to, without digressing too much or losing your train of thought. Google regularly adds new features to give you the most productive user experience possible with utilities like Touch to Search and Journeys on Chrome. Leveraging how Search and Chrome are deeply intertwined, Google has now released four seemingly minor enhancements for the Search experience on Chrome, all designed to save you time and deliver the results you seek.
When you're scrolling through a webpage reading up on a topic, your next Search query is usually tied to the information you just read. Say, you're looking up the best Android smartphones available. Your next step would be to find a device within a budget, or with a specific feature set. Google has updated Search suggestions in Chrome with a new section called Related to this page. It will show suggested Search queries when you tap the Chrome address bar after browsing a supported webpage. This feature can save a lot of effort spent typing out search queries.
Related searches in suggestions
People also use Search to track news and current affairs. Catering to this user demographic, Search for Chrome on Android has a new feature where Google populates trending searches in the suggestions section. You can see these clearly labeled when you tap the address bar in a new Chrome tab. The experience should roll out to iOS users later this year.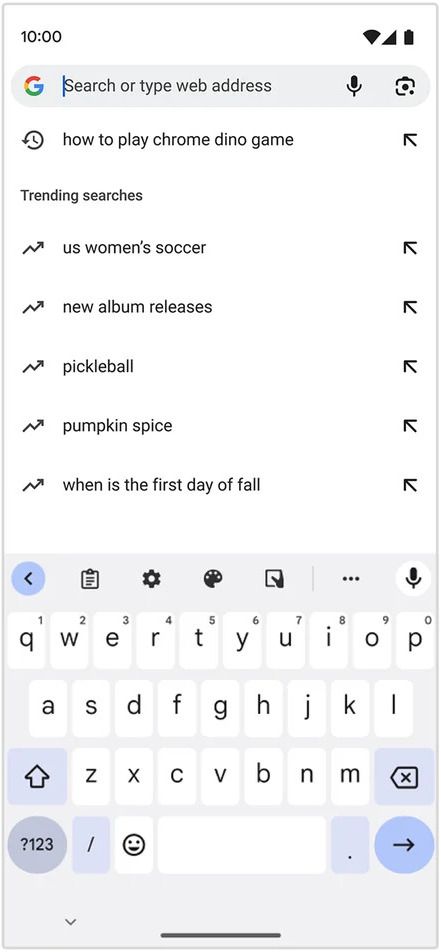 Trending searches in suggestions
Meanwhile, Chrome users on Android may also have noticed Google now shows 10 suggestions when you tap the address bar in Chrome, instead of the usual six. This takes advantage of the taller screens on modern smartphones, to an extent, and also makes it easier to jump to queries you find interesting with minimal effort. This change is now rolling out on Chrome for iOS as well.
Touch to Search is another feature Android users have enjoyed for many years. Launched in 2015, it shows you search results and suggestions for any text you tap on a webpage opened in Chrome. Now, this experience has leveled up with related searches added to the suggestions section as a horizontal scrolling carousel. So, you could tap any word or phrase in Chrome and see searches related to it, saving the effort of typing out the query manually.
Touch to Search suggestions
Together, improvements like these keep Google Search at the top of its game, although it would be nice to see them roll out on Android and iOS concurrently.