Gestures are like second nature to us now. We don't even think about them anymore when we pinch and zoom on our vacation photos or swipe down to refresh our Facebook feed. But sometimes, changing the way we interact with our phones can be annoying, especially if it's replacing something that has made our lives a lot easier for a long time. For example, Google Maps recently changed the way you hide the search bar and other UI elements at the bottom, so instead of tapping the screen, you have to swipe up.
This gesture has been in testing since February at least, with Maps now showing a hint at the top of the screen to let users know about the new swipe-up feature (via 9to5Google). It's now rolling out more widely, and a number of Android Police editors and writers (this author included) have observed the same behavior, but without the tooltip (shown below).
Previously, users could simply tap anywhere on the map to hide the UI and see the full map. This gesture has been around since the early days of Maps, and many users have grown accustomed to it. However, in the latest update, the navigation app has removed this action in favor of a new method that some people may find to be less intuitive.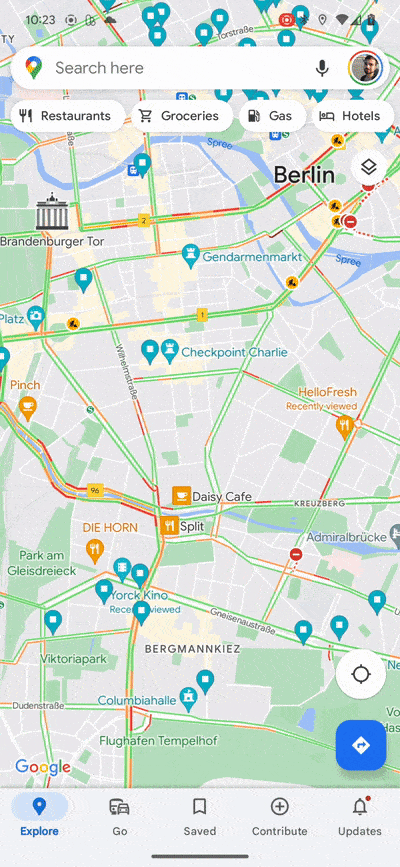 Using the new swipe gesture to hide the search bar
There's no formal announcement yet from Google about the new gesture, with only a product expert (not a Google employee) confirming the change on a forum page. Additionally, it results in Maps dropping a pin anywhere on the UI when you tap on it, which may elicit mixed reactions from users. Prior to this update, that action was done with a longer tap gesture on the screen.
For many, it could be hard to tell a normal and a longer tap apart, and it could cause some people to accidentally drop pins when they were just trying to see the full map. So, the new gesture may be Google's way of making things less confusing for everyone. But no matter how you slice it, one thing is for sure: not everyone is happy with the change.