Google may be a massive tech company, with products and services that billions of us rely on every day, but it's not all business and productivity — the company occasionally shows its other interests, like the soft spot for culture we see in its Arts & Culture platform available on the web and as an Android app. This year, the app has already tried on three different icons, and now, it's picking up a few new features alongside a fresh look that embraces the latest Material Design principles, tying everything together nicely.
Earlier this year, Google tried replacing the classic blue and white icon for Arts & Culture with a four-color icon like Search and everything else, only to swap it for a black and white one later. That most recent icon is still here, and now that's joined by a heavy-handed visual redesign featuring a card-style layout with the prominent use of dynamic theming. The UI also implements pill-shaped buttons and a tall bottom bar with a pill-shaped selection indicator, just like on the Gmail app.
The bottom bar has three tabs — Explore, Play, and Inspire. The latter is a great place to find daily inspiration through a curated feed of cultural content from Google and its partners across various categories. You can mark posts as Favorite, and the app tailors the feed to your preferences.
Get your daily dose of inspiration from the Inspire tab
If you're interested in a specific aspect of a region's culture, that's your cue to switch to the Explore tab. Here, you first pick the aspect of culture — food, art, science, craft, fashion, etc. — and then choose the media type from options like cultural stories, artifacts, and partner collections. Once the results are loaded up, you can refine them by place, topic, or creator. The section also has a new cultural flywheel feature which shows you culturally connected items related to the content you're viewing.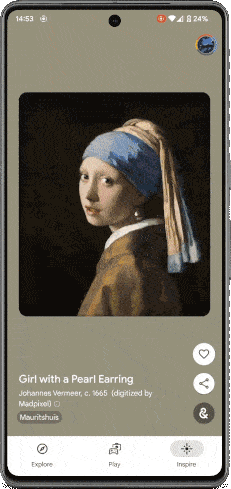 Cultural flywheel
Some of us are just on Arts & Culture for the unique culturally inspired games. You can find these located in the Play tab in the middle. It houses familiar games like Blob Opera and camera-based elements like Art Selfie and Art Filter. The app also has a new interactive experience called Poem Postcards — you start by selecting some artwork in the app, and deciding if you want to pair it with a sonnet, haiku, limerick, or poem. Google's PaLM 2 language model does the wordsmithery for you, creating a shareable digital postcard. In an era where postcards are merely a relic of the snail mail era, this feature is a pleasant trip down the memory lane.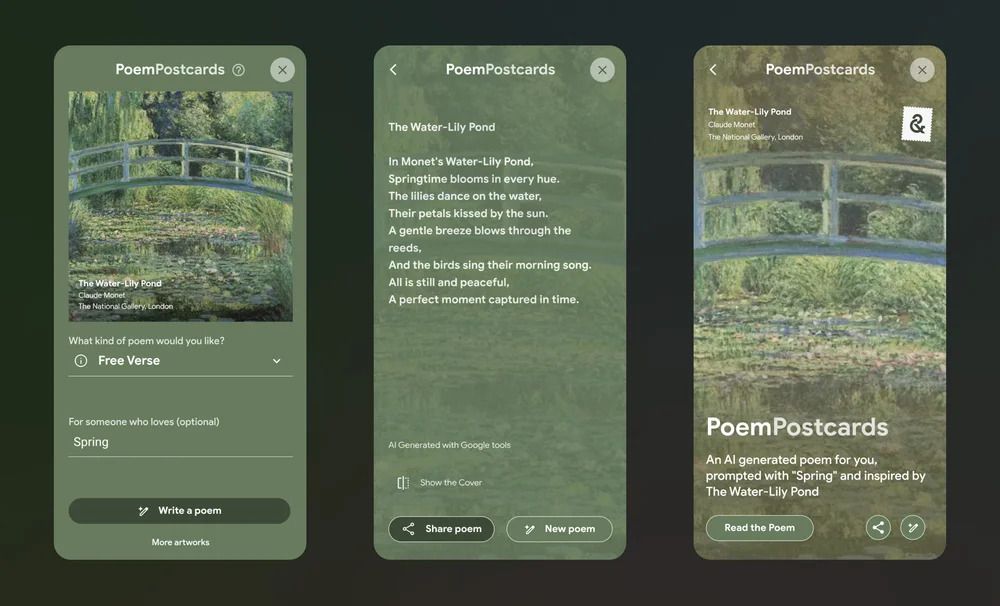 The new look and features of the Arts & Culture app are rolling out on Android now, and the iOS app will follow suit soon.