In recent years, there has been a remarkable surge in the popularity of smart doorbells. These compact devices — the digital successors to traditional doorbells — have transcended their humble origins and evolved into comprehensive security instruments. While these devices have many features, even some of the best smart doorbell cameras lack Google Assistant support. If this specific feature is an important factor, the following smart doorbells deserve your attention.
Top picks for smart doorbells with Google Assistant support

Arlo Essential Wired Video Doorbell

Best overall
Great features, and affordable, too
Thanks to its extensive feature set, best-in-class video quality, and excellent Google Assistant support, the Arlo Essential Wired Video Doorbell earns its must-have status. It shoots videos in the easy-to-view 1:1 aspect ratio and is one of the most feature-loaded products in its class.
Pros
No hub required
Large field of view
Has an emergency response option
Cons
Subscription needed to unlock all features
Continuous video recording not supported
While the Google Nest Doorbell made it to this list as the premium pick, the Arlo Essential Video Doorbell is the best overall option, given its long feature list and excellent video quality. The Arlo records videos at a higher resolution (1533 x 1536 pixels) than the Google product and also supports two-way audio, so you can easily communicate with anyone at the door.
Then there is the option to playback prerecorded messages — a feature that could be extremely useful in areas where you may have problems sending instructions over the phone. Those videos are also recorded in the 1:1 aspect ratio.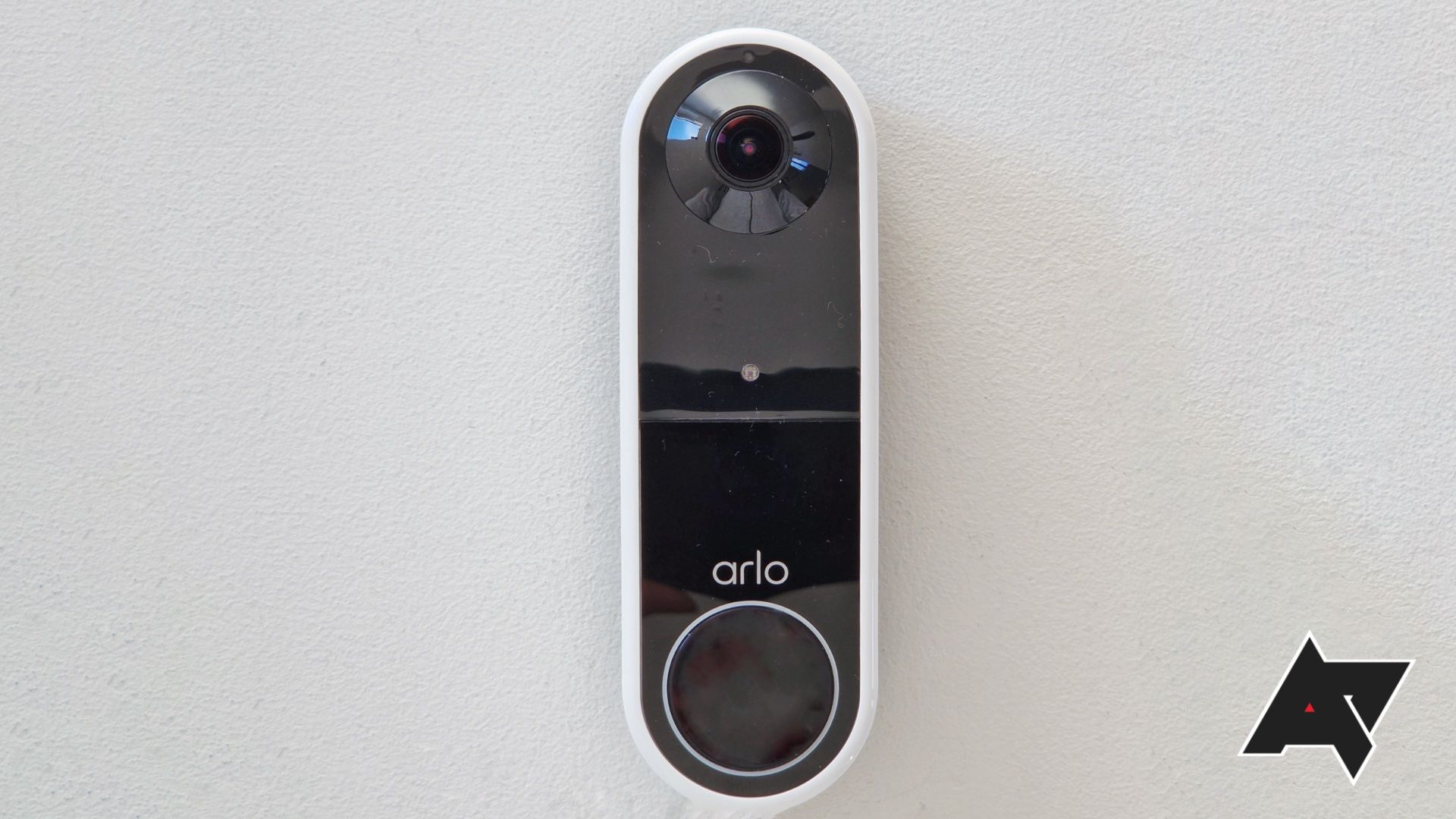 Arlo's Secure plan is available at various tiers starting at just $5. This plan unlocks features like object detection and animated preview notifications, as well as access to video and event history for up to 30 days. If you're not too comfortable subscribing to Arlo's cloud plans, the company offers an Arlo Home base to store all surveillance footage locally.
To use the Arlo Essential Video Doorbell with Google Assistant, it needs to be paired with either a Google Home Hub, or any device with Chromecast support. You may also be required to install the Google Home mobile app for Android or iOS on your smartphone. For those looking for a wireless Arlo Essential, the company offers one with an identical feature set.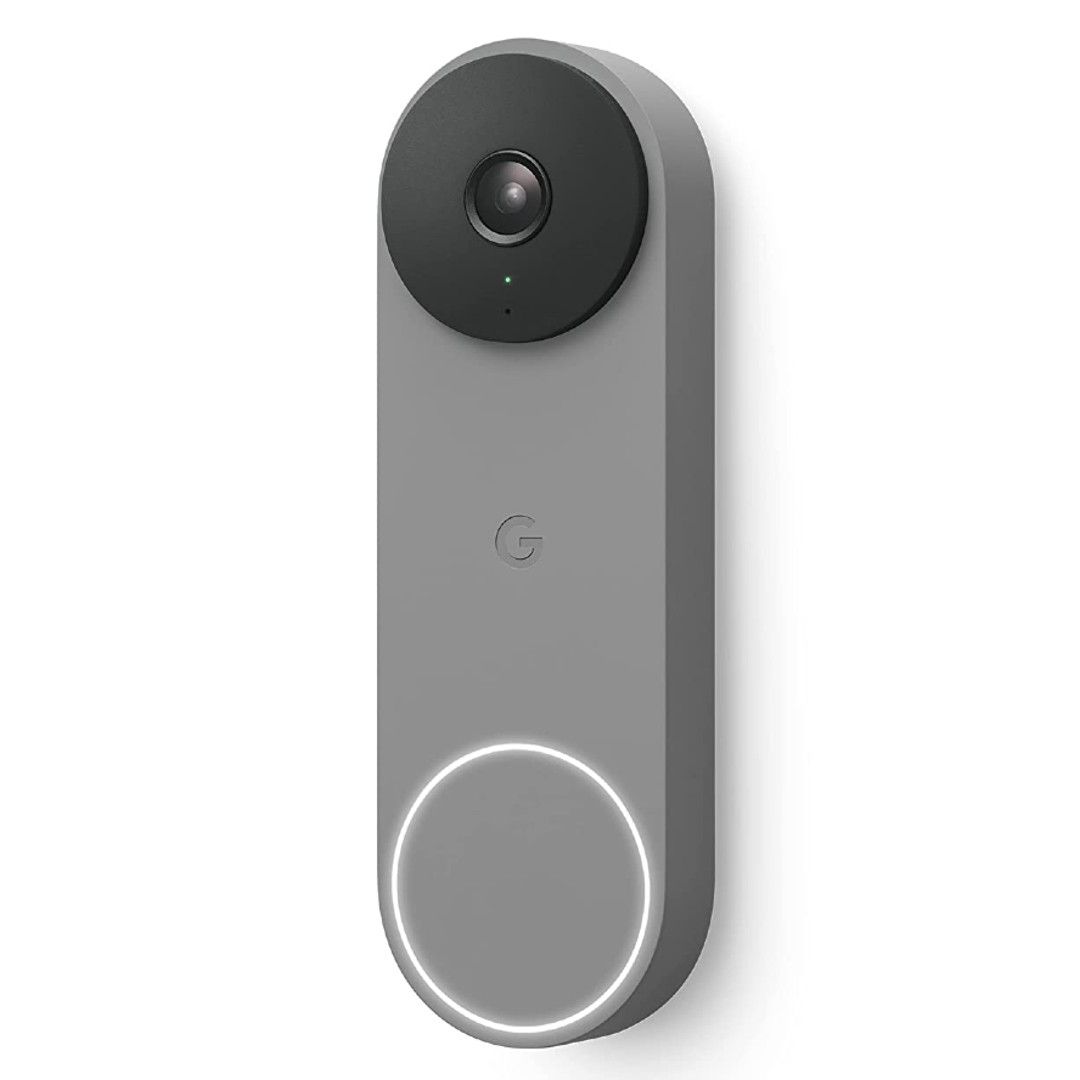 Nest Doorbell (Wired, 2nd Gen)

Premium pick
Feature-loaded and works best with Google Assistant
If seamless, trouble-free Google Assistant support is a priority, you simply cannot go wrong with the Google Nest Doorbell. You'll need to subscribe to Google's Nest Aware Plus plans to get the most out of it, though.
Pros
Continuous power and recording
Preview and extended clips
AI powered smart alerts
Cons
Requires existing chime
Setup requires electrical cable work
It is no surprise that Google's own model — the Google Nest Doorbell (Wired) — is the premium pick among the sea of Google Assistant-toting options on the market. For one, it offers seamless integration with Google Assistant and works well with an existing Google Home setup. Secondly, there is no separate, tiresome setup process involved except for doorbell installation with the help of a Google technician.
The Google Nest Doorbell's biggest talking point is its Intelligent Alert feature, which uses Google's advanced image recognition system to distinguish between people, animals, packages, and vehicles. Both models of the Google Nest Doorbell (the company sells both wired and wireless models) use a 1.3MP camera that records videos at 960 x 1280 pixel resolution at 30 FPS. All videos are captured in a 3:4 aspect ratio. The Google Nest Doorbell supports 3 hours of event video history without any additional charge.
Those wanting to take full advantage of the Intelligent Alert feature and longer event video history, however, will need to subscribe to a Nest Aware subscription; it offers access to up to 30 days of event video history. With an even more expensive Nest Aware Plus subscription, you'll get up to 60 days of event video history in addition to 10 days of 24/7 video recording history.
When paired with other Google Nest products like Home speakers or Google Nest smart displays, the video doorbell can announce when someone rings it. Additionally, you will also get a live feed of the person at the door if it is part of the Google Home.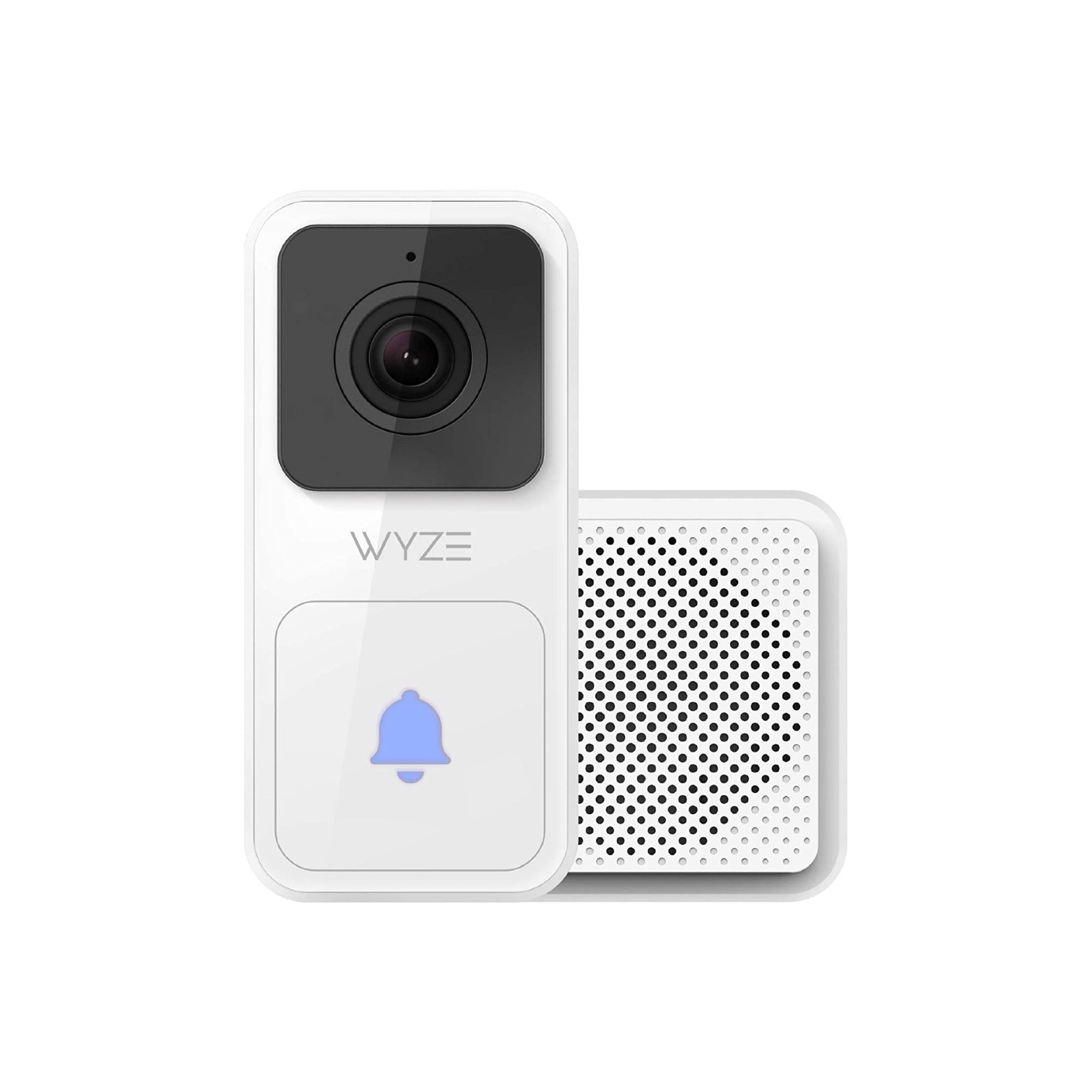 Wyze Video Doorbell

Best value
Affordable, but loaded with features
$40 $50 Save
$10
The Wyze Video Doorbell has all the features you need, minus the price tag you fear. Arguably one of the most affordable smart video doorbells currently available, what steals the deal is its comprehensive feature set, excellent build quality, and Google Assistant support.
Pros
Very affordable
3:4 aspect ratio and wide field of view
Small form factor
Cons
Video quality not the best
Motion detection could be better
Wyze is a well-known player in the home monitoring space and offers many products, ranging from security cameras and smart home equipment to wellness products and video doorbells. The Wyze Video Doorbell, the company's entry-level offering, is an excellent product that delivers exceptional value for money. Despite its affordable price, this video doorbell doesn't compromise on essential features.
The budget-friendly product's long feature list includes FHD video recording support, 8x digital zoom, and an unusual 3:4 aspect ratio. This video doorbell also offers a fairly wide 120-degree vertical field of view and an 88-degree horizontal field of view. Besides supporting motion detection with instant notifications and smart alerts, it supports the useful two-way audio feature typically found on more expensive models. This product supports 2.4 GHz Wi-Fi networks and is certified to work with Google Assistant as well as the rest of the Google Home ecosystem.
And just in case you were wondering, the doorbell is also IP65 rated for water and dust resistance. The Wyze Video Doorbell is compatible with the Cam Plus service, which is a subscription that enables additional features like person, vehicle, package, and pet detection. If paired with a Wyze lock, you will also be able to unlock your door remotely.
Unlike other products in this list, this Wyze product only recently gained support for Google Assistant and the features are limited to doorbell alerts and viewing of live feeds, provided users have Google Home compatible displays and speakers as part of the ecosystem.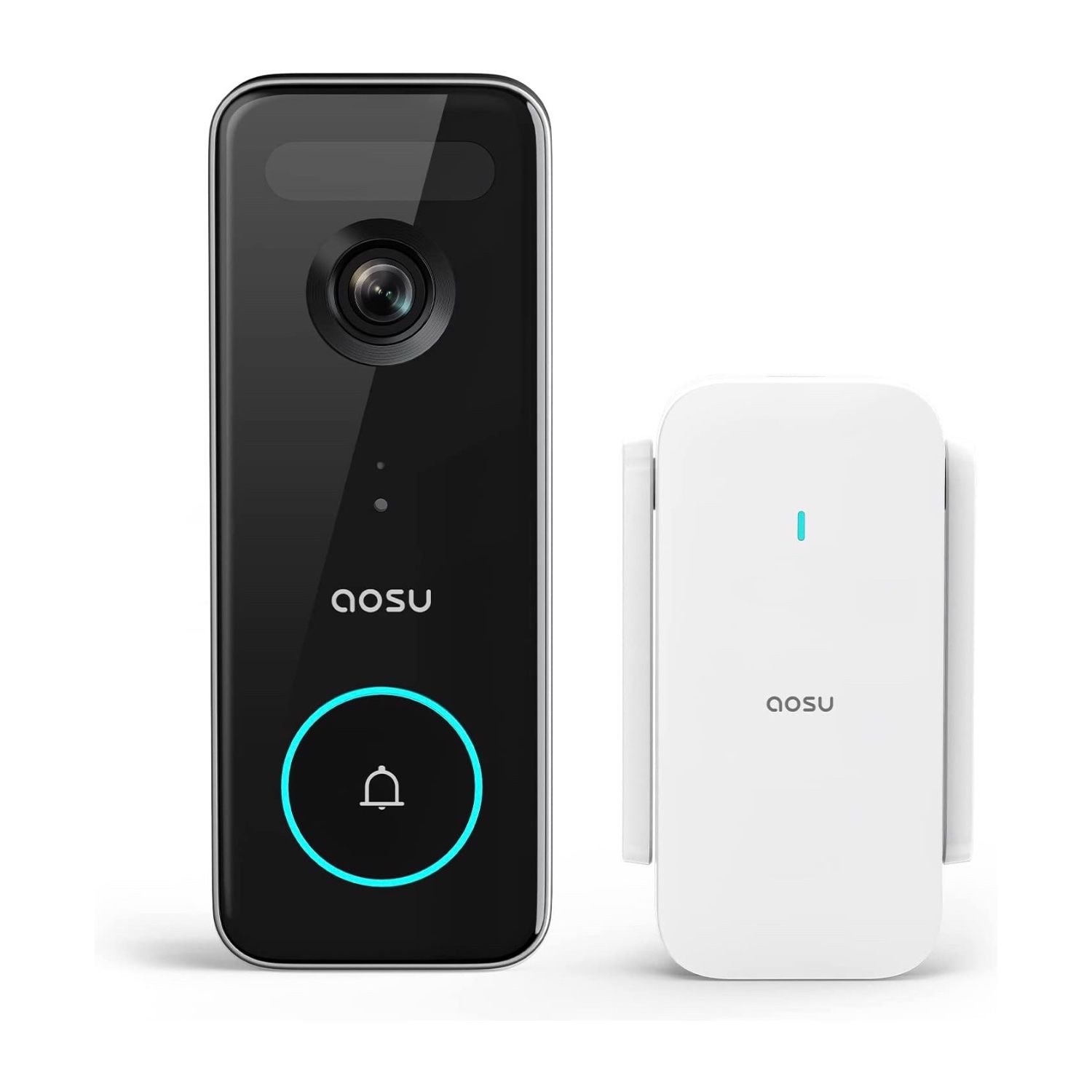 AOSU Wireless Doorbell Camera

Best video quality
Great video on a budget
$150 $250 Save
$100
The AOSU Wireless Doorbell Camera may not be the first choice for most people seeking a new video doorbell. There is no denying, however, that it is worth a second glance because of its excellent video quality and balanced feature set.
Pros
Excellent video quality
Feature-packed
Cons
Expensive
Onboard storage options insufficient
AOSU may not be a major player in the competitive video doorbells space, but there is no denying that some of its recent products have attracted attention — mostly for good reasons. Take the case of the AOSU Video Doorbell Ultra V8S, a premium offering that stands out because of several class-leading features.
This AOSU model's major talking point is its high-resolution 5MP sensor that records videos in 2K resolution while offering a 166-degree field of view. It is also enabled with a motion detection feature that triggers the camera as soon as movement is registered. Besides supporting Google Assistant, this product offers you the option to store all data locally for up to 60 days without a subscription. The company also offers the option to store data via the supplied home base while also facilitating remote access to this locally stored data.
Another notable benefit is the direct video calling feature; it lets you speak to visitors at the door in real time with clear two-way radio. The device also comes with a set of pre-recorded quick reply messages that can be used when you're not in a position to respond. The onboard battery on this video doorbell lasts up to 180 days on a single charge.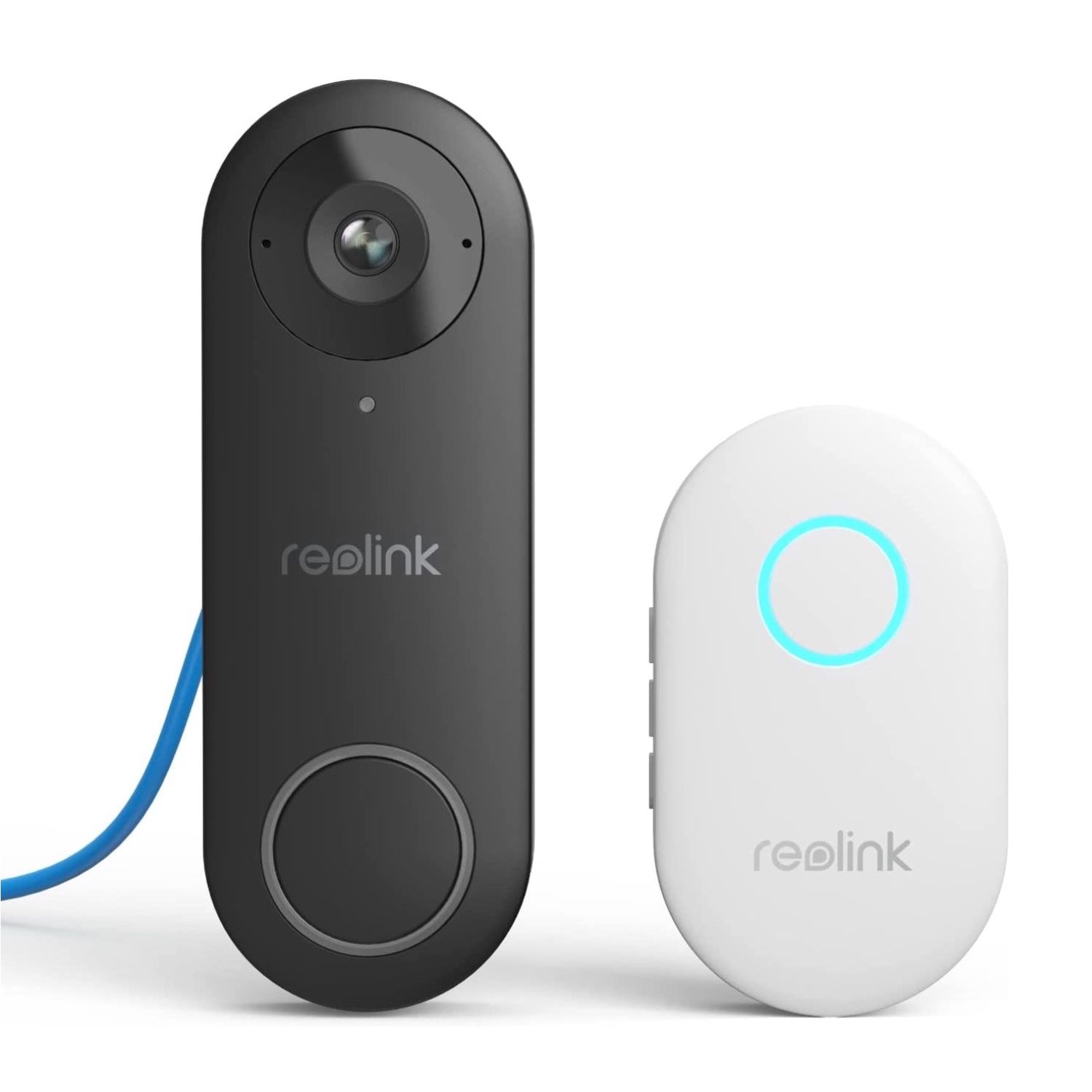 Reolink Video Doorbell PoE

Best PoE option
Feature-loaded and draws power from an Ethernet cable
$80 $110 Save
$30
There aren't many Ethernet-powered video doorbell cameras on the market. The ones that do support PoE (Power over Ethernet) usually compromise on many features. However, the Reolink Video Doorbell PoE camera stands out from most of its competitors. It has excellent video, a broad feature set, and offers seamless Google Assistant integration.
Pros
PoE Support
Excellent video quality
Cons
No alternative power source
Low frame rate at highest video quality
If you are looking for a smart video doorbell that supports Google Assistant while also being powered using an Ethernet cable, the Reolink Video Doorbell PoE Camera is ideal. The CMOS sensor on this camera records 2K videos (2560 x 1920 pixels) at 20 FPS. It links to home networks using an inbuilt RJ45 connector that also doubles up as its power supply — essentially negating the need for separate wiring.
While the device works best with Reolink's NVRs (network video recorders), it also gets a microSD card slot for onboard storage. Another notable feature is the ability to select custom motion zones and ignore motion triggers from areas that generate unnecessary alarms. The doorbell also boasts an advanced person detection algorithm. The inbuilt mic and speaker combo enables two-way communication, essentially letting you converse with the person at the door.
In addition to this, this Reolink doorbell is also capable of recording footage 6 seconds before actual detections happen, a feature that has the potential to help you identify potential criminals or mischievous neighborhood pranksters.
As far as Google Assistant support goes, Reolink also requires users to have a Google Home ecosystem in place. Once set up, you will be able to use voice commands to easily access live feed from the camera.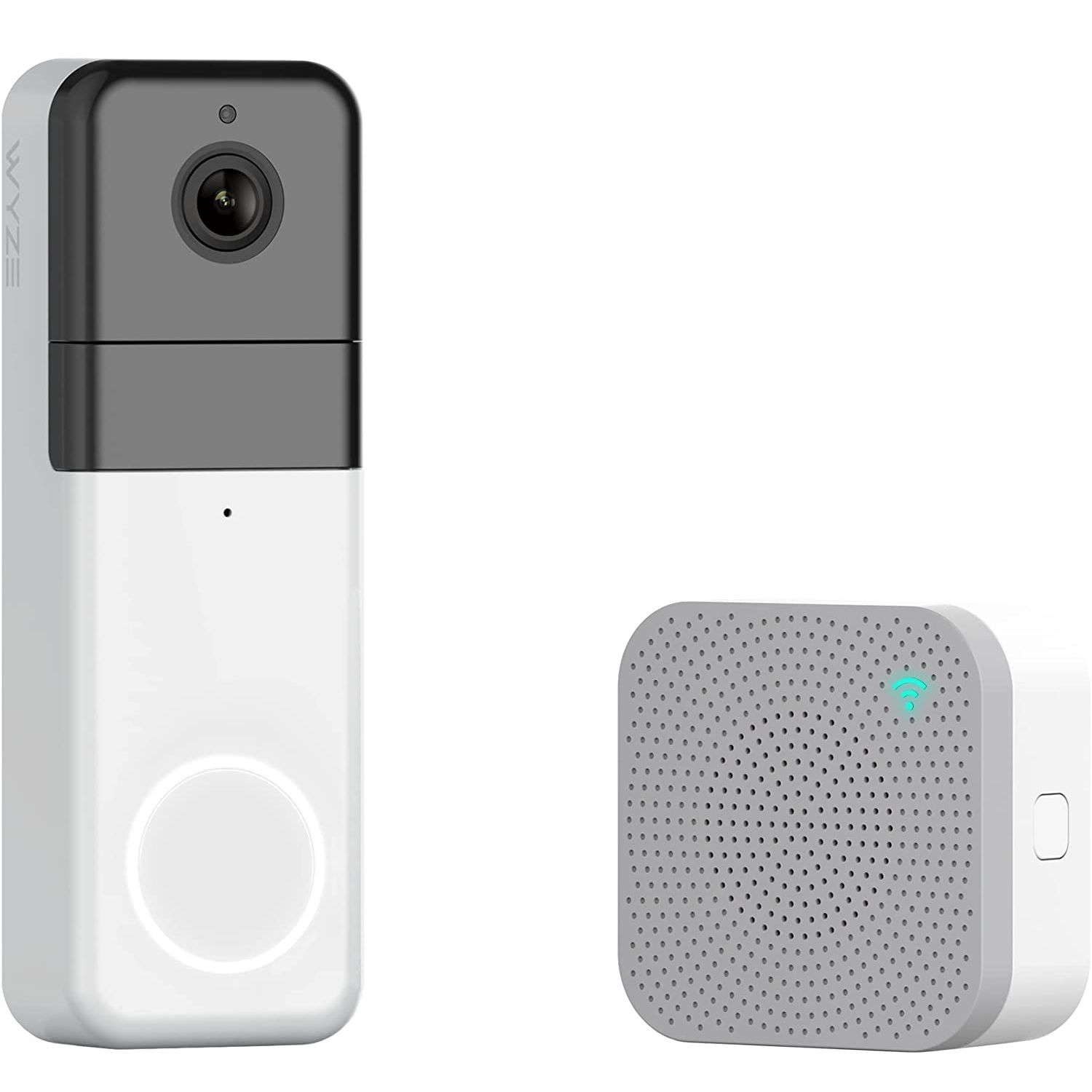 Wyze Wireless Video Doorbell Pro

Best wireless
A no-frills, clutter-free option
If you do not want the hassle of setting up a hardwired video doorbell at your front door, the Wyze Wireless Video Doorbell Pro is a great choice. Powered by an inbuilt battery that lasts for up to 6 months, this product also offers excellent 1440p video quality in the 1:1 aspect ratio and supports Google Assistant, too.
Pros
Excellent video quality
Cheap subscription options
Cons
Battery life could be better
Needs CamPlus subscription to access all features
The Wyze Wireless Video Doorbell Pro is a premium offering and is positioned above the entry-level model that already made it to this list as the best-value offering. Unsurprisingly, the Pro model features several improvements over the standard option, starting with better picture quality and support for higher resolution (1440p) videos. The field of view is also wider (150 degrees) thanks to its 1:1 aspect ratio for videos.
Another major advantage of the Pro variant is its true wireless nature; it can be installed anywhere without additional wiring, and the inbuilt battery claims 180 days of battery life. The company also offers a wired version of the same product should you want a more permanent solution. On the connectivity front, the Pro supports 5Ghz Wi-Fi networks as well, as opposed to the standard variant that could only connect to 2.4Ghz networks.
Like its less expensive sibling, the Wyze Wireless Video Doorbell Pro is IP65 rated for water and dust resistance. Post-purchase, you can subscribe to the CamPlus service, which opens up additional features that range from better, smarter notifications to improved detection.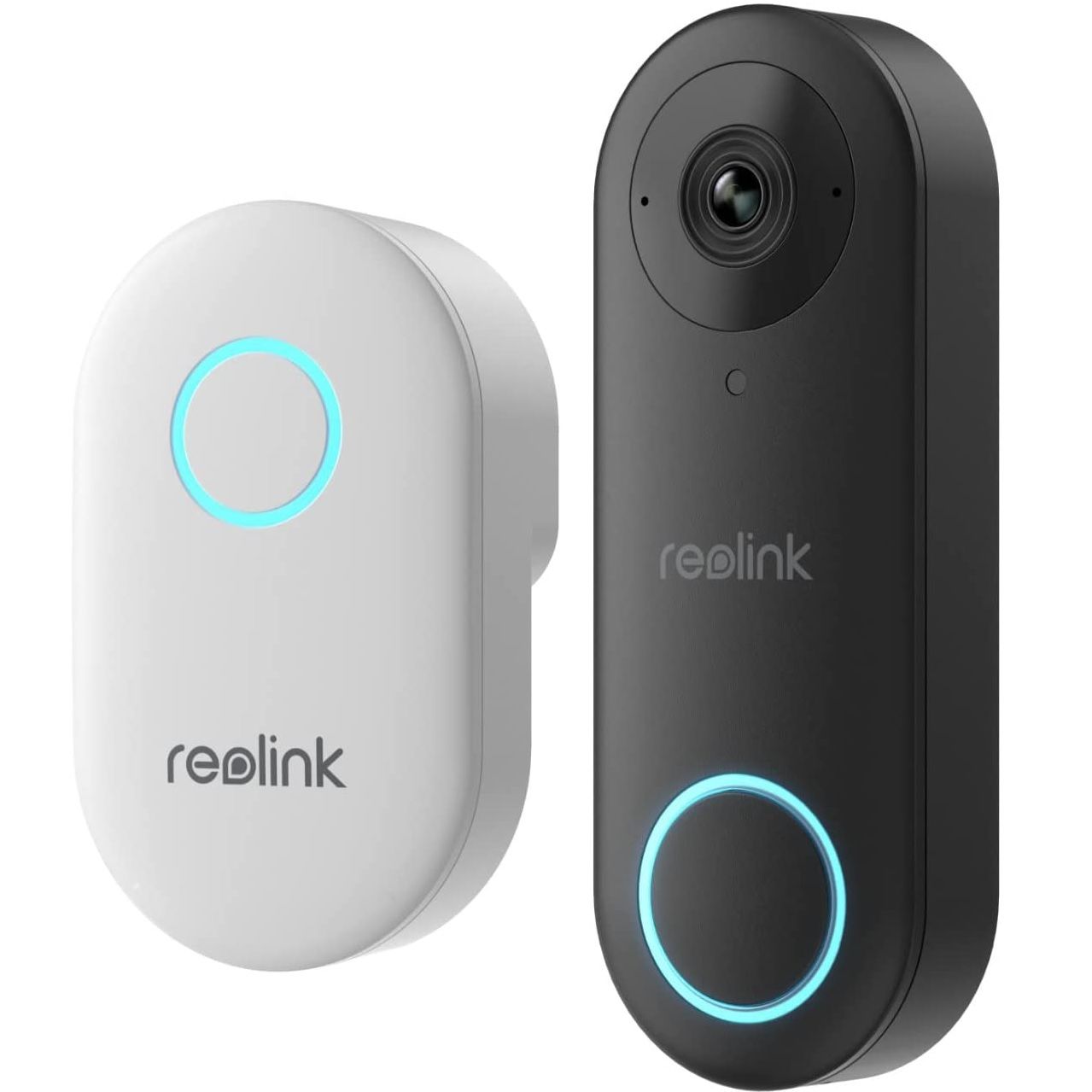 Reolink Video Doorbell WiFi

Great video quality
Very easy to setup
Love the Reolink PoE video doorbell camera's features, but could live without the PoE? The band has made things easier with the Reolink Video Doorbell Wi-Fi – the Wi-Fi version of its PoE sibling. It gets the same exceptional video quality and also integrates well into the rest of the Reolink ecosystem.
Pros
Excellent video quality
Easy setup process
Cons
No shutter and noise reduction settings
Limited WDR/HDR settings
If you like the Reolink's Ethernet-powered smart video doorbell's features but need something that uses a more traditional power source, the company's Wi-Fi model makes for a good choice. It gets the same features as the PoE variant but draws power from the mains instead of the Ethernet cable. Like its Ethernet-powered sibling, this one also offers native Google Assistant integration.
The Reolink Video Doorbell Wi-Fi's remaining specs are the same as that of its PoE sibling, including the 5MP CMOS sensor that supports video capture at a resolution of 2560 x 1920 pixels. At this high resolution, the frame rate drops to 20 frames a second, though.
Other notable features include a horizontal 134-degree field of view and a 97-degree vertical field of view. Aside from the onboard storage options using microSD cards, the doorbell can be teamed up with Reolink's NVR systems for local storage.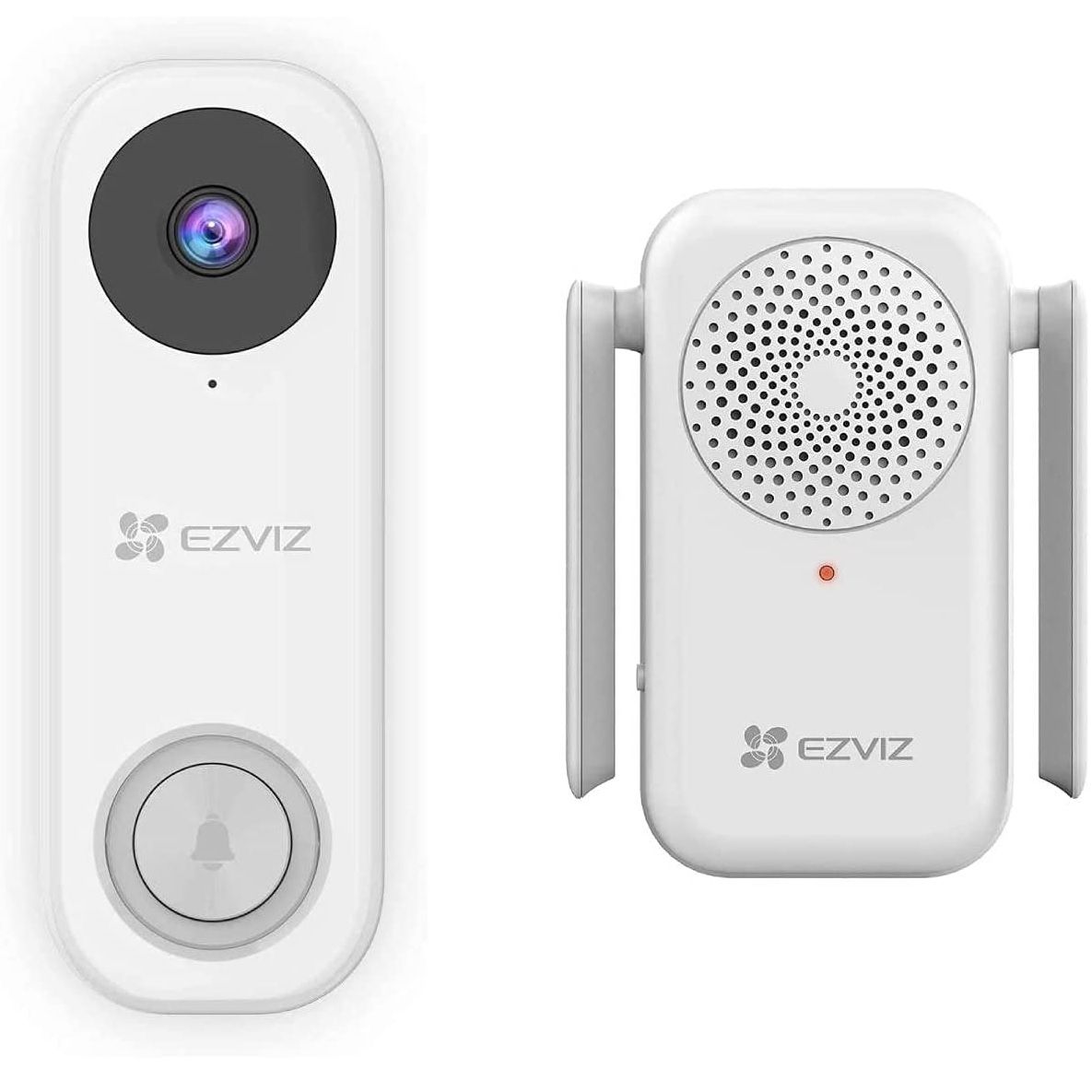 EZVIZ DB1C Video Doorbell Camera

Best wired
Balanced feature set
The EZVIZ DB1C Video Doorbell Camera is an easy-to-use, versatile video doorbell camera. The integrated camera records videos with a 170-degree field of view. It supports multiple storage options and integrates ancillary features like AI-powered motion detection, two-way audio, and night vision. The EZVIZ DB1C supports Google Assistant and is IP65 rated for water and dust resistance.
Pros
Dual-band Wi-Fi support
Wide field of view
Supports both local and cloud storage
Cons
MicroSD slot card on external unit
Slow app
If you're in the market for an affordable, no-frills, wired video doorbell camera with Google Assistant support, the EZVIZ DB1C Video Doorbell Camera is a compelling buy. It boasts an extensive feature set ranging from support for recording 170-degree FHD videos and night vision video capture to local storage using the inbuilt microSD card slot. The inbuilt microphone and speaker combo allow instant two-way communication, and if you buy the kit, a Wi-Fi-activated chime is included in the package.
Given that the microSD card slot on the DB1C only supports cards of up to 256GB capacity, you may be required to subscribe to EZVIZ CloudPlay, the company's cloud-based storage option. This subscription service has two trim levels — a standard plan that starts at $4 (offering 3-day event history) going up to a premium $11 plan that offers you access to 30-day event history.
Google Assistant functionality on the EZVIZ DB1C Video Doorbell Camera includes the ability to enable or disable motion alerts and turning the front door camera on or off using voice commands.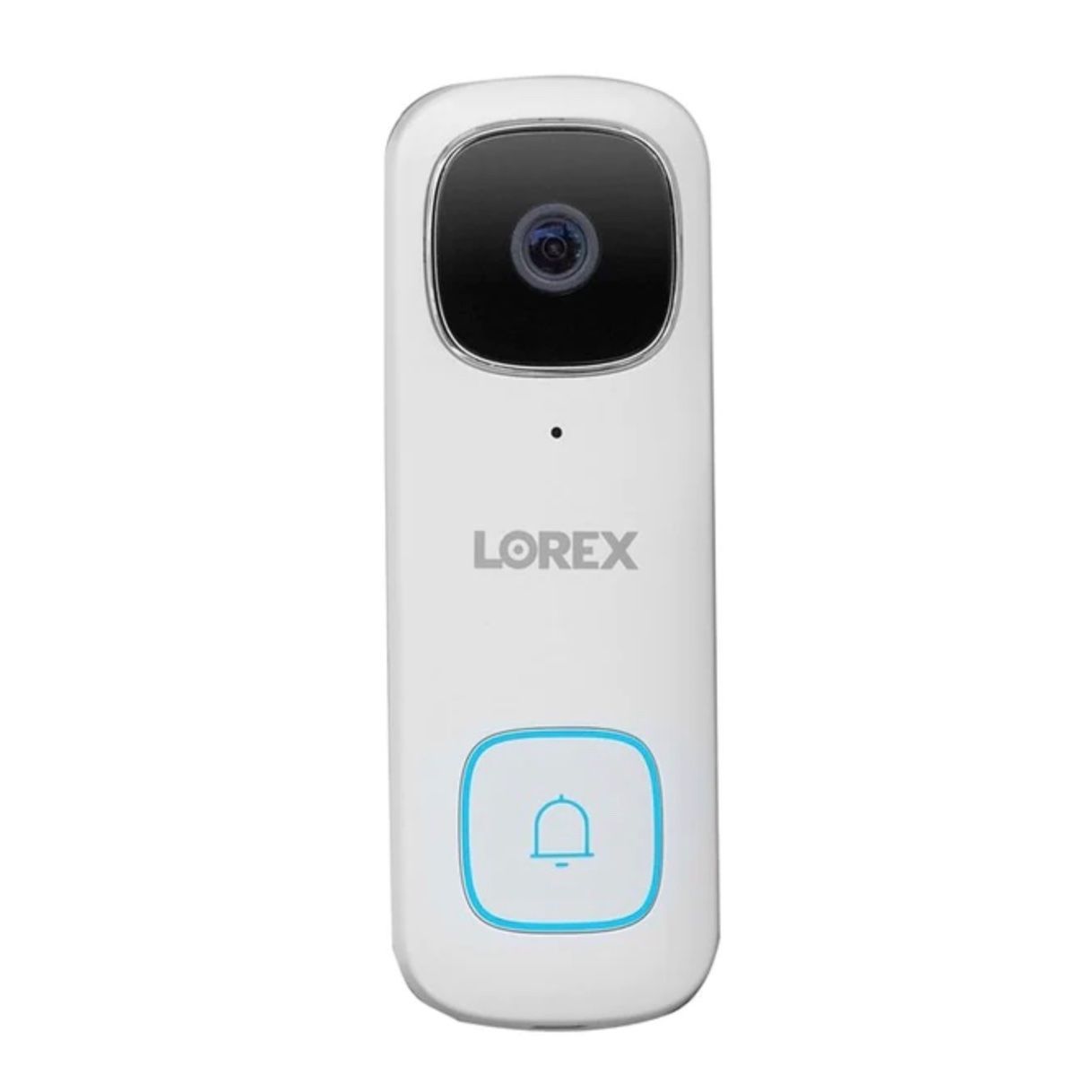 Lorex 2K Wired Video Doorbell

Best subscription-free
Cloud-free = worry-free
$150 $180 Save
$30
In a world where every other video doorbell maker wants consumers to pay extra money for cloud storage, the Lorex 2K Wired Video Doorbell stands out because it doesn't coerce buyers to purchase expensive, recurring subscription plans. Instead, Lorex allows users to record footage either to an inbuilt microSD card or one of their NVRs.
Pros
Easy to install
No subscription required
microSD card included
Cons
No Apple Homekit support
Camera sensitivity could be better
Most video doorbell brands these days seem to be in a race to upsell their cloud storage plans. The Lorex 2K Wired Video Doorbell is a notable exception. This feature-loaded wired video doorbell has all the features you need but doesn't mandate any additional plan to unlock new features or store recorded videos in the cloud.
This video doorbell records videos in the 4:3 aspect ratio at a max resolution of 2560 x 1920 pixels — all of which is stored locally on the device's microSD card. If you want more storage space, Lorex offers you the option to hook up the system to one of their network video recorders, which can be bought at an additional cost, with the peace of mind of all your data stored on your own hardware, instead of a random cloud server.
Other notable bits include support for 2.4GHz and 5GHz Wi-Fi networks and that it is IP65 rated for water and dust resistance.
Like all video doorbells in this list, this Lorex product supports Google Assistant, thereby opening up the capability to control several aspects of the product using voice commands. You will be required to install the Google Home app on your smartphone to enable these smart features, though.
Before you buy

The Arlo Essential Wired Video Doorbell is the top pick for the best video doorbell with Google Assistant support. It offers a well-rounded feature set, is easy to set up, and records videos in great quality. But most importantly, it is also incredibly affordable for the extensive feature set.
The rest of the products in this lineup are also worth looking at and have their own share of strengths. Take the Wyze Video Doorbell; it's a great option if you find the top pick on this list a bit pricey. This product offers a long list of features you don't typically expect on an affordable product like a 3:4 aspect ratio and a wide field of view. Likewise, if budget and overall price are of no concern, the Nest Doorbell from Google makes for a compelling choice if Google Assistant compatibility is an important factor; there is no going wrong with Google's own video doorbell.
If you were specifically looking for a feature-loaded video doorbell that draws power over an Ethernet cable, the Reolink Vide Doorbell PoE is the one to go for. For those who want to stay clear of any additional subscription-based cloud storage plans, the Lorex 2K wired video doorbell is worth a look, despite it being on the pricier end of the spectrum.
Nevertheless, before you purchase any of the devices mentioned in this list, you need to do a bit of groundwork. You will first need to ascertain if a hardwired video doorbell that requires a longer installation process is required. And if a wired doorbell doesn't suit you, there are several wireless, battery-powered options. At the end of the day, the best video doorbell with Google Assistant is the one that perfectly suits your use case.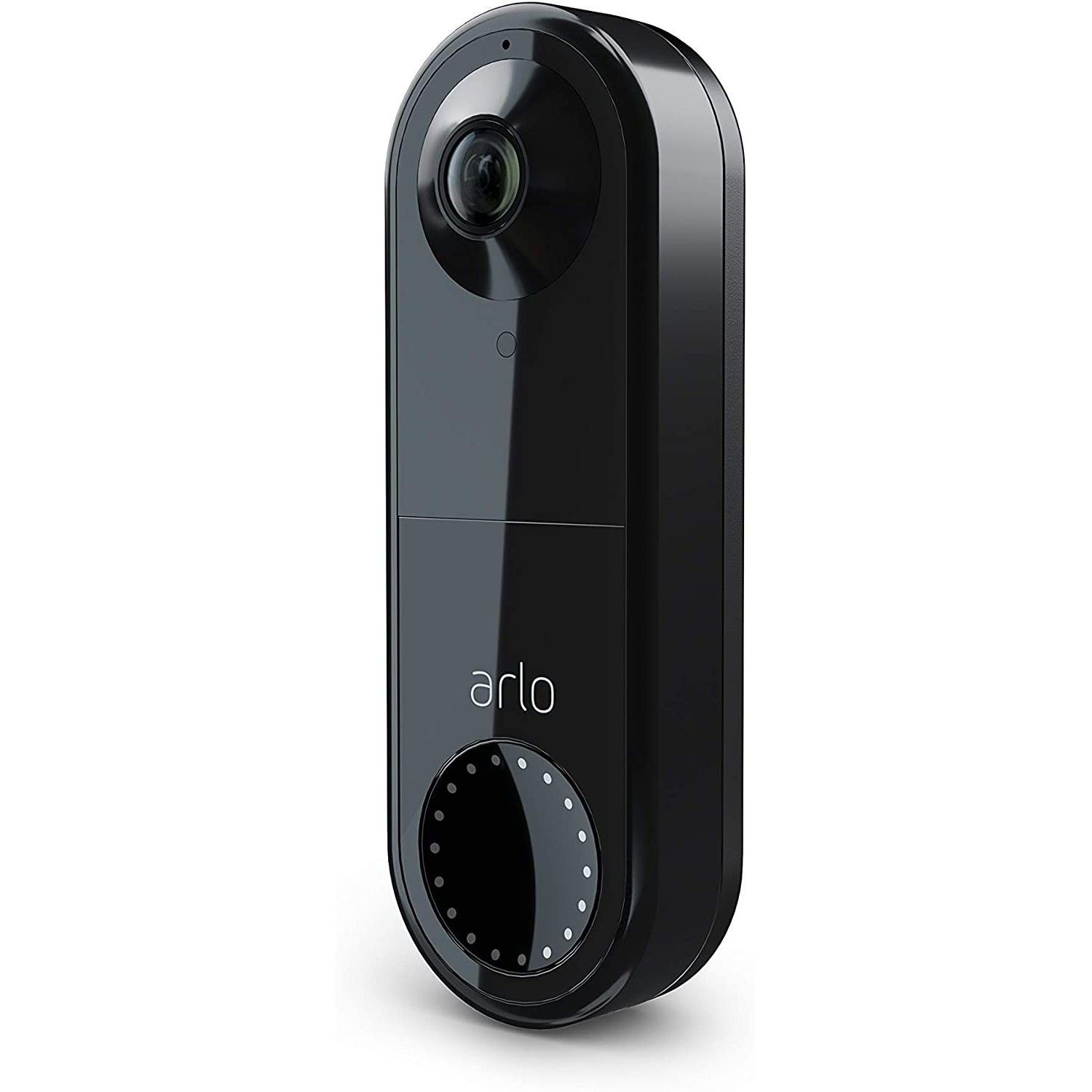 Arlo Essential Wired Video Doorbell

Best overall
The Arlo Essential Wired Video Doorbell is the most well-rounded option if you're in the market for a video doorbell with Google Assistant support