One of the best fitness activities you can participate in is a nice, rigorous swim. It's gentle on your joints and requires quite a bit of energy. Unfortunately, if you're keeping up with your daily exercise and general health on a fitness tracker, a dip in the pool may waterlog your wearable tech. If you want to maintain or start a swim routine or are considering a deep-sea dive and don't want to leave your tracker behind, upgrading to one of these top-notch fitness trackers for swimming makes sense.
Each tracker, especially more advanced models like Fitbit's Charge 5, has at least the basic functions you'd expect with the added benefit of surviving in at least 50 meters (164 feet) of water. While there is a great fitness tracker selection out there, you'll want to focus your attention on these ten swim-ready options.
The most swimmer-friendly fitness trackers

Best overall
Accurate swim tracking in a feature-rich package
Fitbit's Charge 5 is part smartwatch, part fitness tracker. The device's precise exercise tracking makes it a valuable tool for swimmers who want to keep track of their daily laps. Monitor heart rate and pulse ox, and take the occasional break to read incoming smartphone SMS messages.
Pros
Accurate swim activity tracking logs time in the pool
Seven-day battery life prevents constant charging
Bright OLED screen is easy to read, even when wet
Cons
On the more expensive end of the fitness tracker spectrum
Premium subscription needed to access more advanced features
Music capabilities lacking compared to other wearables
Fitbit is a leading name in fitness trackers, so it's no surprise that the brand delivers a premium tracker that can go with you virtually anywhere. The Charge 5 is an advanced model, designed to keep an eye on your general health and fitness levels. The base health features include stress tracking, heart rate and sleep monitoring, and an ECG that can help pinpoint unusual spikes and changes to your routines. The Charge 5 won't replace a doctor's visit, but the tracker is a decent gauge for determining concerning trends in heart rate and sleep activity.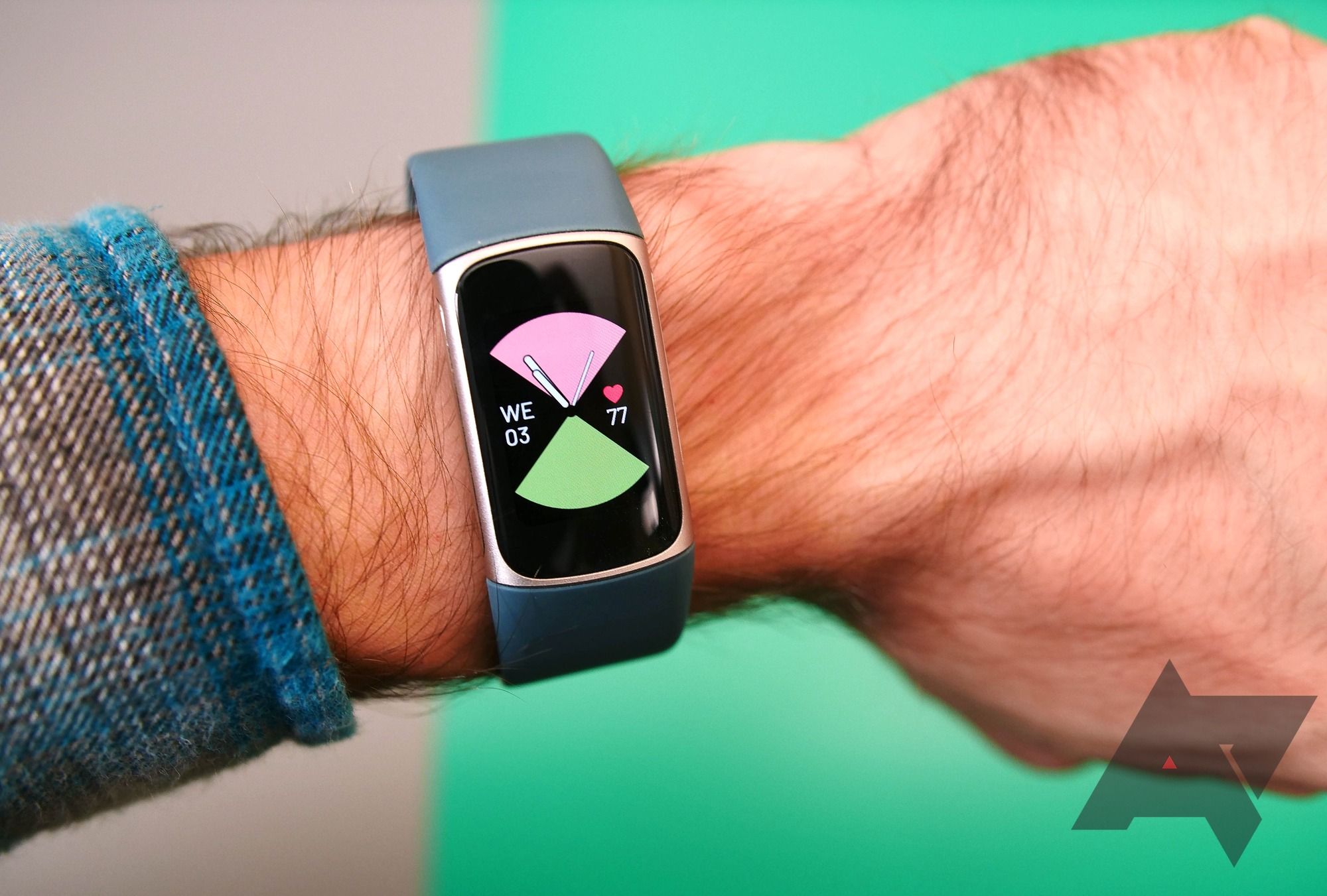 When you're going for a swim, stick to the standard 50-meter depth to make the most of your water-resistant Charge 5 fitness tracker. It will continue to log your physical activity whether you're swimming laps or wading in the deep end. A 1.04-inch OLED display is easy to view, even when splashing about, so you won't miss readings like changes in your skin temperature or from the line's new sweat and stress sensor. Smartphone notifications and Fitbit pay compatibility elevate the Charge 5 closer to a smartwatch.
Keep up with your workout route using the built-in GPS, whether you're on dry land or partially submerged near the coastline. The Fitbit Charge 5 has all the features you could want from your fitness wearable, plus a few bells and whistles that make this a must-have fitness tracker for swimmers. It helps users remain in control of their fitness, in a pool or on land, with accuracy, clarity, and comfort.
Garmin vivosmart 4

Premium pick
A simple design with accurate, exceptional features
$90 $130 Save
$40
The Vivosmart 4's simplicity hides robust features, including GPS, Vo2 max, a breathing timer, pulse ox, and swim activity tracking in a slim, unassuming design. The wearable is lightweight and comfortable, with a screen that displays only what you need to see, from your heart rate to text and call notifications.
Pros
Basic design that removes more superfluous features
Pool swimming profile accurately tracks water-based activity
Body Battery puts the focus on self care
Cons
Narrow display can be difficult to read
Only supports text response on Android
Pulse ox meter may produce false readings
Don't let the Vivosmart 4's size fool you. The thin touchscreen, which measures only 0.75 inches, keeps you abreast of a lot of information. Garmin spared no expense with this premium fitness tracker. You'll be able to monitor more than just the usual heart rate, sleep, and fitness activity as the tracker also includes sensors for pulse ox levels and blood pressure. You'll also be able to watch your daily stress levels; the device even has a relaxation breathing timer to help restore calm in high-tension moments.
But you're here to take your fitness tracker for a swim, and the Vivosmart 4 does not disappoint. Designed to withstand depths down to 50 meters, Garmin's swim-friendly tracker is perfect for doing laps in the pool and enjoying days at the beach. The water-resistant casing lets you jump in the pool to cool off without hesitation, ensuring your device's safety. Being that the tracker has a way with water, you can even use the built-in GPS to plan a sweaty run.
Primary swim features, like the automatic swim activity tracker, go hand-in-hand with a healthy swim routine, and the slimline design certainly won't slow you down. Simply set the pool's length and start swimming to collect accurate activity data. If you're quite the water bug, the Vivosmart 4's battery can join you for just about a full week of swimming, so long as you're not monitoring your sleep or pulse ox.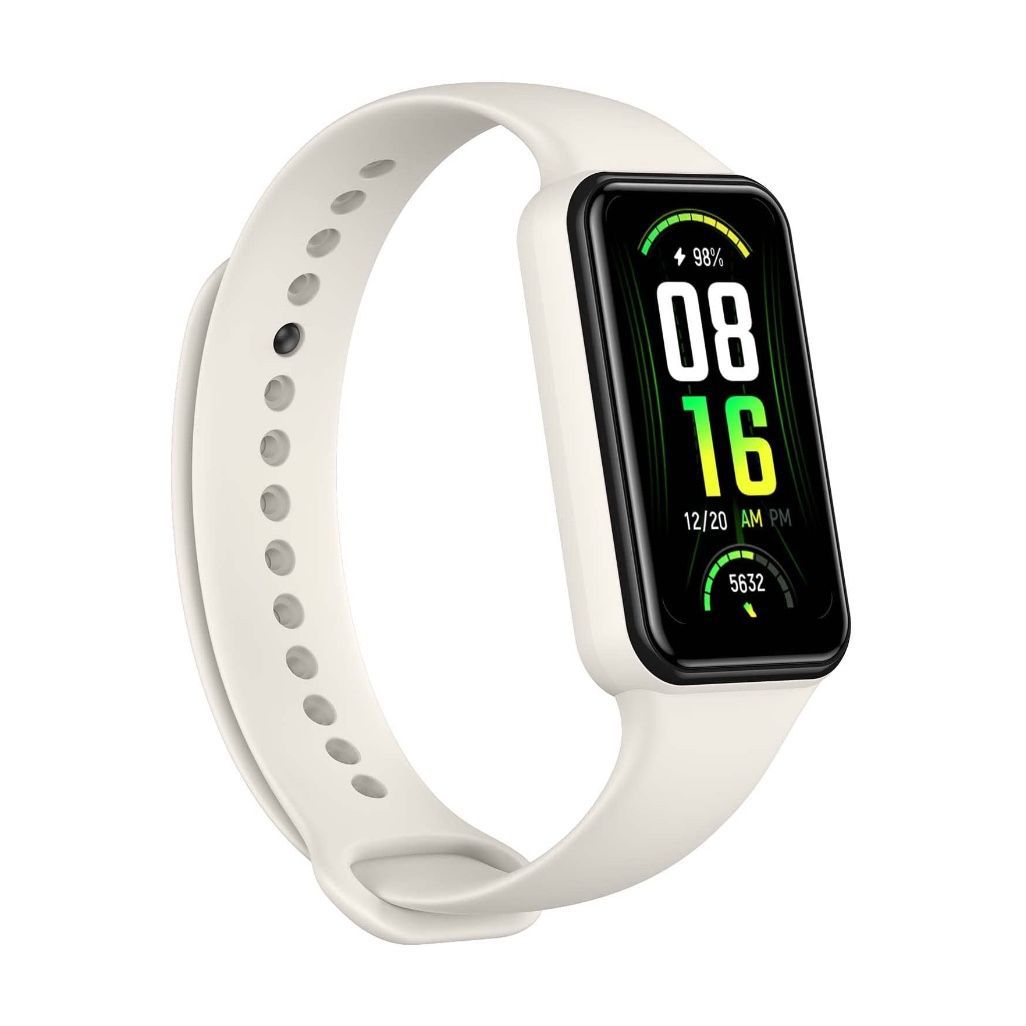 Source: Amazfit
Amazfit Band 7

Best value
Low-cost option with reliable tracking
$45 $50 Save
$5
Amazfit Band 7 may not have the premium features of other smartwatches, but its price tag and battery life make up for its shortcomings. The tracker is geared toward budget-conscious swimmers, with a heart rate monitor that will read whether you're on dry land or in the deep blue. And a larger screen allows for smartwatch features like call and text notifications.
Pros
Surprisingly robust with features
Can last 18 days without charging
Sensors still work while you're swimming
Cons
GPS isn't the most user-friendly interface
Missing some fitness data and diet tracking
Accuracy off on heart rate monitor
The pitfall of many fitness trackers is that their battery only lasts around a week, sometimes even less if all the advanced features are active. Amazfit's Band 7 is an evolution of the traditional battery, lasting upwards of 18 days based on normal usage. That duration can be stretched to 28 days with battery saver mode, but that means losing the functionality of 120 different sports modes, including the crème de la crème — pool swimming sports mode.
A simple and bright AMOLED display reads out swimming data that logs as you enjoy your time in the pool. Rated for water resistance up to 50 meters deep, the Band 7 can go with you virtually anywhere. You can swim in the shallow end of a public pool or hop on a Jet Ski for some invigorating water sports. It would be interesting to see how the thrills of the open water effects the built-in heart rate monitor. The long battery life also allows you to keep track of your blood oxygen and stress levels without having to worry about losing power.
Despite its lower price tag, the Band 7 delivers readings in less than a minute. And if you prefer the smartwatch experience, the band can receive phone calls, text messages, app notifications, and even control music on your phone via Bluetooth. There are quite a few features to tinker with, but the built-in Alexa is among the most useful, so you can take control of your life and tasks while on the go.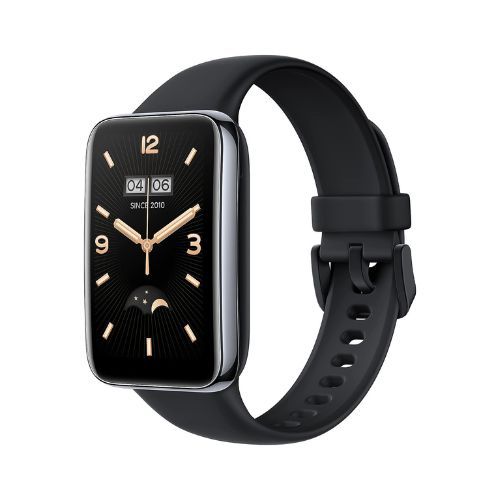 Source: Xiaomi
Xiaomi Band 7 Pro

Best display
Stylish smartwatch, advanced fitness tracker
Take this premium watch for a dip in the pool or for a rigorous swim. The Xiaomi Band 7 Pro features a fitness tracker's conveniences with a high-end smartwatch's enhanced customization. You can track your activity on dry land or in the middle of your laps.
Pros
Very easy to read, even during intense workouts
Can be customized for a fancier look
Independent GPS module tracks movement wherever you are
Cons
Display can be easily scratched
Heart rate sensor can be too slow to read spikes
Companion app is glitchy and rough around the edges
You don't have to spend a lot to get a swim-ready fitness tracker that's comfortable and stylish. In fact, Xiaomi's Band 7 Pro is a high-end wearable that doesn't require breaking the bank for a sleek look and health monitoring. Though it sports the appearance and functions of a smartwatch, the Band 7 Pro is a fitness tracker at heart, with a large, easy-to-read 1.64-inch AMOLED display showcasing a range of data, and an impressive 15-day battery life. When it comes to tracking, the Band 7 Pro has an accelerometer, a gyroscope, and a photoplethysmography (PPG) heart rate sensor.
While the Band 7 Pro may be lacking features compared to other costlier premium fitness trackers, even as a "pro" model, it's still a suitable selection if swimming is your primary concern. It is water-resistant for up to 50 meters deep and tracks laps, strokes, and overall swim performance. You'll enjoy more accurate readings, whether you're crossing the pool with a smooth backstroke or a fast breaststroke.
The Band 7 Pro can alert you of low blood oxygen levels and an irregular heart rate in and out of the pool. For its price, the Band 7 Pro offers just enough features to be a standout fitness tracker and a stylish smartwatch. The fact that it can accurately detect swim styles is an attractive bonus for avid swimmers.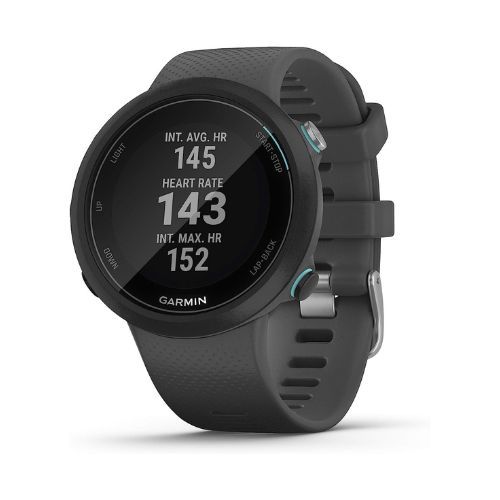 Garmin Swim 2

Best for professional swimming
Tailor-made for serious swimmers
Garmin pulls out all the stops with the Swim 2, a fitness tracker and smartwatch designed for professional swimmers. Though the Swim 2 has standard monitors and sensors, it doubles down on pool and open-water tracking, including stroke count, pace, and efficiency.
Pros
Advanced activity monitoring caters to professionals
Navigation available for lakes, oceans, and other open bodies of water
Appeals to a breadth of users
Cons
Using navigation knocks battery life down to around 13 hours
Quite pricey compared to other trackers
Doesn't take full advantage of smartwatch features
Though technically a smartwatch, the Garmin Swim 2 teeters into fitness tracker territory a little too much to be overlooked. And since it's made specifically for pool and open water traversal, it earned its spot. Like many smartwatches, the rounded face is large and easy to read, and there's plenty of information to skim through. You'll have access to a wrist-based heart rate monitor, but the Swim 2's true draw is that it works accurately even when underwater.
Many of the Swim 2's features are geared toward swimmers, like the pool swim mode. When active, this mode records distance, stroke count, stroke type, and pace. For serious swimmers, there's even a SWOLF meter, which gauges overall efficiency. If you're just running drills in the pool, the device will log time and distance for one-arm swimming, kicking, and sculling.
The Swim 2 elevates its functions even more in open-water swim mode. A built-in GPS keeps track of your movements across common lakes, oceans, and rivers. It's also possible to monitor distance, stroke count, pace, SWOLF, stroke distance, and stroke rate while enjoying a dip in any natural body of water.
A greater water resistance depth would have made sense for this swim-focused gear, but 50 meters is technically more than enough for open-water and pool fitness swimming. The battery also drains rather quickly when using features like pool swim mode and optical heart rate mode, dropping from 7 days to around 72 hours. With GPS active, that drops more to 13 hours.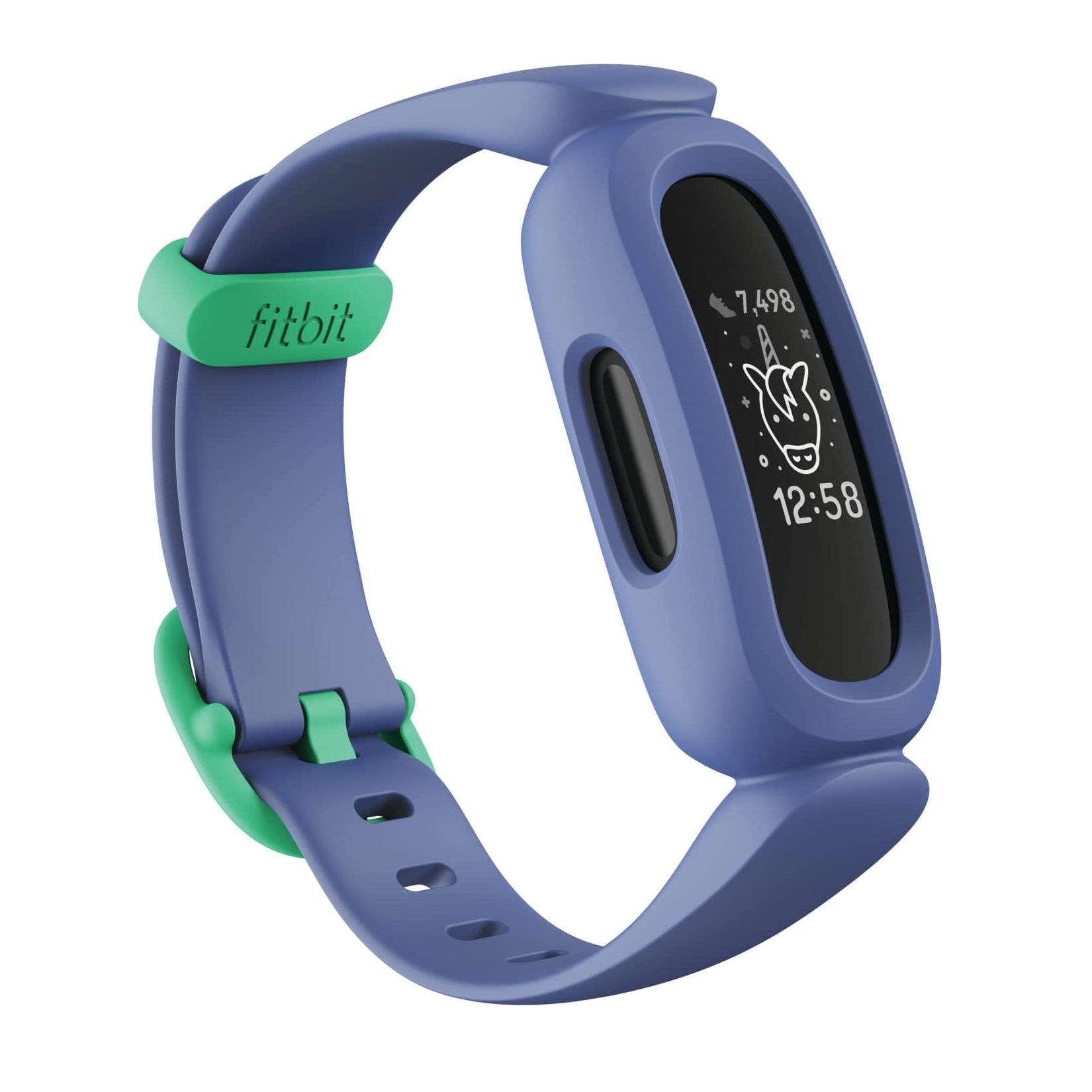 Source: Fitbit
Fitbit Ace 3

Most kid-friendly
Durable model, great for days at the pool
The Fitbit Ace 3 isn't designed to give off advanced readings, but its tracking functions let you monitor your child's sleep habits and daily movement. The water-resistant design means they can enjoy a day at the pool without interrupting daily tracking or risking the wearable's Fitbit-level quality.
Pros
Easy to use for children and adults
Decent battery life that lasts about a week
Can withstand even the most active kids
Cons
A little light on features, even in the companion app
Display could be more child-friendly and customizable
No GPS or location tracking
It's important to develop healthy habits young, and the kid-friendly Fitbit Ace 3 is a great first step. Designed specifically for children, the Ace 3 skimps a little on the features and power but offers enough for parents to track activity. Sleep tracking and bedtime reminders help set a reasonable sleep schedule while keeping watch for unexpected activity in the middle of the night.
Durability is always a concern with devices made for children, so the Ace 3 is made for heavier activity. For young swimmers, it is rated to be water-resistant up to 50 meters deep, so the wearer can enjoy some splashing in the sun without ruining the device. There's no swim tracking, but the Ace 3 is designed for simplicity.
Unlike other Fitbits, the Ace 3 won't supplement healthcare and keep track of heart rate and stress levels. But it's a fun tool that kids can use as motivation to keep active. And, best of all, the 8-day battery life makes it easier to track a straight week's worth of movement and sleeping for a more accurate picture of your child's habits.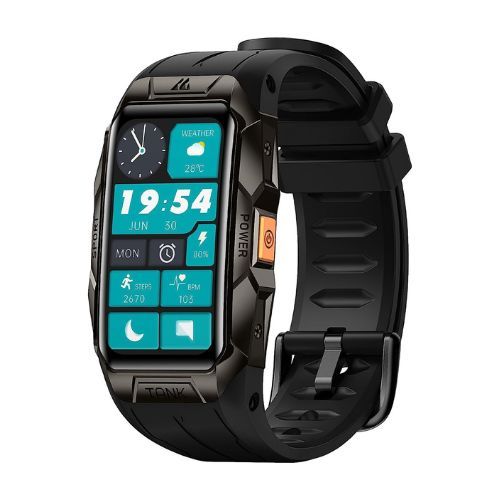 KOSEPT TANK X1

Best durable
Sturdy model, great for days at the pool
Take the KOSPET to greater depths with a 100-meter water resistance rating and durable build. The smartwatch doubles as a fitness tracker, complete with heart rate and blood oxygen monitors, 70 sports modes, and automated activity recognition. This device is made for divers and lets users monitor their stats at down to 30 meters.
Pros
Constructed with titanium for strength and longevity
Withstands depths of 100 meters
Seventy sports modes for custom tracking
Cons
Bulky and obvious design can be cumbersome
Sports modes can drain battery quickly
KOSPET opted for a strong, durable build with the aptly named Tank X1. Corning Gorilla glass and a full metal shield protect this fitness tracker from corrosion and impact damage. But who would need a device that can withstand heavy use? The military-grade titanium unibody bimetal construction certainly suggests that this isn't your everyday tracker, though it does have many of the same classic features.
The high-end materials help ensure the tracker's longevity, especially since it can withstand pressure equivalent to depths of down to 100 meters. The Tank X1 is a fantastic diver's tool, keeping accurate track of heart rate, blood oxygen, and more even while around 30 meters beneath the surface. However, it's lacking some features that divers would find most beneficial, such as an oxygen meter to help keep track of what's left in the tank.
KOSPET achieved a 50-day battery life while in standby mode, and reached a fairly impressive 10 hours when used daily. However, 70 sports modes that help customize exercise and activity tracking and a bio-tracking optical sensor for precision readings sap much of that power. If you don't mind that and the bulkiness of the Tank X1's design, this model will accommodate your needs.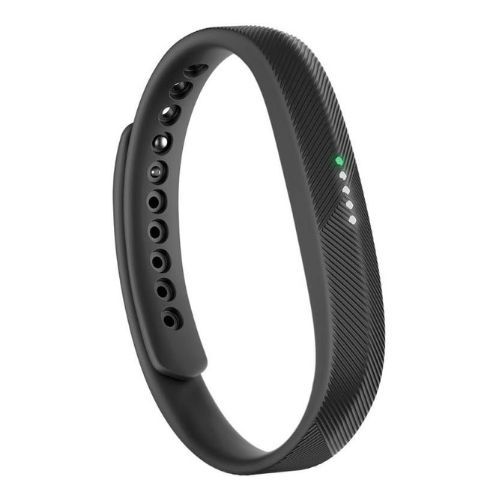 Fitbit Flex 2

Most discreet
Simplified and effective fitness tracking
$159 $170 Save
$11
Fitbit's Flex 2 swaps the AMOLED screen for a series of LED lights that indicate different readings. When connected to the Fitbit companion app, you can follow your overall activity levels, even swim-related activities. The Flex 2's simple design is durable and water-resistant down to 50 meters.
Pros
Streamlined appearance that doesn't hinder functionality
Offers accurate swim tracking with companion app
Automatically tracks exercises
Cons
No screen and app reliance won't work for all users
Surprisingly short battery life
No heart rate monitor
Not everyone wants to walk around with a screen attached to their arm. They crave simplicity, and it doesn't get much simpler than the Fitbit Flex 2. Swapping out a screen for five indicator lights, the Flex 2 offers a user-friendly experience in an ultra-thin, comfortable package. By removing the screen, you do lose common fitness tracker tools, like heart rating monitoring, but still benefit from sleep tracking, subtle call and text notifications, and automated activity tracking.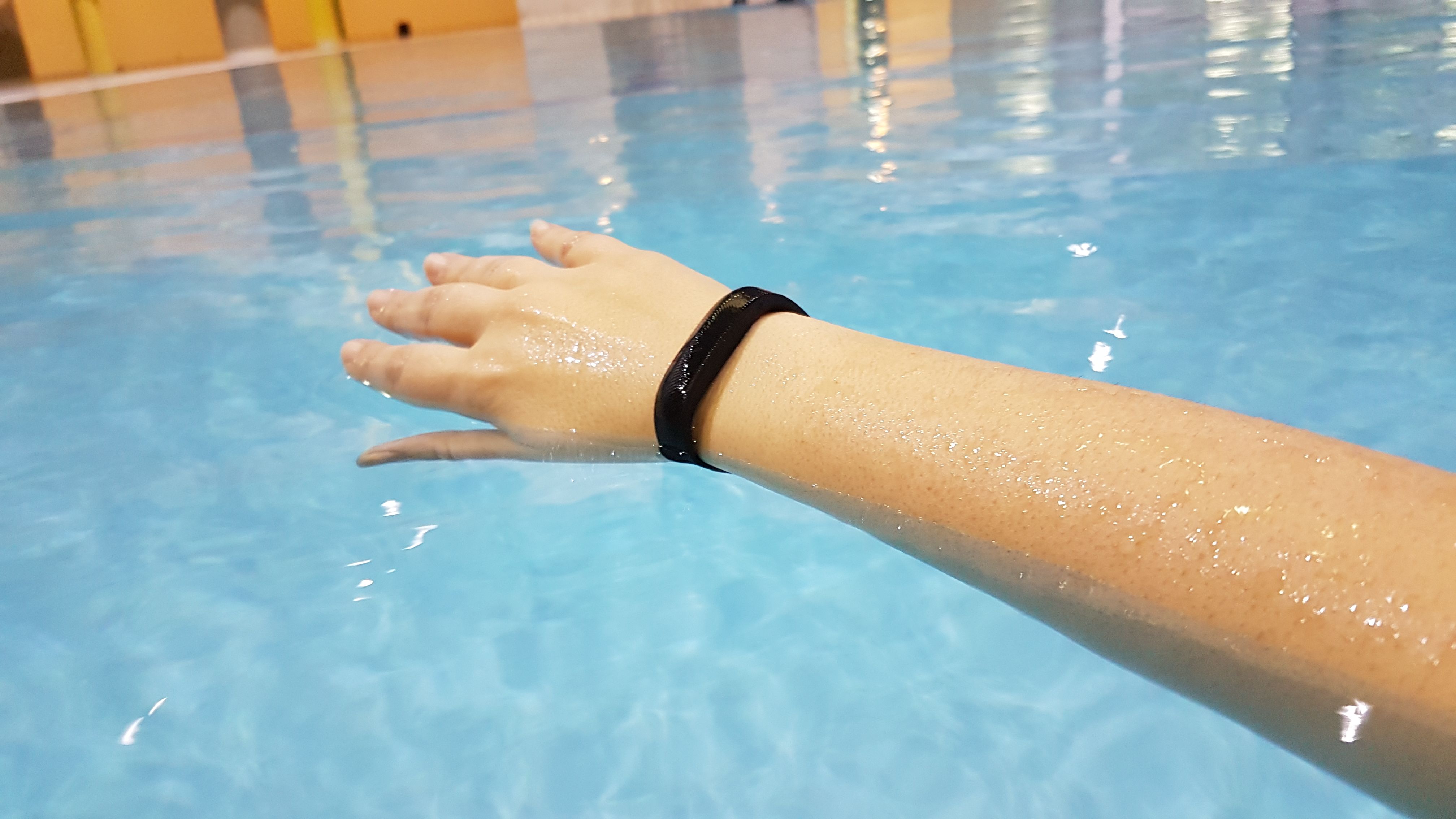 Whereas other Fitbits display progress on the screen, the Flex 2 requires the Fitbit app. It's a small concession to make for a sleeker, more stylish fitness tracker. What you don't lose with the streamlined device is swim-friendly water resistance. The band is rated to withstand depths of up to 50 meters, so you can safely shower or swim with it. It's nice to not worry about removing the tracker every time you want to go for a dip, though you will need to activate the specific swim mode to accurately track strokes.
One of the Flex 2's unique features is that it can be accessorized beyond a simple band swap. You may have to do some searching, but there are necklaces, bracelets, and pendants that the Flex 2 fits within to match your personal style or daily outfit.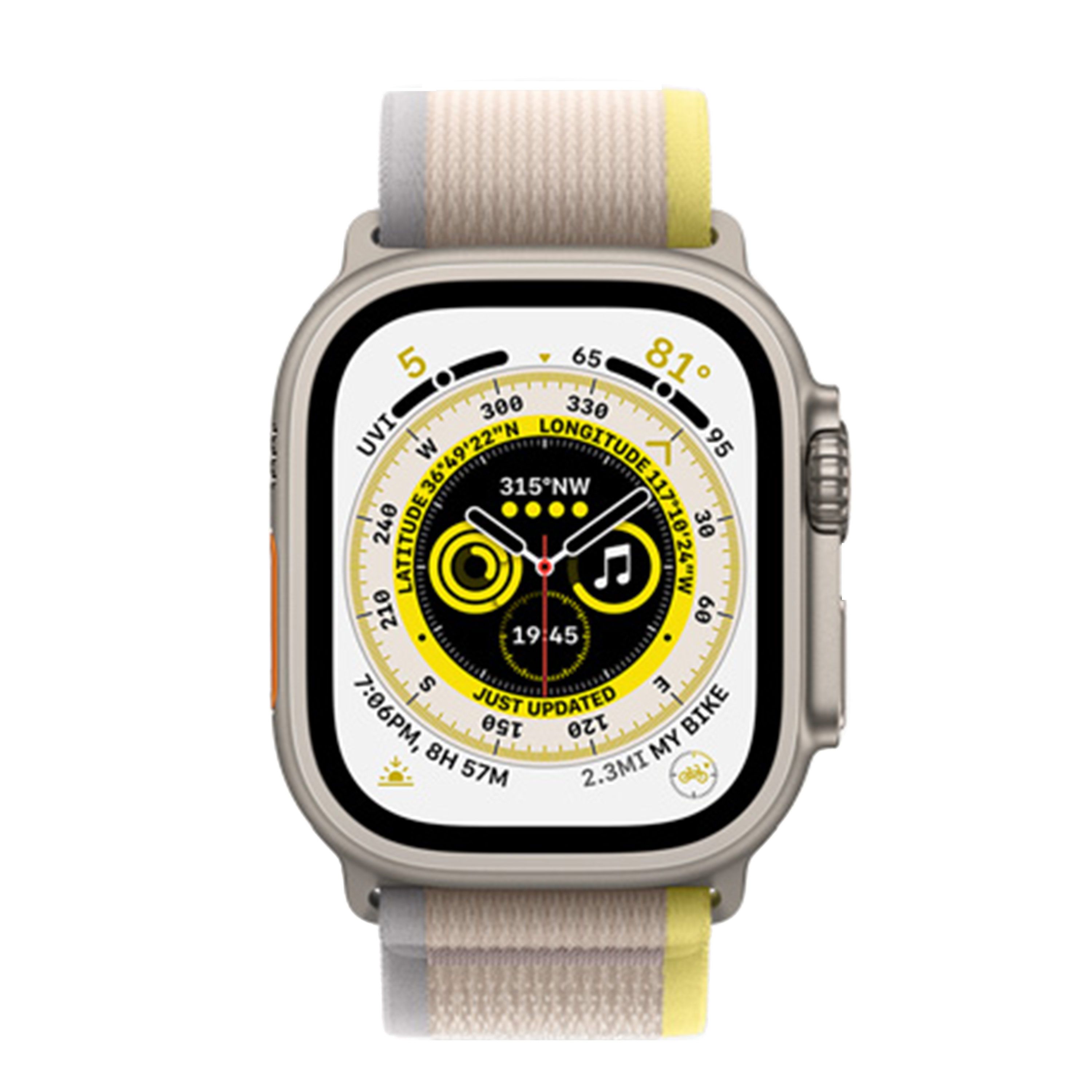 Source: Apple
Apple Watch Ultra

Best for Apple users
Durable iOS smartwatch with enhanced swimming features
Apple's flagship wearable gets a costly upgrade with the Apple Watch Ultra. The high-end smartwatch connects with your iPhone to deliver text messages, email notifications, calls, and more right to your wrist. The Ultra is a fitness tracker on the iOS ecosystem with swim-friendly heart rate and blood oxygen sensors in a build that can withstand depths down to 100 meters.
Pros
Will work in depths down to 100 meters
Oceanic+ app adds helpful deep-sea diving features
Connects seamlessly to Apple ecosystem
Cons
Maps and navigation requires online connection
On the bigger side for a fitness tracker
Price tag is very high
If you're loyal to Apple and still want the swim-friendly fitness tracker experience, the Apple Watch Ultra should be your go-to. This GPS and cellular-enabled smartwatch is built for a rugged lifestyle. A titanium case can withstand the most rigorous activities, while the watch's range of features updates you with stats like your heart rate.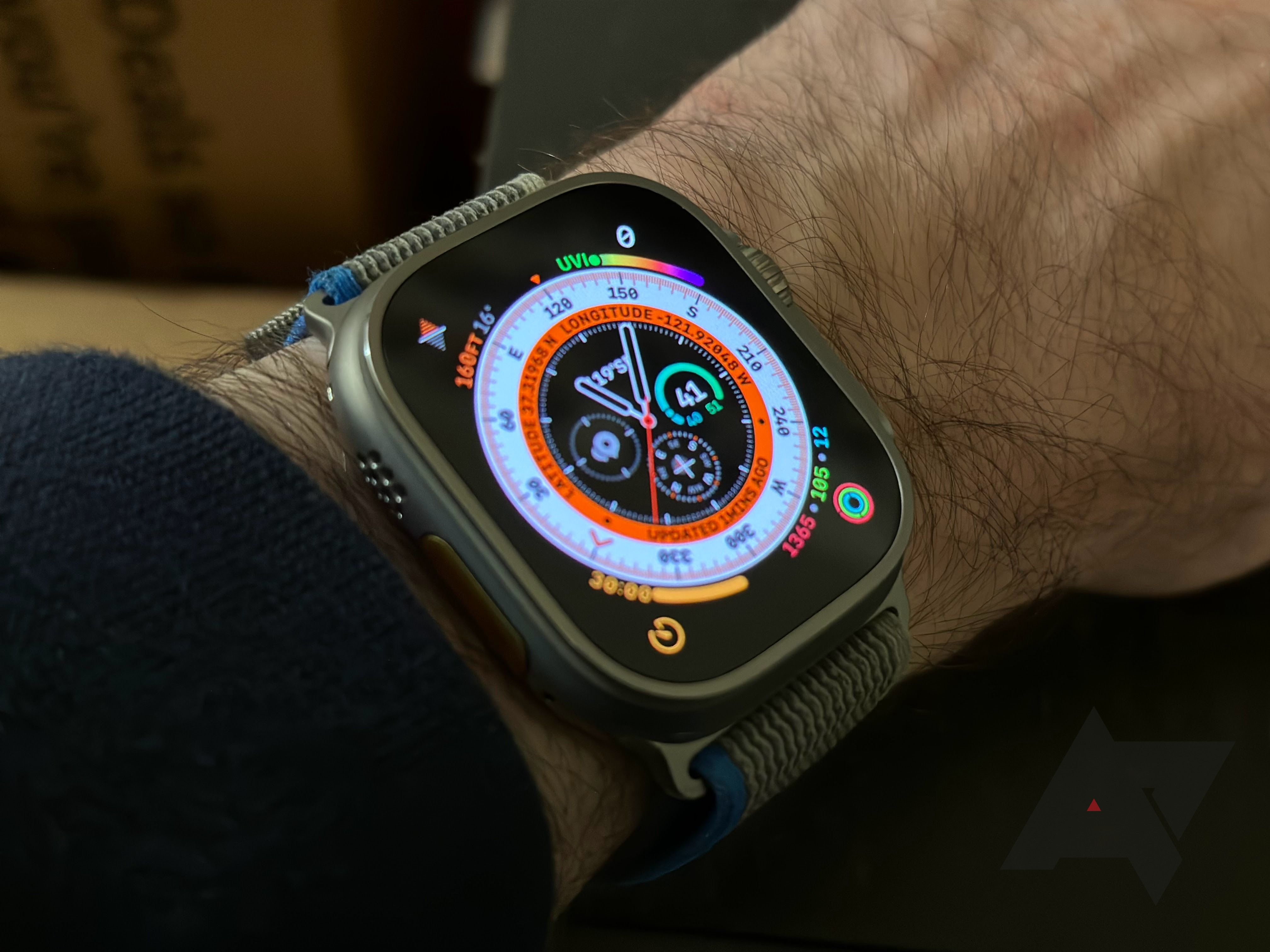 Being an Apple Watch, the Ultra still features all the apps and capabilities you'd come to expect from the iOS ecosystem. You can make calls, send messages, check your email, and so much more. Because the watch is rated for a 100-meter water resistance, you can even do all that while treading water while at the beach. Fitness swimmers and water sport enthusiasts will love the App Store exclusive premium Oceanic+ app, which converts your Ultra into a device computer complete with a variometer, depth finder, decompression limits, compass, and safety warnings.
The Apple Watch Ultra blends the high quality of Apple's smartwatch with a fitness tracker that goes beyond a simple exercise monitor. Advanced sensors give readings on blood oxygen and heart rates and a sleep tracker informs you of sleep habits that may impact your health. The Ultra is a complete package that keeps you connected and informed, even when wading in the deep end.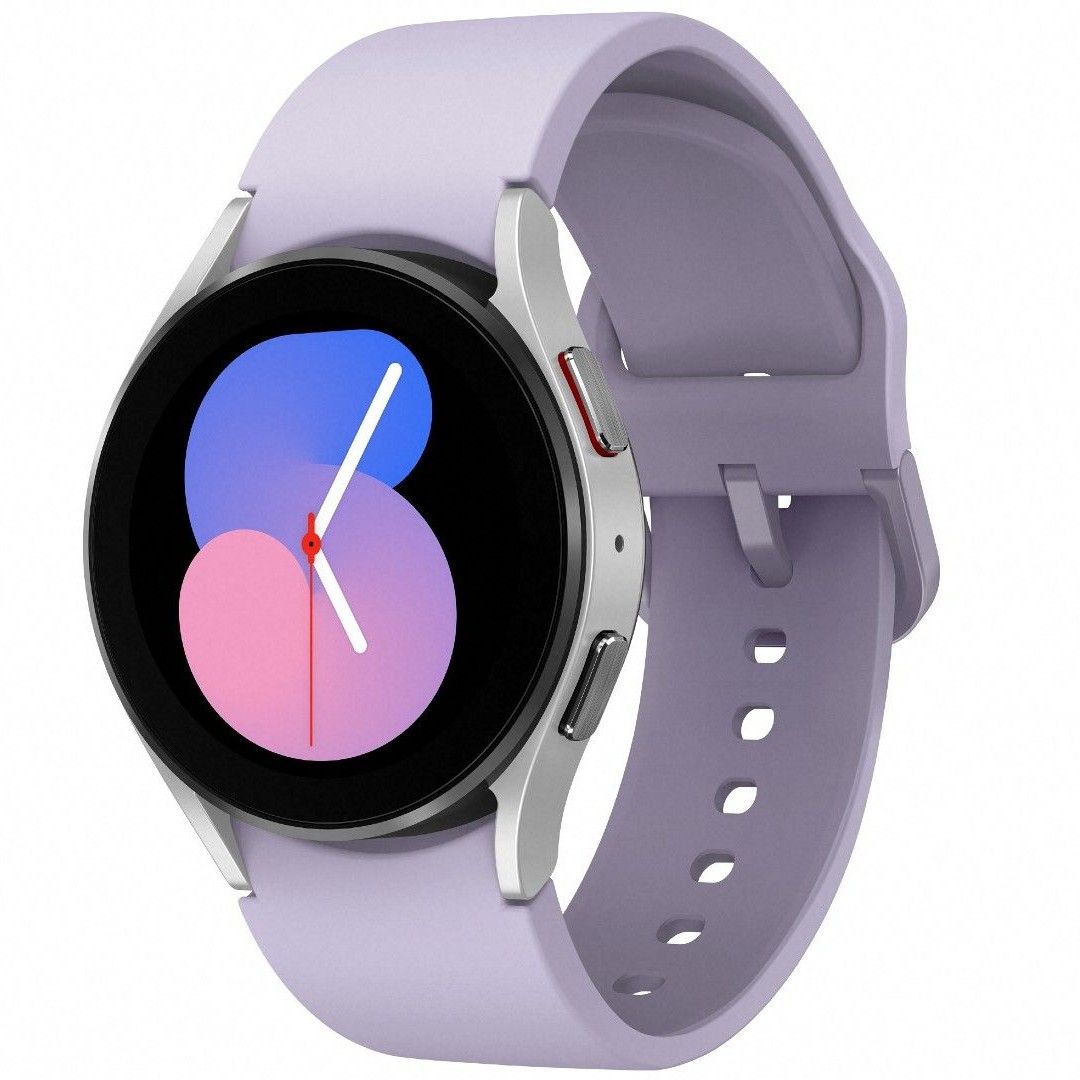 Source: Samsung
Best for Android users
Great for keeping up with your fitness and personal life
Samsung's Galaxy Watch 5 may not be a massive upgrade from the Watch 4, but it's still a premium option for an Android-based fitness tracker. Access to the Samsung Health app helps you manage your routines and monitors your heart rate, sleep habits, and more. The Galaxy Watch 5 is convenient and lightweight for the swimmer's lifestyle.
Pros
Automatically detects swimming as a workout
Accurate heart rate monitoring and exercise tracking
Lightweight without sacrificing screen size
Cons
Touch bezel can be temperamental, especially when wet
Battery life could be better
Price tag is very high
Samsung's Galaxy Watch 5's improved battery life isn't just beneficial for smartwatch aficionados. It allows fitness-minded users to get more out of the 1.4-inch smartwatch. The Galaxy Watch puts quite the emphasis on fitness and activity tracking, especially if you download the Samsung Health app to more accurately monitor how you're sleeping, workout details, and more.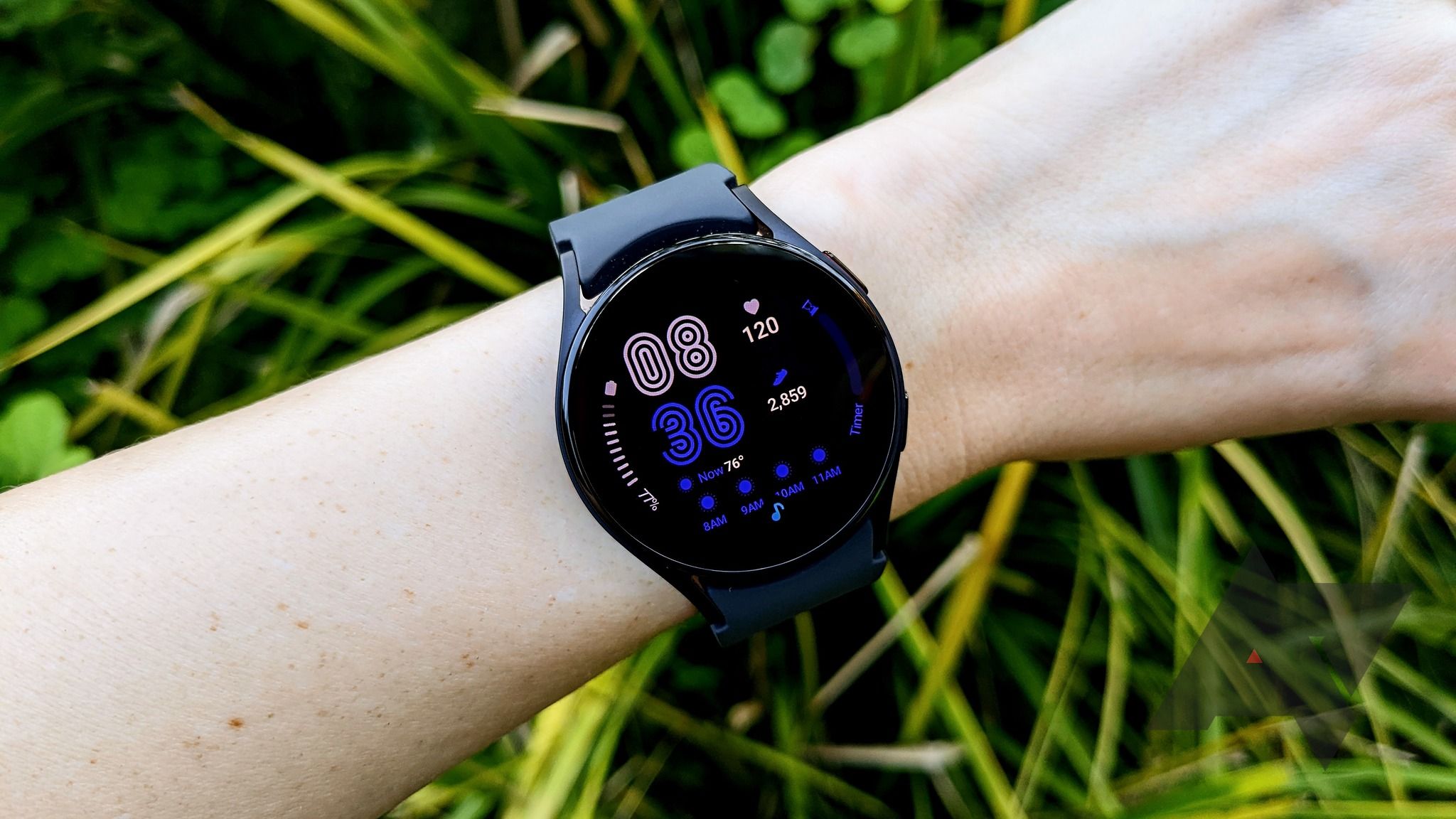 The watch comes with a heart rate monitor, daily workout reminders, and an elevation tracker. It can also be programmed to accurately track your movements based on specific sports. This includes swimming, which is part of the Watch 5's suite of automatically detected workouts. The smartwatch is rated for depths down to 50 meters, making it more than suitable for a casual swim or even more intensive water activities. If you're a fitness swimmer, the accuracy of Galaxy Watch 5's activity tracker could be enough to put the smartwatch on your radar.
Performance is key with the Galaxy Watch 5, whether you're monitoring your activity or keeping up with your daily notifications. It's not something you buy just for fitness tracking, but an all-around device that shrinks many of your Android's functions into a convenient wearable. The Samsung's Health app's accuracy and the watch's activity monitoring do make the Watch 5 an attractive option for a swim-friendly Android-compatible smartwatch.
The best fitness trackers for swimming can handle the pressure

It's important to separate standard fitness trackers and those better suited for swimming. While the former is sure to have a number of features, they're going to lack what's needed for your water-logged lifestyle — the ability to withstand pressure. And that's meant literally, as water resistance is rated based on the pressure exerted at specific depths. So, a fitness tracker that's water-resistant for up to 50 meters can survive in the pressure exerted at 50 meters below the surface.
As found in the Fitbit Charge 5, Garmin's Vivosmart 4, and the Amazfit Band 7, swimmer-friendly exercise modes are also a must for the best trackers for swimming. While water-resistant trackers will generally keep track of all activity, a device with swimming modes will record strokes and pace more accurately. A tracker like the Fitbit Charge 5 goes above and beyond by successfully bridging the gap between a smartwatch and a fitness tracker. It's quite balanced, offering the alerts of a smartphone with the activity and health monitoring of a tracker.
Automatic tracking and accurate blood pressure and pulse ox monitoring elevate the Vivosmart 4 to a premium level, and without a massive price hike, too. Blending Garmin's quality with the essentials of a fitness tracker does warrant the price tag, but Amazfit offers an alternative that finds a way to retain a similar quality and mostly the same degree of accuracy at a much more attainable price.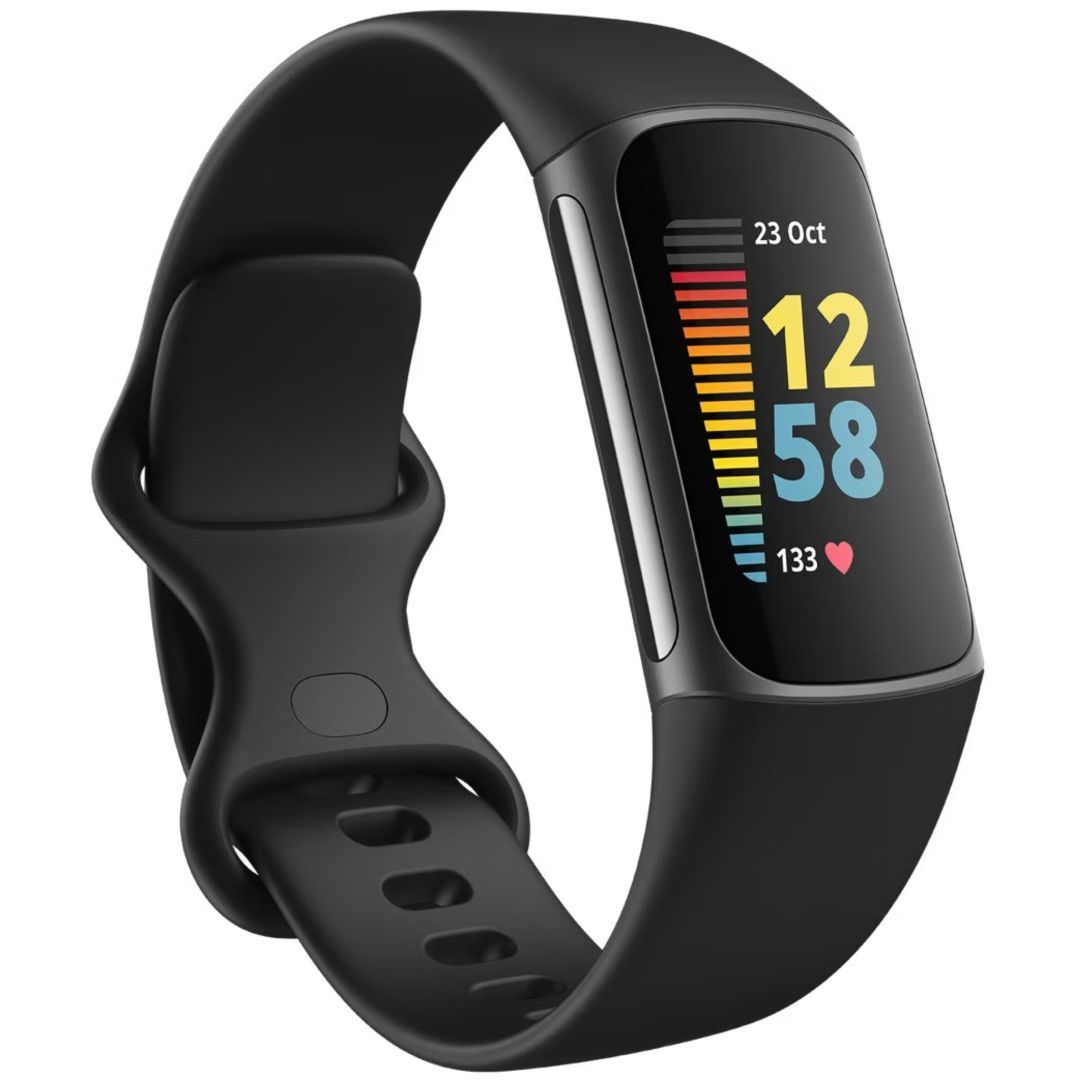 Source: Fitbit
Best overall
Fitbit's Charge 5 is part smartwatch, part fitness tracker. Its pinpoint accurate exercise tracking makes it a valuable tool for swimmers wanting to keep track of their daily laps. Monitor heart rate and pulse ox and take the occasional break to read incoming smartphone SMS messages.