Relaxing gaming activities pair well with brand-new Android tablets and phones. As part of the desired R&R package, many games turn into simulators of some kind, whether those become more focused on building, gardening, farming, or harvesting. Unfortunately, most simulator games tend to scope macroscopically and, as a result, may overwhelm the player with too many menus, tedious tasks, and a heavy reliance on micromanagement.
On the other hand, some of the best Android games are simulation-based. Fortunately, some titles will only grieve for a small piece of that pie, resulting in a scaled-down, microscopic focus. And those games often pair well with caretaking and harvesting themes. So to give Android users a direction to find relaxing and peaceful titles, we've rounded up all the best farming games on Android. Let's dig in!
1
Stardew Valley
We just had to include Stardew Valley. The farming and settlement-building life sim that has exploded in popularity among casual gamers needs no introduction. Set in a world of beautiful pixel art, you play as a fresh opportunist, having just moved to the valley seeking a new life. Gameplay involves building a home, generating crops and supplies to trade with local businesses, and chatting with charming NPC characters. The world itself is brimming with style and personality, with season and weather changes affecting your surroundings as well as the valley's inhabitants. While it can be a bit slow at times, and there can be annoying RNG elements, Stardew Valley is an exemplary example of its kind, up there and possibly surpassing Animal Crossing. Well worth your time to try out, and you can even mod the game to extend its gameplay.
2
Sumikkogurashi Farm
Aesthetics play a significant role in a game's atmosphere. Games like Animal Crossing pop off partly due to the loveable animal cast and open-ended nature to express user creativity and imagination. Sumikkogurashi Farm aims to bring charm with its soft color palette choices and simple graphics. The game focuses on farm building and harvesting crops; you will take care of animals, fulfill requests and dress up the Sumikkogurashi. It's an adorable experience, not one to miss if you're into Animal Crossing but set on a farm.
3
​​​Hay Day
Now if you're looking for a simplified experience, where you don't have to worry about having your crops die or be damaged from the rain, we recommend checking out Hay Day. In Hay Day, you're in charge of creating a farming paradise on your own plot of land. You will care for farm animals like chickens, pigs, and cows while still preparing and maintaining your crops, all to make sure your land flourishes. In addition, you can add buildings and facilities, conduct trades and join a neighborhood consisting of 30 players. Ultimately, you can decide how your farming paradise plays out; Hay Day gives you all the tools you need to get there.
4
Toca Nature
Toca Nature shares the great outdoors theme, giving you sway over a living, breathing wilderness. Bend and shape the landscape to your will, populate it with life, and zoom in to observe the creatures up close. Of course, you have to pay close attention and tend to the animals around you to help them grow and thrive in the environment you've created. This game recreates the feeling of maintaining a personal garden, reproducing that feeling of zen by watching everything grow and come together around you that's been shaped by your hand. Your mind will indeed feel at peace while playing through this one.
5
Blocky Farm
Have you ever considered an in-depth farming game with Minecraft graphics? Blocky Farm is precisely that. You will manage your farm, visit the town, fish, and form relationships with your animals and neighbors — and don't let this pixelated style fool you, as the game comes packing in with personality and life. The best part is you can play this game offline at 60 FPS, so completing tasks won't feel sluggish, making the overall experience feel smooth as butter. Definitely give it a go if you're already into this graphical gaming style and enjoy dabbling into farming games.
6
Terrarium: Garden Idle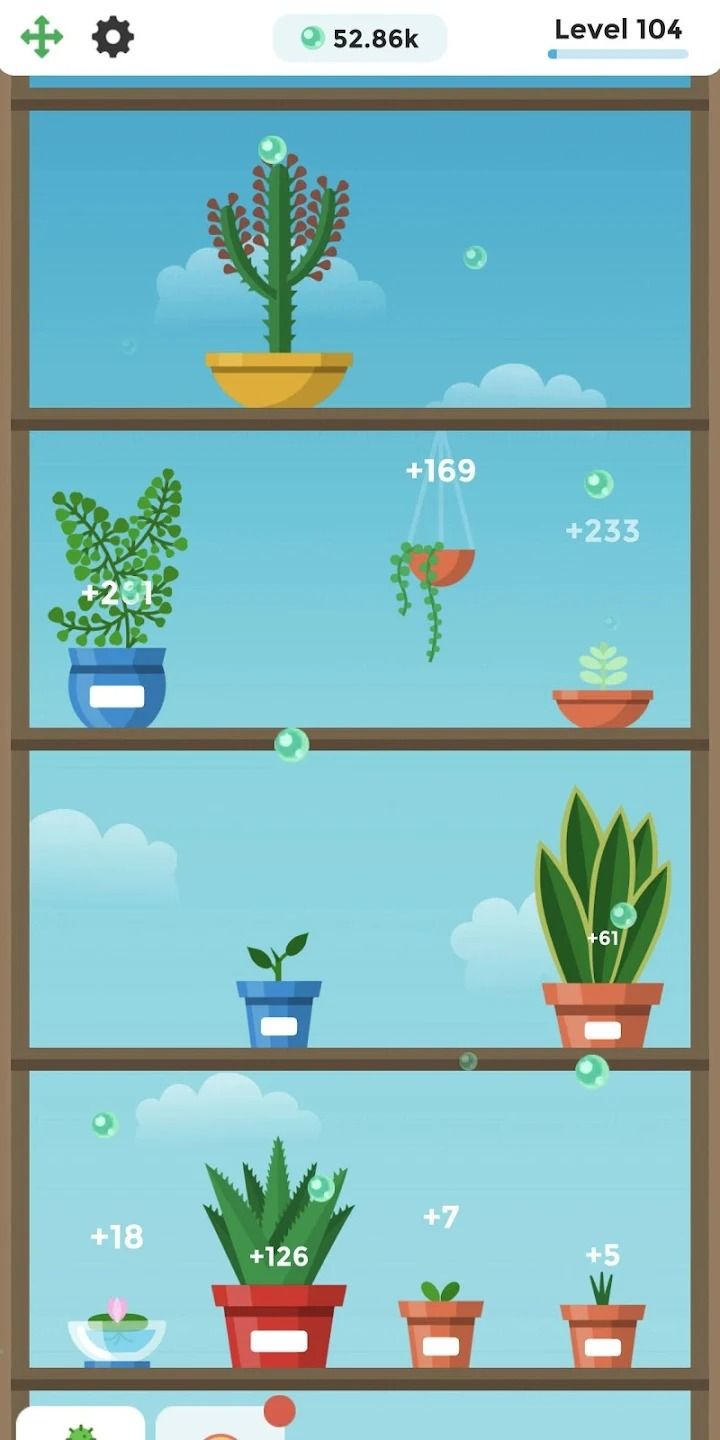 Adding in a mix of realism and patience is what Terrarium: Garden Idle is all about. The game simulates the actual practice of growing plants very slowly. The main loop is an idle clicker mechanic, where you can place different plants and tap them to earn and accumulate points when you aren't playing. Said plants grow towards tiered heights that grant rewards. Terrarium: Garden Idle is an excellent game to load up when you're feeling overwhelmed from farming and simply want to tend to a small collection of plants instead; it is the perfect example of reflecting on how we might care for our plants in real life, too.
7
Township
After playing through a few entries on this list, you might be ready to tackle more challenging and engaging gameplay. Township combines the best of both worlds of city-building and farming. Harvesting crops, expanding your town, and upgrading your factories are essential for game progression. The best part is you can do as little or as much farming as you want since there are many ways to establish your town's activity and economy. Even with the game's broader focus, playing is not too cumbersome.
8
Pocket Plants
Pocket Plants blends a few different elements to create something fairly original. Like Terrarium: Garden Idle, you can focus on gardening versus tending to a whole plot of farmland. In Pocket Plants, you must revitalize several different worlds with plant life, discover new plant types, and grow your collection. Each world has grids resembling the best match-3 games with stylized backdrops, which add a lot to the game's visuals and appeal. Overall, Pocket Plants' idle-styled gameplay is perfect for players looking for a more miniature, slow-paced loop that play out similarly to other farming and harvesting games.
9
Smurfs' Village
As one might already suspect, Smurfs' Village is an all-new game featuring everyone's favorite Belgian blue creatures. In this tale, you face off against the evil wizard Gargamel and his cat companion, Azrael, who've caused chaos within the village, and disgruntled all its inhabitants. Now it's up to you to make things right. In Smurfs' Village, you are in charge of collecting your lost blue friends and helping them acclimate to a new home within the enchanted forest.
Part of the package includes harvesting and growing crops to maintain your new home. And if you need a break from all the manual labor, you can employ Farmer Smurf to assist with the main village while relying on tools like Farmer's Tractor, Moon Buggy, and Shrub Harvester to cover the rest. So there's no shortage of ways to play leisurely; outside of decorating, the game offers engaging quests and minigames that are just as soothing to play.
10
Family Island — Farming game
Most farming games don't dip into the darker survival themes. However, Family Island — Farming game isn't afraid to challenge these boundaries, as it is an elaborate farming game with survival elements. In this game, you play as a family born into the Stone Age living remotely (on a deserted island). But to handle all the game's hardships, you must manage and evolve your farm, craft survival tools, and master home economics-based roles within your settlement.
Survival and creativity become the name of the game, but not just for yourself. Family Island — Farming game tests your resourcefulness outside of tech and your ability to make decisions while out in the boonies; do you have what it takes to raise your family on an island without food, water, or shelter? See for yourself.
Planting and harvesting brings a peace of mind on Android
Similar to simulation games, the best sandbox games on Android often include open-ended gameplay, making players feel slammed and stressed by the end of the session. It's why we welcome smaller games focused on farming for alternatives. However, not all farming games have a well-oiled machine to keep players interested, so we've looked at all the moving parts within the final product — hopefully, by the end of this roundup, you will have plenty to work from.