While there is no shortage of puzzle and arcade games on the Android platform, it's easy to get hooked by mainstream hits like Angry Birds and Cut The Rope. However, stumbling upon games with darker psychedelic themes, such as World Of Goo and Badland, brings a mesmerizing, haunting experience like no other. The powerful combination of audio mixing and artistic expression can put forward an entirely different tone to puzzle and adventure games, revamping these genres. We've rounded up the best atmospheric games that will haunt you while playing on an awesome Android gaming phone.
1
Badland
In layman's terms, Badland is a more original and enjoyable Flappy Bird. The game's mechanics are similar: it's a sidescroller adventure where you must tap to fly a creature through obstacles in a dark forest. However, unlike Flappy Bird, Badland is much more intricate than a series of pipes with openings at varying heights.
Badland is unforgiving at times, challenging but more manageable than others. It still remains enjoyable through this high-difficulty spike, never crossing the threshold into the frustrating territory of Flappy Bird. You can play this one without fear of addiction or an impulse to throw your poor phone across the room.
2
Dark Lands
Dark Lands is a silhouette adventure where you run, fight enemies, develop your hero, and avoid traps. You can think of this game as a Dark Souls game if that game was a sidescroller; the difficulty level comes from being an infinite runner, so you lose control over your hero as you encounter bosses. But part of the fun is kitting out your hero to overcome those obstacles. Each level is beautifully drawn with depicted dark tones, pairing well with the challenging gameplay.
3
Jekyll & Hyde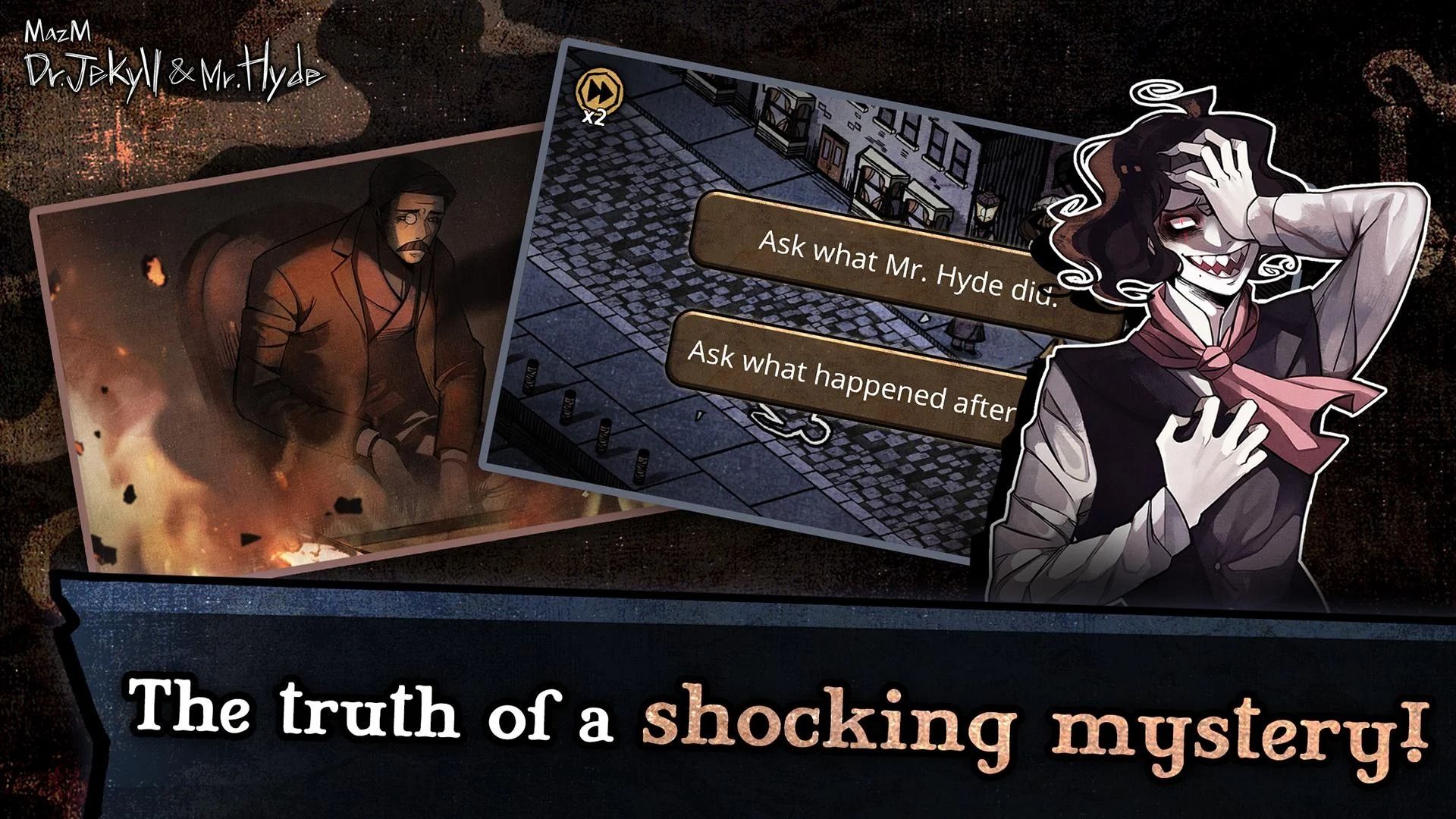 Based on the classic gothic novella, "The Strange Case of Dr. Jekyll and Mr. Hyde," the story is retold as a visual novel adventure mystery game; the most significant contributor of why the game retells the story engrossingly is partially due to the gothic ambiance. The darker visuals and sound mixing are top-notch quality for recreating this famous story on mobile. Unfortunately, only Chapter 1 is free; it requires purchasing or accessing the rest by watching ads.
4
No Humanity — The Hardest Game
No Humanity — The Hardest Game is a bit of a psychedelic experience. Still, it doesn't fall short of being a brutally difficult game, which may turn off some players. It's an unpredictable bullet hell game without shoot 'em mechanics that will certainly put your reaction skills through a stress test. Prepare for many game-overs, but once you've learned how to handle the system — it somehow keeps inviting you back to play even more.
5
Phantom of the Opera
If you appreciate the MazM rendition of the famous Dr. Jekyll and Mr. Hyde in the previous listing, you will likely enjoy Phantom of the Opera. The eerie, dramatic love story is retold in another visual novel adventure game format, much like Jekyll & Hyde. Again, the darker artistic tones and matching sound mixing are spot on. You can access the first chapter for free, but everything else must be bought or earned by watching ads.
6
That Level Again
That Level Again is a puzzle game with plenty of dark undertones, the level looks the same, but the puzzle's solution is always changing; essentially, there are 96 unique ways to win. You'd be surprised how haunting it is to play out the same level at least 96 times repeatedly. But somehow, the game's premise and gimmick are strangely addictive and unforgettable.
Note that multiple sequels for That Level Again play out similarly by exploiting generic logic puzzles (as it lives up to its name) or is even considered a play-on the puzzle genre itself. The third and fourth games deviate from the first two, but all still hold up well as individual successes.
7
Limbo
Limbo offers one of the best audio tracks, just based on the simple sounds like hearing glass shattering, heavy breathing, and trees falling violently. You can even hear the desperation in your character's footsteps. It's impressive but also spooky, and the whole game is entirely devoid of colors. Everything fits together like a glove for an outstanding dark atmospheric game.
If you search Limbo on the Play Store, it has a separate listing for the demo. The demo would be a fantastic place to start if you're still on the fence about buying the app.
8
Alter Ego
Alter Ego is a trippy game. It's a game where self-reflection is necessary to progress through the story and world; be prepared to take personality tests and answer questions (truthfully) about yourself. It's not afraid to break the fourth wall and is guaranteed to make you think on another level. The dark style and music set the tone and atmosphere, but keep in mind that this game may provoke a lot of introspective thought, which may lead you down the path of unwanted existentialism.
9
Typoman Remastered
Words are power in Typoman Remastered. Carefully crafting words will change your environment and become your greatest asset for solving puzzles. Hints are now included in the remastered edition, so if you get stuck, summon a clue to help blaze your way through. The whole game rides on the eerily dark atmosphere and was recreated from the original to improve performance on mobile while adding brand new content.
10
Opus: Rocket of Whispers
Opus: Rocket of Whispers is more melancholic than it is creepy. But it excels as an atmospheric game, using audiovisual storytelling to paint all the themes of survival and acceptance. This game will likely make you cry, so you should prepare a box of tissues beforehand, but all the more, there's something special about Opus: Rocket of Whispers that will stay with you — which is almost haunting.
11
Orbia: Tap and Relax
The potent combination of satisfying sounds with beautiful imagery makes Orbia: Tap and Relax a pleasant treat to play while relieving yourself from daily (life) stress. You won't get the full effect without plugging in quality headphones, as the various sound cues carry the experience. These experiences also contain hundreds of levels with rhythmic tapping (available for each world), leaving no shortage of content after the game has been out years later.
It's also not the most complex and challenging game on this list, which is why it is so easy to pick up and play and hence why it won a Google Play Store Award in 2018 (Most Casual) in the first place. So it's safe to say that Orbia: Tap and Relax has a formula that works. Though the in-game ads might bring some unwanted interruption, so if you like what you see, you may want to consider paying the premium fee.
12
World of Goo Remastered
World of Goo was a major inspiration for how this roundup got started. Since its arrival in 2011, it brought a surreal experience with its chilling atmospheric setting and had underlying tones that no other arcade/puzzle game can reproduce. However, the World of Goo was released on the Play Store over a decade ago, so the game simply became too old for modern hardware. Thankfully, World of Goo Remastered, coming in hot in 2023, addresses that issue.
The remastered plays like the original but with high-res graphics; World of Good Remastered still includes hours of gooball fun with plenty of experimentation to solve physics-based puzzles. The only downside is that it's not widely available for all Android users. You need to be a Netflix subscriber to access this remastered version. But even with this limitation, it's still a timeless classic and award-winning title that deserves attention.
Fall down the rabbit hole of dark and atmospheric Android games
While this is not an exhaustive list of all the atmospheric games available on Android, it's an excellent place to discover the genre. So crank up the volume, immerse yourself, and see if these games hit the right notes. As you start playing more titles like it, you may fall down the rabbit hole of re-emulating these haunting experiences — the our favorite Android games are the ones that leave an everlasting (glowing) impression on us, after all.