Chromebooks are versatile devices that excel while used on the go, at school, and at home. But sometimes, the laptop's built-in screen just doesn't have enough space, resolution, or color to properly tackle the task at hand. Fortunately, the best Chromebook monitors can change all of that, providing you, in most cases, with a more permanent setup to accommodate different needs.
There are a lot of great monitors on the market today; however, picking one to match your favorite Chromebook can be difficult. So, to help you get the perfect screen, we've put together this curated list of monitors ranging from smaller budget options to pricey ultrawide picks.
Our favorite Chromebook monitors in 2023

Dell UltraSharp U2723QE

Best overall
The right screen for most people
$570 $600 Save
$30
Dell's UltraSharp U2723QE has a 27-inch IPS panel with brilliant 4K resolution and accurate color reproduction across gamuts. It also hosts a wide selection of ports, so you can connect your Chromebook with HDMI, DisplayPort, or USB-C.
Pros
Crisp 4K resolution at 60Hz
Excellent color reproduction
Generous connectivity
Cons
Can get 4K for less money
Dell's UltraSharp brand of monitors has some of the best screens available today, and the U2723QE is no exception. It's sized at 27 inches and has a 3840×2160 (4K UHD) resolution with a 60Hz refresh rate. The picture looks incredible, owing a lot to its 100% sRGB, 100% Rec 709, and 98% DCI-P3 color gamut coverage, as well as its anti-glare finish and 400 nits brightness that helps reduce glare. The monitor can be adjusted for height, tilt, swivel, and pivot, plus it's compatible with a 100 mm x 100 mm VESA mount.
The monitor is absolutely loaded with ports, so you can connect your Chromebook with HDMI, DisplayPort, or straight USB-C. Downstream ports stemming from the U2723QE include USB-C, five USB-A, RJ45 Ethernet, and 3.5 mm audio, giving you what is essentially a built-in docking station every time you sit down to work. This monitor is on the expensive side, but anyone who sits in front of a screen all day will be glad they made the investment.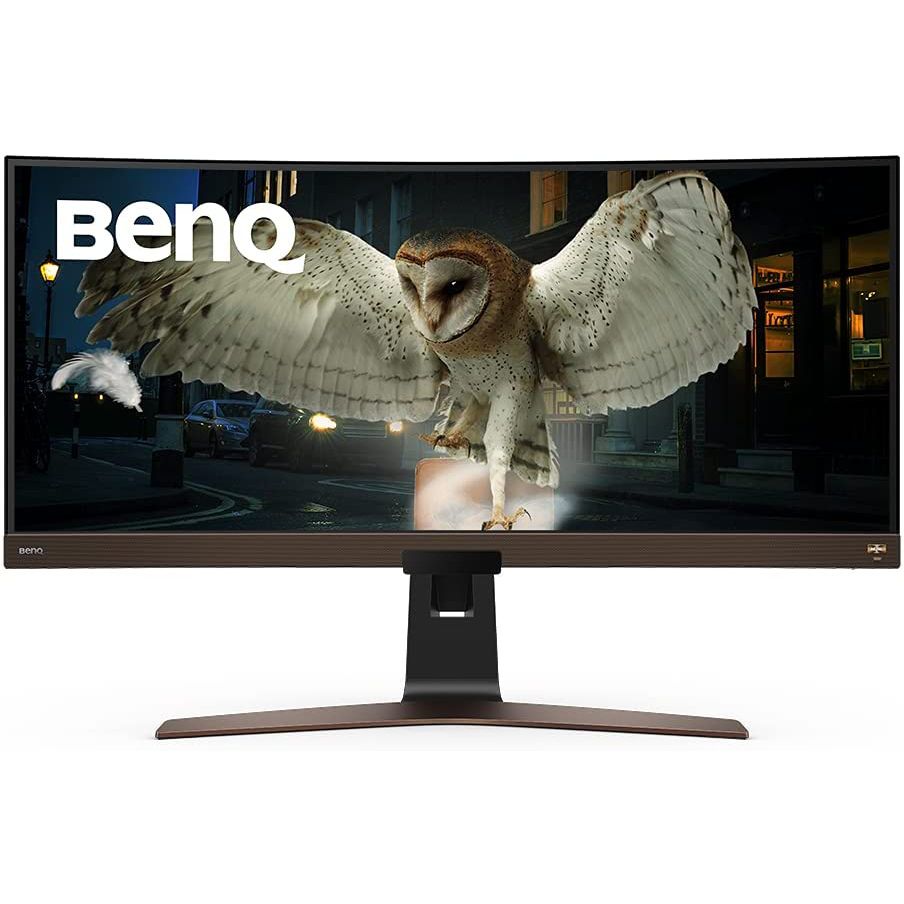 BenQ EW3880R

Premium pick
High-end ultrawide picture
$1000 $1050 Save
$50
Want to go all-out with one of the best ultrawides on the market today? BenQ's EW3880R has a 37.5-inch screen with a crisp 3840×1600 resolution, 2.1 audio setup with dual speakers and woofer, and plenty of connectivity options.
Pros
Outstanding picture with 3840×1600 resolution
Adjustable stand, can be mounted
Built-in audio is the real deal
Cons
Can find cheaper ultrawides
Not great for gaming despite its price
BenQ's EW3880R is one of the best ultrawide monitors you can find today, but it will cost you dearly. If you do have the deep pockets required to take this one on (keep in mind there are some more affordable ultrawides included in this roundup), you'll get a 37.5-inch picture with an IPS panel with an anti-glare finish, 3840×1600 resolution, 60Hz refresh rate, HDR10 support, and 95% coverage of the P3 color gamut. The case houses dual 3W speakers and an 8W woofer for a 2.1-channel audio setup, and there's a 3.5 mm jack for headphones.
You can connect to the monitor with HDMI, DisplayPort, or USB-C, and there are a couple of downstream USB-A ports to help handle other accessories. The stand is adjustable for tilt, swivel, and height, and it can be mounted with 100 mm x 100 mm VESA compatibility. If you expect long days at a screen, the TÜV Rheinland certification for low blue light and the adaptive brightness abilities will help prevent eye strain.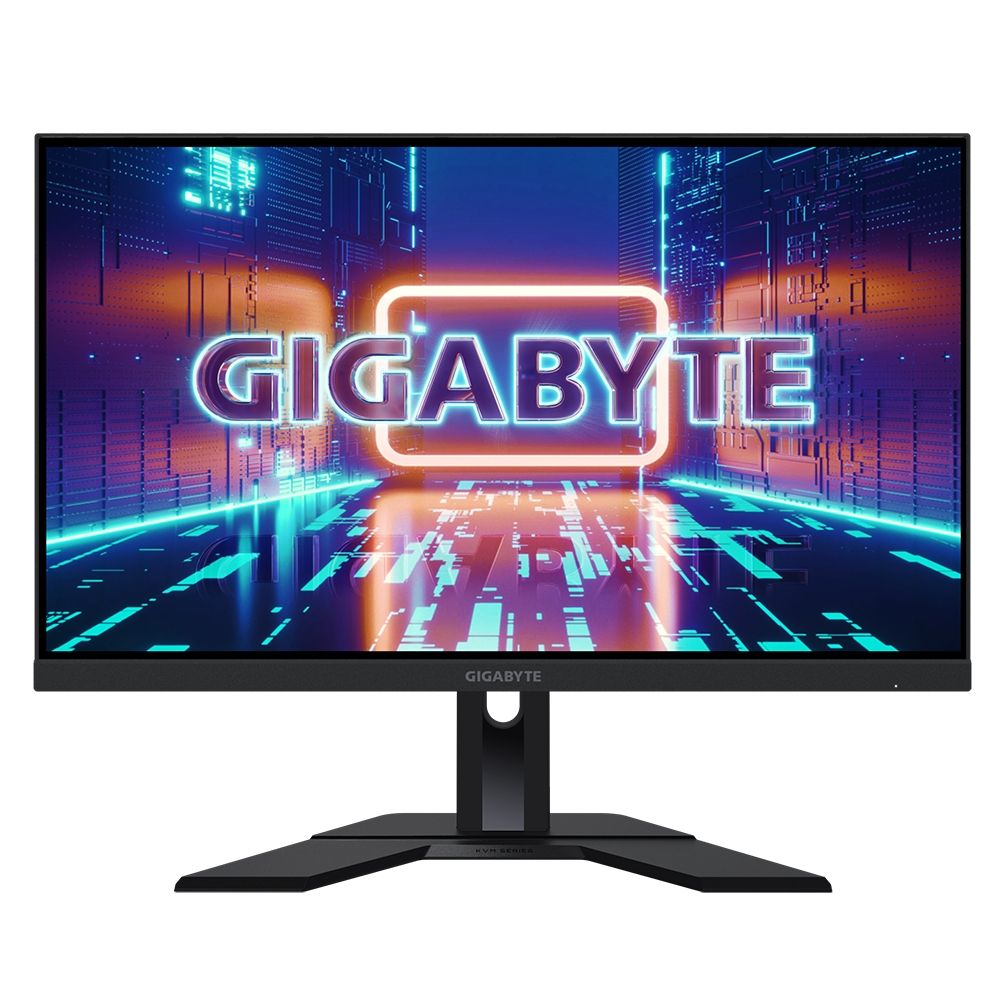 Gigabyte M27Q

Best value
Feature-rich and great for gaming
There's a lot to like about the Gigabyte M27Q. It has a large Quad-HD display, excellent input selection, and high brightness, all while being available for just $300.
Pros
Large screen with good color accuracy
Wide viewing angles
USB-C available for video input
Cons
High refresh rate is of not much use in Chrome OS right now
USB-C power passthrough can?t charge Chromebooks
As the name suggests, the Gigabyte M27Q is a 27-inch monitor that comes with QHD resolution, making it an excellent middle ground between 4K and full-HD screens. Its IPS display delivers excellent color accuracy and viewing angles. You also get a USB-C input to connect your Chromebook without hassle, apart from DisplayPort and HDMI inputs. Unfortunately, the power passthrough of the USB-C port is limited to 10W, which isn't enough to charge the Chromebook. So you won't be able to enjoy a single-cable connection.
Elsewhere, the monitor has a 170Hz refresh rate, which will undoubtedly be helpful when ChromeOS officially starts supporting variable refresh rate (VRR). It's in testing right now. But you can certainly enjoy the high refresh rate with your Windows computers. There are also two USB 3.2 Gen 1 ports to connect peripherals or storage devices. Plus, the build quality is good, and the included stand supports height and tilt adjustments.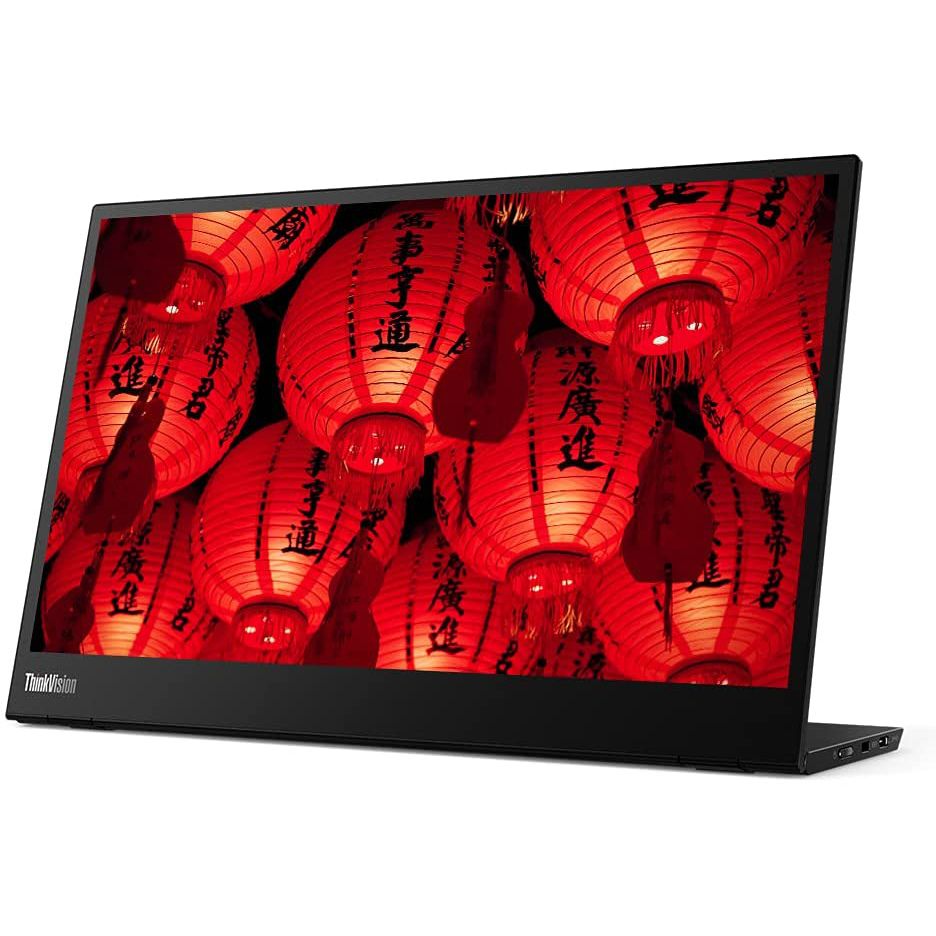 Lenovo ThinkVision M14

Best portable
Pack it with your laptop
Thanks to its slim, folding design, the ThinkVision M14 from Lenovo is an ideal travel companion for your Chromebook. It has a 14-inch FHD screen with an IPS panel, and it works with just a USB-C cable.
Pros
Slim and compact for travel
14-inch FHD picture with IPS panel
Has its own built-in stand
Cons
Not as ideal for a permanent setup
The ThinkVision M14 from Lenovo is a portable monitor that anyone who often travels might want to add to their repertoire. It's basically just a slim panel that houses a 14-inch screen with 1920×1080 (FHD) resolution, with a rotating stand attached to the bottom. The stand allows for tilt and slight height adjustments and houses the screen's two USB-C ports for video in. The ports can handle passthrough charging to keep your Chromebook's battery topped up, but the monitor can also work without any AC input by drawing from your laptop's battery.
An IPS panel provides wide viewing angles, the 300 nits brightness helps combat glare, and low blue light tech is on board to help with eye strain. This might not be an ideal pick for a permanent setup, but those who are often on the move will be able to take advantage of the portable and slim design.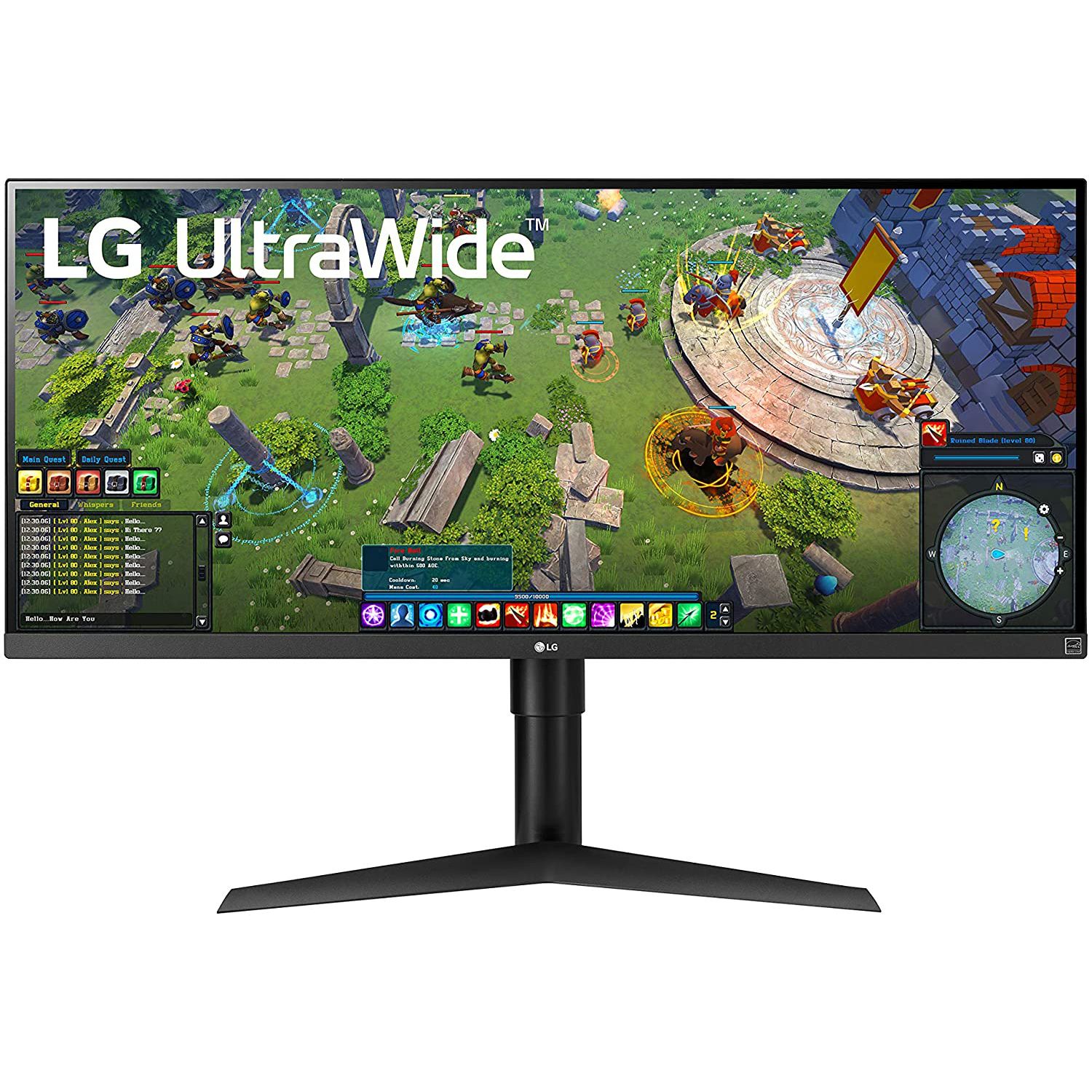 LG 29WP60G-B

Budget ultrawide
Wide picture, low price
$184 $230 Save
$46
LG's 29WP60G-B is an affordable ultrawide monitor with 2560×1080 resolution, USB-C connectivity, and 99% sRGB color reproduction. If you want a wide picture without overspending, this is the way to go.
Pros
Affordable pricing
2560×1080 resolution
USB-C connectivity
Cons
Not as high-res as other options
Stand lacks height and swivel adjustability
Thanks to its 29-inch 21:9 display, the LG 29WP60G-B offers a ton of screen real estate for multitasking. It also uses an IPS panel, so you'll get great color reproduction and wide viewing angles. But that's not all.
There's HDR support, and the LG monitor packs a USB-C port for video input and a built-in speaker. All this will cost you around $200. But to reach this affordable pricing, LG had to make some sacrifices. For example, the bundled stand is not very ergonomic, and you only get tilt adjustment. However, if you want, you can use VESA mounting holes to make it more ergonomic.
In other limitations, the included USB-C port also can't power your Chromebook. And finally, the resolution of this affordable monitor is limited to full HD. But none of these are really a deal-breaker if you have a tight budget.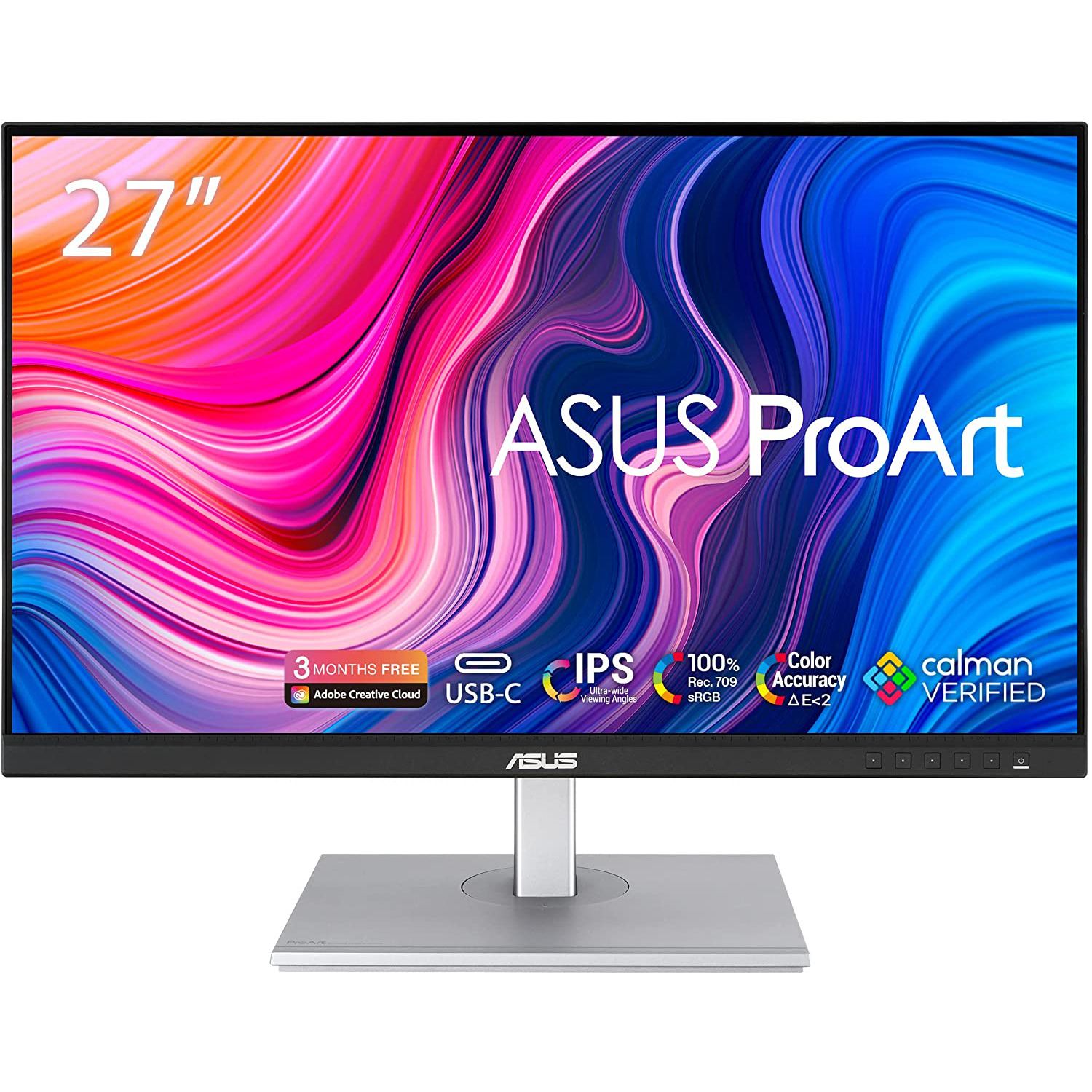 ASUS ProArt PA278CV

Best color
Great for editing and creating
The ASUS ProArt PA278CV is a 27-inch monitor with QHD resolution and the right color accuracy to serve as a centerpiece for your editing and creative operations.
Pros
Excellent color accuracy
Crisp QHD resolution
Ergonomic stand
Cons
Overkill for casual computing
Might want 4K for editing purposes
Any Chromebook users interested in tackling work that requires accurate color reproduction should check out the ASUS ProArt PA278CV. It's a 27-inch monitor with a 2560×1440 (QHD) resolution, an IPS panel with wide viewing angles, a modern design with an adjustable stand, and USB-C connectivity. What sets it apart from other screens is its outstanding color accuracy, perfect for editing photos or creating art.
The ProArt PA278CV manages 100% of the sRGB and Rec 709 gamuts, with a factory Delta E<2 color calibration to boot. In addition, several color presets make it easy to swap between jobs. The stand is adjustable for tilt, swivel, pivot, and height, plus it can also be VESA mounted and has dual 2W built-in speakers.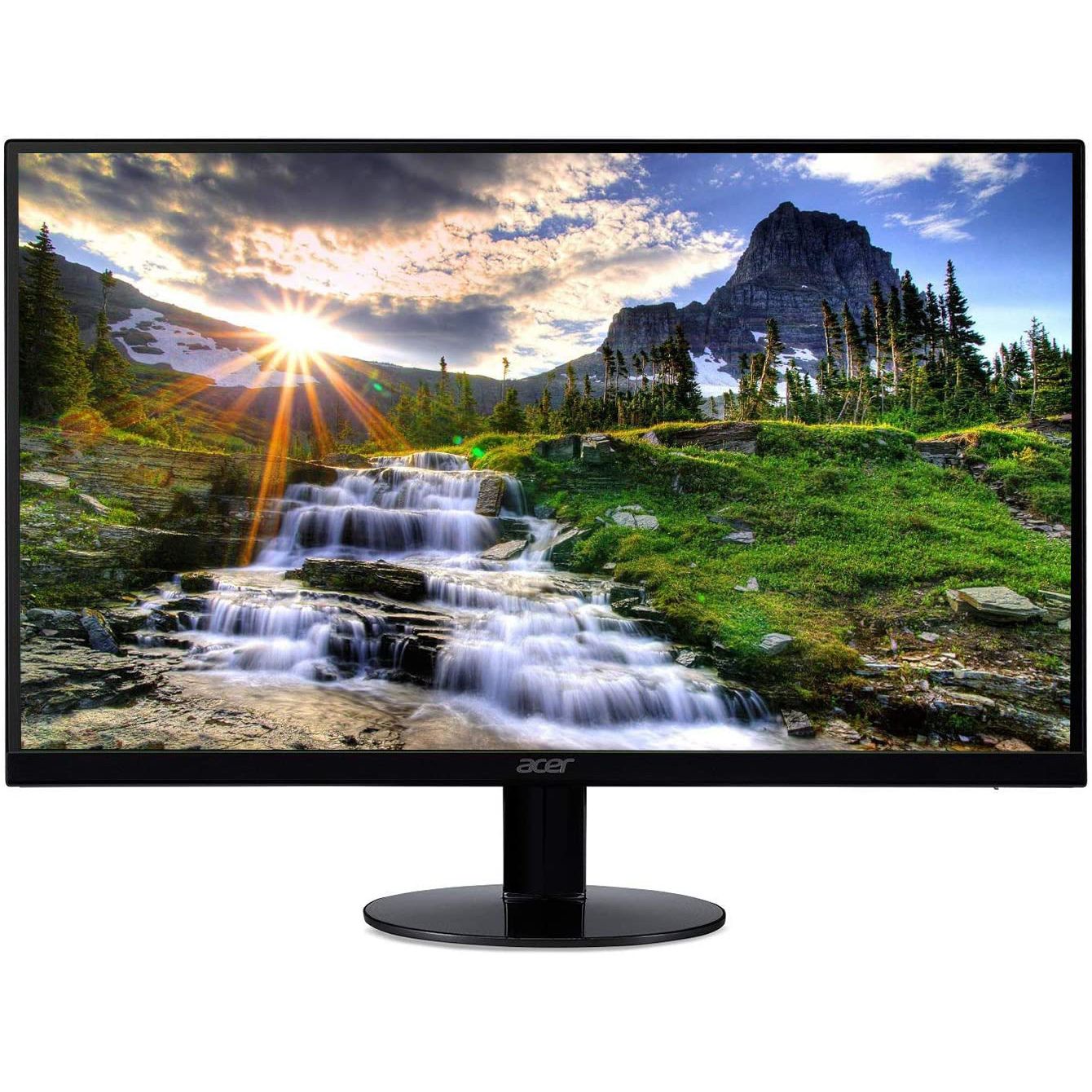 Acer SB220Q

Super affordable
FHD monitor for $100
$90 $100 Save
$10
Have $100 to spend on a monitor? Acer's SB220Q has a 21.5-inch FHD picture, 75Hz refresh rate, and a thin, modern look.
Pros
Can reliably find it for $100 or less
FHD resolution with IPS panel
Thin and modern design
Cons
No native USB-C connectivity
21.5 inches might not be big enough for some
Buying a monitor for your Chromebook doesn't have to get complicated. If you need an extra screen only occasionally, something like the Acer SB220Q might do the trick. It can be found for $100 or less, yet it boasts a 21.5-inch picture with 1080p resolution and a 75Hz refresh rate. The IPS panel offers wide viewing angles, and it's all built into a thin chassis with tilt support and an overall modern appeal.
There's no native USB-C connectivity here, so you will need an adapter if your Chromebook doesn't have an HDMI port. But that's an easy concession to make for this price.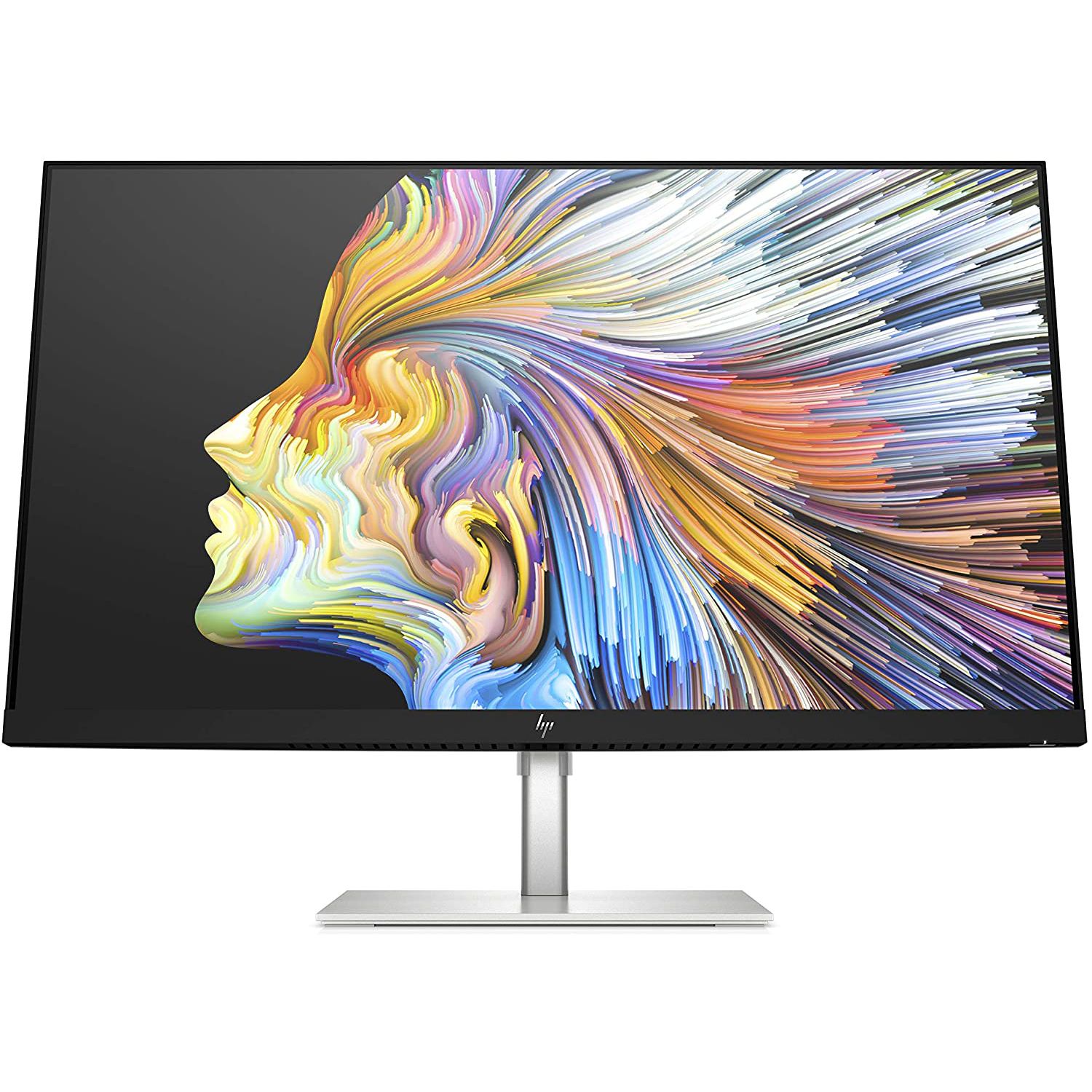 HP U28 4K HDR

Balanced 4K
Great color and high resolution
$355 $450 Save
$95
HP's U28 represents a bridge between high-end and budget 4K screens. It's competitively priced, offers solid color reproduction, and the ergonomic stand is easy to set up. Connectivity ports include USB-C, HDMI, and DisplayPort.
Pros
Perfect sRGB and good DCI-P3 color reproduction
Ergonomic stand
Plenty of ports
Cons
Overkill for casual Chromebook users
Can still find a cheaper 4K screen
Those looking for a midrange 4K monitor should check out the HP U28. That's especially true if you're a creator who needs accurate color reproduction. The display is factory calibrated for the sRGB (100%) and DCI-P3 (93%) color gamuts, it offers VESA DisplayHDR 400 certification, and it protects your eyes with low blue light properties. It hits 400 nits brightness, has a 4ms response time, and a 60Hz refresh rate.
The ergonomic stand offers tilt, pivot, and height adjustments, plus you can mount the screen with a 100 mm x 100 mm VESA setup. As for connectivity, the U28 has USB-C, HDMI, USB-A, and 3.5 mm audio to make your life as easy as possible.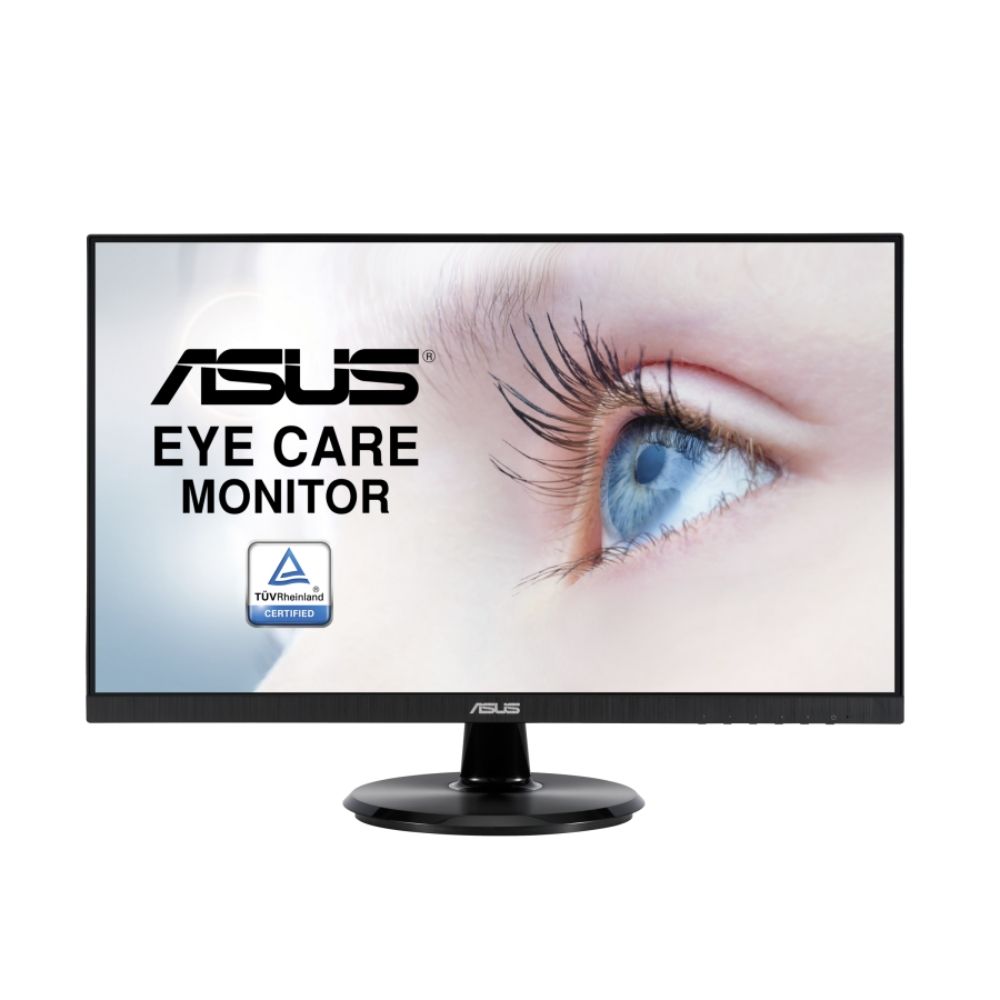 Asus VA24DCP

Inexpensive but good
24-inch screen with USB-C support
$139 $149 Save
$10
Bargain hunters will love this Asus monitor. It has a 24-inch screen, USB-C input with 65W power passthrough support, and an IPS panel.
Pros
Affordable
65W USB-C power passthrough
Good viewing angles
Cons
Poor ergonomics
Built-in speakers aren?t very good
While our other Asus pick – the ProArt PA278CV – shines in terms of color accuracy, the VA24DCP is incredible value if you are satisfied with full-HD resolution. It has a decent IPS panel that offers acceptable brightness and good viewing angles. Plus, unless you're going to use it for color-related work, you'll have no trouble with the monitor's color reproduction as well.
Among other highlights, the monitor packs HDMI and USB-C ports for video input, the latter of which can also charge your Chromebook. So you can just have one cable sending video to the monitor and charging your laptop. You won't get a USB-C cable in the box, though.
While the VA24DCP has many positives, there are some drawbacks too. The stock stand only supports tilt adjustment, and the built-in speakers aren't very useful.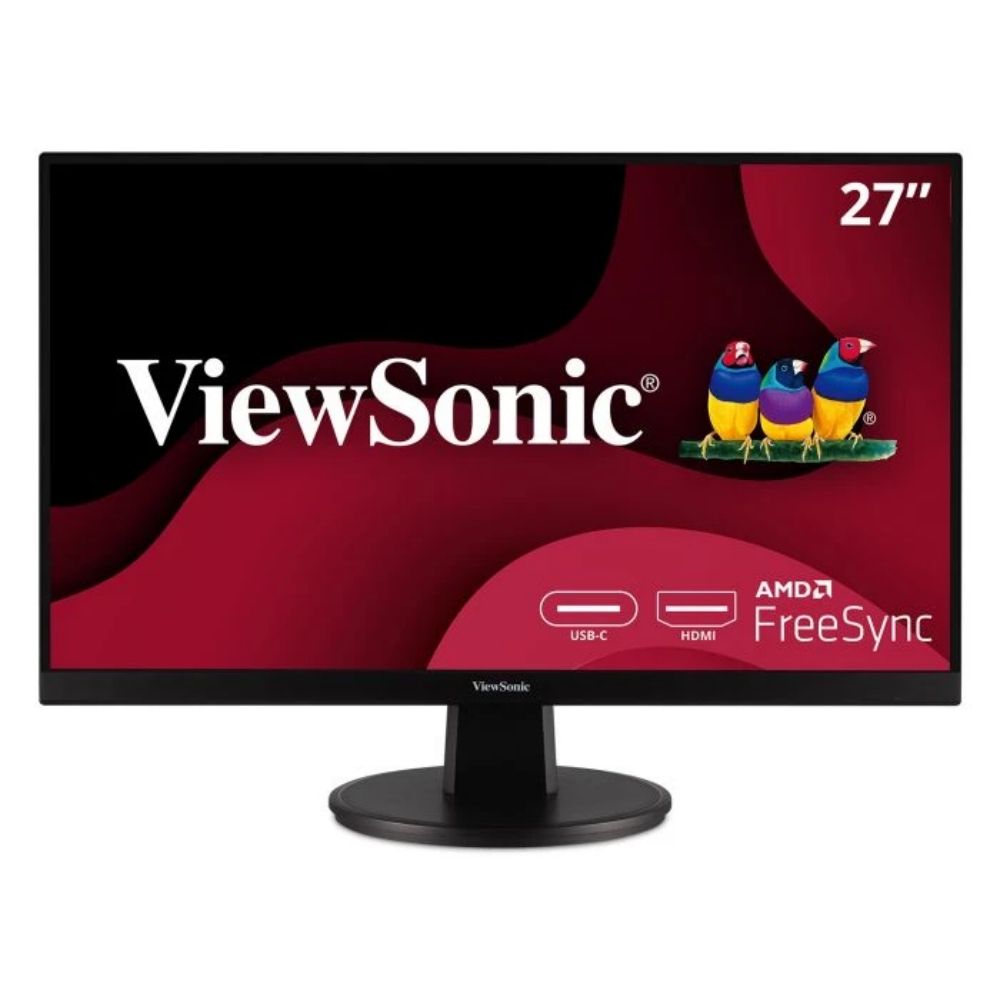 ViewSonic VA2447-MHU

A steal with USB-C
No-frills full-HD monitor
$110 $150 Save
$40
Looking for a budget 24-inch monitor? The ViewSonic VA2447-MHU's VA-type panel offers better contrast ratio than IPS panels. It also has built-in stereo speakers and a USB-C input.
Pros
Costs less than $150
USB-C video input
Built-in stereo speakers
Cons
USB-C power delivery limited to 15W
Not very ergonomic
The VA2447-MHU from Viewsonic is an ultra-cheap monitor that has all the essentials most budget-conscious buyers may want. For example, it has a relatively large 24-inch screen, stereo speakers, and a variety of video inputs, including VGA and USB-C. So, whether you are connecting to your Chromebook or an old PC, you won't have to deal with adapters or docks.
The USB-C port can also send power to the connected device, but the power delivery is limited to 15W, which isn't enough to charge Chromebooks.
Plus, unlike our other recommendations, it uses a VA-type panel, which has a better contrast ratio than IPS-type panels but worse viewing angles. That shouldn't be a problem unless you often have to share your screen with multiple people.
Getting the right monitor for your Chromebook

We absolutely love the Dell UltraSharp U2723QE, and it's our top pick when it comes to monitors for your Chromebook. The 27-inch size is perfect for most people, and the 4K resolution gives you more pixels to work with. Its color reproduction covers the sRGB and Rec 709 gamuts, it gets plenty bright at up to 400 nits, and the anti-glare finish helps prevent eye strain. It can pretty much do it all.
The ergonomic stand offers height, tilt, swivel, and pivot adjustments, or you can get the monitor completely off your desk with the 100 mm x 100 mm VESA mount. And thanks to the HDMI, DisplayPort, and USB-C hookups, you won't have to worry about connectivity. It even has a hub with more USB-C, USB-A, Ethernet, and audio ports, effectively canceling the need to buy a USB-C hub for your Chromebook. The only drawback is its price, so if you need a more affordable 4K option consider the HP U28.
Those looking to land the most value for their money should check out the Gigabyte M27Q. It has a 27-inch IPS panel with QHD resolution and a 170Hz refresh rate. The best part? It costs just $300. Want to go even cheaper? Acer's SB220Q can be found for $100 or less, though it has a smaller 21.5-inch picture and a full-HD screen.
Lastly, if you're okay shelling out around $1000 bucks, the BenQ EW3880R brings a curved 38-inch screen, which is great for an immersive experience. Moreover, this premium monitor offers 95% coverage of the cinema-oriented DCI-P3 color space, a built-in subwoofer, and up to 60W power delivery via the USB-C port.
Be sure to check out our picks for the best Chromebook docks and docking stations to alleviate any connectivity issues, and don't forget to pick up a few other great Chromebook accessories to complete your workstation setup.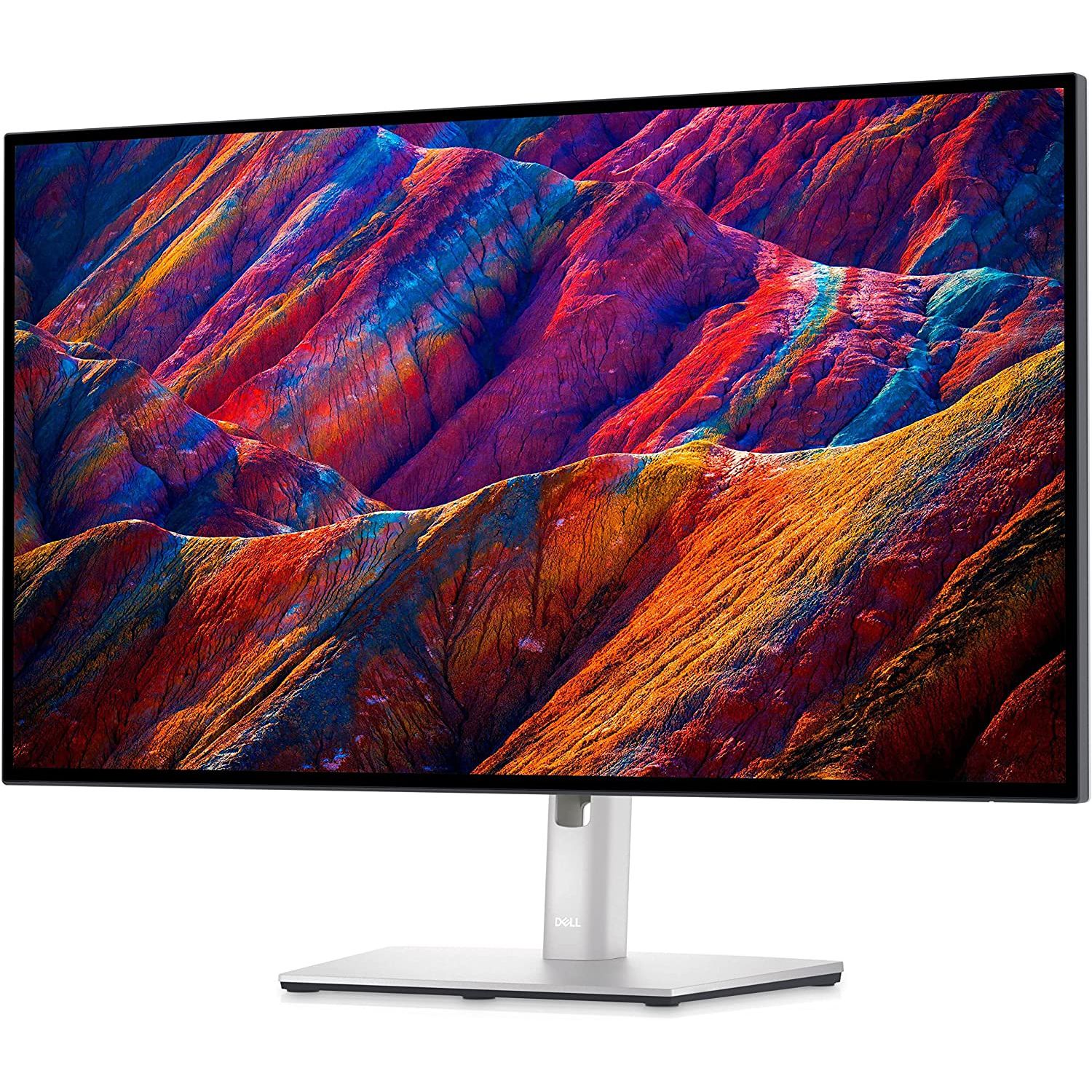 Dell UltraSharp U2723QE

Best overall
The right screen for most people
$570 $600 Save
$30
Dell's UltraSharp U2723QE has the best connectivity, outstanding picture quality, and the perfect size for most people. It's relatively expensive, but it won't disappoint.