Google resisted pleas to extend the lifetime of Chromebooks set to expire as of this June and throughout the summer. Thirteen Chromebook models have met their death date since June 1 and won't receive security updates or new features from Google anymore. But that hasn't stopped the Chromebooks from being listed for sale on sites like Amazon for the same prices as before.
Take the Asus Chromebook Flip C302. It came out in 2018, and on June 1—about five years later—it reached its automatic update expiration (AUE) date. But right now, you can buy a "new," unused Flip C302 for $550 from Amazon or $820 via Walmart's Marketplace (providing links for illustrative purposes; please don't buy these unsupported laptops).
That's just one of eight Chromebooks that expired since June while still being readily available on Amazon. The listings don't notify shoppers that the devices won't receive updates from Google. The US Public Interest Research Group (PIRG) pointed this out in a press release Wednesday, sharing screenshots of the models:
"Parents and teachers buying back-to-school laptops don't expect devices to have a 'death date,' and sellers don't advertise the lack of support," Lucas Rockett Gutterman, the US PIRG's Designed to Last director, said in a statement accompanying Wednesday's release.
"It's absurd that a new laptop, with all the features students need to do basic school work, is already unsupported. Students, and the planet, deserve better."
The US PIRG's release highlights eight ChromeOS devices from Asus, Acer, Dell, Lenovo, HP, and Samsung, all easily purchasable on Amazon despite their expirations. We also found some of these models sold by Walmart.
Here's the US PIRG's full list of recently expired Chromebooks, which totals 13: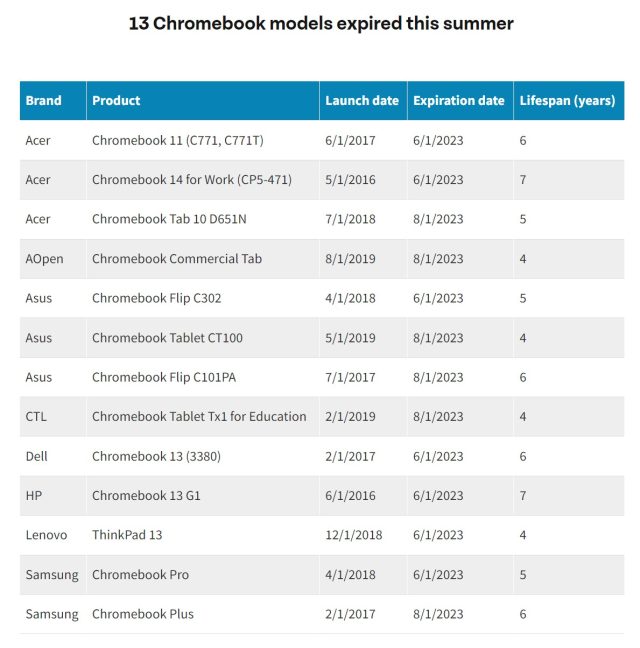 The US PIRG has been imploring Google to extend the lifetime of Chromebooks, and there are 51 Chromebooks scheduled to expire next summer. The advocacy group's latest release highlights how easy it is to buy expired laptops, which can lead to security threats, e-waste, and wasted money.
Gutterman told Ars Technica:
We have been tracking the specific Chromebook models listed in the June letter that recently expired this summer and were shocked to find them still for sale with no warnings. Retailers need to make changes to protect customers, since Chromebook support expiration dates can be unclear if they're not included on listing pages.

However, our main focus is Google's ability to extend support. We just wanted to find one retailer still selling these expired models as an example. … We could avoid this issue if Google were to extend support for the 13 models listed in the June letter.
Gutterman urged retailers to clearly indicate expiration dates to consumers, acknowledging that it's not just Amazon carrying expired Chromebooks.
"Retailers should include support end of life dates for all tech products that they sell, but Chromebooks are particularly important to indicate because support ends after an expiration date rather than due to hardware requirements," he added.
It's troublesome to think of the tech novices, students, and shoppers with budget constraints wasting resources on a device that will soon become obsolete. It's also concerning to consider how easy it is to buy these products with just a few clicks on some of the most popular and successful online marketplaces.
Online marketplaces like Amazon and Walmart are already infamous for carrying fraudulent and poorly vetted tech products. The PIRG's latest release emphasizes yet another reason shoppers must be alert when buying tech from such sites. It also underscores the importance for OEMs to vet what's made available in their name online and raises the question of whether online marketplaces should require EoL dates on product listings. Walmart's Marketplace even has a special "Restored" section for refurbished tech that Walmart claims is "professionally inspected and tested to work and look like new by top-rated, performance-managed suppliers." Still, Ars found an expired Chromebook for sale by a Restored seller without a notice of its lack of support.